EUGENE, Ore. — The 2015 Prefontaine Classic is in the books, and what a meet it was. We've covered several of the major storylines in other articles — great showings by 
Americans Matthew Centrowitz and Jenny Simpson in the mile/1500
, a HS/U.S. Junior 1500 record by 
Alexa Efraimson
 and wins by world champs 
Mo Aman
 and 
Eunice Sum
 in the 800 — but there is still plenty of stuff to talk about, including a world record attempt by 
Genzebe Dibaba
 in the 5,000 (she fell eight seconds short, running 14:19.76) and a pulse-pounding men's steeplechase that saw 
Ezekiel Kemboi
 hold off 
Jairus Birech
 and 
Evan Jager
 narrowly miss his American record. We recap all that and much more below.
Men's 3000 Steeplechase: Ezekiel Kemboi Is Back
Kemboi and Birech were level as they hurdled the final barrier
Kemboi struggled with injuries in 2014 but any questions about whether the 33-year-old was still a global force in the steeple were answered in the affirmative today as he ran a U.S. all-comers record of 8:01.71 to edge out Jairus Birech. Evan Jager ran his fastest opener ever, narrowly missing his American record by running 8:05.28 for fourth.
The pace was quick throughout with Birech sitting on rabbit Haron Lagat until Lagat dropped out with three laps to go (4:51). At that point, Biech and Kemboi had begun to separate from the field, and Jager was in just 9th, at the back of the main pack. Jager, sensing the race was getting away from him, knew he needed to pick it up and with two to go, he was up to fourth behind Conseslus Kipruto. Those two were still 15 meters down on Birech and Kemboi, however, who came through in 5:56.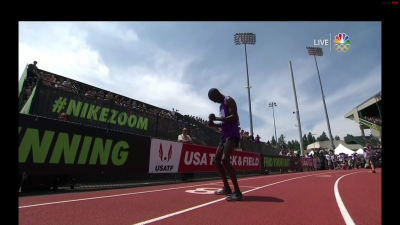 The dance is back
Birech continued to drive the pace, leading Kemboi at the bell (7:01), and as they reached the end of the backstretch on the bell lap, Jager, now in third, was actually gaining on the leader and the deficit was down to fewer than 10 meters. That was the leaders' cue to take off, and both Birech and Kemboi launched into their kicks with 200 to go. Both kicked furiously off the water jump and Kemboi swung wide on the final barrier in an attempt to pass Birech. He edged ahead only slightly however, as Birech was full of fight. The two battled stride for stride over the final 100 and in the end Kemboi was your winner by a narrow margin of just .12. Kemboi, who normally likes to drift into the outer lines to celebrate his victories, could only afford to make it to lane three in this one, though he did cap it off with a dance in front of the Hayward Field faithful. Kipruto wound up running Jager down for fourth place.
Quick Take #1: Birech-Kemboi is going to be a treat this year
Usually when Kemboi is at the top of his game, he's untouchable, but Birech, who won six times on the Diamond League circuit last year, is a real threat to him and gave him all he could handle today. Kemboi traditionally peaks very well and if he can reach another level in Beijing, perhaps he will dominate once again. But Birech also ran his best at the end of the year in 2014 (a world-leading 7:58.41 at the DL final in Brussels on September 5). Watching these two training partners battle this season — the NBC Sports broadcast talked about a potential World Record attempt — and at Worlds in August will be special and a welcome change from last year, when Birech dominated almost every major race.
Quick Take #2: A fantastic opener for Evan Jager
Here are Jager's season-openers since he took up the steeple in 2012:
2012: 8:26.14
2013: 8:08.60
2014: 8:06.97
2015: 8:05.28
He's managed to get better every year so far and is on track to do so again in 2015, missing his PR by just .57 of a second today. Though Conseslus Kipruto came back on him over the final 200 today — a mistake that would have cost him a medal in a championship race — Jager usually get betters as the season goes on and today's result, against most of the world's top steeplers, is a sign that he will be a legitimate medal threat in Beijing.
Women's 5,000: Genzebe Dibaba's WR attempt falls short; but she runs fastest time in US history
Dibaba won by over 12 secondsWith a rabbit (or perhaps a race with Almaz Ayana), it's possible Dibaba could have taken down sister Tirunesh's 14:11.15 world record (or at least come closer to it),
Genzebe Dibaba came up short in her world record attempt here and its hard to blame her as as she was all alone after just 1800m into the race. Running a world record is hard, running most of the race all alone is almost impossible.
Dibaba ran admirably during the second mile, passing through 3200 in 9:07 (her first 1600 was 4:35), less than three seconds off WR pace. She couldn't sustain the pace over the final mile, however, slipping to 69.7 on from 3200 to 3600, then 70.1 and 71.1. At the bell (13:13.4), it was clear the world record was off the table, though Dibaba still had a shot at a PR with a 65-second last lap. She couldn't quite manage that, running 66.4 for her last lap to finish in 14:19.76, an outdoor PR (her indoor PR is 14:18.86).
A solo 14:19 — putting Dibaba fourth on the all-time outdoor list — is still an incredibly impressive performance and nothing for Dibaba to be ashamed of, though it was obviously a bit short of her goal.
Results and quick takes.
Quick Take #1: Genzebe Dibaba's strong season continues
Dibaba may not have gotten the WR but she shouldn't be walking around with her head down after this one. She is three-for-three in 2015, breaking the world indoor record (14:18.86) in February, just missing the road 5k record in Carlsbad in March and setting an outdoor PR with her 14:19.76 today (previous best: 14:28.88). Countrywoman Almaz Ayana, who ran 14:14 in Shanghai two weeks ago, seems like the only woman in the world capable of hanging with Dibaba right now, though unfortunately we may have to wait until Worlds to see them square off.
Today's time was the 5th fastest 5000 ever run outdoors (6th fastest ever counting Genzebe's indoor 5000) and a time that her older sister, Tirunesh has only beaten once – when she ran the 14:11.15 WR.
Jenny Simpson fans, we do have some bad news for you. The 1500/5000 double is very much doable for Dibaba at Worlds. The 1500 finishes the day before the 5000 heats and then there are two days off before the 5000 final.
Quick Take #2: An impressive 5,000 debut by Faith Kipyegon
Kipyegon, a two-time world junior XC champ and the Kenyan record holder at 1500 (3:56.98) projected as a good 5,000 runner and she delivered in her debut, running 14:31.95 to put her #21 on the all-time list. Still only 21, Kipyegon, the Commonwealth Games 1500 champ, will now have to decide between the 1500 and 5,000 at Worlds.
Quick Take #3: Vivian Cheruiyot is making good progress
Cheruiyot isn't back to the form that saw her win world titles at 5,000 and 10,000 in 2011, but she acquitted herself well in her first track race since 2012, running 14:46.69 for third. Cheruiyot took a long time to come back from giving birth in 2013. This was a sign that she is on the right path, but she'll need to keep improving if she wants to medal at Worlds again.
Men's 100: Tyson Gay Runs His Fastest Time Since Drug Suspension
Gay ran 9.88 and got the win in his first non-relay race of the year. 9.88 is his fastest legal time since his 9.86 in Kingston on May 4, 2013 (Gay ran 9.93 last year). Gay was clearly pleased with the result and in his post-race interview with Lewis Johnson, apologized to his supporters for making a mistake (his positive drug test) and said that whatever supplements he puts in his body going forward "is on me."
Su Bingtian became the first Asian-born athlete to break 10.00, running 9.99.
Men's High Jump: Mutaz Essa Barshim Jumps a World-Leading 2.41 meters
After flying 9,000 miles from Qatar to compete, Barshim only took three jumps, clearing 2.28, 2.35 and 2.41 before calling it a day. He didn't make any attempts at a world record, to the disappointment of the crowd. Not sure why. If he had made attempts at 8 feet this would have been the first meet where someone attempted 20 feet in the pole vault and 8 feet in the high jump. If you know why Barsham didn't jump email us at letsrun@letsrun.com
Women's Triple Jump: Caterine Ibarguen Wins #24 in a Row
It came down to her final jump, but Ibarguen got it done, leaping 15.18 to get the victory over Russia's Yekaterina Koneva. This was the first time two women had broken 15.00 in the same competition since the 2008 Olympics.
Men's 110 hurdles: Pascal Martinot-Lagarde Wins His Season-Opener
Martinot-Lagarde, Track & Field News's World #1 last year, ran a world-leading 13.06 in his first race of 2015. World record-holder Aries Merritt of the U.S. was second in 13.12, his fastest time since July 2013.
Women's Javelin: World Champion Christina Obergfoll Wins
Obergfoll only needed two throws to get the win, throwing 63.07 meters.
Men's Pole Vault: World Record Holder Renaud Lavillenie Gets An Outdoor PR And Diamond League Record With 6.05m
Only world outdoor record holder Sergey Bubka has ever gone higher as this 6.05m mark moves Renaud Lavillenie to tied for second all-time outdoors. Lavillenie's previous outdoor best was 6.02m, but he has the world indoor record (and best mark overall) with 6.14m. After clearing 6.05m Lavillenie moved the bar up to a world record 6.16m, but took three attempts and was unable to get over. 2014 NCAA and USA champion Sam Kendricks was second in 5.80m. Renaud's younger brother Valentin was 4th with a 5.70m outdoor PR.
    1 Lavillenie , Renaud              FRA       6.05          4        
    2 Kendricks , Sam                  USA       5.80          2        
    3 Holzdeppe , Raphael Marcel       GER       5.80          1        
    4 Lavillenie , Valentin            FRA       5.70                   
    5 Lisek , Piotr                    POL       5.70                   
    6 Filippídis , Konstadínos         GRE       5.40                   
      de Oliveira , Augusto            BRA         NM                   
      Xue , Changrui                   CHN        DNS
Women's 400: Allyson Felix Gets A Big Win Over Sanya Richards Ross
We know Allyson Felix can dominate at the 200m, but she isn't as consistently good over 400m. Here she ran a good time to beat a great field including Olympic champ Sanya Richards-Ross. Richards-Ross was trying to become the first woman to run under 50-seconds 50 different times, but fell short so will have to wait until next time. Felix also revealed that she'll be trying to double-up in both the 200 and 400 this year at Worlds.
    1 Felix , Allyson                  USA      50.05                   
    2 Richards-Ross , Sanya            USA      50.29                   
    3 McPherson , Stephenie Ann        JAM      50.40                   
    4 Francis , Phyllis                USA      51.37                   
    5 Hastings , Natasha               USA      51.71                   
    6 Williams-Mills , Novlene         JAM      51.89                   
    7 Grenot , Libania                 ITA      51.91                   
    8 Day , Christine                  JAM      52.29


Men's 400 Hurdles: Johnny Dutch Gets The Win As USA Goes 1-3
2014 US champ Dutch got the win in 48.20 just beating out Bershawn Jackson by .02. Behind them there was a decent gap to Michael Tinsley in third. Olympic bronze medalistJavier Culson was well beaten in 6th and Jamaica's world junior champ Jaheel Hyde, who has a 49.01 pb, made his Diamond League debut as the last finisher. Welcome to the pros, Mr. Hyde.
    1 Dutch , Johnny                   USA      48.20          4        
    2 Jackson , Bershawn               USA      48.22          2        
    3 Tinsley , Michael                USA      48.79          1        
    4 Hussein , Kariem                 SUI      49.24                   
    5 Mägi , Rasmus                    EST      50.08                   
    6 Culson , Javier                  PUR      50.10                   
    7 Hyde , Jaheel                    JAM      50.80                   
      Gordon , Jehue                   TTO        DNF
Women 100 (International): English Gardner Barely Wins In A Quick 10.84
Gardner and Jamaica's Elaine Thompson both clocked 10.84, but Gardner was given the win and the world lead. However, her WL didn't last long as it was beaten by three women in the main 100m race. Still, a great time and new PB for Gardner who hadn't broken 11-seconds since 2013.
    1 Gardner , English                USA      10.84                   
    2 Thompson , Elaine                JAM      10.84                   
    3 Santos , Rosângela               BRA      11.04                   
    4 Tarmoh , Jeneba                  USA      11.06
    5 Duncan , Kimberlyn               USA      11.22
    6 Pierre , Barbara                 USA      11.24
    7 Silva , Ana Claudia              BRA      11.30
    8 Whitney , Kaylin                 USA      11.49
Women's 100: Shelly-Ann Gets The Win In A World-Leading 10.81
Jamaica's Olympic champion Shelly-Ann Fraser-Pryce was challenged here as she and Murielle Ahoure both ran 10.81, but Fraser-Pryce got the win. Ahoure will still be happy with setting a national record for the Ivory Coast. USA's Tori Bowi was 3rd just off her 10.80 PR.
    1 Fraser-Pryce , Shelly-Ann        JAM      10.81          4        
    2 Ahouré , Murielle                CIV      10.81          2        
    3 Bowie , Tori                     USA      10.82          1        
    4 Okagbare , Blessing              NGR      10.87                   
    5 Jeter , Carmelita                USA      11.02                   
    6 Baptiste , Kelly-Ann             TTO      11.08
    7 Bartoletta , Tianna              USA      11.09
    8 Ahye , Michelle-Lee              TTO      11.90
Men's 400: Kirani James Beats LaShawn Merritt Again
James broke 44-seconds for the 5th time in his career. While Merritt lost, he did get a seasonal best (previous best 44.80) and snap a streak of two straight races over 45.
Afterwards, Merritt said he is on the right track with new coach Brooks Johnson and is aiming to being his best at Worlds.
    1 James , Kirani                   GRN      43.95          4        
    2 Merritt , LaShawn                USA      44.51          2        
    3 Brown , Chris                    BAH      44.54          1        
    4 Masrahi , Yousef Ahmed           KSA      44.75                   
    5 Haroun , Abdelalelah             QAT      44.80                   
    6 McQuay , Tony                    USA      44.81                   
    7 Makwala , Isaac                  BOT      45.33                   
    8 Maslák , Pavel                   CZE      45.66
Men's 200: Justin Gatlin Ties His PB
Usain Bolt had better start training as Justin Gatlin is in unreal form as he equaled his PR with a 19.68 win. He was in a class of his own winning by a ridiculous .36-seconds.
Talk about Gatlin's race on the message board: Gatlin says F*ck the haters – 19.68.
    1 Gatlin , Justin                  USA      19.68          4        
    2 Jobodwana , Anaso                RSA      20.04          2        
    3 Ashmeade , Nickel                JAM      20.18          1        
    4 Young , Isiah                    USA      20.24                   
    5 Forte , Julian                   JAM      20.41                   
    6 Mitchell , Curtis                USA      20.44                   
    7 Edward , Alonso                  PAN      20.63                   
    8 Roberts , Gil                    USA      20.88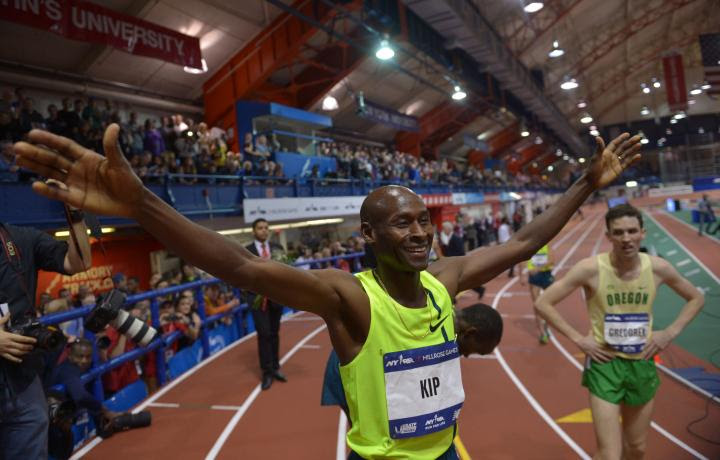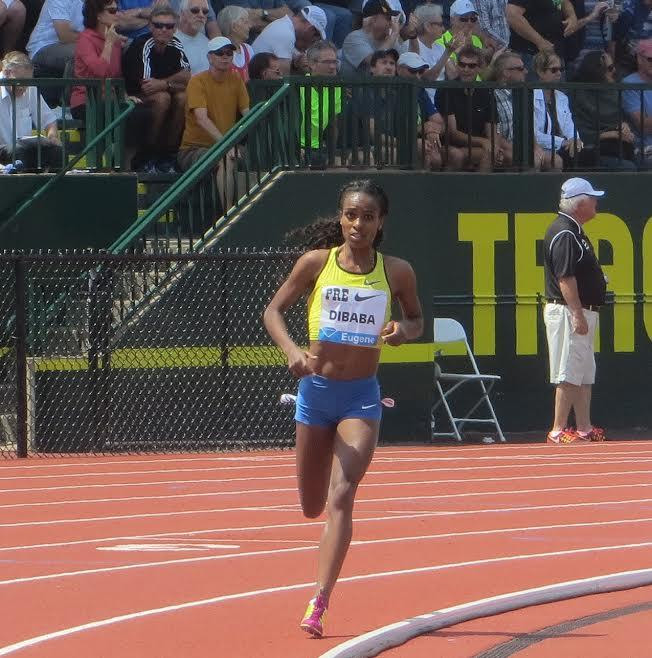 Matthew Centrowitz makes it close, but Ayanleh Souleiman wins the Pre Classic's Bowerman Mile
By 
Ken Goe | The Oregonian/OregonLive 
Email the author
 | 
Follow on Twitter
on May 30, 2015 at 5:47 PM, updated 
May 30, 2015 at 9:07 PM
EUGENE – Ayanleh Souleiman fought off a kicking Matthew Centrowitz Saturday on the home straight before a roaring crowd at Hayward Field to win the Bowerman Mile, as the Prefontaine Classic closed in style.
Souleiman finished in 3 minutes, 51.10 seconds, just ahead of Centrowitz, second in 3:51.20.
Centrowitz, who starred for the University of Oregon, brought the crowd of 13,278 to its feet by going for the win coming off the Bowerman Curve and onto the home straight.
But Souleiman, who ran a 1:43.78 800 meters in Qatar weeks ago, had just a little more in the tank.
"I have more speed," said Souleiman, who won The Bowerman Mile last year, too.
As much as he needed, anyway.
Souleiman's winning time in 2014 was 3:47.32.
"To be that close to a win is nothing but exciting," Centrowitz said. "I've been talking for years about mixing it up in the Diamond League with these guys. Today was a good step in the right direction."
Later in the season, when Centrowitz has had a little more time to fine-tune his finish, well, who knows?
This was Souleiman's day.
"I know Souleiman always has that extra gear," Centrowitz said. "He's extremely strong. I wasn't underestimating his finish by any means."
There were a number of big performances on a warm, sunny Saturday. Among them:
-- Jenny Simpson won the women's 1,500 with a bold move coming off the Bowerman Curve to finish in 4:00.98. Mercy Cherono was second. The Nike Oregon Project's,Shannon Rowbury, who led coming onto the last lap's home straight, crossed fourth in 4:02.28.
Camas High senior Alexa Efraimson was seventh in 4:03.39 to break the U.S. high school record of 4:04.62 set by Mary Cain in 2013.
-- Running almost entirely by herself, Genzebe Dibaba zoomed away with the women's 5,000 by 12 seconds in 14:19.76 to crush the meet record of 14:33.96 set by Vivian Cheruiyot in 2011. In the process, Dibaba became the fourth-fastest woman ever outdoors.
-- Renaud Lavillenie won the pole vault with a clearance of 19 feet, 10¼ inches. With the crowd clapping rhythmically, he missed three attempts at 20-2½, which would have tied the world record he set indoors in 2014.
Lavillenie did take down Brad Walker's seven-year-old meet record of 19-9¾.
-- Eight-time world champion Allyson Felix's experiment with the 400 was successful. She overpowered U.S. record-holder Sanya Richards-Ross to win in 50.05. Richards-Ross was second in 50.29.
-- Both women's 100 races were fast. Shelly-Ann Fraser-Pryce edged Murielle Ahoure in a photo finish to win the Diamond League 100 in 10.81.
Former University of Oregon star English Gardner won the B section in 10.84. Second-place finisher Elaine Thompson had the same official time.
-- Mutaz Essa Barshim claimed the high jump with a first-attempt clearance of 7-10 3/4 to break the Hayward Field record of 7-10½ that he set last year, and then retired from the competition.
The world record of 8-0½, owned by Cuba's Javier Sotomayor since 1993, will stand for now.
In the thrilling finish to the women's 1,500, Simpson was sitting on Rowbury coming off the last turn of the 1,500, then kicked past her on the home straight.
"A good step forward for me," Simpson said. "I can be a stalker, be really patient and be ready to close hard."
Rowbury was relatively pleased, too.
"I ran 4:02 pretty much leading it. I just got outkicked in the last 100 meters," she said. "But we haven't done a lot of sharpening and I haven't really raced that much."
It was a pretty good afternoon for several local athletes.
Gardner, who spent last year hobbled with hamstring problems, said she was overcome with emotion at the start line.
"I felt like I was on the top of the world, and then I went all the way to the bottom," she said of her injury-plagued 2014. "Everything that could go wrong last year, went wrong."
But this is a new season. While at Oregon, Gardner used to joke with reporters that she would gear up for a big performance by uncaging "the lion."
"The lion finally got back out," she said. "I thought somebody had locked him up and sold him at a zoo somewhere."
Ethiopian Mohammed Aman, who trains as a member of Eugene-based Oregon Track Club Elite, claimed the 800 in 1:44.92.
OTC Elite's Ben Blankenship won the men's international mile, darting inside on the home straight to edge Jonathan Kiplimo Sawe at the line.
Blankenship finished in 3:55.72. Sawe crossed in 3:55.76.
Ezekiel Kemboi squeaked out a victory over Jairus Kipchoge Birech in the steeplechase. Kemboi finished in 8:01.71 to take down the meet record of 8:03.59 set by Conseslus Kipruto in 2013.
Evan Jager of the Bowerman Track Club, the U.S. record-holder, was fourth in 8:05.28. Jager moved up late in the race, but never got into position to win.
It was first steeple of the season, and as he pointed out, a long way still to go.
"I was happy with how I finished," Jager said.
---
---
---
---
It wasn't the fastest Bowerman Mile ever, but who needs speed when you can have dramatic finishes?
On an afternoon that saw a pair of thrilling attempts at world records and an American junior record set in the women's 1,500, the Prefontaine Classic's signature event still delivered a perfect ending to the 41st annual track and field meet on Saturday.
A crowd of 13,278 at Hayward Field rose to its feet as Ayanleh Souleiman, Matthew Centrowitz and Asbel Kiprop sprinted to the finish line side-by-side-by-side before finishing in that order just 15-hundreths of a second apart.
Souleiman finished in 3:51.10, Centrowitz, running back on the track where he once starred for Oregon, ran 3:51.20, and Kenyan Asbel Kiprop finished in 3:51.25.
Kenyan Silas Kiplagat was right on their heels with a fourth-place finish in 3:51.92.
Souleiman won the Bowerman Mile last year in a meet record 3:47.32, one of six times under 3:50 in that race. While no one was as fast this year, all 13 finishers ran under 3:58.
"Centrowitz, he's good," said Souleiman, who is from Djibouti. "He's running fast, and that's why he came in the last 100 meters. I had a little more."
But not much.
Despite coming in second, Centrowitz said he was happy with his performance.
"It's nothing but exciting to be in the thick of things," Centrowtiz said. "I've been talking for years now about mixing it up on the Diamond League circuit with these guys, and this was a good step in the right direction."
Centrowitz attempted to get out front late in the race but Souleiman proved to have a better finish at this point in the season.
"I felt good with 200 to go," Centrowitz said. "I thought I was going to pull it off. But I also know Souleiman always saves that extra gear and he's extremely strong and fast. He ran 1:43 (in the 800) a couple weeks ago, so I wasn't underestimating his finish by any means."
Souleiman's time is the best in the world this season, bettering a time that wasn't even three hours old.
Earlier in the meet, Oregon Track Club Elite's Ben Blankenship won the men's International Mile in a then world-leading 3:55.72 with a sweet move and surge near the end of the race.
Blankenship was running behind leader Timothy Cheruiyot and in front of Jonathan Kiplimo Sawe when Sawe moved into lane 3 to pass both on the outside.
Blankenship followed with a move inside along the rail and with one last burst of speed, blew through the finish line in first place to beat the two Kenyans.
Sawe was second in 3:55.76 and Cheruiyot was third in 3:55.80.
"I was just kind of hoping that the inside lane would open up," Blankenship said. "Either way, I was going to try and make a move and was just waiting to see what everybody else's legs felt like."
The race got out to a fast start as the pace setters pushed for a 1:53 half mile. The pack didn't go with them, however, which was fine with Blankenship, who was happy to sit and wait.
"I think the race has the talent to go that fast, but nobody wants to take it on, and I didn't care," he said. "I didn't want to drag more Americans to the "A" standard. It's tactic as well."
It's already been a good season for Blankenship, who was a member of America's world record-setting distance medley relay team earlier this month at the World Relays in the Bahamas. Now he has his sights set on the USA Outdoor Track & Field Championships at Hayward Field in late June and an attempt to make the World Championship team in the 1,500.
"Until I hit a road block, hopefully not at USAs, I'll keep rolling," Blankenship said.
American 3,000 steeplechase record-holder Evan Jager opened his season on Saturday with a fourth-place finish in 8:05.28, just off his record-time of 8:04.71.
"I felt pretty composed," said Jager, who spent the race trying to chase down a trio a Kenyans. "Definitely, the legs were stinging the second to last lap. But I felt good going into the last lap and tried to have a good final water jump and really kick hard."
Ezekiel Kemboi was the winner in 8:01.71 to move into the world lead, Jairus Kipchoge Birech was second in 8:01.83 and Conseslus Kipruto was third in 8:05.20.
Men's 5000: A 17-Year-Old Ethiopian Officially Arrives On The Scene
Distance fans, if you didn't stay up late on Friday night to watch Distance Night at the 2015 Prefontaine Classic, you may have missed the unveiling of the sport's next track distance star.
308 days after after he won the World Junior 5000 title here by tightening the screws and increasing the pace over the final 3.5 laps, Ethiopia's 17-year-old Yomif Kejelcha destroyed the field over the final 300 to win a tactical men's 5000 in a new personal best of 13:10.54. 2008 Olympic bronze medallist Edwin Soi of Kenya was second in 13:11.97 with American Galen Rupp third in 13:12.36 as 40-year-old American Bernard Lagat destroyed the 40+ world record of 13:43.15 (Lagat had run 13:40 on the road at Carlsbad) by running 13:14.97 for 4th.
The Race
At the pre-meet press conference, Prefontane Classic meet director Tom Jordan told LRC Galen Rupp was in great shape and wanted to run fast but no one went with the rabbits in this one as it ended up being a negative split race (6:36-7 at halfway).
The clock read 10:11.44 with three to go but the the real racing didn't start until the final two laps as with 800 to go the clock was at 11:16.70. With 700 to go, Rupp made a big move to the front and with 650 meters remaining, three guys, Rupp, Bahrain's Alberto Rop, and Kejelcha, were basically three-abreast, but heading into the turn Rop, who ran 12:51 in 2013 but was only 11th in the Diamond League opening 3000 in Doha, was able to maintain the inside and keep Rupp from the lead.
At the bell (12:15.02), Rupp's move the front had succeeded as he was in the lead as Kejelcha was on his shoulder with Soi in third and Rop in fourth.
Kejelcha had this in the bag with 150 to go
With 300 to go, Kejelcha made his move for glory putting on a tremendous burst of speed and seizing a comfortable lead over Galen Rupp. A few weeks ago in the 3000 at Doha, Kejelcha went too hard too early in a race with Mo Farah and faded to 5th. Had Kejelcha gone too early once again? The others did gain a little on him over the final 100 but his lead was so huge (10+ meters) with 150 to go that he still won this one with some comfort.
Once past the line, the youngster gave himself a much deserved fist pump. Rupp had shown great speed in giving chase, but Edwin Soi passed him before the line for second, with Rupp third, and a big 2.6 gap to 40 year old Bernard Lagat in 4th.
Results and quick takes appear below.
Men's 5000 Results
5000 Metres - Men                                             

    1 Kejelcha , Yomif                 ETH   13:10.54                   
    2 Soi , Edwin Cheruiyot            KEN   13:11.97                   
    3 Rupp , Galen                     USA   13:12.36                   
    4 Lagat , Bernard                  USA   13:14.97                   
    5 Rop , Albert Kibichii            BRN   13:15.66                   
    6 Hill , Ryan                      USA   13:15.92                   
    7 Lalang , Lawi                    KEN   13:16.11                   
    8 Birmingham , Collis              AUS   13:17.49                   
    9 Nebebew , Birhan                 ETH   13:19.14                   
   10 Jeilan , Ibrahim                 ETH   13:20.21                   
   11 Ahmed , Mohammed                 CAN   13:20.67                   
   12 Barrios , Juan Luis              MEX   13:28.58                   
   13 McNeill , David                  AUS   13:40.93
      Fernandez , German               USA        DNF                   
      Gathimba , Gideon Mwangi         KEN        DNF
The two biggest names in this race were world champion Mo Aman and Olympic silver medalist Nijel Amos. However, neither one came in with the normal favorite status you would expect. Aman opened his season at the Doha Diamond League with a terrible 1:47.38 performance for 9th place while Amos pulled out of that same race with a quad injury. Despite the doubts surrounding their fitness and health coming in, Aman and Amos delivered here with a 1-2 finish. Aman went to the lead with a little under 200 to go and was able to hold of a late charging Amos on the backstretch to take it in 1:44.92 to Amos' 1:44.06. Reigning Olympic 1500m champion Taoufik Makhloufi got a nice season opener with a close 3rd place finish in 1:45.17.
800 Final 100m
The Race (Video replay here)
Once again, the runners were reluctant to follow the rabbit as Harun Abda took the race out in 51.61, but no one went with him. Behind Abda there was a sizable gap to Poland's Adam Kszczot who lead the chase pack. Aman, Amos and Makhloufi sat right behind Kszczot.
As they approached 200 to go Amos got himself in a bit of trouble as he was on the rail and boxed in when Makhloufi went by on his outside. Amos had to wait a little longer to make a move to go after Aman. Amos also had to go a bit wider and run the final curve almost in lane 2. In the end this probably cost him the win as he challenged Aman up until the final meters, but wasn't able to get by. Makhloufi made a late surge and almost caught the other two, but it was too little too late.
Behind the top three Kszczot fell back to 8th and Kenya's Alfred Kipketer took 4th (1:45.69). Charles Jock was in dead last at the bell and moved up to finish 6th (1:46.08).
Results:
    1 Aman , Mohammed                  ETH    1:44.92                   
    2 Amos , Nijel                     BOT    1:45.06                   
    3 Makhloufi , Taoufik              ALG    1:45.17                   
    4 Kipketer , Alfred                KEN    1:45.69                   
    5 Kinyor , Job Koech               KEN    1:45.87                   
    6 Jock , Charles                   USA    1:46.08                   
    7 Olivier , André                  RSA    1:46.10                   
    8 Kszczot , Adam                   POL    1:46.14                   
    9 Rotich , Ferguson Cheruiyot      KEN    1:46.72
      Abda , Harun                     USA        DNF
EUGENE, Ore. — It was a great day to be an American middle-distance fan on Saturday. 2014 Diamond League champion Jenny Simpson picked up where she left off on the DL circuit, winning her third straight DL 1,500 in 4:00.98 (though this race does not count in the DL standings). Minutes later, Matthew Centrowitz recorded his best-ever DL showing with a runner-up 3:51.20 in the Bowerman Mile, narrowly losing to Djibouti's Ayanleh Souleiman, who won here for the second straight year.
Simpson and Centrowitz were the biggest names to excel, but they were hardly the only Americans to run well. Ben Blankenship continued his red-hot 2015 with a win in the international mile (3:55.72) while high school senior Alexa Efraimson (Camas, WA) broke the U.S. high school and U.S. junior records at 1500 with a spectacular 4:03.39 to place seventh in the women's 1500. Mary Cain held the old record at 4:04.62 from 2013.
Men's Bowerman Mile: Ayanleh Souleiman Repeats as Matthew Centrowitz Finishes a Surprising Second
Matthew Centrowitz made him work for it, but in the end Djibouti's Ayanleh Souleiman defended his Bowerman Mile title in impressive fashion, holding off Centrowitz and Asbel Kiprop over the final, drama-packed 100 meters. Souleiman got the win in 3:51.10 after closing in 1:51.46 for his final 800 with Centrowitz second in 3:51.20 and Kiprop third in 3:51.25.
While Souleiman's victory was no surprise, Centrowitz's runner-up finish represented a massive step forward for the 25-year-old. Centro has proven himself to be one of the world's best championship racers (3rd, 4th and 2nd at last three global champs) but generally struggled in the faster Diamond League races. Prior to today, he hadn't finished in the top six of a DL race since 2012, when he was fourth in Brussels and third in Lausanne. He's now tied for the second-best finish ever by an American in a DL 1500/mile:
Best finishes by an American man in a DL 1500/mile
1st, Leo Manzano, August 6, 2011 (London)
2nd, Bernard Lagat, August 6, 2011 (London)
2nd, Leo Manzano, August 27, 2010 (Brussels)
2nd, Leo Manzano, August 14, 2010 (London)
2nd, Matthew Centrowitz, May 30, 2015 (Eugene)
The Race (video replay here)
It quickly became apparent that we weren't going to have a repeat of last year's super-quick Bowerman Mile as when Souleiman came through 409 meters in 59.57 seconds, he had a five-meter lead on the main pack yet was still 25 meters behind the rabbits. After another slow lap (1:59.64 at 809), Morocco's Abdelaati Iguider took the lead and injected some pace and both Americans were ready to react (Centro was in third, Leo Manzano 4th), having used the slow pace to position themselves well in the early stages of the race.
Iguider hit the bell in 2:57.23 (57.59 lap) and battled to hold the lead for the first half of the lap before Souleiman went by him on the backstretch. Centrowitz, who looked smooth as always, was right on Souleiman's tail and moved up into second as they entered the final turn as Manzano started to fade after getting bumped going around the final turn. Souleiman really started to press on the turn but Centrowitz would not drop; Silas Kiplagat also swung wide and started to move up to challenge for the lead.
In the homestretch, Souleiman and Centrowitz dropped Kiplagat but gained a new challenger in Asbel Kiprop, who hadn't been anywhere near the lead for most of the race (he's been near last for some of it). It was a three-way kick between the gold and silver medalists from the most recent World Championships and last year's World Indoor champion/World #1. This was mile racing at its finest.
In the end, the red-hot Souleiman held everyone off in 3:51.10, with Centrowitz finishing a well-deserved second and Kiprop taking third (his first defeat to Centrowitz since 2012). Kiplagat, who won the first DL 1500 of the year in Shanghai two weeks ago, was fourth while Manzano faded to 11th, though he still managed a respectable 3:53.55.
Quick Take #1: Ayanleh Souleiman is the world's best miler right now
This status may change by August as Kiprop, Kiplagat and Centrowitz are all capable of challenging him, but there's no doubt Souleiman is #1 at the moment. He won the DL 800 opener in Doha (1:43.78) and now he's beaten the world's best in the mile at Pre (he also ran a 13:17 5,000 on April 27 for good measure). You can't ask for a better start to the year.
Afterwards, Souleiman was asked if he preferred the 800 or the 1500 and he indicated the 1500m is his favorite event, but with a touch of humor noted that just as someone can't eat their favorite food all the time, sometimes he needs to mix it up noting he runs the 800 and now the occasional 5000. Souleiman has a big personality and as his English keeps improving it will be good for the sport.
Quick Take #2: Matt Centrowitz may have reached another level after his big indoor season
Centrowitz put together a terrific indoor campaign, running 2:17.00 for 1k, 3:51.35 (to win the Wanamaker Mile) and winning the U.S. title. Some wondered whether his indoor success would transfer to the outdoor track, and the answer appears to be yes. He ran very well at Oxy on May 14 (1:46.55 800) and beat almost all of the world's greatest milers this afternoon.
Centro has run well every time but once in 2015 (10th in Birmingham 1500 in UK indoors in Feb).
The only question now is whether Centrowitz can keep up this level of performance all the way through Beijing. Running a great race on his own turf is one thing; can Centrowitz do the same in later races such as Oslo, Paris and London? The evidence so far is promising. He's certainly in PR shape, given he missed his PR by less than a second today after going through 809 in just under 2:00. If he gets in the right race, he's certainly got a shot to become the seventh American under 3:50.
Centro ran 3:31 last year which is equal to roughly a 3:48 mile. Placing well in the Diamond League was a nice step forward here.
Quick Take #3: There's no point in having rabbits if no one is going to go with them
This race had two rabbits, Hillary Maiyo and Andrew Rotich, but less than a lap into the race, they were rendered useless as no one showed any interest in running with them up front (Souleiman ran slightly ahead of the pack but still not close to the rabbits). This was far from the only time this happened this weekend or this season (the first DL 1500 was won in just 3:35.29 after the field chose not to go with the rabbits). It's fine if runners don't want to try and break 3:30 or 3:48 every time out — in fact, it's probably better that way. But it looks bad when there are rabbits 25 meters ahead of the pack one lap into the race. The IAAF may want to reassess how rabbits are deployed; this still turned out to be a very exciting race even though the rabbits were barely involved. If the field doesn't go with the rabbits may they should just drop out.
Leo Manzano who dominated in his last race, the Oxy 1500m, faded the last 200m here after getting bumped around the final turn, but he said his training is going great. He's not sure what exactly he'll run next.
Women's 1500: Jenny Simpson Continues To Dominate The Diamond League 1500 as Alexa Efraimson Pushes Mary Cain Aside
Last year Jenny Simpson was the Diamond League 1500m champion, winning in Stockholm, Zurich and finishing runner-up in Shanghai and Paris. She continued that 1500 dominance here getting the victory over a competitive field in 4:00.98 in a non Diamond League event. Behind her world 5000 silver medalist Mercy Cherono was runner-up in 4:01.26 and European champion Sifan Hassan was 3rd (4:01.65). With 100 to go it looked like the tight finish in Zurich last year between Shannon Rowbury and Simpson could repeat itself, but Rowbury was completely done in the last 100 and ended up a well beaten 4th in 4:02.28.
Behind the top four, the story was absolutely Alexa Efraimson who finished in 7th with a new US junior and high school record of 4:03.39. We have a separate article on Efraimson here as the high school senior erased Mary Cain from the top of the US record books.
The Race (video replay here)
The rabbit was Phoebe Wright and unlike the men's Bowerman mile, someone actually went with her. Shannon Rowbury was  out hard just a bit behind Wright as she went through the first 400m in about 64. Behind Rowbury there was a small gap to Jenny Simpson who was working on closing the distance to Rowbury and had another small gap on the rest of the pack. At this point Hassan was way back in almost last place.
When Wright took Rowbury through 800 in about 2:09 the positions were about the same, but by the time Wright stepped off at 900m Simpson was right on Rowbury's heals and soon the whole pack was right there as well. Simpson sat on Rowbury as Hassan moved up to third as they hit the bell in roughly 2:59.
Rowbury continued to lead on the backstretch, but Simpson stayed right on her shoulder waiting while Hassan continued on the rail in 3rd, but was boxed in a bit by Cherono who moved next to her in the outside of lane 1. Behind those four many more women were still right there with 200m remaining, including Katie Mackey, Emma Coburn and Alexa Efraimson who was going wide into lane 2 trying to pass.
Down the homestretch it was the Jenny Simpson show as she powered past Rowbury looking quick and smooth and took the win in 4:00.98. Hassan had gone wide to get out of the box and she and Cherono closed well themselves, but Simpson was never in danger as Cherono took 2nd .39 ahead of Hassan. Rowbury was completely spent and had no response when the other three women went by her, but was able to place fourth.
Efraimson was in the mix with nearly the entire field on the final lap and she held on for a huge 4:03.39 pr. She was not the only American with a big pr as Sarah Brown just ahead of her in 6th pr'd with a 4:03.20 (previous pr 4:05.27) and Katie Mackey in 8th in 4:03.81 prd (4:04.60 previous best).
Results:
    1 Simpson , Jennifer               USA    4:00.98                   
    2 Cherono , Mercy                  KEN    4:01.26                   
    3 Hassan , Sifan                   NED    4:01.65                   
    4 Rowbury , Shannon                USA    4:02.28                   
    5 Embaye , Axumawit                ETH    4:03.00                   
    6 Brown , Sarah                    USA    4:03.20                   
    7 Efraimson , Alexa                USA    4:03.39                   
    8 Mackey , Katie                   USA    4:03.81                   
    9 Moser , Treniere                 USA    4:04.26                   
   10 Plis , Renata                    POL    4:04.78                   
   11 Coburn , Emma                    USA    4:05.10                   
   12 Buckman , Zoe                    AUS    4:06.30                   
   13 England , Hannah                 GBR    4:19.26
      Praught , Aisha                  USA        DNF                   
      Wright , Phoebe                  USA        DNF
Quick Take #1: Is Jenny Simpson The Early Favorite For The 2015 World 1500 Title?
Let's review. In 2011 Simpson shocked the world and herself by becoming the world 1500 champion. 2011 was a strange year in the 1500 as the fastest time ran was 4:00.06 byMorgan Uceny and some called Simpson's win a fluke, especially after she didn't perform well at the 2012 Olympics. But fast forward to 2013 and Simpson proved herself by getting silver behind Abeba Aregawi, who was just straight-up better than Simpson that year. Then last year Simpson was the Diamond League champion.
Now here she is in an early season race getting a convincing win over Cherono and Hassan while Genzebe Dibaba is focused (at least temporarily) on the 5000 and the reigning world champ, Aregawi, is finishing far back in her races (4:04.42 for 7th in Doha, 1:59.98 here for 4th in the 800). It's very early, but 4-years after her shock win in Daegu, Simpson will certainly be in the hunt for another world title.
Quick Take #2: Simpson Was Happy To Win At Pre For The First Time And Hayward For The First Time In 6 Years
After the race, Simpson said the following when interviewed by NBC, "When I was warming up, I overheard the announcers asking an athlete, 'What does it means to win at  Pre? What's one word?' And for me this is where legends win and where they're born, and so for me I have a lot of history here and a lot of wins here so I am trying to write my name in the history books."
We looked back at the stats and Simpson actually hasn't won at Hayward Field since 2009 when she won the steeplechase at USAs and she's never won at the Pre Classic until now (she has two runner-up finishes) so this was a significant win for Simpson.
Talking about her tactics Simpson said it was hard to sit back in second place until the end. "That's hard for me I led so much last year. I feel really comfortable on the inside of lane one and I like to press and press and grind out." But she knew Coach Mark Wetmore wanted her to stick to the plan so she was patient and waited until the final straight to take the lead.
Quick Take #3: Rowbury And Hassan Probably Hurt Their Chances In The First Lap
In this race Rowbury and Hassan took opposite approaches as after the first lap Rowbury was right on the rabbit with a gap to the field and Hassan was in dead last. Neither tactic helped them out at the end of the race as Rowbury ran a harder first lap than anyone else in the field, but then was caught immediately after the rabbit dropped and had the field drafting off her for the next 400m. Hassan was extremely far back after the first 500m and had to make up a lot of ground just to be in contention with a lap to go. Hassan also got herself boxed in in with 200 to go and had to make an awkward move out to lane two to try and pass.
Maybe Rowbury wouldn't have been able to finish any higher with different pacing (she was actually pretty even with splits), but Hassan definitely hurt her chances with poor tactics.
Rowbury afterwards said she wanted to be aggressive, so while leading wasn't ideal it was just one step in her progress as a runner.
Quick Take #3: The TV Announcers Completely Missed Alex Efraimson
American history was made in the women's 1500 here at Pre, but no one watching at home would have ever known. Alexa Efraimson ran 4:03.39 to place 7th and set a US junior and high school record, breaking the mark set previously set by Mary Cain. Come on TV crew, do your homework. They could maybe be forgiven for this if the record was 20-years old and Efraimson wasn't on anyone's radar, but that's not that case at all. Efraimson's name was ever mentioned on the NBC broadcast. Unbelievable. Mary Cain was the media darling and now Efraimson trumps Cain and she doesn't even get mentioned.
We're going to have a separate article on Efraimson but our post-race interview with her is below. Plus we talked to her prom date (sub 4 high school miler Matthew Maton)about her run here.
Quick Take #4: The Difference In Closing Speed Between Simpson And Others Is Amazing
Look at this screen shot from the race with less than 200m to go. So many women still right in it including Mackey, Efraimson and Coburn. But just look how far back they finish in the end. Mackey lost by almost 3-seconds; Coburn lost by almost 5-seconds in the final 150m. That's a lot of time to lose in the final kick of a race.
Quick Take #5: Positive Step For Emma Coburn
Emma Coburn was well beaten here finishing 9th in Emma 4:05.10. But this is a great result for her as it's actually a PR (previous best 4:05.29) and a huge improvement on the 4:10 she ran at the USATF High Performance Meet a couple of weeks ago. We can't wait to see what she does in her first steeple this year.
QT #6: Poor Sarah Brown and Katie Mackey
Brown and Mackey both keep getting better, but here they were upstaged by Simpson, Rowbury, and Efraimson even though Brown beat Efraimson. American 1500m running is tremendously good right now and with Simpson getting a bye for worlds, and Rowbury looking like a lock, Brown, Mackey and Efraimson could be battling for the final three Worlds spots.
Women's 1500 chatter on our world famous messageboards:
Men's International Mile: Ben Blankenship's Hot Streak Continues
Can Ben Blankenship and Timothy Cheruiyot race each other every week? On May 3, the two runners delivered a thrilling anchor leg in the DMR at the World Relays and they waged another thrilling battle on Saturday with Blankenship grabbing the win just before the line in 3:55.72 with a 55-second last lap.
The Race (video replay here)
The field had no interest in going with the rabbits as they hit 809 meters in a pedestrian 2:01.80. Rabbit Mark Wieczorek had about 40 meters on the main pack at that point before dropping out; Cheruiyot and Blankenship sat in first and second among the racers.
Blankenship was jubilant as he crossed the line
Cheruiyot dropped the pace on the third lap, running a 58.1 (2:59.9 at the bell) but the relatively slow pace meant that a lot of guys were still in the race. On the backstretch, Blankenship made a bid for the lead, but Cheruiyot countered the move and held him off. With 150 to go, Blankenship again tried to go by and Cheruiyot again held him off as those two and Kenya's World Junior champ Jonathan Sawe began to pull away from the field. Midway through the homestretch, Blankenship made his third bid for the lead, but as he pulled up on Cheruiyot's outside shoulder, he found himself blocked. Sawe had been making up ground on Blankenship's outside and Blankenship found himself squeezed between the two of them with no room to maneuver.
Instead of panicking, Blankenship ducked inside and went for the pass on the inside, which Cheruiyot had left open as he drifted into lane two to hold off Sawe. The fourth time was the charm for Blankenship as he accelerated quickly to beat his Kenyan rivals to the finish in 3:55.72. Sawe just edged Cheruiyot for second in 3:55.76 as the top three were separated by just .08 of a second in a tight finish.
Garrett Heath was the next-best American in fifth at 3:56.53. OTC runners Andrew Wheating (12th, 4:00.35) and Mac Fleet (13th, 4:03.04) both struggled.
Quick Take #1: Ben Blankenship is officially the favorite for the third spot on Team USA at Worlds
After his Bowerman Mile performance, Matthew Centrowitz is the favorite for the U.S. title, and though Blankenship ran faster than Leo Manzano today, Manzano's track record is enough to give him the nod for the #2 spot. But Blankenship's performance today, in addition to his anchor leg at the World Relays and his fourth-place finish in Shanghai, makes him the clear choice for the third spot right now.
There's still a month to go until USAs, during which time the order may shift. But Blankenship is on a roll, and he knows that anything less than a top-three finish at USAs will be a disappointment.
"If I don't make the World team then all this will be for nothing," Blankenship told NBC Sports Network after the race.
Afterwards, Blankenship was pleased with his win, but would have no comment on being snubbed for the Bowerman Mile despite anchoring the US to the gold medal at World Relays and performing well at the Diamond League meet in Shanghai. Blankenship's no comment was all that was needed to show his displeasure.
Quick Take #2: Not a good sign for Andrew Wheating
Wheating's last race at the Hoka One One Middle Distance Classic was a step in the right direction as he clearly had the second-best kick in the race, losing out only to Leo Manzano in a solid field of Americans. It's not time to panic, but today's race certainly wasn't what he was looking for as Wheating was never a serious factor, winding up 12th.
In fact, this race wasn't a good sign for any American outside of Blankenship (and perhaps Garrett Heath) as Blankenship seemed to be running on a totally different level today even though the race wasn't particularly fast. With only three spots available on Team USA, guys like Pat Casey and Lopez Lomong will certainly want to have been more competitive in this field.
After the race,  Wheating took responsibility for his poor run, saying he let a bunch of different race ideas cloud his mind. He initially wanted to go out hard with the rabbits, and when that didn't happen he never found a rhythm.
We do think it's a good sign that Wheating has tried to go with the rabbits in each of his two races, as that probably means his training has been going well, but he seems to do best when he just gets in the pack and races like Leo Manzano.
Mo Farah wins Prefontaine Classic 10K with fourth-fastest time ever at Hayward Field
By 
Andrew Greif | The Oregonian/OregonLive 
Email the author
 | 
Follow on Twitter
on May 29, 2015 at 10:59 PM, updated 
May 30, 2015 at 12:08 AM
EUGENE — Mo Farah's past three years have been so charmed that even things the British distance-running star is loosely associated with tend to turn to gold.
After Farah's gold-medal sweep of the 5,000 and 10,000 meters at both the 2012 London Olympics and world outdoor championships a year later — becoming only the second man to achieve track's "double-double" — a blog about Farah became, for a brief stretch, as popular as the star himself. Called "Mo Farah Running Away From Things," it showed exactly that. The most popular entry spliced a Photoshopped image of Farah, in his typical victory celebration of outstretched arms and wide-open mouth, as if 
frightened and looking for help — in front of a charging bear. The blog was last updated in 2013.
Its namesake, meanwhile, has kept going, pulling away from everyone who steps on a track with him.
Farah's four-year undefeated streak in the 10,000 meters remained intact Friday at the Prefontaine Classic at Hayward Field, with his world-leading victory in 26 minutes, 50.97 seconds — his fastest 10K since 2011, when he set his PR of 26:46.57 — in a 19-man field creating thunderous applause unheard of all evening during the opening night of the two-day meet.
It was the fourth-fastest 10,000 in Hayward Field history.
Farah's Nike Oregon Project teammate Cam Levins smashed the Canadian record by 15 seconds, finishing in fourth in 27:07.51.
Despite it all, Farah was more perturbed than pleased, saying the race was, in reality, something of a bear.
He said he didn't come close to his goal of a mid-26:30 finish because of an inconsistent pace. He cited the lack a rabbit for the final 5,000 and the work of sharing the lead for that final stretch that he and second-place finisher Paul Tanui of Kenya (26:51.86) had agreed upon beforehand. But he said that third-place finisher Geoffrey Kamworor (26:52.65) indicated he wouldn't help.
"My goal was definitely to run faster, training's been going very well so it's one of those things where you just kind of might as well go for it," Farah said. "That was the aim but it was pretty difficult, actually."
Appearances were deceiving, then, because Farah's bouncy strides against didn't make it look very hard. His last loss in the event was Aug. 28, 2011.
In third with a mile to go, Farah took the lead for good with 350 meters remaining. At 200 meters, Kamworor nearly caught up — but Farah's kick put him ahead a comfortable 15 meters at the finish.
"I was just making sure I had something left toward the end but I just didn't want to go all out and show my cards," Farah said. "At the same time I try to win the race. At that point with one lap to go I thought, I should win this race."
He remains golden.