Amberwood Northern Exposure CD RN
Sire: Can. Ch. Dewmist Davenport
Dam: OTCh Can. Ch Chrys-HaefenAmberwood Image WC, Am. CDX 
Whelped: April 15, 2002
Died February 21, 2013 (Hemangiosarcoma)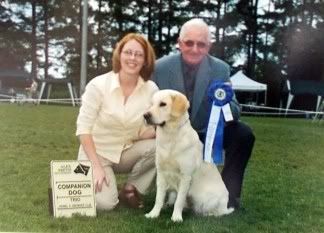 Achievements:
 CD, CARO RN
Juniper  was born April 15, 2002. We started out working in both conformation and obedience, but now she has been spayed and left the  ring to focus solely on fun!  She earned her CD in August 2003 in three straight trials, at the age of only 16 months. She was also training in the Open exercises until a hip injury put an end to jumping.  In the spring of 2005 she completed her Rally Novice title, with scores that earned her the Cum Laude honorific.

We lost her suddenly at home on the evening of February 12, 2013 due to a splenic hemangiosarcoma.  She is dearly missed.