It has been said that
there are no reputation cattle, just reputation people.
We aim to prove the "reputation cattle" part of that statement incorrect by closebreeding B571 Red Angus. Concerning the second half of that statement and in lieu of a personal reputation, I thought it would be best to share that from whence I came.
Born in 1967 on a diversified grain and livestock farm in central Iowa, I found my life's passion with the family's commercial cowherd. Dad was A.I.ing to Choctaw Chief in the early 1970's. I remember riding through the pastures with Dad as he was pointing out the A.I. calves to visitors and then to his surprise I started correctly pointing them out also. With a pride filled smile Dad asked me how I knew which ones were Choctaw Chief calves. "It is simple Dad. They are the red ones," I replied. That may be an on-par observation for a 5 year old, but that's where the passion started. Whether it was fixing fence, hauling hay, or sticking thistles in the pastures I was on a natural high if what I was doing was for the cows.

I was fortunate to have the opportunity to attend college and earn two bachelor's degrees. Central University of Iowa (aka Central College) provided me an avenue to a B.A. In Business Management and a minor in Economics. Even though there were only 4 other Central students that wore boots and Wranglers, I made my studies fit me. For reports in marketing class I would write about how seedstock breeders marketed their bulls. In economics classes I spent considerable time discussing how to build computer models that would predict corn prices and in turn be able to predict the cattle market. In a spreadsheet class I wrote cowherd management software. I focused my studies on how I could use them in the beef industry, specifically with seedstock.
Earning a B.S. In Animal Science at Oklahoma State was an academic rush, finally being able to engage in coursework designed for beef cattle management. My mind was a sponge in nutrition and production classes. In the courses of genetics and animal breeding I experienced a mental nirvana. I even pursued a masters centered around animal breeding, seedstock, and range management. Since college, I find myself frequenting the work of Lush, Bonsma and Hagedoorn.

I always thought I would return to the home cattle operation and make it larger for one more income: mine. Then I had a phone call from Dad while in my second semester at OSU. He said the pasture leases at home were too high so he sold the cows, including my few head. It was time for "Plan B."
Not far from Stillwater is the town of Marshall, OK where I visited Roy Beeby several times. When I asked to work for Roy during my summers off from school he said he just didn't have enough work to justify hiring me. Then he did something even better.  Roy wrote down the names of a few Red Angus breeders he thought would be good for me to get experience with. At the top of Roy's list was Beckton Stock Farm.

The summer of 1990 I had the honor of running the A.I. Program at Beckton. Two sires that stood out to me were Beckton Julian 7526 G and Beckton Clipper 8496. Julian 7526 was both the sire and grandsire of B571. The dam of B571 was a yearling heifer the summer of 1990, and unfortunately I do not remember her. B571 was conceived the summer after I was at Beckton. The fall of 1990 I returned to OSU.

I have worked for seedstock and/or commercial cattle operations in 6 states and with several breeds. Even developed a short-lived composite breed in Texas.

While in Texas I met and married the love of my life and my most favorite person in the whole world, Liz. When Liz and I first met she informed me that she did have some baggage, "but it was cute and it matches." This turned out to be our daughter, Mandy. Like her mother, she is quick, sharp, beautiful and just as sweet as a 10 pound bag of sugar. Liz and Mandy continue to be the two greatest, positive influences in my life. I know God loves me because they do.

It seemed like I was always looking for a master cattle breeder to work for and become their apprentice geneticist. Looking back I realize that I had passed the apprentice level. Even though I learned something at every place I was employed, my knowledge base had two major advances. One was my deep study of the work of Gudgell & Simpson and how they created the Anxiety 4th strain of Hereford cattle. The other was my professional experience working a "town job" conducting genetics research for Lexicon Genetics, now known as Lexicon Pharmaceuticals.

Shortly after Mandy graduated from high school in Texas we moved to Liz's hometown of Hutchinson, KS. Over a three day weekend we drove to Hutchinson from Houston and bought a house. We then sold our house in The Woodlands, TX in nine days and Liz and I both put in our two weeks notices. When I turned in my resignation at Lexicon I was told I was being promoted to Scientific Team Leader. I had to decline. Timing is a funny creature.
We had been in Kansas less than a year when Liz took me by the hand, smiled, and said, "Just do it. It's time to breed your cattle. I believe in you." What a woman, what a woman! A couple weeks later we purchased our first females from Mushrush Red Angus in Kansas. Later additions were made from Messmer's ET program (via John Jung in South Dakota), Brandee Cattle Company and Buffalo Creek Red Angus.

We started without any grass leased or owned, but used a year-round custom grazier. Soon after, we leased our own grass and purchased our present place 8 miles northwest of Inman, KS, where you will find us building our cowherd debt-free. That may be considered unconventional by quite a few, but instead of starting with 100+ females we carefully selected what we predict will be elite females for our goals. As we see more calves out of these females a better understanding of their genetic transmitting ability is being realized. When cash flow permits, an ET program will be initiated for the cows that best meet our ideal, or more females of B571 influence will be added. In the meantime heifers are going to continue to be retained in our herd.
My dad passed away the summer of 2008, but he saw the base females of our herd several times. I will always remember his enthusiasm for our B571 females. Dad inherited his love of quality livestock from his dad, my Grandpa Lewie. Liz's dad, Van, and her brother Bob both passed away before Liz and I were married. I feel tremendously cheated by not getting to spend time with them. If Van, Bob, my dad and Grandpa Lewie happen to look down from above, nod their heads and smile then I will have all the acknowledgment I need. Then I will have the only remaining piece necessary for me to be the luckiest man on earth.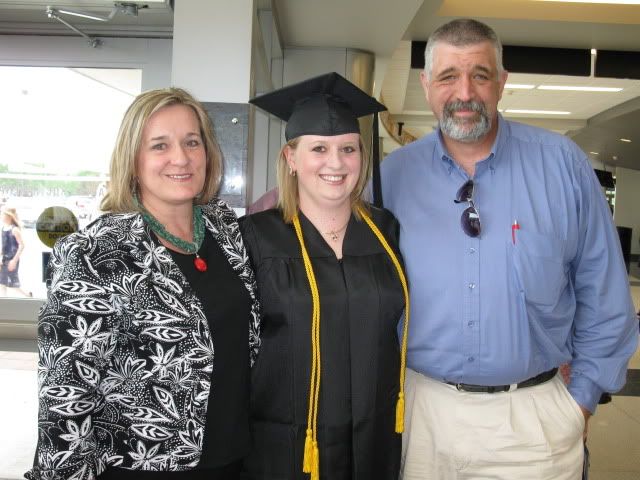 Liz, Mandy and Dwight
Just after Mandy graduated with honors from Wichita State
May 15, 2009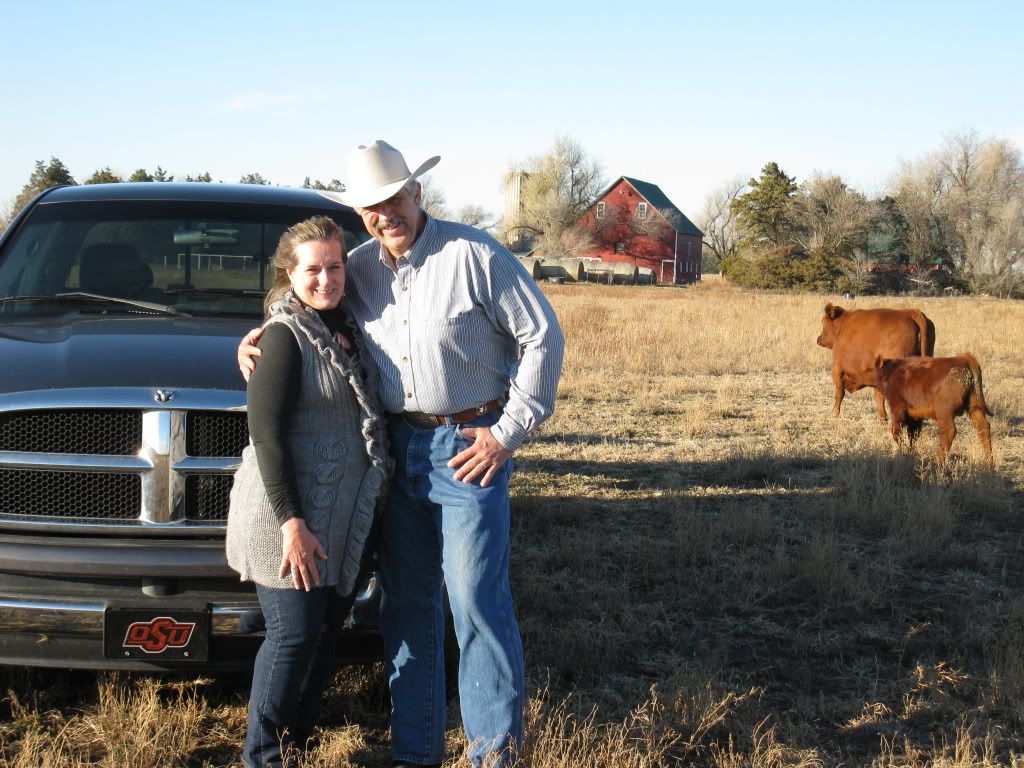 Dwight & Liz Elmore