Game 3 of the 2013 State of Origin series will be played tomorrow night at ANZ Stadium in Sydney, as the NSW Blues and Queensland Maroons face each other in the deciding match of the series.If it feels like I've written the following sentence a hundred times over the last six weeks, it's probably because I have: the Blues will be looking to end seven years of pain, while Queensland will be looking to extend their already historical dominance by yet another year.
NSW are desperate heading into Origin III. They're desperate to end Queensland's seven-year dominance and desperate to wipe the smirks off the faces of Cameron Smith and company.
They're desperate to finish what they started in Sydney back in Origin I, and desperate to rectify the mistakes that saw them on the wrong end of a flogging in Origin II.
So far in the series, the Blues have scored a total of 20 points, and in a contender for understatement of the year, I'm going to predict that 10 points – their per game average – won't be enough to defeat the Maroons at Homebush tomorrow night.Optimistic New South Welshmen will point out that 10 points would have been enough to defeat Queensland in game one, but you would have to be crazy to think the Maroons will play that badly again.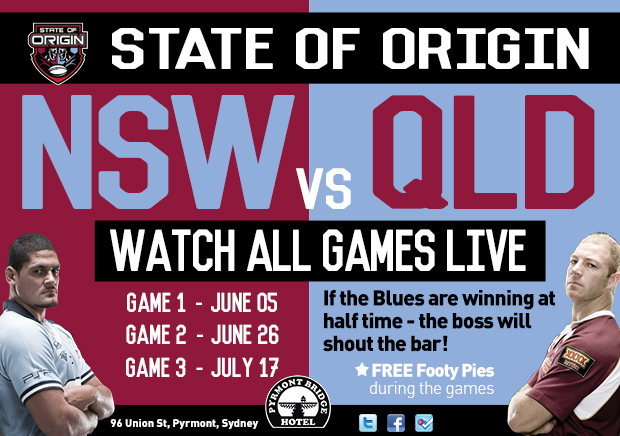 Which, for the mathematical professors among us, means NSW will need to score more than 18 points to win the game.
So the question I repeat is, do NSW have enough points in them?
The loss of Jarryd Hayne is a massive blow, as he has a knack of scoring big tries against Queensland. His absence will be felt in many facets of the game, but none more so that his propensity to cross the try line.
Though the backline of Michael Jennings, Josh Morris, James McManus, Brett Morris and Josh Dugan has an abundance of try scoring ability, the issue once again will be providing them with opportunities. This obviously falls back upon the go-forward the pack provides, and then the chances the ball-players can create for their backs.
Sadly, when it comes to the forwards, NSW will be without the services of arguably the world's best, with Paul Gallen ruled out via injury.
Even if Gallen was fit, halfback Mitchell Pearce, five-eighth James Maloney and hooker Robbie Farah hold the keys to the Blues' attack. However, Pearce has been sub-par, Maloney was targeted by the Maroons and therefore neutralised in Game 2, and Farah has been asked to do too much, which has affected his attacking game.
The Blues have enough points in them, but only if these three fire.
Yet unless Pearce can suddenly become a good player, Maloney can find refuge in defence, and Farah can be freed up to fully utilise his skills, that's not going to happen.