Announcements
Subscribe to posts
I was just informed that Ken will not be in town, so there will be no class on Memorial Day.
Summer schedule will also chance our Friday class to end time.  So starting 23 Jun, Friday classes will end at 8pm as the Ford Center closes at 8pm.  Monday & Wednesday classes will continue to end at 9:30pm.
JL
Sifu Ken is back, and Friday classes will resume (6:30pm - 9:30pm).
See you all in class!
JL
Hi Everyone,
Since Sifu Ken is on travel, and the attendance for Friday class has been super light, I'm going to shorten the class time to 6:30pm - 9:00pm.  I will make it to class by 7pm, though if you show up earlier, you are welcome to start practice.  However, I may need to leave around 9pm.
JL
There will be class on Friday, 31 Mar 2017.  Ken will be out of town, but i will hold class.  Please note that I may not arrive until about 6:45pm - 7:00pm.
Hope to see everyone in class!
JL
Hey Everyone,
SMAP (Stanford Martial Arts Program) needs our help. Especially with out low Stanford student head count, we really need to generate some goodwill.  Please consider helping.  If you are considering it, pls let me know!
Date: March 23, 2017 6:17:48 PM PDT


Subject: SMAP Fundraiser: Help Needed





Hello SMAP Instructors and Officers:

There is an opportunity to raise money for the SMAP program and it only

requires *each member club to provide one volunteer on Friday 3/31 at

8:00AM and another on 4/1 at 6:00PM.* Volunteers will be setting up and

breaking down a Men's Gymnastics meet in Burnham Pavilion and will *only

work 3 hours maximum*. Working together with Athletics staff, the job will

be fairly quick and painless, especially if every club participates.

We may not move forward on this without a high percentage of participation

from all SMAP clubs and even though this is during Spring Break, I hope

most clubs can find two people to donate 3 hours each.

Here is the link to have your volunteers sign up:

https://docs.google.com/spreadsheets/d/1-cMGSxCx6Yci6-zrUBStPr-BJo0LA5GH_z5e7paHTPU/edit?usp=sharing

Thanks for your help!

*Tim Ghormley*

*Director - Stanford Martial Arts Program*

*Department of Athletics, Physical Education*

*and Recreation*

*Stanford University*

*Office: (650) 725-0729*

*Cell: (408) 674-2370*
JL
There is one last Stanford Wing Chun T-shirt left.  It's XL.
Let me know if anyone wants it ($20)
JL
The Stanford course 
PE83: Introduction to Martial Arts
is a great class for any beginners looking to understand all the martial arts that Stanford offers.  It's also on the verge of being cancelled!  Please help get the word out, so that it won't be cancelled!
Below is the email I've been asked to forward....
--------------------------------------------------------------------------------------------------------------------------------
Hey,




Have you ever been interested in trying out martial arts?  Have no experience and no idea where to start?  Or maybe you've dabbled but are interested in exploring more?  




Consider taking PE83: Introduction to Martial Arts

!  This class will cover the basics ot 3 different martials arts (specific martial arts TBD), each for 3 weeks.  No experience is required, and this may also be your

 last chance

 to take such a class!




And who knows, maybe by the end, you'll be able to do things like this: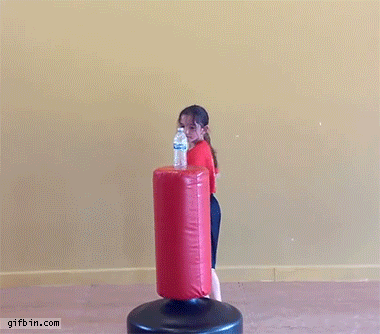 I'm fighting off a bug and I can't find anyone else to hold class, so this Friday's class (2/24) is cancelled.
Note that Sifu Ken will be back next Mon, so everyone should get back to class!  Classes have been very light lately.
JL
The Stanford yearbook is soliciting pictures from our group.  If any of you would like to help take pictures for a couple of weeks, that would be GREAT!  We can then send them in!
Hope to catch you all in class (and wear your new T-shirts!)
JL
While Ken is out of town, Friday classes are still going on.  However, I arrive around 
6:45pm-7pm
, so just start working out until i arrive.  Additionally, 
next Monday
 is Presidents' Day, and class will also be held.