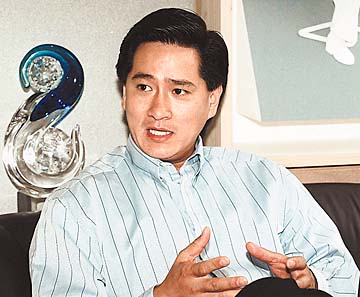 Star-Bulletin file
Indonesian businessman Sukamto Sia, who owes
$296 million in debts, would be exposed to creditors
again if his bankruptcy protection is withdrawn.
CLICK BELOW TO ENTER
---
---
 Tuesday, April 11, 2000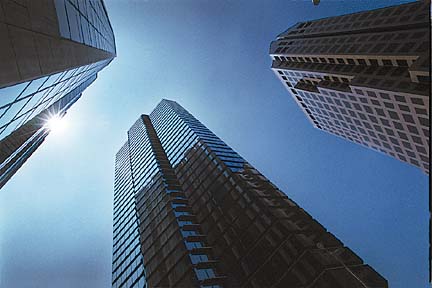 By Dennis Oda, Star-Bulletin
The Executive Centre on Bishop Street is flanked by the
Pauahi Tower, left, and the First Hawaiian Tower. The Executive
Centre would change hands in a plan being considered
in the Sukamto Sia bankruptcy.
---
Citibank poised to

 

assume control of

 

Executive Centre


Sukamto Sia's former holding
would help reduce his
debt by $500,000

* * *

 

Honolulu Star-Bulletin

 

---
---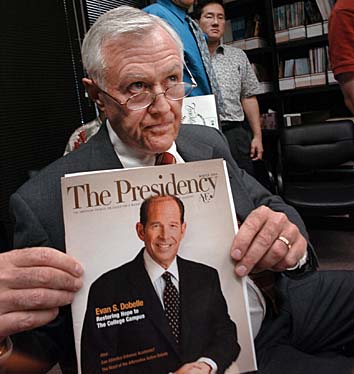 DENNIS ODA /
DODA@STARBULLETIN.COM
Attorney Rick Fried held up the Winter 2004 issue of the Presidency, the American Council on Education's Magazine for Higher Education, which has Evan Dobelle on its cover, at a news conference Friday. Dobelle has since enlisted other prominent local lawyers in his dispute against the University of Hawaii.
---
---
---
Thursday, December 10, 1998



Jones told the San Diego Chargers
before this morning's practice that
he will be the next head football
coach for the Rainbows

By Paul Arnett
Star-Bulletin

June Jones told the San Diego Chargers before this morning's practice that he will be the next head football coach at the University of Hawaii.

A press conference was held today to make the announcement official that Jones will replace Fred von Appen, who was fired 11 days ago after finishing 0-12.

"I'm jacked up about getting it turned around," Jones said today. "I am excited that I'm going to a place where I've wanted to retire, where I wanted to live, and I think it could get to be a 20-year job if I can get it going in the next 4-5 years. "I have a plan in place that I believe can be successful. During my career, I've gone to different places to put in a new plan and to help make them a winner. Houston, for example. So, I'm looking forward to the challenge." Jones didn't show a lot of interest days after von Appen was let go, but last weekend he contacted University of Hawaii Athletic Director Hugh Yoshida to let him know he would pursue the job.

"Coaching in Hawaii has always been a dream of mine," Jones said after the Chargers lost to the Washington Redskins last weekend. "If it wasn't Hawaii, we wouldn't even be talking right now."

One sticking point for Jones was the length of the deal. Hawaii officials apparently wanted it to be three years with rollover clauses. Jones was looking for a straight five-year contract. The deal is apparently for about $250,000 a year.


AP Photo/Denis Poroy


San Diego Chargers head coach June Jones, left, talks with
Chargers' quarterback Ryan Leaf during the first quarter against
the Philadelphia Eagles last Oct. in San Diego.

---
---
Jones asks judge to be lenient with Sia
By Jim Dooley
Advertiser Staff Writer
University of Hawai'i football coach June Jones has asked a federal judge for leniency on behalf of financier Sukamto Sia, suggesting that Sia could give "instructional lectures" at UH as part of his rehabilitation instead of serving prison time for bank fraud.
Sukamto Sia awaits sentencing today in a fraud case.
In a Feb. 13 letter to U.S. District Court
Judge David Ezra
, Jones called Sia "one of the most wonderful persons I have associated myself with since returning to Hawai'i" and said he has known Sia for about a year,
becoming "very good friends"
over that time.
When he heard about Sia's legal troubles, "it made me feel sick to my stomach," Jones wrote.
Sia will appear before Ezra today for sentencing on bankruptcy and wire fraud convictions. He faces up to 40 months in federal prison and fines of $1.5 million. Earlier this month, his bail was revoked after his involvement in a domestic disturbance in Los Angeles on Feb. 13.
On Tuesday, U.S. Bankruptcy Court Judge Lloyd King found Sia in contempt of court for repeatedly failing to produce financial records to his creditors.
King threatened to notify Ezra of the contempt ruling, then said he may order Sia jailed after he finishes serving whatever sentence Ezra hands down today in the criminal case.
Jones declined to discuss the letter he wrote on Sia's behalf, saying it was "a private letter to the judge."
Asked if the bail revocation or contempt ruling have changed his attitude toward Sia, Jones said, "No, nothing's changed." Jones said he didn't wish to elaborate. "The letter speaks for itself," he said.
Written on UH stationery, Jones' letter referred to Sia as "SS," and said Sia "could be a great asset to the University of Hawai'i by giving instructional lectures to our students. I make this suggestion as part of a rehabilitation sentence, in lieu of custody time."
Jones also noted that Sia has been involved helping young business people.
"In the past, he has held seminars and roundtable business discussions, devoting many hours of his time in open forum to help them and guide them toward achieving success in life," he said.
Numerous other friends and associates of Sia also wrote letters of support to Ezra.
Sia, 41, is a developer, financier and former owner of the Bank of Honolulu, which was seized by federal regulators in October 2000. As part of a plea agreement in the criminal case, Sia admitted defrauding the bank by obtaining illegal loans that went to companies he controlled.
He also admitted improperly cashing two state of Hawai'i tax refund checks worth $757,000 and using some of the proceeds to gamble in Las Vegas and to buy his girlfriend, Kelly Randall, a pair of diamond earrings worth $325,000.
More than a dozen other criminal counts against Sia were dropped in return for his guilty plea.
Sia's lawyers have argued to Ezra that Sia's financial problems were caused in part by a severe gambling addiction that led to losses of tens of millions of dollars at casinos around the world.
He was arrested by Las Vegas authorities in 1998 on charges he wrote bad checks to cover some $8 million in gambling debts. Those charges were later dropped after he agreed to repay the money.
The domestic disturbance incident last month occurred at a mansion in Bel Air, Calif., that Sia shares with Randall. Randall at one time was also charged in the federal court case, but prosecutors agreed to drop those charges in return for Sia's guilty plea.
Police said Randall initially told them Sia slapped her three or four times but she later said the accusation was a lie.
Ezra, in revoking Sia's bail, said it wasn't because of the domestic battery allegations but because Sia lied to police officers when he told them that he'd never been arrested before and that an electronic monitoring device attached to his wrist was a watch.
Football coach June Jones wrote to Judge David Ezra on behalf of his "very good friend."
http://the.honoluluadvertiser.com/article/2002/Mar/21/ln/ln08a.html
---
http://hunt.parkerranch.com/Guides
GUIDO GIACOMETTI
---
David Farmer is the focus of an ethics panel investigation.

Bruce Asato • The Honolulu Advertiser
DAVID C. FARMER
---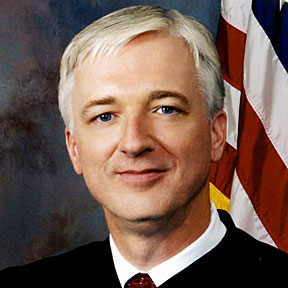 JUDGE LLOYD KING
---
---
---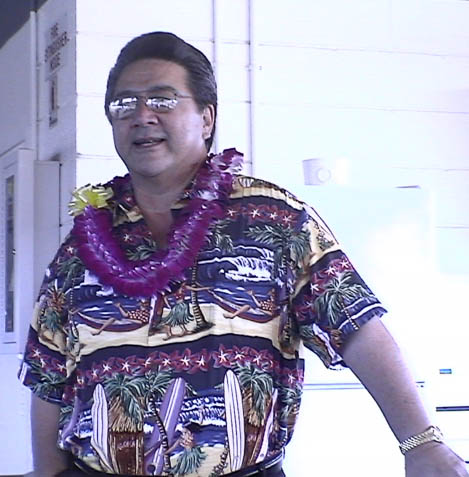 * * * 
Position: Chief of staff to Gov. Linda Lingle
Age: 56
Hometown: Nanakuli
Previous jobs: Chief of staff to former Honolulu Mayor Eileen Anderson; government affairs director, Waste Management Inc.; senior principal for the accounting and consulting firm of Pannell Kerr Forster; regional vice president, Village Resorts Inc.; assistant vice president, Bank of Honolulu; marketing director, Sea Life Park; insurance salesman, First Insurance Co....
---
---
 

From 1983-84, Barack Obama worked as Editor at Business International Corporation, a known CIA front company.
* * *
CLICK HERE FOR MORE OF...
* * * * *  
I hear the whispering voice of spring,

the thrush's trill, the catbird's cry.
Oliver Wendell Holmes
 * * *