Reception Details
An Affair to Remember 
Mill City Museum
This is where the dinner will be served
(photo credit Stephanie Colgan, MrsKizdoodle bio)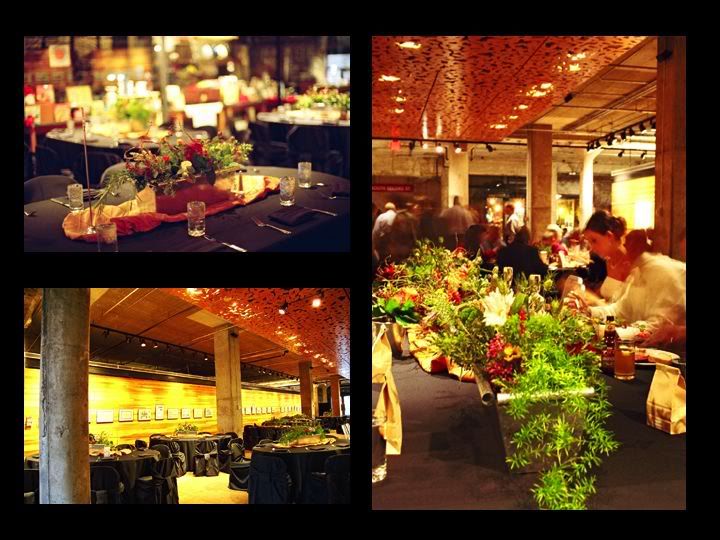 This is where the cocktail hour and dancing will occur
I love this idea for the escort cards....It is very different.  I huge piece of plywood, some primer and chalk board paint...And you're set!!
Table Set up and Decor
 I really like the edgy look of square tables, we will be renting them.  They will be 2 x 2 tables.  This image is really close to the look that we'll have.  Brown tablecloths, etc.  We won't be having Chivarri chairs though, I don't want to spend the extra $$, when it can be better applied.
I have been thinking about doing this table set up which is close to the picture shown above.  As far as the actual arrangement of the tables, I really like the way two long tables and four square tables looks.  I have to tweak it a bit though.
Centerpieces
 Ceterpieces, roses and carnations, and repeated in smaller vases in a circle.
The carnations would be similar to the darker shade in this photo
Here are some pictures from our food tasting:
Hors 'doeuvres - We'll be adding the spring rolls to our buffet table. The one shown is duck.
The sea bass was such a hit, that we decided to forego our chicken option for this instead. It was one of the best pieces of fish I've ever had
This is a picture of awesomeness. Heaven for flavors in one slice. Banana cake with caramel and chocolate ganache filling with white chocolate buttercream frosting.
Dessert bar. This will be our final buffet option. Guests will be able to select four from the assortment 
Here are our toasting flutes from Crate and Barrel:
 I really like the idea of having sketchbooks at the tables.  Very clever, very us!
Photo from feteny.com
 Possible menu and napkin idea