This part was dictated in 1996 by MOTKE TABURISKI and LISA LEVINSON now living in Hadera , Israel.
In 1942, when the Ghettoes in Smorgon where liquidated, the jews of Smorgon were sent to Oshmiane. The youngsters were sent to work in Germany and Littuenia.
In Oct 21, 1942 - 750 people were killed. among them were the jews of Oshmiane, Smorgon, Krevo, Olshan.
The killing took place in ZELONKA (between Smorgon and Oshmiane)
After the war , in 1952, the jews from Vilna made the first tombstone. Theycollected the human bones under the tall grass. A kerchief that was found in the grass was recognized by relatives.
The tombstone deteriorated in 1967. The government in Belarus created a new one, but Wrote on it "in memory of the victims of WW II. They never mentioned That they were jews.
In 1995 we contacted the director of the museum of Smorgon. Mrs. Maria Leonidovna Moiseyev.
(tel: + 70592 51771). She was very cooperative and efficient. Some money and a script in memory of the jews of Smorgon were transferred,
She created a board with the script . This board was fixed on the wall of what used to be the great synagogue and is now a bank.
On one a regular day, that was formally made a complete day of rest in Smorgon, together with the mayor - the pupils of the local high school gave a performance, and a new tombstone was erected in ZELONKA.

Tombstone in Zelonka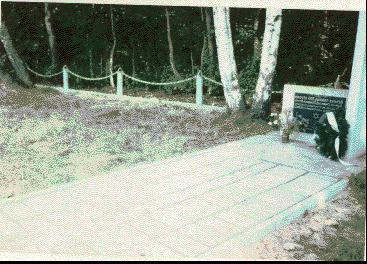 Memory board in Smorgon
1- museum director, 2- mayor of Smorgon, 3- Mrs. Lisa Levinson, 4- Mr. Motke Taburiski
In Russian - see attachment