SLTcamp14 - The Sequel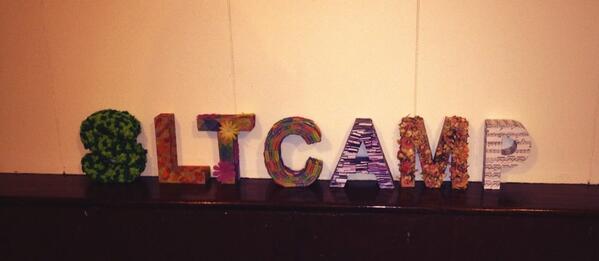 "I don't know quite what you created here, but I like it."
Ashley Harrold
Come an enjoy a weekend of CPD unlike any other you will have experienced. SLTcamp will be held in a beautiful location in the UK on November 14th to the 16th 2014.  Open to existing and aspiring SLT in schools across the UK, the SLTcamp philosophy is grassroots and humble-  our motto is 'leave your ego at the door.'
From the moment you arrive at our YHA Basecamp, you will be well-fed and watered, and will get to meet some fantastic practitioners. You will hear some incredible talks, talk to some amazing people and probably get out of your comfort zone several times. Our aim is for you to leave tired, but also enthused and stimulated. Plus we do the best goodybags EVER!
We are resolutely non-profit, and have tried incredibly hard to keep costs down wherever possible (with the amazing support of some fantastic sponsors), and are pleased this year to keep the cost of the weekend once again under £100! 
A couple of caveats:
You must join in - be it lead an activity, speak at our teachmeet or participate in discussions. This is no retreat.

You are committing to a whole weekend. That's two nights away. Please don't part-time us, as it upsets the caterer! Plus you miss out on some of the activities!

You will be asked to bring something for the bake-off.

No wifi. Switch off and go analogue - you'll get so much more out of the event!

To keep the cost so low, we do have (single gender) shared rooms. If you are booking with friends, let us know and we'll pair you together.
We need you to volunteer this weekend, sleeves rolled up, step up deliver a 5 minute TeachMeet slot, bring ideas for workshops or for areas of development you would like to discuss. Bring great books to share. Bring energy and enthusiasm.
You will be asked to bring a cake for our own Camping Bake Off and/or a bottle(s) of alcoholic consumption if that is your wont. We will provide soft drinks, tea and coffee.
Still unsure? Read some of the brilliant camp blogs from last year!
Your Hosts
SLTcamp founders Sarah Findlater @MsFindlater and Stephen Lockyer @MrLockyer have passed on the mantle this year to a wonderful bunch of new SLTcamp hosts who are SLTcamp veterans.  They are... Helena Marsh, Amy Harvey and Dawn Cox, Come and join them for a weekend of amazing immersive CPD and lots of laughs.
Location:
SLTcamp East

 is being run in Burwell House and is being hosted by Helena Marsh, Amy Harvey and Dawn Cox.  

Address: 

44 North St, Cambs, CB25 0BB
Tickets
We are selling the first batch of 25 tickets for each event now, and will release the remaining tickets in a month.
Previously:
One nagging idea shared in July led to 40 strangers meeting for an unbelievable weekend in a Youth Hostel just outside Dorking in November. You can read all about this here.
Sarah and I knew that we'd mixed up something rather special somehow with the camp, and were keen to replicate it. We talked about several options - bigger venues, more regular events, setting the 'brand' totally free, but felt all of these options would damage either the quality or the integrity of what we were trying to achieve.
So - our plan - the same weekend in November this year (14th - 16th) Keep it small, personal, wifi free and special. We also felt that, in order to ensure the philosophy remained, any SLTcamp should only be lead by an ex-camper. Of course, remix away, but they were the ones who were at the original, and knew our intentions and aspirations.
Thanks,
The Chief Campers!