Our UNIT # is 146. Usually the staging area is near the intersection of Tait Ave. and Bachman Ave. There is an information desk at the intersection of Tait and Alemandra - they can direct you to the staging location address. Parade Map, General Instructions and the full Parade Lineup List can be downloaded from links at the bottom of this page.
Event Info:

Los Gatos Holiday Parade, 

Saturday December 3, 2016

Event start time: 

8-8:30AM

 (rain or shine)

Parade start time: 

11AM

 (float movement est 

11:45AM

)

Estimated finish time 

12:30PM

Float #146 Location estimate: Bachman between Masol and Tait. (see parade marshal if lost). Info booth is located at intersection of Alemandra St & Tait St.

Parking can be difficult - arrive early or make drop off/pick up arrangements

Snacks and drinks provided by Tioga - waynoon!

Those with very small children (with short event time spans) should consider coming closer to parade start time.

Weather: estimated sunny, 55-58 deg before parade, about 61 deg at end of parade.

Gear to bring: vests, decorated elf hats, adventure guide shirts (if you have one), santa hats for dads (optional), dress in layers!!
Activities (
8AM to 11:45AM
):
Decorate the float - TBD

<edited>

Eat, drink, be merry! (wayoon Tioga!)

Tour other parade entries with your daughters (marching bands, equestrian and canine groups, vintage/specialty automotives, other Y guide floats, etc. (be sure to be back before we start moving!)

Friends/family allowed in staging area before parade start

All to help clean up the staging area before we get underway (bag up all garbage)
During Parade:

Expedition Leaders to be in front of truck (bring sticks and hats)

Dads to be behind truck

All girls to be either in front of truck (leaders' kids), on the truck bed (seated, arms/legs NOT to dangle near truck wheels), or behind the truck with Dads - Please make sure your daughters DO NOT walk on the sides of the truck or too close to front/rear bumpers - thanks!

Girls will be invited/allowed on the truck by Tioga hosts. Spots on the truck are NOT guaranteed nor are they first-come, first served. Generally precedence is given to the very young and the injured/handicapped followed by space/safety considerations and attitude.

All - dance, wave, smile, move! Keep the energy up during the parade especially in front of the judging grand-stand!

No throwing stuff into the crowd during the parade

No one dressed up as Santa (Santa hats are OK)

Those who are not in the truck need to keep apace of the truck

DO NOT exit the truck until it has come to a complete stop on the side of the road after passing the parade end point (we will give the all clear).

DO NOT exit the parade until the float is cleaned up (all bits of decoration off the truck and either home with you or into the garbage.) This includes your daughters' cardboard cut-outs - take 'em home as souvenirs or dump 'em - but don't leave 'em with us - thanks.

Friends/family are invited to watch the float from the side of the road along the parade route.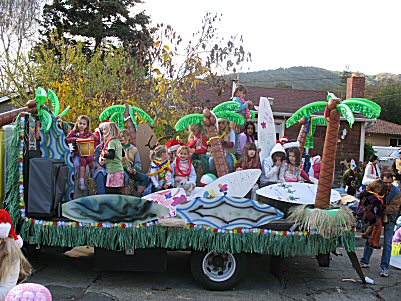 The parade only has one Santa. No one else should dress as Santa Claus.
Do not throw or hand out anything from your float.
Judging takes place along the route at Bean and Santa Cruz Ave- when we pass the Judging Stand, give the judges a big smile and wave.
We have a flatbed truck and a trailer and will be decorating it with various wrappings and ribbons and balloons! We'll have an inflatable snowman on the truck, . Tioga will take responsibility for decorating the float.