Shell-Rose Creations
New website is at www.shellrosecreations.com
but I'm having some technical difficulties. Please bear with me! 

 Do you see something you like? 
Please email me if you are interested in prints or similar original works of art.  I will gladly sell custom orders.
email:  shellrosecreations@gmail.com

I have a new "fan page" on Face book. Come check it out.http://www.facebook.com/pages/Shell-Rose-Creations/36965994914?ref=mf


Eclectic original art
        This is an invitation into my world, into my imagination.  My artwork is always evolving and full of variety.  Ah, yes, the spice of life!  I keep things spicy by creating a multitude of different subjects in my work.  From realistic animal portraits to whimsical, cartoon - like dogs and cats, turtles, ducks, or any other pet. From sexy mermaids and celestial goddesses, to spiritual angels.  Fairies, merfolk, sea life, sea shells, landscapes, florals, tasteful nudes...you never know what I might come up with next! You might find a tropical Hawaiian sunset, or a storm over the desert. A tiger in the jungle or a squirrel in the woods.   Keep checking back to see my latest work. Hopefully it is a pleasant surprise!
     My interests in art are diverse, as I enjoy creating through watercolors, acrylics, computer manipulated art, photography, sculpture and so much more. The subject matter is diverse as well. Nature always inspires me, as do the magical, mystical elements of life...real or imagined!
About me:  As an artist for over 20 years,  I have created a line of rubber stamps for scrapbooking, window displays for a natural history museum, illustrations for children's books, logos for businesses, and most recently I've done several murals for the local public school system, the San Bernardino County Museum, as well as in private homes.  I received a B.A. in Journalism from Humbodlt State University California where I also minored in art and environmental ethics.

Halloween FUN 2009:
New art on EBAY: VERY low starting bid! Please come take a look! Click here.
Read about the process and symbolism of this painting on the ebay link above.

August 11, 2009
Hi there! Come visit me at my blog and leave me a comment if you like!
 March 13, 2009
Just finished a volunteer project for the County Museum.  They had a donation box that they wanted me to paint with insects, preferably walkingsticks and leaf bugs. So, here is what I came up with.  It is even interactive. When you drop a quarter onto the center of the flower, you hear a cricket chirping.
Feb. 6, 2009:    Here's some info regarding a book for which I did the cover art.
 I'm clearing out the piles of art that I never got around to listing!   So check out my auctions on eBay. I'm starting the bids very low.  Wouldnt' these little original paintings make a nice gift to tuck into a birthday or Valentine's day card?
Here's one of the many pieces of art that are looking for a new home: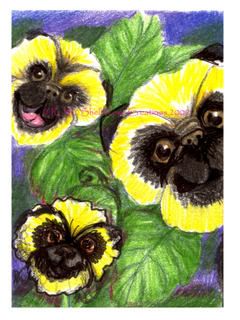 Click the link below:

http://cgi.ebay.com/ws/eBayISAPI.dll?ViewItem&rd=1&item=360124319793&ssPageName=STRK:MESE:IT
January 2009
Hi everyone...I'm finally back and trying to start listing the way I used to. I've been in a little slump, but I'm ready for the New Year! So, here is my latest. I hope she will find a new home and bring lots of warmth to it! 
Here's the link. 
Click here or copy and paste to your browser:   http://cgi.ebay.com/ws/eBayISAPI.dll?ViewItem&item=360122626294&_trksid=p3907.m32&_trkparms=tab%3DSelling
Thanks for lookin'! Shell
Oct. 2008
Here are our Greek mythology-themed costumes!  Poor Hubby has to put up with my nonsense!
                         The Satyr                                 The Wood Nymph & Satyr
New paintings in the works -
Music-related art:  (more pictures coming soon)
A mermaid "Sarah" and her pal in the ocean.
Symbolic art:
        I will soon have a new painting for sale on Etsy. The spirals of the nautilus shell are symbolic of a spiritual journey and the cycles of life.  The jellyfish represent circumstances which seem negative but are positively beautiful, just like many things in life.  (photo coming soon)
~~~~~~~~~~~~~~~~~~~~~~~~~~~~~~~~~~~~~~~~~~~~~~~~~~~~~~~~~~~~~~~~~~~~~~~~~~~~~~~~~~~ 
YAY!  I'm in a cookbook!  Here is the link:
Well, I, myself,  am not on the menu...LOL...but my art and recipes are in the book....
A palette for your palate! A unique cookbook created by artists for artists...and for those of us who love good food. Filled with beautiful paintings, collage and fine art photography, this wonderful cookbook will delight all the senses. The recipes it contains are as ecletic and delectable as the paintings that illustrate them. Art On A Plate also serves to introduce the ACEO movement - an art genre that has taken the international market by storm. If you love art, adore fine food and all things culinary this book is a MUST!
This cookbook is available through Lulu for $27.92. It is 109 pages, 8.5" x 11", perfect binding, with full-color interior ink!
Now, you can buy my original artwork, or have me paint something special and customized just for you. Scroll to the very bottom of this page for details!
  I'm thrilled to announce that I was chosen by my peers as the 1st place winner of the Artist's Choice Awards 2007 in the category of Large Format Fantasy / Faeire / Surreal !
"The Artists Choice Awards" is a peer review of the art produced by artists who sell on eBay. This year, over 370 nominations were made and my work was included for 4 categories; Mixed-media Best, Small Format Fantasy/Surreal, Large Format Fantasy/ Surreal, and Large Format Imaginative / Creative.
Award Logo by kiniart.

"Anna Mae Wong"  12 x 12 acrylic with silk garment
G.T. Historical and Cultural Activities Committee Annual Art Show
MURALS:  Under construction. Please check back soon!
These murals are located in the San Bernardino County Museum "Exploration Station"
-Treasure Map  and  Island-
(murals in boy's pirate-themed bedroom)
One art form I sell on eBay is that of A.C.E.O.'s
If you have never heard of ACEO's, here is a brief explanation.
ACEO's-(Art Cards, Editions and Originals ) fit in a standard trading card sleeve, or can be matted and framed. They are a format of artwork which can be any medium from watercolor, to oils, prismacolors, ink, or even fabric art. But they are always 2 1/2 inches x 3 1/3 inches. They are an affordable way to own original art. Search ACEO on EBAY to see a variety of Art Cards from talented artists.
The following are examples of my Mixed-media Pop-up A.C.E.O.'s. They measure 2.5 x 3.5 inches when folded.

If you look closely through the door and window of this scene you will find a Dragon Parade is entertaining the crowd in ChinaTown.  A Siamese cat sleeps on a rug made of authentic Chinese Paper.  Lanterns hang in  the window above a golden Buddha. Firecrackers hang by the doorway.
The picnic basket below opens to reveal a Fourth of July celebration complete with fireworks and shimmering stars.
I enjoy creating fantasy scenes and characters such as mermaids and faeries, as well as what I call Solar Goddesses.
                                                                                                                    A Little Undersea Amusement - Mergirl and Stingray

Small format art:
"The Awakening" 8 x 10 mixed-media acrylic and ink
"Beneath the Surface" 8 x 10 Acrylic for sale on EBAY now!
http://cgi.ebay.com/ws/eBayISAPI.dll?ViewItem&rd=1&item=360051035221&ssPageName=STRK:MESE:IT
"Baku - Protector of Dreams"  5 x 7  mixed-media
Ravens and the Tree Spirit
 Larger works
" Maren Appears" Acrylic 20 x 28  for sale on Ebay now!
            "Maren, Reclining" 18 x 20 Acrylic"Maren, Reclining" This painting depicts a mermaid in shallow water. The two worlds of air and water represent reality and fantasy. The bubbles lifting up from the water into the sky represent the merging of both worlds. Hopefully this painting brings inspiration and encouragement through the idea of surrendering to the ebb and flow of life whereby dreams can become reality.
Mermaid art - Acrylic Painting
"Moonbird" 16 x 20 Acrylic
Commissioned Pet Portraits
"Pug Ahoy"
Commissioned portrait done in acrylic paints.
    I also sell One of a Kind (OOAK) sculptures as well as larger paintings on canvas. I am now accepting commissions, so if you have an idea for a painting let me know! I'll create for you! 
        Another creative avenue I'm exploring is what I call Fantasy Photographic Portraits.  I'll use your photo to put your child, pet, or loved one into a variety of scenes, such as a landscape with waterfall and castle. I can make your little girl into a mermaid, fairy, or princess.  Your boy could become an elf, dragon-slayer, or adventurer.  Any idea you have is a possibility. These digitally enhanced and stylized photos can then be made into a great range of products such as pillows, t-shirts, tiles, posters, tote-bags and more.  Just ask me !
Email me at:
Here's my Squidoo lens :  http://www.squidoo.com/shellrosecreations/
 MY ETSY SHOP :http://www.shellrose.etsy.com/
Deviant Art Shop : http://shellrose.deviantart.com/
CafePress Shop :   http://www.cafepress.com/shellrose
GlobalTalent Database:     http://thedb.com/shellrosecreations
Click HERE to see a video of the creative process.
click here to see artist collaboration.
http://shellrosecreates.tripod.com/
 Except where noted otherwise, all of the original works of art shown here were done in A.C.E.O. format which is 2.5 inches x 3.5 inches.   All that art in a tiny package!
Commissioned Paintings:  If you would like me to create a custom, personalized painting for you, it's easy and safe. You simply email a photo or idea of the subject you want me to paint.  I will paint it, post it here and notify you that it is available for you to view.  If you approve, just click the secure Paypal cart button below and continue with the payment process.  If there are any changes you would like to see, simply email me and I'll give it a try. 
For an Acrylic painting on  8 x 10 inch, gallery-wrapped canvas, the price is $145.00 US plus $10 for shipping within the United States.  Shipping to other countries will cost more, so please make arrangements with me before making your payment. 
(CA residents pay 7.75% sales tax)