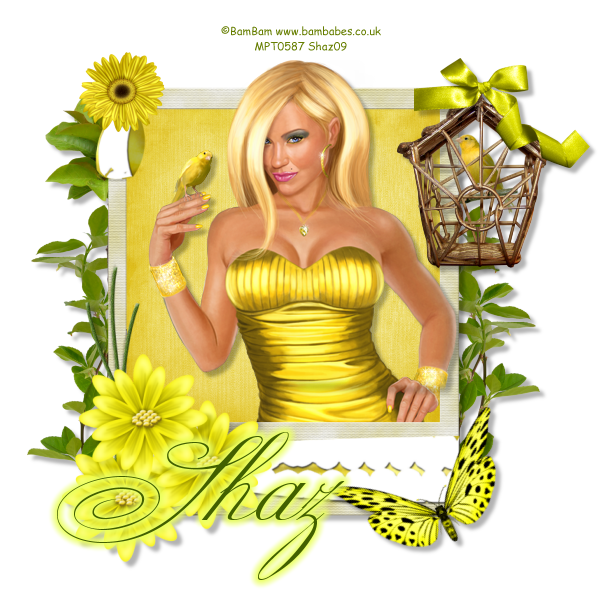 Supplies Needed:
I used the beautiful Artwork Of BamBam you can buy from MPT HERE
Scrapkit is FTU from Seachell called Canary Yellow  HERE, Thanks Seachell
Font Of Choice:

Lets Begin:
Open New Canvas 600 X 600 Flood fill white
Open Frame 22 copy and paste onto canvas resize at 70%
Magic wand click Highlight the frame layer in pallette
click inside the frame selections Modify Expand by 5
Open paper 4 copy and paste as new layer into selection..select none
Copy and paste Tube of choice in between the paper layer and frame
then grab your selection Tool and delete the overhanging parts..
I then Duplicated the Tube and moved to top
I then erased the parts at the bottom part of her....
Drop shadow all at 5 5 50 5 black

Merge all that down except background..
Open the Birdcage resize at 30% and copy and paste at top corner
of the frame...Duplicate the frame...
Open the yellow canary resize at 30% and copy and paste it in between
the 2 birdcages then merge all that down....
Drop shadow as you go along same as above....
Open Yellow Ribbon 9 resize at 30% and copy and paste at top of the cage..
Open the Greenery 1 and 2 resize at 30% place those at the sides like mine
I duplicated number 2 and then mirror place below frame layer..
Open Butterfly resize at 30% and copy and paste at bottom corner..
Open the Flower 28 and resize 15% and copy and paste on top corner..

Merge all
Add  All Copyrights
Save as PNG:
Thats it..
Hope you enjoyed my Tutorial..
This Tutorial is written by me and any resemblence to any other is purely coincidental.
Thank you..
Written in PSP 8
    Artist bg ©Bam Bam MPT0587Tiles made my me