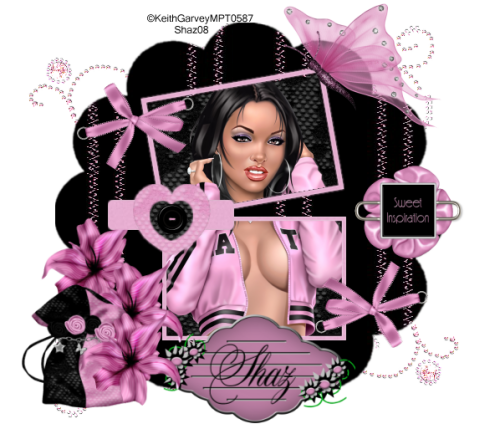 Supplies Needed:
I used the Fantastic Artwork of Keith Garvey from Mypsptubes HERE
I Used Template 7 from Misfitzscrap HERE Thanks Missy,
Scrapkit FTU Called Sweet Inspiration from Bluedreamdesigns HERE Thanks Bluey
Font: Aurora Script, sorry cant share...
Lets Begin:
Open New Canvas 598 x 513, Flood fill white, Open Template 7,
Copy and paste all the templates over to new canvas, and place the same way,
Open Your Scrapkit, Open paper 10, make sure your on the scalloped frame layer
selections select all, float defloat copy and paste your paper. invert Delete, select none
Do exactly the same as above with all layers,
I used paper 3 for the frames, Magic Wand then i went to Selections Modify expand by 1,
Keep selected and copy and paste Tube of choice select invert delete.
make sure its under frame and above paper layer...
I used paper 5 for the large heart,
I used paper 6 for the small heart,
I used paper 3 for the small rectangle,
Now for the Elements, I resized the Eyelet Ribbon 50% Place as mine see above,
Duplicate, Image Mirror, I used the Pink Butterfly resized at 40% placed corner of frame
I used Flower 4 resized at 50% and duplicated that till i had 3, and placed those at side of frame
I resized the handbag 40% and placed it between the flowers...
I resized Flower 1 40% and placed at side of frame
Open up your Bling Doodle 1 copy and paste as new layer behind frame,
Duplicate that image mirror,
I then used the Pink tag with flowers on it resized at 40% place as mine is..
I resized the Sweet Inspirations wordtag 40% and placed that on flower 1,
I also reisized the Black Button 15% and placed it into the small black heart..
Thats it..
Add copyrights and your name
Save as PNG:
Hope you enjoyed my Tutorial..
Thank you..
Written in psp8
                                                 Artist bg ©KeithGarveyMPT0587 .Tiles made my me