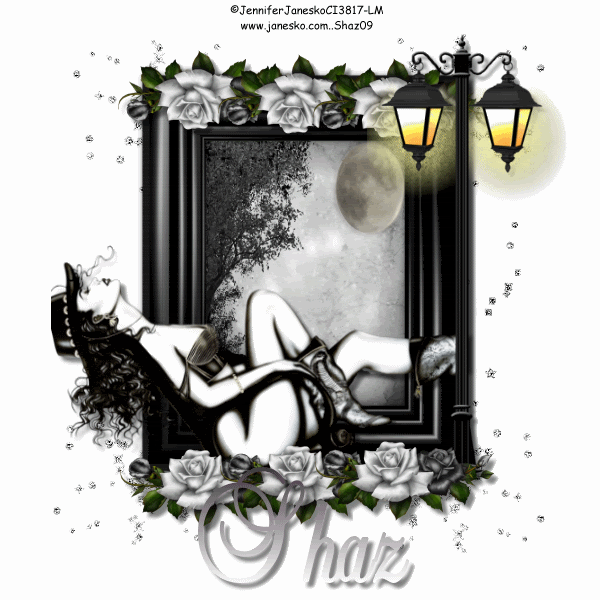 Supplies Needed:
I have Used the Fantastic Artwork Of Jennifer Janesko you can buy from CILM HERE
Scrapkit is PTU Called La Nuit,  from Seachell  HERE, Thanks Seachell
Lets Begin:
Open New Canvas 600 X 600 Flood fill white
Open your scrapkit and open Frame 49, copy and paste onto canvas
resize the frame 60%, then New layer above background
Magic wand, click inside the frame selections modify expand by 10
copy and paste paper 12 into selection on the new layer,
Now Merge down the paper and frame,
Resize  the merged layer 90%
Open the Lampost 63, resize by 65% copy and paste onto the frame side
so all you see is the lanterns,
Copy and paste Tube of choice onto the frame but below  the lampost layer,
Open Flower 6 resize by 20% and copy and paste on to the top of the frame then Image Flip

Duplicate twice more then merge them down the 3 flowers.
Duplicate again that layer and  Image flip again..above the frame and lamp layers
and make sure its above the tube layer..
((The tube I used I hid the foot part behind the lamp.)).
Open Element 35 or 36 I chose both
Then copy and paste them on new layer above background layer
arrange as you wish I used 4 of them...
You dont have to animate the blings if you dont then

Now Drop Shadow everything 5  5  50  5  black... except background...
Merge all
Add  All Copyrights
Save as PNG:
Animation
Highlight your blings make sure they are all merged down together
go to plugins then Noise Random at 40 then copy merge all your tag
into Animation shop,
go back to PSP undo your last task, then Noise again at 42,

copy merge all tag into Animation shop after current frame

Thats it..
save as Gif:

Hope you enjoyed my Tutorial..
This Tutorial is written by me and any resemblence to any other is purely coincidental.
Thank you..
Written in PSP 8
    Artist bg ©Jennifer JaneskoCI-3817-LMTiles made my me