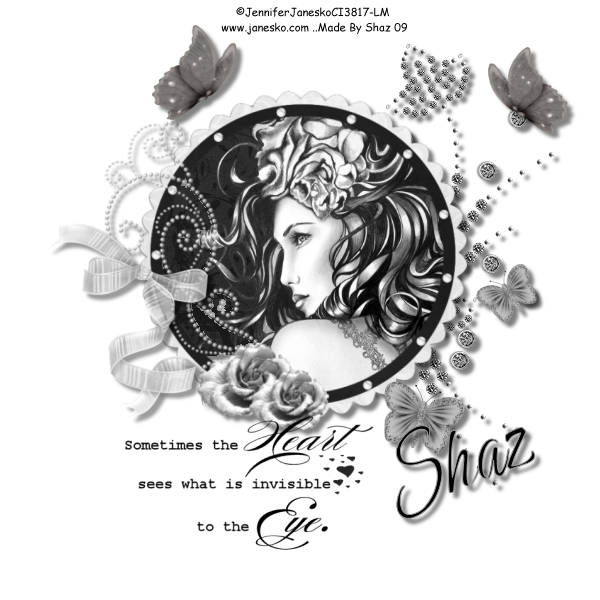 Supplies Needed:
I used the Fantastic Artwork Of Jennifer Janesko HERE at CILM
Scrapkit is FTU  Called Silver Shadow, From SimplysensationalScraps  HERE, Thanks Monica
Wordart is from Seachell HERE..Thanks Seachell

Lets Begin:
Open New Canvas 600 x 600 Flood fill white
Open Frame 2 from the kit resize at 70%
New layer Magic wand, click insided of the frame selections
Modify Expand by 5, make sure you have all the little bits selected too
Copy and paste paper 5 into selection move below frame layer
Keep selected copy and paste Tube of choice into frame as new layer
selections invert delete, select none
Copy and paste Doodle 1 as new layer but below the frame layer
move the doodle out to the side like mine,
I used Butterflies 3 and 6 and place those around the frame, resize of your choice
Open Bow 8 resize at 60% then Image Flip place on side of frame.
Open Wordart and copy and paste at the end of frame.
I then merged all together except the background
and Drop Shadowed at 5  5  50  5  black..
merge all visible
Add  All Copyrights
Save as PNG:
Thats it..
Hope you enjoyed my Tutorial..
Thank you..
Written in PSP 8
This Tutorial has been written by me any resemblence to any other is purely coincidental

    Artist bg ©Jennifer Janesko CI-3817LM Tiles made my me