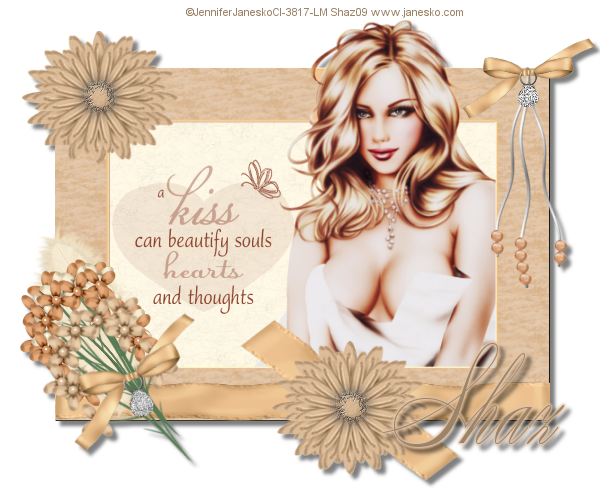 Supplies Needed:

I used the Awesome Work of Jennifer Janesko from CILM HERE
Scrapkit used is PTU Called Cream Delight by Lisasdesigns HERE
You can buy the kit HERE at Creativity Box
Wordart found on Net if it belongs to you plz let me know so I can credit you..
Font of choice:
Lets Begin:
Open New Canvas 600 x 500 flood fill white
Open frame 2 from the kit copy and paste onto canvas
Open paper 19, new layer selections modify expand by 5
copy and paste paper into selection, keep selected and copy and paste
tube of choice into frame invert delete, select none..
Open paper of choice now to colour the frame highlight the frame new layer
copy and paste the paper into selction..select none
Merge down and resize the tag 90%
Open long Ribbon copy and paste onto frame bottom and use the deform tool
to resize it inwards so it fits on the frame..
Open Daisy 3 resize it by 80% place on the top of frame at corner and also on the ribbon middle
I duplicated the daisies and made them little smaller and placed them on top of the others.
 Open Flower Bunches of choice resize at  50% I chose 3 different ones
and put them together and put the Blingbow over the stems.
I also resized feather 4 small and placed it just behind the bunches of flowers
Open Beadrope 2 resize at 70% place at top corner of frame
Place another Blingbow over the top of that....
I used Wordart i found on the Internet you can choose any wordart...
X Out background and drop shadow all 5   5   50   5  Black
Merge all visible
Add all Copyrights to your Tag..
Hope you enjoyed my tutorial.
I have wrote this Tutorial any resemblence to any other is purely Coincidental..
Written by Shazladyuk 09
Artist bg ©JenniferJanesko CI-3817-LM Tiles made by me