Shahala Library is a 21st Century Media Center where students and staff
can get help from a teacher-librarian, a library assistant, and multiple resources. 
We are available for student and staff needs with reading, research, technology, writing, 
video production, presentations, group learning activities & discussions, and more.
Use LINKS on left or TABS across top to access different RESOURCES for Shahala Eagles!
IT'S SEPTEMBER 2018...
WELCOME TO SHAHALA LIBRARY!
Our first few weeks of school are spent checking out chromebook computers to classes, having ORIENTATION visits & book check-outs for 6th Grade classes, and having  
Re-Orientation Lessons & book 
check-outs for 7th-8th.
______________________________________________________________________________________
YOUR ARE INVITED TO BARNES & NOBLE BOOKSTORE THIS THURSDAY SEPT. 13th!!!
The manager of Barnes & Noble and 
our own GUYbrarian Mr. Warner 
want to celebrate Shahala's return to school this week by having a 
SHAHALA BARNES & NOBLE NIGHT 
this Thursday evening from 6 to 8pm 
at the Vancouver Plaza store (near the Plaza 10 Movie Theater)!
The store will have several books on SALE in a wide variety of genres, especially for middle school and teen readers, and offer teacher discounts too! In addition, any purchase for yourself in the store OR THE STARBUCKS CAFE WITHIN THE STORE, will also mean a donation from Barnes & Noble to our school library for new books and resources for kids and teachers! All you have to do is tell them you are from Shahala or show them the bookmark with our 
Barnes & Noble School Number 12430070 (see copy below).
Special guest author ETHAN SIEGEL will be there Thursday night with a presentation and his new book: "Treknology: The Science of Star Trek from Tricorders to Warp Drive!" He recommends it especially for fans of sci-fi fantasy or for those who like to study REAL SCIENCE because it's about how science-fiction and real science connect!
Also, Shahala Middle School is starting a new SCI-FI FANTASY CLUB this year, run by advisors Jedi Warner and Hogwarts Professor Yurosko, and Barnes & Noble will have several books and some activities there to celebrate the start of our new club and have students sign-up!
6th Graders: The manager is planning to get extra copies of GHOST (Track #1) by Jason Reynolds to have there Thursday as well, in case any of you still need to purchase a copy of this 6th grade book for your Humanities classes.
This event is connected to Shahala, BUT the entire public is invited! So spread the word on social media to your family and friends so they can celebrate our return to school, celebrate reading, celebrate science & sci-fi, and support our school library at Barnes & Noble THIS THURSDAY September 13th!
Hope to see you there!
GO EAGLES!
---
Want to watch a fun look back at Shahala Middle School's previous years?
Click below for the Extended version (Parts 1 and 2) 
of our End-of-Year School Movie called: 
SHAHALA HOGWARTS!
---
SHAHALA
---
Join the Shahala SCI-FI FANTASY CLUB!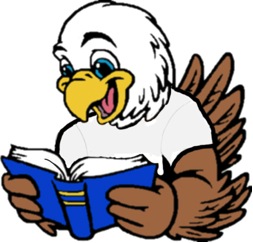 Meeting after school in the library twice a month!
Our 1st meeting will be the 1st Thursday in October (2:30 to 4:15)
For details or questions, see Mr. Warner in the Library!
---
Looking for the newest episode of
our EAGLE NEWS Broadcast?
Click on the Events/Photos/Videos Tab
at top of this web page.
SHAHALA LIBRARY NEWS

New this year in Shahala Library:




1. Many NEW books!  Fiction and Non-Fiction! 




2. Standing Desk with charging station! - We have a




 brand new standing desk for you to put your computer




 device on, plus it has USB charging ports built into it!




3. MAKER SPACES! - Our library will be having some fun




 MakerSpace hands-on activities during the school




 year, including LEGOS, Robotics, and Virtual Reality! 




 Stay tuned for details!







EACH MONTH IN OUR LIBRARY:




SEPTEMBER 2018 Focus in the Library:

New Books!




OCTOBER 2018 Focus in Library: 

Mystery and Horror




NOVEMBER 2018 Focus in Library:

Action-Adventure




DECEMBER 2018 Focus in the Library:

Multicultural History & Diversity




JANUARY 2019 Focus:

BIOGRAPHIES & Non-Fiction




FEB. 2019 Focus: Realistic Fiction (Relationships, Sports, etc.)




MARCH: SCI-FI & FANTASY




APRIL: Poetry, Short Stories, & Humor




MAY 2018: GRAPHIC NOVELS




JUNE: Summer Reads!










LOCAL LITERACY NEWS:

(news about authors, events, & contests in our area!)




Book Group for ages 8 to 12 at Cascade Park Community Library:




Book Group for 12 to 15 at Cascade Park Library:







Cathadeus Author Jeff Peters at Barnes & Noble to Sign Books

Author Signing

 

(Science Fiction and Fantasy)

 

Saturday September 22

, 2018 11:00 AM 

Jeff J. Peters joins us for a couple hours to sign copies of his acclaimed first novel Cathadeus, book one in The Walking Gates series! This is a teen title with cross-over interest to adult readers of fantasy. It's your chance to meet an up-and-coming WA author at Barnes & Noble.

Vancouver

Vancouver Plaza

7700 NE Fourth Plain Blvd

Vancouver, WA 98662

360-253-9007 
































































For Mature Readers only, this well-known YA author and poet has a new serious book and is coming to Beaverton Powell's:

Ellen Hopkins

Crank author Ellen Hopkins tackles gun violence and white supremacy in her compelling and complex new novel, People Kill People (Margaret K. McElderry). A gun is sold in the classifieds after killing a spouse, bought by a teenager for needed protection. But who was it? Each has the incentive to pick up a gun, to fire it. Was it Rand or Cami, married teenagers with a young son? Was it Silas or Ashlyn, members of a white supremacist youth organization? Daniel, who fears retaliation because of his race, who possessively clings to Grace, the love of his life? Or Noelle, who lost everything after a devastating accident, and has sunk quietly into depression? One tense week brings all six people into close contact in a town wrought with political and personal tensions. Someone will fire. And someone will die. But who?

Friday, September 14 @ 7:00 PM

 
Powell's Books at Cedar Hills Crossing 







Terry Brooks, author of the SHANNARA books and of Star Wars: The Phantom Menace novel will be at Powell's in Beaverton to talk about his new series and sign books!

  

Monday, October 8 @ 7:00 PM

 
Powell's Books at Cedar Hills Crossing 










Letters About Literature: Library of Congress Reading & Writing Contest: Click Here







CREATIVE COMMUNICATION Writing Contests: Click here