Shahala Library is a 21st Century Media Center where students and staff
can get help from a teacher-librarian, a library assistant, and multiple resources. 
We are available for student and staff needs with reading, research, technology, writing, 
video production, presentations, group learning activities & discussions, and more.
Use LINKS on left 
or TABS across top 
to access 
different 
RESOURCES for Shahala Eagles!
A big THANK YOU to our amazing PTO volunteers, our responsible student helpers, our incredible staff, and 
everyone who came to our Fall Book Fair and Holiday Night in the Shahala Library. Thanks to your help, it was the most successful fair in the history of our school, and we were able to get hundreds of books into kids' hands at both the middle school and elementary levels. 
We also had 
a wide variety of
creative
 and multicultural entries in our art contest. Photos of t
he winners and many of the entries will be posted on this Library Web page and Shahala Facebook soon.  Thanks to your participation and generosity, we will also be able to obtain new books and supplies for the library
, and can also arrange 
an author visit for Shahala students through Scholastic due to our fair's success.  
We hope to see you again April 30th through May 4th for the Spring Book Fair, including a special STAR WARS evening event in our school on 5/4/18 as an official "May the 4th be with You" celebration!  
---
Want to watch a fun look back at Shahala Middle School's 2017 year?
Click below for the Extended version (Parts 1 and 2) 
of our End-of-Year School Movie called: 
SHAHALA HOGWARTS!
---
SHAHALA
---
Join the EAGLE BOOK CLUB!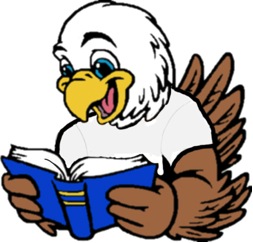 Meeting after school
in the library twice a month!
Main reading focus is Sci-Fi Fantasy Genre!
Next Meeting: TUES. 12/12/17
For details or questions, see Mr. Warner in the Library!
---
Looking for the newest episode of
our EAGLE NEWS Broadcast?
Click on the Events/Photos/Videos Tab
at top of this web page.
SHAHALA LIBRARY NEWS

New this year in Shahala Library:




1. Many NEW books!  Fiction and Non-Fiction! Stop by

 and see!




2. Standing Desk with charging station! - We have a brand new standing desk for you to put your computer device on, plus it has USB charging ports built into it!




3. MAKER SPACES! - Our library will be having some fun MakerSpace hands-on activities during the school year, including LEGOS and Virtual Reality!  Stay tuned for details!







EACH MONTH IN OUR LIBRARY:




SEPTEMBER 2017 Focus in the Library:

New Books!




OCTOBER 2017 Focus in Library: 

Mystery and Horror




NOVEMBER 2017 Focus in Library:

Action-Adventure




DECEMBER 2017 Focus in the Library:

Multicultural History & Holidays




JANUARY 2018 Focus:

BIOGRAPHIES & Non-Fiction




FEB. 2018 Focus: Realistic Fiction (Relationships, Sports, etc.)




MARCH 2018: Graphic Novels & Movie Books




APRIL: Poetry, Humor, & Short Stories




MAY: SCI-FI FANTASY!




JUNE: Summer Reads!











BOOK CLUB:

Our next meeting will be Tuesday Dec.12th.




If you've missed our previous meetings, you are still welcome to attend any time we meet!  If you haven't filled out a club permission form yet, click here, print it out, sign & bring back:  Book Club Permission Form.pdf




May the Force and Reading be with you!










LOCAL LITERACY NEWS:

(news about authors, events, & contests in our area!)

POWELL'S BOOKS: Author Visit by Ben Guterson & Martha Brockenbrough 1/6/18




- Ben Guterson's Winterhouse (Henry Holt) is an enchanting urban fantasy middle-grade debut set in a magical hotel full of secrets. Orphan Elizabeth Somers's malevolent guardians ship her away over the holiday break to the Winterhouse Hotel, owned by the mysterious Norbridge Falls. Upon arrival, Elizabeth quickly discovers that Winterhouse has many charms – most notably its massive library. It's not long before she locates a magical book of puzzles that will unlock a mystery involving Norbridge, his sinister family, and a fateful curse. 




- Martha Brockenbrough's Alexander Hamilton, Revolutionary (Feiwel & Friends) is a riveting YA biography of founding father, first United States Secretary of the Treasury, and subject of a hit Broadway musical, Alexander Hamilton. Discover the incredible true story of the long-forgotten founding father: his rise to respected revolutionary; his groundbreaking and enduring policy, which shapes American government today; his scandalous personal life; his heartbreaking end.

Saturday, January 6 @ 2:00 PM

 
Powell's Books at Cedar Hills Crossing 








 
Greg Rucka - Author of STAR WARS books and WONDER WOMAN graphic novels, will be at the Portland,OR Powell's Bookstore 1/27/18

Saturday, January 27 @ 2:00 PM
Powell's City of Books
  










Letters About Literature: Library of Congress Reading & Writing Contest: Click Here







CREATIVE COMMUNICATION Writing Contests: Click here