Shahala Library is a 21st Century Media Center where students and staff
can get help from a teacher-librarian, a library assistant, and multiple resources. 
We are available for student and staff needs with reading, research, technology, writing, 
video production, presentations, group learning activities & discussions, and more.
Use LINKS on left or TABS across top to access different RESOURCES for Shahala Eagles!
---
Want to watch a fun look back at Shahala Middle School's 2017 year?
Click below for the Extended version (Parts 1 and 2) 
of our End-of-Year School Movie called: 
SHAHALA HOGWARTS!
---
Check out this awesome SUMMER READING program:
---
SHAHALA
---
Join the EAGLE BOOK CLUB!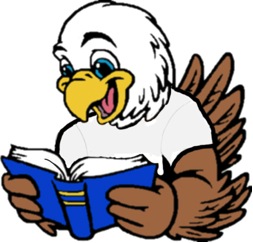 Meeting after school
in the library twice a month!
Main reading focus is Sci-Fi Fantasy Genre!
See you in September 2017!
For details or questions, see Mr. Warner in the Library!
---
Looking for the newest episode of
our EAGLE NEWS Broadcast?
Click on the Events/Photos/Videos Tab
at top of this web page.
SHAHALA LIBRARY NEWS




OCTOBER 2016 Focus in Library: 

Mystery and Horror




NOVEMBER 2016 Focus in Library:

Action-Adventure




DECEMBER 2016 Focus in the Library:

Multicultural History & Holidays




JANUARY 2017 Focus:BIOGRAPHIES & Non-Fiction




FEB. Focus: Realistic Fiction




MARCH: Sci-Fi Fantasy!




APRIL: Poetry, Humor, & Short Stories




MAY: Graphic Novels & Books Made Into Movies











BOOK CLUB:

Our next meetings are Thursday 5/4 and 5/11.




If you've missed our previous meetings, you are still welcome to attend any time we meet!  If you haven't filled out a club permission form yet, click here, print it out, sign & bring back:  Book Club Permission Form.pdf




May the Force and Reading be with you!










LOCAL LITERACY NEWS:

(news about authors, events, & contests in our area!)

April Henry at Powell's in Beaverton

Griffin, the teen who helped Cheyenne escape in Girl, Stolen, goes missing right before he's set to testify at his father's trial. Cheyenne sets out to save her former captor in April Henry's much-anticipated sequel, Count All Her Bones (Henry Holt) – another edge-of-your-seat thriller for teens.




Thursday, May 11 @ 7:00 PM

 
Powell's Books at Cedar Hills Crossing 




S. E. Hinton at Powell's in Beaverton

Embracing one of the most iconic novels in literature, the anniversary edition of The Outsiders (Penguin) celebrates 50 years in print and contains the full text of S. E. Hinton's classic bestseller, plus tons of extra material such as photos, personal insights from the stars of the film, and archival materials that bring the story of this beloved book to life. Please note: The signing line is limited to 250 people.

Thursday, May 18 @ 7:00 PM

 
Powell's Books at Cedar Hills Crossing 







ART & WRITING CONTEST: Writing contest that is sponsored by Scholastic.  It is also an art contest, and has a ton of genres for writing including humor, flash fiction, narratives, poetry... a ton to pick from.







CREATIVE COMMUNICATION Writing Contests: