Shahala Library is a 21st Century Media Center where students and staff
can get help from a teacher-librarian, a library assistant, and multiple resources. 
We are available for student and staff needs with reading, research, technology, writing, 
video production, presentations, group learning activities & discussions, and more.
Use LINKS on left or TABS across top to access different RESOURCES for Shahala Eagles!
Also don't forget the WRITING CONTEST thru Dec.1st
called LETTERS ABOUT LITERATURE!
Follow all directions. To win a prize from Shahala Library (book/poster/candy) give Guybrarian Warner a copy of your letter by Dec.1st. To be entered in the State & National Contest for more prizes and CASH--make sure you send your entry in on-line or by traditional mail following the directions carefully.
---
IT'S NOVEMBER 2018...
WELCOME TO SHAHALA LIBRARY!
Some exciting things happening in our school library this month:
- Our entire fiction book collection has been changed into GENRE SECTIONS!  You'll be able to browse by genre/interest, 
like people do in bookstores!
- We have joined on-line with Fort Vancouver Regional Libraries to offer eBooks and Audiobooks for checking out! 
See Mr. Warner for details!
- This month is ADVENTURE Month!
Come check out one of our many different ADVENTURE books on Display!
- Join the Shahala SCI-FI FANTASY CLUB!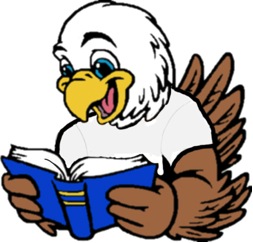 Meeting after school in the library twice a month!
Students in after-school clubs need to make sure they 
have an ASB Sticker on their I.D. ($15) and paperwork handed in. 
Our next meeting will be Thursday NOV. 29th (2:30 to 4:20)
For details or questions, see Mr. Warner in the Library!
---
VETERAN'S DAY RESOURCES:
---
Looking for the newest episode of
our EAGLE NEWS Broadcast?
Click on the Events/Photos/Videos Tab
at top of this web page.
SHAHALA LIBRARY THIS YEAR:

New this year in Shahala Library:




1. Many NEW books!  Fiction and Non-Fiction! 




2. Standing Desk with charging station! - We have a




 brand new standing desk for you to put your computer




 device on, plus it has USB charging ports built into it!




3. MAKER SPACES! - Our library will be having some fun




 MakerSpace hands-on activities during the school




 year, including LEGOS, Robotics, and Virtual Reality! 




 Stay tuned for details!




4. eBooks and Audiobooks available through a new 




partnership between us and Fort Vancouver Libraries!







EACH MONTH IN OUR LIBRARY:




SEPTEMBER 2018 Focus in the Library:

New Books!




OCTOBER 2018 Focus in Library: 

Mystery, Horror, & Suspense




NOVEMBER 2018 Focus in Library:

Action-Adventure




DECEMBER 2018 Focus in the Library:

Multicultural History & Diversity




JANUARY 2019 Focus:

BIOGRAPHIES & Non-Fiction




FEB. 2019 Focus: Realistic Fiction (Relationships, Sports, etc.)




MARCH: SCI-FI & FANTASY




APRIL: Poetry, Short Stories, & Humor




MAY 2018: GRAPHIC NOVELS




JUNE: Summer Reads!










LOCAL LITERACY NEWS:

(news about authors, events, & contests in our area!)




Book Group for ages 8 to 12 at Cascade Park Community Library:




Book Group for 12 to 15 at Cascade Park Library:










Letters About Literature: Library of Congress Reading & Writing Contest: Click Here







CREATIVE COMMUNICATION Writing Contests: Click here