2012-05-07 Marty Tomkin's great-nephew Max's speech to his school
On June 18th 2011 I became a Bar Mitzvah.  A Bar Mitzvah is when a boy at the age of thirteen reads from the Torah.  The Torah is the holy scripture of the Jewish people.  The torah's meaning to Jews is similar to the bible's meaning to Christians or the Koran's meaning to Muslims. When a boy finally reads from the torah he becomes a man.  A common practice is for the Bar Mitzvahto take on a charitable project called a mitzvah project.  In Hebrew a mitzvah means "good deed."  Examples of mitzvah projects are donating money, volunteering at soup kitchens and giving time to help out at retirement homes.For my project I made care packages for American military troops serving in Iraq and Afghanistan.  I used some of the money I received as gifts for my Bar Mitzvah to pay for the items and to mail the packages.  This project had special meaning to me because of my uncle's involvement in the military.   My great Uncle Marty began his military career as a Paratrooper.   A Paratrooper is soldier who jumps out of a plane and parachutes down into enemy territory.  This enables the forces to land in strategic locations on the battlefield and to avoid enemy fortifications.  Finally, paratroopers would be used to help land planes and other big aircraft.  During the Vietnam War my Uncle was a Green Beret. Green Berets were highly trained military officers who were part of the Special Forces. They specialized in unconventional warfare, foreign internal defense, special reconnaissance, direct action, hostage rescue, and counter terrorism.   My Uncle stays connected to others who have served in the military by meeting with men who have also served in the military and were part of the group he served in, The 101st Airborne Division.  My uncle talks about the men and women serving oversees, how harsh the conditions are in the desert and how much the troops appreciate any luxury to make their lives easier while serving in the armed forces. I thought this would be agreat mitzvah project, a great way to give back to the men and women who defend our freedom and put their lives on the line for us.
To accomplish this project I first had to buy the food and sundries I was sending over to the troops. We bought everything from Red Bull to Chef Boyardee ravioli, toothbrushes and wipes.   We went to BJ's wholesale cluband got over two pallets of goods. In the checkout aisle people gave me some pretty funny looks.   I think they were wondering what I was doing with all the Red Bull.  When I explained I was making care packages for our troops it really brought a smile to people's faces.  They were impressed with the idea and told me so with words of praise. I then wrote a very long note to all of the people I was sending packages to.  This note included where I was from, what I was like, and my hobbies. I also had members of my synagogue write letters to include in the care packages. My immediate family wrote notes too. Once I had all of the items it was time to start packing.  Surprisingly it took a long time.   We ended up making over 22 boxes for the 101st airborne.  Over the last few months I have received notes from many of the troops that I sent packages too.  
Here is one note I received:
Max, 
My name is Justin Pesch. I am a Lance Corporal in the Marine Corps. I'm deployed to Camp Leatherneck, Afghanistan. One of my friends received your care packages and he handed out a bunch of the stuff you sent to him. I just wanted to say thank you and let you know they were perfect care packages. Nothing better than beef jerky, Red Bulls, Sour Patch Kids, and Cliff Bars. Thank you for taking your time and money to send us these packages. We all appreciate them and it reminds us of the good things waiting for us back home. Your letter is really well written and it seems like you have a really good head on your shoulders for such a young age.
Then a really nice thing happened.  I was invited to join my Uncle Marty's veterans club. The club consisted of older men who served in WWII, some in Korea, Vietnam and now younger men who served in the Middle East.  Thisclub consists of soldiers who were formerly in the 101stAirborne Division. The club does charitable work for troops overseas and for returning troops.  Just recently I received an American flag that was flown over Al Faw Palace in Iraq during Operation New Dawn and a certificate of authenticity signed by the Command Sergeant Major and a Commanding General. This palace is near Camp Victory, which is a United States militaryencampment. This whole experience has shown me howvery much people appreciate thoughtful deeds.  More so, I appreciate that the soldiers have left their jobs, their families and endured harsh conditions so we can be safe.   Receiving so many letters from the troops made me feel great inside.  I think that this was a great project and experience and I am planning on doing it again.
2011-11-11 Veterans Day Commemoration at Valley Forge
Dear Veterans, family, friends, and supporters, I'd like to personally extend to you an invitation to our annual Veterans Day Commemoration here at Valley Forge National Historical Park. Often referred to as the birthplace of America's Army, we commemorate America's first veterans year-round, and commend those individuals for their determination and will to fight for America's freedom. This Friday we will commemorate all of America's veterans at 1100 hours at the National Memorial Arch in the park. If you are able we would be honored if you would attend. Below is the complete schedule of events, also I attached a flyer for you to print out and post in your organization's community room if you are able.

Schedule of Events 11am at the National Memorial Arch

Welcome from Gregg Tinkham, Acting Park Superintendent

Presentation of colors from one of the D.C. Joint Armed Forces Color Guards
National Anthem, performed by a US Air Force Brass Band
Additional service music will be presented by Bugles Across America, the US Air Force Brass Band, and Scott Entertainment.

An invocation from Pastor Joyce Anderson of the Haws Avenue United Methodist Church in Norristown and Friends of Valley Forge Park President Don Naimoli.

A moment of silence and wreath laying for all veterans will conclude the ceremony.

11am - 2pm at the Muhlenberg Brigade Area The Home of the Brave: Park staff, volunteers, and veterans will showcase American conflicts such as the American Revolution, Civil War, and WWII, sharing stories and educational information about the conflicts.

Website: http://www.nps.gov/vafo/planyourvisit/veteransday.htm

Stephanie Loeb
Park Ranger/Media Specialist
Valley Forge National Historical Park
610-783-1013 Office  484-437-4632 Cell  610-783-1053 Fax
2011-07-27 Email from Paul Corr in Austrailia
Dad,
James J. Corr
, was in the same platoon as Meron Costroff.   My sister Rose Corr in Flourtown has all the memorabilia and sometime after the funeral last year I got her one of Mark Bando's coffee table books as a gift. I figured your DVD would be a good addition to her collection. I put up a photo slide show as a tribute before the funeral from scans of my sister's collection:
http://web.me.com/corrp/Site/James.html
It is more or less chronological. It includes a photo of Dad with Cass at a 101st reunion event.
http://web.me.com/corrp/Site/James.html#63
Thanks again for a great effort for the guys.
Paul
2011-04-11 Stuart Edon publishing Regarding Wild Bill Commission Print

Hi Mike,
Good to hear from you, just to confirm the following:
·

        
We are printing 101 prints
·

        
We are printing 20 limited edition framed prints, with copies of Bills dog tags, and two divisional patches
·

        
We have an outlet in Normandy to sell the print on D-Day
·

        
We are to publicise across the WWII Re-enactors Magazine Network
·

        
We shall be selling the prints at all major military WW2 shows in the UK
·

        
We will promote through your merchandise shop
·

        
We will auction the first print and send all proceeds to your chapter
·

        
We shall give apx 10% of every print sold thereafter to the Chapter
We will require the following:
·

        
Us to post to you 121 prints for signing with Bill
·

        
You to send back a.s.a.p
·

        
Prints to be with you in three weeks, all Fed-exed
·

        
A picture or three of you and Bill at the signing with a copy of our magazine showing – Can Babe come?
We can:
·

        
Send Judy to meet with you as a Pin Up for the signing as I know Bill would love this
Our commercial interest
·

        
We sell each print at apx £45.00 - £50.00
sterling
·

        
Framed prints I am still waiting for costings.
In the meantime have a Happy Easter and hope to hear from you soon.
Publishing Director
Tel:   01732 783536
Mob: 07711 050 277
2011-04-11  Commissioned Print of "Wild Bill" in Normandy
Hi Mike,
Hope you are well, we have commissioned our artist to start the drawing of wild Bill in Normandy.
We are setting this to a limited run of prints and will donate £4.00 per print to the 101st Chapter, I will also auction off the original signed print by Bill.
Final amount of donation we expect if the auction goes well around $1200 in all.  We will need to send the print to you, to take to Bill to sign if ok and you should have this in the next two to three weeks.
Also will you need a press release for your website and would you sell this also on your site? I have managed to obtain a shop in St Mere that will stock the framed prints we are selling.
Hope to hear your thoughts soon.
Kind Regards
Stuart Humphrey
Publishing Director
Tel: 01732 783536
Mob: 07711 050 277
2010-12-22   Message from the 1-502nd in Kandahar (the unit we sent packages to)
Dear friends of 101st Airborne Division (Air Assault) Eagle 6.  During this Christmas season please do not forget those who fight for our Nation and the 124 who made the ultimate sacrifice over the last
six months from the 101st.
Season's Greetings from Afghanistan! This is my Eagle 6 Update # 12.  We continue to maintain a busy pace as we rapidly approach Christmas and the New Year. In addition to our ongoing operations... including complementary operations with Pakistan...we have had man important visitors. Since my last update, the Secretary of Defense presented awards to several Soldiers (including six Silver Stars) and we had the Chairman of the Joint Chiefs of Staff visit with a USO tour. The President also received the Afghanistan-Pakistan Annual Review (APAR), which confirms the current strategy is on track. Sadly, we made a trip to RC-South to bid farewell to six "Strike" Soldiers. Despite all the challenges our Soldiers face, we continue to make progress each and every day.
Over the last couple of weeks, Task Force Bastogne has conducted complementary operations with the Pakistan 11th Corps. The 11th Corps has been conducting operations on their side of the border, and Bastogne Soldiers have positioned themselves to identify and interdict insurgents attempting to flee into Afghanistan. This has been beneficial to both sides of the border, and we look forward to continued complementary operations and security cooperation.
Our number of Fallen Soldiers has continued to rise. CSM Schroeder and I went to RC-South to attend the memorial service for SGT Sean Collins, SGT Willie McLawhorn, CPL Patrick Deans, CPL Kenneth Necochea, CPL
Derek Simonetta, and CPL Jorge Villacis. These six Fallen Screaming Eagles were killed when a SVBIED approached their strong point and detonated. With these six, we have now lost 104 Screaming Eagles and 48 additional members of the CJTF-101.
Please remember our Fallen Heroes and their Family members during the upcoming holidays. The
holidays will be difficult for all of our Family members with deployed Soldiers and especially hard for those that have lost loved ones...if you can reach out to a Family member this time of year it is extra special.

The Afghanistan-Pakistan Annual Review (APAR) reaffirmed the importance of the U.S. and coalition strategy in the region and the necessity to get it right. The review focused on Afghanistan, Pakistan, Transition, and beyond 2014. Based upon the results of the Review, our goals remain unchanged. We seek to work with our partners, Afghans and Pakistanis, to disrupt, dismantle, and eventually defeat core al-Qa'ida and to prevent its return to either Afghanistan or Pakistan.
The progress made at Lisbon gave us a new framework toward meeting the goal of Afghan forces taking the lead for security across the country by the end of 2014. Partnered with the ANSF and our other international partners from 49 countries, we have stifled Taliban momentum, and in some important areas, we have reversed their momentum.
The Review also underlines the need for a political process that includes reconciliation and accelerated regional diplomacy. In line with this our relationship with Pakistan has improved as evidenced by our complementary operations along the border. We look forward to the increased security cooperation between our militaries and greater border coordination.
The conditions-based joint-transition to an Afghan lead will begin in 2011, and will support President Karzai's stated goal of transitioning responsibility for security to an Afghan lead by the end of 2014. The pace of the transition will be a gradual, conditions-based process; not an event, and it does not signify the
withdrawal of forces.
We have had several visitors of the past couple of weeks as well. Following the President's visit to RC-East, we had a very notable visit from the Secretary of Defense. The Honorable Dr. Robert Gates joined us here in Bagram for an office call and a briefing, and then we took him out to visit with Soldiers. While he was with Bastogne, Secretary Gates had the opportunity to pin medals on several Soldiers.
In one ceremony, he presented Silver Stars for valorous action to 1LT Stephen Tangen, SFC John Fleming, SSG Daniel Hayes, SSG Brent Schneider, CPL Joshua Busch, and PFC Richard Bennett. In addition to the Silver Stars, Secretary Gates presented several Purple Hearts, Bronze Star Medals with Valor, an Army Commendation Medal with Valor, Combat Infantryman Badges, Combat Action Badges, and a Combat Medical Badge. I have attached a picture of Secretary Gates presenting the Silver Stars and Purple Hearts.
We had a visit from the Under Secretary of Defense, the Honorable Dr. Joseph Westphal.
The Army Vice Chief of Staff, General Peter Chiarelli, and LTG Robert Durbin, Director of the Army Enterprise Management Task Force also visited with the Under Secretary. We were able to spend some time with these key leaders and update them on our progress here in Afghanistan. We also had a visit from the Chairman of the Joint Chiefs of Staff, Admiral Mullen. It was great to host the Chairman here. We had an office call to provide him an overview of our progress here in Regional Command-East.

Admiral Mullen's wife Deborah also came to visit with a USO tour. With this USO Tour, Lance Armstrong, Robin Williams, Kix Brooks, Lewis Black, Katherine Madigan, and Robert DiPiero provided great entertainment. After a brief office call with me, the entertainers moved through our Joint Operations Center talking with Soldiers, signing autographs, and taking pictures.
They then held a show here at Bagram. The next day, the USO group split into two teams, and went to visit Bastogne and Currahee Soldiers. We are very thankful for their coming to visit and entertain us, especially taking time over the holiday season; the show was absolutely great! I have attached a picture of CSM Schroeder and I with these great entertainers in my office. We also had a visit from Maj Gen Edward Tonini, The Adjutant General of Kentucky. MG Tonini is a great supporter of our Fort Campbell Families and Soldiers, and we enjoyed his visit. While here, he was able to visit with several members of the Kentucky National Guard.
In the upcoming weeks, we expect to have visits from GEN McNabb, the TRANSCOM Commander, Sergeant Major of the Army Preston who is also bringing a USO tour, our Army Chief of Staff, GEN George Casey, and military leaders from Korea, Poland, and France. I'm told that only 3-7% of Americans are even interested in Afghanistan...therefore I can never pass up a chance to talk about our great Soldiers and their sacrifices to visitors and or the media; I also talk with the media to make sure that they can get ground truth from my perspective on what is happening in RC-East.
Every one of our fourteen Provinces is different; everyone of our 160 districts is different; to many times we hear people talk about Afghanistan but they "generalize" their comments...and for the most part it is "bad news"...well every day I see progress; sometimes it is "two steps forward and one step back" but it is progress nonetheless. Where the ANSF is partnered with our Soldiers they continue to get confidence and their capability to protect the people of Afghanistan gets stronger and stronger. I've had a few chances to talk with the media since the past update and they include:

* I did an interview with students from University of Oklahoma and Mike Boettcher. Mike is working with University of Oklahoma and ABC News to do an Afghan101 project, which can be found at this link:  
http://afghan101.ou.edu/
  .
* I met with media that accompanied both the Secretary of Defense and the Chairman of the Joint Chiefs of Staff.

* On the 14th, I did an interview from my office with media back at Fort Campbell regarding our six Fallen Screaming Eagles from Strike. 
I would like to thank those who came out on such short notice. We had eight media outlets attend: Rob Selkow from Clarksville Now, John Dunn from FOX17 News, Kristin Hall from AP, Mike Alexieff from the Eagle Post, Channel 5, Forrest Sanders from Channel 4, Blake Farmer from NPR, and Jake Lowary from the Leaf Chronicle.
There are several stories about our six Fallen Heroes.
 
* My next media event is with my good friend Geraldo Rivera tomorrow (well today here now), Sunday, 19 December. I will appear on Geraldo at Large on FOX at 10:00 pm Eastern time. On 12 December, we remembered those who perished in the Gander accident. I have attached a picture of the memorial held in Gander on this 25th anniversary. CSM St. Louis and CPT Henry, both from our rear detachment, attended the memorial in Gander on behalf of all Screaming Eagles.
Our great neighboring city of Hopkinsville also held a ceremony as did the team back at Fort Campbell. We are grateful to all who remembered our Fallen, and our prayers go out to all of the Families.
I'll get out to as many COPs/FOBs as I can on Christmas day and try to get a special update with pics out that day...so from all of us here in Regional Command-East and CJTF-101 we wish you all a very MERRY CHRISTMAS !

(Eagle 6)

"Air Assault Tough--Army Strong"
JOHN F. CAMPBELL
MAJOR GENERAL, USA
COMMANDING GENERAL
CJTF-101/ REGION COMMAND-EAST
BAGRAM, AFGHANISTAN
2010-12  An Arlington Christmas
You may be interested to know that these wreaths -- some 5,000 -- are donated by the Worcester Wreath Co. of Harrington , Maine .
The owner, Merrill Worcester, not only provides the wreaths, but covers the trucking expense as well.
He's done this since 1992. A wonderful guy. Also, most years, groups of Maine school kids combine an educational trip to DC with this event to help out.
Making this even more remarkable is the fact that Harrington is in one the poorest parts of the state.
A Hero Turns 97 on December 7th 2010
Army Ranger James Eikner landed on D-Day, June 6, 1944  and climbed Point du Hoc. 
He turns 97 on December 7th.    If anyone could send off a card to this great hero he would surely appreciate it.
He continues to tell stories that just make people laugh. 
His memory is incredible; his spirits strong and vibrant; his sense of humor heart warming.
His address is: 
James Eikner

9815 Copper Creek Drive #1526

Austin, TX 78729-3600
2010-12-01 U.S. Army Unveils 'Revolutionary' XM25 Rifle in Afghanistan
The XM25, designed by Minnesota's Alliant Techsystems, has been in development for about seven years and the first prototypes have been doled out to combat units in Afghanistan earlier this month. The 12-pound, 29-inch system, which costs up to $35,000 per unit, is so sophisticated that soldiers are proficient users literally within minutes.
Since the dawn of modern warfare, the best way to stay alive in the face of incoming fire has been to take cover behind a wall. But thanks to a game-changing "revolutionary" rifle, the U.S. Army has made that tactic dead on arrival. Now the enemy can run, but he can't hide.
After years of development, the U.S. Army has unleashed a new weapon in Afghanistan -- the XM25 Counter Defilade Target Engagement System, a high-tech rifle that can be programmed so that its 25-mm. ammunition detonates either in front of or behind a target, meaning it can be fired just above a wall before it explodes and kills the enemy.
It also has a range of roughly 2,300 feet -- nearly the length of eight football fields -- making it possible to fire at targets well past the range of the rifles and carbines that most soldiers carry today. 
Lt. Col. Christopher Lehner, project manager for the semi-automatic, shoulder-fired weapon system for the U.S. Army's Program Executive Office Soldier, said that the XM25's capability alone is such a "game-changer" that it'll lead to new ways of fighting on the battlefield, beginning this month in Afghanistan.
"With this weapon system, we take away cover from [enemy targets] forever," Lehner told FoxNews.com on Wednesday. "Tactics are going to have to be rewritten. The only thing we can see [enemies] being able to do is run away"  a
nd that would make it much easier for U.S. troops to put them in their sights, either with that same XM25 or another direct-fire weapon.
With this new weapon in the Army's arsenal, Lehner said, "We're much more effective, by many magnitudes, than current weapons at the squad level. We're able to shoot farther and more accurately, and our soldiers can stay behind sandbags, walls or rocks, which provides them protection from fire."
"That's how intuitively easy it is, even though it's high-tech," Lehner said. "All a soldier needs to know how to do is laze the target. It decimates anything within its lethal radius."
Once the trigger is pulled and the round leaves the barrel, a computer chip inside the projectile communicates exactly how far it has traveled, allowing for precise detonation behind or ahead of any target.
"We have found that this has really made our soldiers so much more accurate and being able to deliver this high-explosive round in about five seconds," said Lehner, taking into account the time it takes a soldier to laze, aim and fire the weapon. Once fired, Lehner said, the round will reach its target in a "second or two," meaning the entire process from aiming to direct hit lasts less than 10 seconds, compared to 10 minutes or longer for traditional mortar fire.
A potential battlefield scenario, according to Army officials, might go something like this: 
-- A patrol encounters an enemy combatant in a walled Afghan village who fires an AK-47 intermittently from behind cover, exposing himself only for a brief second to fire. 
-- The patrol's leader calls for the XM25 gunman, who uses the weapon's laser range finder to calculate the distance to the target. 
-- He then uses an incremental button located near the trigger to add 1 meter to the round's distance, since the enemy is hiding behind a wall. 
-- The round is fired, and it explodes with a blast comparable to a hand grenade past the wall and above the enemy.
"This is revolutionary for many reasons," Lehner said, citing increased efficiency, safety and lethality. "This is the first time we're putting smart technology in an individual weapon system for our soldiers. We feel it's very important to field this because it keeps us ahead of the technological curve of our potential enemies. We have a feeling other people will try to copy us -- this is the future."
Lehner said the Army plans to purchase at least 12,500 XM25 systems beginning next year -- enough for one system in each infantry squad and Special Forces team.
The military isn't overly concerned that the weapon might be captured by the enemy, because they would be unable to obtain its highly specialized ammunition, batteries and other components. Lehner said he expects other nations will try to copy its technology, but it will be very cost-prohibitive.*
"This is a game-changer," Lehner said. "The enemy has learned to get cover, for hundreds if not thousands of years. "Well, they can't do that anymore. We're taking that cover from them and there's only two outcomes: We're going to get you behind that cover or force you to flee. So no matter what, we gotcha."
* [Sure glad the enemy is not going to be able to get any of our weapons and ammunition to use against us like it seems to have been able to up to now.That will be a game changer indeed.]
2010-11-15  Chapter member gets the Montgomery County Honor Guard on Front Page
By KEITH PHUCAS Times Herald Staff
COURTHOUSE — After World War II Army paratrooper Lou Zotti's funeral two years ago, a Vietnam veteran was asked to take over rifle salutes at military funerals, and he and a dozen others heeded the call.
Last year, the Central Montgomery County Veterans Honor Guard performed for the first time at the funeral of Peter Stefanek, a Marine who fought in World War II. Both Zotti and Stefanek lived in Norristown.
"World War II veterans are dying a thousand a day," said Guy Anhorn. "It became apparent they would need to pass this (duty) on to younger vets."
Anhorn, a former Whitemarsh police officer, is a veteran of the Vietnam War and belongs to the Vietnam Veterans of America - Valley Forge Chapter 349 and Norristown's Catholic War Veterans, Post 1182.
Volunteers for the Honor Guard were culled from Anhorn's Vietnam group and the Disabled American Veterans, Chapter 25. Currently, there are 16 volunteers, including a woman Iraq war veteran, for the rifle salutes. The goal is to have 50 volunteers on call.
The veterans groups along with Central Montgomery County Veterans Council provided funds for uniform shirts, jackets, rifles and ammunition blanks.
Typically at veterans' funerals, two active duty military members are sent to fold the American flag and play Taps. The flag is presented to a family member. But finding service personnel to fire rifle volleys is difficult, Anhorn said.
The Honor Guard uses World War I-era Springfield rifles that belong to the Catholic War Veterans.
"We cleaned 100 years worth of dirt out of them," he said.
The group also relies on WWII-era M1 rifles.
Other than the National Cemetery in Arlington, the military does not provide rifle teams for local veterans' funerals. The exception is The Guardians of the National Cemetery, which handles gun salutes exclusively at the new Washington's Crossing National Cemetery in Newtown, Bucks County. Anhorn said the group averages ten burials a day there.  Families show their appreciation for the Central Montgomery County Veterans Honor Guard after their loved ones are buried.
"The families, the widows and children, they all come up and thank you," he said.
When a request is received, Anhorn calls around for four to five volunteers, who arrange to meet up at the cemetery about 30 minutes ahead of time.
Families of military veterans in central Montgomery County who want the Honor Guard at a graveside ceremony are asked to e-mail VietnamVeterans349@comcast.net at least 72 hours in advance with the time, place and other details. Because of the limited number of volunteers, not all requests can be accommodated.
Men and women interested in joining the Honor Guard are asked to send an e-mail as well to
VietnamVeterans349@comcast.net
including name and phone number.
Each Honor Guard volunteer will be provided a special white uniform shirt with flag patch for the left shoulder and, if applicable, a veterans organization patch for the right shoulder. Volunteers are asked to provide their own plain black trousers and black shoes. Also, the group will issue a regular military black beret with blue flash. A military division or unit crest can be added. Plans are under way to design and provide black winter jackets with custom embroidery.
Veterans Day, Thursday, November 11th 9:00 - 10:15 pm
HBO is premiering a 75-minute documentary film on the history of Post Traumatic Stress Disorder (PTSD) and its impact on Servicemembers and Veterans: WARTORN 1861-2010. The HBO Documentary Films presentation debuts on Veterans Day, THURSDAY, NOV. 11 (9:00-10:15 p.m. ET/PT), exclusively on HBO. Although the film does not formally debut until Veterans Day, we understand that there will be several regional screenings between now and then to build "buzz" for HBO. In addition, stories on the film may start appearing as soon as this weekend, after a showing slated for this evening at the Pentagon, ,followed by a panel discussion (in which VA is participating), with a large press presence.
Here is the description from their materials:
"WARTORN 1861-2010 brings urgent attention to the invisible wounds of war. Drawing on personal stories of service members, the documentary chronicles the lingering effects of combat stress and post-traumatic stress on military personnel and their families throughout American history, from the Civil War through conflicts in Iraq and Afghanistan."
We at the VA want to stress that this documentary poignantly depicts, through stories and at times difficult graphics of combat scenes, the experience of those who have been most significantly impacted by their military service.
It is anticipated that this documentary may generate an increased number of inquiries from media, Veterans, community agencies and family members of Veterans regarding VA services for the treatment of Post Traumatic Stress Disorder and other associated mental health and health issues.
2010-10-10 Message from the 101st Airborne re-enactors
My sincere sympathy to you and your family.  My brother Tom and myself were a bit dismayed that we could not visit your Uncle Joe in uniform when we were on our way to are friend this past weekend.  It is why the members of the 9th have willingly given my brother and me an added tribute as we also portray the 4th Cavalry Grp, which was the unit that my dad belonged to during WWII. 
I know the pain.  I know the lost, so I will conclude by quoting Major Winters 101st, "Hang tough." 
Most respectfully and sincerely
David Pucci (9th Inf Div & 101 AB  Historical )
2010-10-10  A Message from Afghanistan
Thank you so much for including me in the email.  It is crazy thinking 66 years ago Joe McGinley was wearing the same Screaming Eagle I am wearing today.  It was a very inspiring story and I will pass it on to the rest of my platoon.  I apologize I haven't been good at getting thank you's out to you and the rest of your group sending us goodies.  Things continue to stay busy here, but that's no excuse.  Please pass along to everyone that we dearly appreciate the packages and it is a huge morale boost!  You guys are truly great Americans. 
I hope all is well with you and yours.  Thanks again!
1st Lieutenant Patrick Kummerer
HQ 1/502nd Inf, 101st Airborne Div
Kandahar, Afghanistan

2010-10-10 Message from SEPA 101st
You and the family have my deepest and sincerest sympathies on the passing of Uncle Joe ...what a man...and true HERO !
Supposedly,...hearing is the last sense to leave a person ...so Uncle Joe heard yur thanks for saving the world ..and that's a "thanks" from ALL of us...also.
Mike Daily
Treasurer - Southeastern Pennsylvania Chapter - 101st Airborne Association
2010-10-09 Message from a History Teacher in the Netherlands
My condolences for you and for the rest of your family with your loss. Like I wrote you before, even though I don't know any of the brave men who came to liberate our country, all of them our heroes if you ask me. I hope you were able to pass my words along to your uncle before he passed. (I wrote him a letter over a week ago.) I am sure he will be missed.
I will pray for him and for your family.
Sincerely,
Wesley van Meir - The Netherlands
2010-10-08   Another Eagle has soared today.
TEC5 Joe McGinley, a radio operator in Fox Company, 501st PIR 101st Airborne, a veteran
of Operation Market Garden and wounded at the Battle for Bastogne, has passed.

I visited him a few days ago and although in reality he was slipping off into delerium and unable to control his body, what I saw was a fearless young 18 year old paratrooper jumping out of plane into Nazi occupied Holland. He wanted to save the world, and although he may not have heard me, I told him he helped do just that.

Thanks for all your prayers and good thoughts for our Uncle Joe, one of the original Screaming Eagles.

Funeral arrangements will be forthcoming.

Here is a tribute song performed by Joe McGinley's grandson a few years ago:
2010-10-05   A Screaming Eagle is Very ill
Today is the 85th birthday of Joe McGinley.  He is in a nursing home in Doylestown, Pennsylvania, stricken with many debilitating ailments.  He is losing weight, unable to eat and the prognosis is not encouraging.  
I know him as Uncle Joe.  But, he was not always as frail as he is this day. 
Sixty-six years ago he was one of those who saved the world from tyranny. On September 17th 1944, 18 year old PFC McGinley jumped out of a C-47 Dakota into Nazi occupied Holland as an 18 year old brave 101st Airborne paratrooper.   By January 4th 1945, he was one of many causalities of the German 88's in Bastogne, Belgium.  Uncle Joe has led a long and fruitful life, but being his nephew and an avid historian, I wanted to put out a request to those of you who know him and many of you who do not.   
While he is still able to appreciate it, if any out there would like to send him a note and thank him for his service I know he would cherish your thoughts just as the Purple Heart he has carried for all these years.   
2010-09-22  A Letter from the Netherlands
Dear Guy,

When I was a kid I was facinated by the paratroopers in movies like The Longest Day and A Bridge to Far. Living in Holland it was something special to know that an army of men came falling out of the sky to liberate us from Nazi oppression and rule. Since then I started studying history and am now a History teacher for (junior)High School in Holland. In my classes almost all of the students want to know about the second world war, and most importantly for them, want happend in our own country. Our country holds the record for biggest Airborne landing twice. First by the Germans in May 1940 (after heavy losses they never attempted a massive Airborne landing again) and in September 1944 by the Allies.
Since seeing the mini series Band of Brothers I've been hooked again on the History of the paratroopers and in particular the 101st.
It's amazing to read what these young men went through, so far away from home, to give back freedom and liberty to the oppressed people of Europe. For myself these men, including your uncle, are true heroes. Even though it is now 66 years after Operation Market Garden and 65 years since the end of World War Two, we are still greatfull for the sacrifice those brave young men made and paid for then.

I'll be using the pictures you gave me in my classes to give a broader view of the war. This personal note will be the subtle touch to make it just a bit better.

Thank you for the personal info and if you'll be so kind, even though it's 66 years later and I wasn't even born then, thank your Uncle Joe for me.

Sincerely your's,

Wesley
Ulvenhout, NETHERLANDS
2010-09-09 From the 75th Ranger Association
2010-08-09 A Fallen Marine in Afghanistan
This is a personal note about a friend who helped me make a recent documentary about Army Rangers in Vietnam, Gerald Cornelius.   Gerry is a good friend and was a Green Beret and a Ranger in Vietnam 1969-1970.  I saw him and his wife Marlene last weekend in North Carolina for a reunion.   Gerry asked me to include his son Kevin on our list of servicemen and women who we send packages to every week.   I said we would be honored.
This morning I received a call that his son, Lance Corporal Kevin Cornelius and another Marine were killed.  His parents got a knock on the door at 9:00pm Saturday night.
Here is the local news report:
Lakeside graduate dies in Afghanistan: Kevin Cornelius killed by enemy combatant
Aug. 09--ASHTABULA, Ohio
 
A 20-year-old Lakeside High School graduate and Marine died Saturday in Afghanistan from wounds he suffered at the hands of a detained enemy combatant, the U.S. Marine Corps reports. Lance Cpl. Kevin Cornelius was shot and died in the Helmand Province of Afghanistan, his family confirmed Sunday. He was the son of Ashtabula Police Capt. Gerald Cornelius and Marlene Cornelius and Valerie and Bob Silleck, all of Ashtabula.
 
Kevin Cornelius "died of wounds he suffered performing combat operations against enemy forces abroad," the U.S. Marine Corps reports.  Cornelius' step-brother, Bob Fortune, said representatives from the Marine Corps arrived at his mother's front door at 9:30 p.m. Saturday to break the news.

 
"This is just unbelievable," Fortune said. "We are so sad but so proud at the same time. I just wish he were here so I could show him how much I respect him. There isn't enough I can say about him and his sacrifice."
 
Kevin Cornelius died on his father Gerald Cornelius' birthday, his step mother, Marlene Cornelius, said. U.S. Army Second Lt. Eric Cornelius, Kevin Cornelius' brother, is stationed in Alabama and is on his way to Ashtabula, the family reports. Funeral arrangements are pending the arrival of Cornelius' body from Afghanistan, Fortune said.
 
Jerry Cornelius said his son died doing what he loved for a country he loved. "(Kevin) was very proud to be a Marine and he never complained, no matter how tough it was. He always said he was exactly where he wanted to be doing exactly what he wanted to do," he said. Kevin Cornelius' favorite quotation, viewed on Facebook, is "The brave may not live forever, but the cowards do not live at all."
Please keep the Cornelius family in your thoughts and prayers.
Guy Anhorn
2010-08-08 Medal of Honor recipient David C. Dolby dies

David C. Dolby, a Medal of Honor recipient and a fixture at local veteran events in recent years, died Friday morning in Spirit Lake, Idaho. He was 64.
Dolby, who lived in Royersford, was in Idaho for a veterans' gathering, according to friends. The announcement of his death was made by the Congressional Medal of Honor Society. The cause was not announced. Services are pending. Burial in Arlington National Cemetery is planned. The Medal of Honor is the nation's highest military award for valor. Dolby's actions in Vietnam saving the lives of his fellow soldiers on May 21, 1966, led to the honor.
Two weeks ago, Dolby had joined those speaking about the disrepair of the Medal of Honor Grove at the Freedoms Foundation at Valley Forge. The nonprofit foundation has suffered financial setbacks and regular maintenance of the 52-acre memorial was suspended. Various groups are coming together to repair the grove this fall.
"Dolby was concerned the grove was not being maintained in a way that would reflect the cause of freedom ... the grove demonstrated," said state Sen. Andrew E. Dinniman, D-19th of West Whiteland. "He was very proud. He took me to the Pennsylvania site to his tree."  The grove reserves a plot for each state to commemorate its honorees with a tree and plaque. Many of the trees have died, and plaques were uprooted. Dinniman said Dolby liked to come to the grove. "He said he could think, a place of peace for him," the senator said. Area veterans groups made a point of seeking out and including Dolby in their meetings and events in recent years.
Veterans and friends contacted Saturday said Dolby had been devoted to his wife. They had no children. She died about 10 years ago. Since then, he had been living in virtual seclusion in Barto, a town north of Pottstown.
Dolby also had given up driving and was having difficulty getting around, his friends said. He turned up at a memorial event, and when others learned of his identity, an effort was made to include him into the community. The veterans found him an apartment in Royersford to make it easier for him to get to his doctors, and easier for them to pick him up.
He became a fixture at the head table of various veterans' dinners and memorial services. Last November, for example, he was grand marshal at West Chester Veterans Day parade. And he was grand marshal at the Memorial Day Parade this year in Doylestown.
A Norristown native, Dolby was in a platoon of the 1st Cavalry Division during an attack as six of its members were killed instantly and others were wounded. In four hours of combat, he retrieved wounded men, stopped the enemy attack, reorganized his platoon and kept them covered during a counterattack. He was credited with saving the lives of many of his fellow soldiers while leaving himself continually in an exposed position, contributing to the overall success of the Army assault.   In all, Dolby served five tours in Vietnam.
President Lyndon B. Johnson presented the medal to Dolby during a ceremony on Sept. 28, 1968.
The Medal of Honor Society said there are 87 surviving Medal of Honor recipients.
U.S. Army Sgt. David Dolby's service picture and biography are on the Web site
www.cmohs.org
 :
DOLBY, DAVID CHARLES Rank: Sergeant Organization: U.S. Army Company: Company B, 1st BattalionDivision: 8th Cavalry, 1st Cavalry Division Born: 14 May 1946, Norristown, Pa. Departed: Yes (08/06/2010) Entered Service At: Philadelphia, Pa.G.O. Number: 45 Date of Issue: 09/28/1967 Accredited To: Place / Date: Republic of Vietnam, 21 May 1966 
Citation For conspicuous gallantry and intrepidity at the risk of life above and beyond the call of duty, when his platoon, while advancing tactically, suddenly came under intense fire from the enemy located on a ridge immediately to the front. Six members of the platoon were killed instantly and a number were wounded, including the platoon leader. Sgt. Dolby's every move brought fire from the enemy. However, aware that the platoon leader was critically wounded, and that the platoon was in a precarious situation, Sgt. Dolby moved the wounded men to safety and deployed the remainder of the platoon to engage the enemy. Subsequently, his dying platoon leader ordered Sgt. Dolby to withdraw the forward elements to rejoin the platoon. Despite the continuing intense enemy fire and with utter disregard for his own safety, Sgt. Dolby positioned able-bodied men to cover the withdrawal of the forward elements, assisted the wounded to the new position, and he, alone, attacked enemy positions until his ammunition was expended.
Replenishing his ammunition, he returned to the area of most intense action, single-handedly killed 3 enemy machine gunners and neutralized the enemy fire, thus enabling friendly elements on the flank to advance on the enemy redoubt. He defied the enemy fire to personally carry a seriously wounded soldier to safety where he could be treated and, returning to the forward area, he crawled through withering fire to within 50 meters of the enemy bunkers and threw smoke grenades to mark them for air strikes. Although repeatedly under fire at close range from enemy snipers and automatic weapons, Sgt. Dolby directed artillery fire on the enemy and succeeded in silencing several enemy weapons. He remained in his exposed location until his comrades had displaced to more secure positions.
His actions of unsurpassed valor during 4 hours of intense combat were a source of inspiration to his entire company, contributed significantly to the success of the overall assault on the enemy position, and were directly responsible for saving the lives of a number of his fellow soldiers. Sgt. Dolby's heroism was in the highest tradition of the U.S. Army.
2010-08-01   War Memorial of a different kind
I just returned from a veterans' reunion on the Cherokee Indian Reservation in North Carolina.  They have the honor of being the birth place of MOH recipient Charles George as well as many other warriors who served the United States in past and present wars.    
In their Veterans' Park was a statue of a "Patriotic Bear", painted with the symbols of their pride.
More news about PFC John Pardue and KIA David Jefferson 1/502nd
From Chuck Pardue (John's Dad):  
Thank you for your kind words.  I hope to have John back in the US within a week. 
As I am getting more details I learned fortunately John is not hurt seriously,but will require surgery to fix a plate and screws in his leg.  He was not injured in the IED explosion, as reported in the newspaper but was injured  in combat assault training at Ft Campbell where they operated on his leg fractures.  He talked them into letting him deploy with his unit.   In Afghanistan he re-injured his leg  while helping injured soldiers and because his leg is now swelling  etc they decided to send him back for surgery.
He did perform CPR on  David Jefferson, his fellow medic, friend, and roommate at Ft Campbell, before David  died. That nightmare continues to bother him greatly. During his brief stay there he worked with the local surgeon on over 30 major truama patients.  He likes the medicine but for a while he would like to see a lot less people die while he is helping the surgeon try to perform miracles to keep people alive.
He already wants to get back to his unit, because they are very shorthanded of combat medics. I hope to talk him out of it because he has done enough. 
We are planning a trip to visit the Jefferson family after John's return. 
His unit 1st, of the 502nd, 101st Airborne, continues the proud tradition of The Band of Brothers

2010-07-04 Kandahar
We just received word that while the rest of us were enjoying the Fourth of July, John  Pardue and Jeff,
another combat medic with the 101st Airborne,  had to go outside the wire yesterday near FOB Wilson to help.  Jeff was John's roommate in the barracks at Fort Campbell. 
There was an explosion and Jeff's legs were blown off.  John rendered CPR  and mouth to mouth but Jeff died shortly thereafter. 
Fortunately John only had a minor injury to his ankle and is in a cast and being Medevac'd back to Baugram  AFB for additional Xrays. 
John delayed being Medevac'd until after Jeff's memorial service at 4pm today  Afghanistan time. 

2010-07-02
The first Medal of Honor given to a living recipient since the Vietnam War
SSG Sal Giunta, a paratrooper w/ the 173rd Airborne, will be awarded the first Medal of Honor given to a living recipient since the Vietnam War. He earned this by charging a group of Taliban who were trying to make off with a wounded comrade in the Korengal Valley of Afghanistan. His actions broke the Taliban's attack and allowed him to regain control of SGT Josh Brennan.
He also saved the lives of the many other members of his unit who had been caught in a fixed ambush by the Taliban. Giunta didn't hesitate one second before advancing on his own to ensure the enemy would never take one of ours, but sadly Josh Brennan was too badly wounded too survive. His cousin PVT Joe Brennan recently graduated airborne school and has joined the same unit proudly carrying on Josh's memory.


The 2nd Battalion (Airborne) 503rd Infantry Regiment "The Rock" deployed to Afghanistan in 2007 for 15 months of the most intense combat any US unit has faced in this war. During the time they spent on the border with Pakistan, this one battalion averaged three troops in contact incidents every day. They were right in the path of the Taliban's major push back into Afghanistan after years of resting, recruiting and retraining in their safe havens in Pakistan.
They proudly upheld the tradition of our airborne forces in some of the most inhospitable terrain on Earth. SSG Giunta was a member of Battle Company and the exploits of some of his compatriots in that unit are vividly chronicled in Sebastian Junger's book "War" and the documentary
"
Restrepo
"
(in theaters now) he made with Tim Hetherington. The two spent a total of five months with a platoon from Battle Company and the book and film show the tremendous challenges these men faced and overcame.
2010-06-14    Happy 235th Birthday to the United States Army


2010-05-23   Check this link for a SPECIAL on Sunday Night
Sunday night May 23rd at 8 pm on National Geographic Television

Inside the Vietnam War
  takes you inside covert operations, gives you a seat at the military strategy table and lets you witness the emotional toll of war through the eyes of the soldiers and the pilots who undertook dozens of death-defying missions. Woven together with testimonials from more than 50 Vietnam veterans, archival audio and video footage, and never-before-seen photos, the special features the harrowing firsthand accounts of the brave men and women who lived through the war.
Read more here
.
2010-04-12 
Jack Agnew, Member of our Chapter, Dies at 88

Jack Agnew on top of a Bastogne brick pile setting up a beacon for resupply planes. December
1944
PHILADELPHIA — John "Jack" Agnew, one of the original members of a U.S. Army unit that operated behind enemy lines in World War II and is often credited with having loosely inspired the movie "The Dirty Dozen," has died at age 88.

Agnew belonged to the Filthy Thirteen, an unofficial unit within the 506th Parachute Infantry
Regiment, 101st Airborne Division. He was pronounced dead Thursday at Abington Memorial Hospital after becoming ill at his home in the Maple Village retirement community in Hatboro, where he and his wife moved about a year ago, his daughter Barbara Agnew Maloney said.

On D-Day, the Filthy Thirteen parachuted into France to take a bridge over the Douve River. It was "a mission that would cost most of the men their lives," according to an article in the winter 2008-09 edition of American Valour Quarterly, a publication of the nonprofit American Veterans Center.
Before the Battle of the Bulge, Agnew and other members of the unit were requested for pathfinder duty and parachuted into Bastogne, which was besieged by German forces. Agnew operated a beacon to help guide in planes carrying badly needed supplies.
Tales of the unit's exploits and a Stars and Stripes military newspaper photograph are said to have inspired "The Dirty Dozen," not because any of the unit's members were convicts like the movie's characters — they weren't — but because of their reputation for brawling, drinking and spending time in the stockade.

In interviews, Agnew, a private first class, said that came directly from the unit's leader, Jake McNiece. "We weren't murderers or anything, we just didn't do everything we were supposed to do in some ways and did a whole lot more than they wanted us to do in other ways," he told the quarterly. "We were always in trouble."  Agnew was among those interviewed in a documentary, "The Filthy Thirteen: Real Stories from Behind the Lines," that was included in a 2006 special edition DVD of "The Dirty Dozen."

The 1967 movie, about an Army major who has to train and lead 12 convicts into a mission targeting German officers, starred Lee Marvin, Ernest Borgnine, Charles Bronson, Telly Savalas, Donald Sutherland and Jim Brown.  Maloney said her father told her about 30 percent of the movie was true.  "And, actually, the scene where they captured the officers, Dad said that was true and he really coordinated that," she said Sunday.

Two months ago, Maloney said, she accompanied her father to a military history convention where she met with three of the four surviving Filthy Thirteen members and three members of Easy Company, which was the focus of the HBO series "Band of Brothers."  "Dad, when we were little kids, he'd always say, 'I won the war; I know you don't believe me, but someday you'll know,'" she said. "We didn't really realize it until the 'Band of Brothers' came out."

Agnew will be buried with full military honors Tuesday at Forest Hills Cemetery in Huntingdon Valley, in the Philadelphia suburbs, where he and his wife, Elizabeth Agnew, lived for 56 years, Maloney said.  By Ron Todt, Associated Press Writer
2010-01-17 - 101st Living History Group

Because of lots of internal and external political pressure and negotiations Belgian Minister of Defense Pieter De Crem made some significant changes in his plan to close down the HEINTZ BARRACKS in BASTOGNE .


The Artillery Unit 1A will no longer exist and 200 people have to go and work in other camps BUT 100 soldiers will remain at the caserne to maintain the 'new' Historical Depot of the Belgian Military Museum .

Reasons are : "Deployment " and "Historical Reasons " as he referred to the Von Runstedt Offensive and Bastogne being a historical city AND the BARRACKS , the 101ST Div HQ, as a Historical Marker !!!!!!! GREAT JOB EVERYBODY ! OUR SUPPORT AND LETTERS REALLY HELPED A LOT !!!!!!!!!!!!!!

THANK YOU !!! Best regards

Reg
2009-10-17  Sybren van der Velden of the "Screaming Ducks - 101st Living History Group" in The Netherlands 
I received this from a friend in Belgium.
The Belgian Minister of Defense , Pieter De Crem , decided to close down 23 military camps by 2011. One of the camps is the 'Heinz Barracks ' in Bastogne , home of the 1st Field Artillery Regiment , currently deployed in Afghanistan .
It was in these barracks where Brig Gen Anthony McAuliffe has set up his HQ for the 101st Airborne Division during the Battle for Bastogne . Here is where McAuliffe wrote his world famous reply 'NUTS' to the German demand to surrender on 22 December 1944. This place , the NUTS-Cellar is a historical marker maintained by good people from the Belgium army , like eric Lemoine and Michel Marecaux , who spent a countless amount of free hours to preserve this place .
The Heintz Barracks has been visited by many WWII veterans over the past years ... Medals from city council were presented here and still many heroes come back to visit the barracks on their pilgrimage.
The minister is planning to close the place down and build a State Prison. I hope we can start to fight back to preserve this historical marker. I do believe we owe it to the brave men of the greatest generation to preserve their legacy and do whatever we can to "SAVE " the "NUTS "- cellar ....
The Mayor and the City Council of Bastogne are working on and negotiating the future of The Barracks , behind the scenes , already . They also wish to preserve the Barracks . I received many letters and ideas and they are still very welcome . We are REALLY going to need ALL your help in the future ....
Step 1:
Things we CAN do : It's very important to bring this topic in the news . The more people we can reach , the better ... Publish articles in Screaming Eagles Magazine , Army Times, newspapers etc...on websites. All help is very welcome.  These articles should only just inform what the plans are and to show the importance of preserving McAuliffe's HQ.
We should contact the 101st Airborne Association and the inform them and see how they can help ...Let us know.  Make people aware of the importance of their help .
Also we should start to promote the HQ very hard. To invite people to come and visit the place in December during the Historical Walk : The Cave will be open :
Friday     11 DECEMBRE Afternoon!

Saturday 12 DECEMBRE All day !

Sunday   13 DECEMBRE All day !
The more visitors , the better !!!! All BE THERE ! Your presence is important to show how many people care about this Historical Marker . Also I would like to ask to forward the plan of the minister to your address book or post this on a website ... We need to promote the Cave in a reasonable and polite way without offending people or any intimidations .
Please keep sending me your letters . We shall surely collect them and use them when the time is right . To canalize the correspondence I would like to ask you to sent your letters to this email address.
What we WON'T do :
We shall NOT demonstrate , hand out flyers etc....to the public in December during the 65th commemorations !
Demonstrating and hard actions will only undermine the negotiations with the City Council and we are not willing to blow these bridges !   The best thing is to promote the cellar and SHOW them why it shouldn't be torn down ! After the December we shall inform you about STEP 2 of our plan .
July 12th 2009 - Another Screaming Eagle soars - Shifty Powers
Wild Bill's good friend, Darrell C, "Shifty" Powers of Easy Company 506th PIR, died on June 17th 2009. 
His character appears in all 10 episodes of Band of Brothers and Shifty himself is interviewed in several of them.
Powers jumped into Normandy on D-Day, missing his drop zone.
He eventually came in contact with Floyd Talbert and the two made their way to Easy Company.
He participated in the assault of Carentan and every major battle Easy Co. was involved with until the end of the war. 
He was considered by many to be the best shot in the company.
We found this amateur video interview and thought we should share it.
July 7th 2009   Viewing for CWV Post Member MICHAEL J COLLINS JR. 83
Today, myself and others attended the viewing for Michael J Collins.  He was a Veteran of World War II, Korea, and Vietnam.  He had the honor of earning a three war CIB. He died on July 3rd. 
Command Sergeant Major Collins also participated in decades of peaceful pro-life protest, prayer vigils, and civil disobedience.  
While the rest of the world watches non-stop coverage of the accidental death of pop star in Hollywood, let us a take a moment to think of this real American hero who passed quietly in a small Pennsylvania town after 40 service to his country and the rest of his life to something he believed in. 
July 06, 2009 Upcoming  Fort Mifflin Vietnam Veterans Event
Hi Everyone,
Coming on August 8th-9th we have Viet Nam Veterans Appreciation Days.
Military displays throughout the fort, and various demonstrations
throughout the day on both days. Come join us in our thanks to these
vets and to all vets. In peacetime or wartime, they are here for us.
Lets be here for them on these 2 days in their honor.
See you at the Fort
Staff & Volunteers of Fort Mifflin
July 6th 2009  An open invitation to Vietnam Veterans
Vietnam Veterans
Welcome Home Ceremony
Fort Campbell, Kentucky
1400 Hours  16 August 2009
MG Jeffrey J Schloesser, CG 101st Airborne Division (Air Assault) has announced a Welcome Home Ceremony for Vietnam Veterans during the Week of the Eagle at Fort Campbell Kentucky on Sunday 16 August 2009.
Vietnam Veterans from ALL units, branches and services are invited to participate in this very special opportunity.  Vietnam Veterans will have the rare privilege of receiving the same welcome home that every member of the 101st Airborne Division (Air Assault) receives when they return from the war on terrorism.
To participate, everyone is to enter Fort Campbell, KY at Gate 7 on Sunday 16 August 2009 and assemble in casual patriotic attire no later than 1400H CST (2:00 PM) at the Freedom Fighter Gymnasium near the 4th BCT (506th Currahee) headquarters.
Buses at the Freedom Fighter Gymnasium will transport everyone to and from Hangar 3.   At Hangar 3, family and friends will assemble inside while the Vietnam Veterans form and "dress right dress" outside the hangar.
The grand moment will be when the hangar doors open to the sound of patriotic music, banners, cheers and tears.  The Vietnam Veterans will be greeted by our new Commanding General, MG John F Campbell (former Commander 1st Bde 82nd Abn Div), families, friends and other patriots.   What a memorable moment!   I am a veteran of the Vietnam War and it touches me deeply to know that our Commanding General has made this special effort to include the Vietnam Veteran in the same honors given to our active duty Soldiers.
After the Hangar 3 ceremony, buses will return everyone to the Freedom Fighter Gymnasium (air-conditioned) and a sit down free Bar-B-Q meal for the Vietnam Veteran and one guest.   The Golden Rule Smokehouse Restaurant is donating the meals.
To confirm (1) how many will attend the ceremony (2) to reserve a meal for yourself and one guest, (3) your branch of service and (4) handicap needs, please call the Hopkinsville-Christian County Chamber of Commerce at (270) 885-9096 or email akrohn@hopkinsvillechamber.com NLT 9 August 2009.   Also, please show your appreciation to the Golden Rule Smokehouse Restaurant (http://www.goldenrulebbq.com/stores.php) for their generosity to the Vietnam Veterans.  The website listing the Week of the Eagle activities is www.fortcampbellmwr.com/woe/. 
While at the WOE, be sure to visit the 101st Airborne Division Association office at 32 Screaming Eagle Blvd near Gate 4
So, plan your trip, confirm your attendance, come to Fort Campbell, visit the 101st Airborne Division Association office and celebrate the Week of the Eagle with other veterans and members of our active duty Screaming Eagle family.
Joe R Alexander, President
101st Airborne Division Association
July 2nd 2009  - A Great War Bird Story ..from a military perspective
This came from a gent who runs a 2000 acre corn farm up around Barron WI, not far from Oshkosh.  He used to fly F4Es and F-16s for the Guard and participated in the first Gulf War...  It is submitted for your enjoyment, and as a reminder that there are other great, magnificent flyers around (besides us).
I went out to plant corn for a bit to finish a field before tomorrow morning and witnessed The Great Battle. A golden eagle - big bastard, about six foot wingspan - flew right in front of the tractor. It was being chased by three crows that were continually dive bombing it and pecking at it. Crows do this because the eagles rob their nests when they find them.
At any rate, the eagle banked hard right in one evasive maneuver, then landed in the field about 100 feet from the tractor. This eagle stood about 3 feet tall. The crows all landed too and took up positions around the eagle at 120 degrees apart, but kept their distance at about 20 feet from the big bird. The eagle would take a couple steps towards one of the crows and they'd hop backwards and forward to keep their distance. Then the reinforcements showed up. I happened to spot the eagle's mate hurtling down out of the sky at what appeared to be approximately Mach 1.5. 
Just before impact the eagle on the ground took flight, and the three crows which were watching the grounded eagle, also took flight thinking they were going to get in some more pecking on the big bird. The first crow being targeted by the diving eagle never stood a snowball's chance in hell. There was a mid-air explosion of black feathers and that crow was done. The diving eagle then banked hard left in what had to be a 9G climbing turn, using the energy it had accumulated in the dive, and hit crow #2 less than two seconds later. Another crow dead.
The grounded eagle, which was now airborne and had an altitude advantage on the remaining crow, which was streaking eastward in full burner, made a short dive then banked hard right when the escaping crow tried to evade the hit. It didn't work - crow #3 bit the dust at about 20 feet altitude. This aerial battle was better than any air show I've been to, including the warbirds show at Oshkosh!
The two eagles ripped the crows apart and ate them on the ground, and as I got closer and closer working my way across the field, I passed within 20 feet of one of them as it ate its catch. It stopped and looked at me as I went by and you could see in the look of that bird that it knew who's Boss Of The Sky. What a beautiful bird!
I love it. Not only did they kill their enemy, they ate them.
Refresher of CHALLENGE COIN RULES
There are many origins to the Challenge Coin Story.  This version dates from the Vietnam war:  Coin giving dates back to Vietnam actually when soldiers would tote along a piece of "lucky" ordnance that had helped them or narrowly missed them. At first it was small arms ammunition, but this practice grew to much bigger and more dangerous ordnance as time went on. It became then actually a dangerous practice because of the size and power of the ordnance being carried, so commanders banned it, and instead gave away metal coins emblazoned with the unit crest or something similar. The main purpose of the ordnance had been when going into a bar, you had to have your lucky piece or you had to buy drinks for all who did have it. The coins worked far better in this regard as they were smaller and not as lethal! So, if you go to a military bar, whip out a challenge coin and slam it down on the bar, those who lack one buy drinks! Obviously you have to be careful about this tradition... However, Commanders and units give out coins for this and as mementos for services rendered or special occasions.
CHALLENGE ( C ) AND RESPONSE ( R )
Don't leave home without it and keep it on your person at all times.
( C ) is made by displaying coin on a hard surface.
( R ) is made by displaying coin on a hard surface within 10 seconds of a ( C ).
Unsuccessful ( R ) obligates you to the ( C ) for the drink of their choice.
Successful ( R ) obligates ( C ) to you for the drink of your choice.
Un-numbered coin is obligated to numbered coin.
Numbered coin ( C ) and ( R ) between same unit coins is mandatory ; High number is obligated.
Numbered coin ( C ) and ( R ) between different units must be

 

mutually agreed upon. High number is obligated.
Exception…unit numbered coin, ( i.e… 75th Ranger Regiment and coin number # 75) does not buy regardless of the other coin number.

 

Other is obligated.
( C ) and ( R ) between unit numbered coins are considered equal and therefore a draw.
NEW DOCUMENTARY ON U.S. OVERSEAS MILITARY CEMETERIES ON
MEMORIAL DAY, MAY 25TH, 2009, 10 PM
 
WASHINGTON - Nearly 125,000 American military men and women are buried overseas in the lands where they fell.  The bodies of almost 100,000 more have never been found. But not one of them has been forgotten.
 
This Memorial Day, May 25, at 10 pm, a new PBS documentary"Hallowed Grounds" features footage of 22 overseas U.S. militarycemeteries from World Wars I and II, and vignettes about the heroic men and women buried there, and those who visit them. 
 
Hallowed Grounds" follows the path of U.S. forces in both World Wars in eight countries: Belgium, England, France, Italy, Luxembourg, the Netherlands, the Philippines and Tunisia. The documentary uses archival footage and photos to depict the battles that filled these burial grounds, and includes profiles of many of the American men and women who rest in them. Some of the featured were well known, including the poet
Joyce Kilmer, two of Theodore Roosevelt's sons, bandleader Glenn Miller, the five Sullivan brothers, and General George S. Patton. But most were ordinary men and women of all backgrounds, caught in the calamity ofwar. 
 
The program is narrated by Battle of the Bulge veteran Peter Thomas with an original score by Charlie Barnett.  Major funders for the program are the Disabled American Veterans National Service Foundation, The Cantigny First Division Foundation of the Robert R. McCormick Foundation, PBS, and the Lynde and Harry Bradley Foundation.
January 2009 General KINNARD, An Airborne Legend Passes-On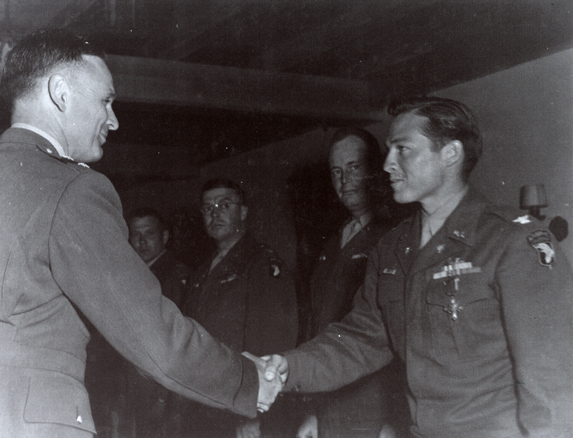 General Harry William Osborn Kinnard died on 5 January, 2009. Harry graduated the USMA at West Point in the class of 1939. He joined the newly-formed 501 PIR in late 1942, as a young captain and became the regimental S-3. He was pulled from that role in Normandy,to replace LTC Robert Carroll (KIA on D-day), as acting 1st Bn 501st commander. Kinnard jumped into the Netherlands in that capacity in September, 1944, with Sammie N. Homan as his XO. Kinnard's brilliant tactical talents were demonstrated with his 1st Bn maneuvering between Heeswijk-Dinther in Holland, in which troops under his direction destroyed and captured a German battalion.

Kinnard's talents did not go unnoticed at Divisional level and he was brought up to G-3, to replace H.W. Hannah who had been SWA at Sint Oedenrode. Kinnard became a true historic figure during the siege of Bastogne and later took the first full US division to Vietnam (1st Cav) in 1965.

The photo above was taken in 1945, as Kinnard received the Distinguished Service Cross from Divisional C.O. Maj. Gen. Maxwell Taylor. Also in the photo are Colonel Robert A. Ballard (501), Col. Joseph Harper (327th), and BG Gerald Higgins.