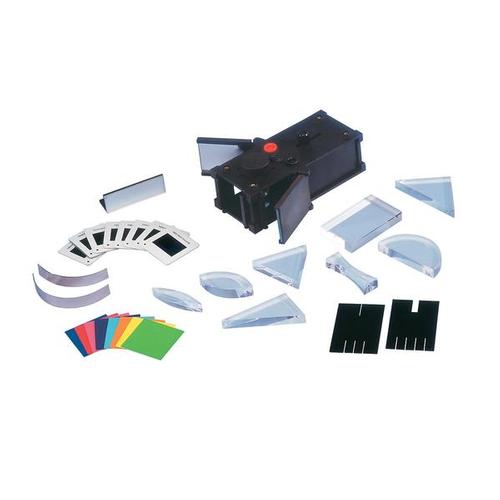 Author
Laura Silverman, 7th grade Life Science, Mulholland Middle School
Principles
Light bends with lenses
Standards
Physical Principles in Living Systems (Physical Sciences)

6. Physical principles underlie biological structures and functions. As a basis for un­ derstanding this concept:

c. Students know light travels in straight lines if the medium it travels through does not change.

f. Students know light can be reflected, refracted, transmitted, and absorbed by matter.

g. Students know the angle of reflection of a light beam is equal to the angle of inci­dence.
Materials needed
Light box, lenses, DC power source
Procedure
Plug in the light box and use the light to interact with the lenses.
Explanation
Light interacts with matter in a variety of ways.  Light bends when the medium changes.
Questions
What happens when you combine the colors blue, green, red (additive vs. subtractive)
Why does the light beam bend with different lenses
Why does the light beam bend outward with a concave lense, and inard with a convex lense
Everyday examples of the principles illustrated
Eye glasses, rainbows, swimming pools
Photos





Movies
References
Website for purchasing the demonstrated lightbox kit:
http://www.carolina.com/product/physical+science/physics/light/hodson+light+box+optical+set.do

Website for instruction sheet of the Light Kit:
http://www.scientrific.com.au/PDFs/hl2060-001.pdf