This week I'm hosting fellow science ficiton writer, Catrina Taylor as she talks about being a writer.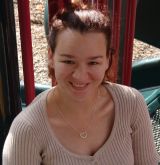 Writing is something
some
of us, simply can't help but to do. It's in our blood, who we are, and how we identify ourselves. When I introduce myself I tell people, "Hi, I'm so and so's mom, and a writer. And you are?" Might sound silly, but I'm not the only person to do this. Many do. Many enjoy the opportunity to create new worlds and we are proud of those worlds, so we much sing the praise of our world. Mind you, certainly in my case, I do not sing my own praises but the praises of my world.  
Why do we do this? The easiest reason is simply that we can disconnect the creation from the person. Instead of telling people how wonderful 'I' am it's the opportunity to tell people how wonderful the creation is. Having been raised to avoid rude behaviors (such as bragging) at all costs, talking about myself is often difficult. If you follow my tweets you'll see I talk more about other people than I do myself, my projects, or my goals (unless doing so motivates others). I talk about other individual's books, reviews, information, my children, the lives around me or the lives that affect me.
I am making it hard to draw in business by not being able to speak about myself easily. Why is this? Because with any business, creating books, creating book covers or other services, we need to ask for the sale. No, I don't mean be pushing and rude or 'shove the book' into everyone's view. I do mean that if we don't talk about the books and ask people tactfully to purchase, there won't be a 'first reader' or a second or a third etc. Instead it will remain quietly on a virtual shelf somewhere.
So, how do I fix this conundrum I'm in? Oddly enough, facebook fanpages and google plus business pages really enable me to function as if I'm in a separate skin. I know each of those pages are dedicated to a specific goal. This goal is to make a sale. The sale, whether it's business or books, is the cornerstone of forward financial movement. The business and book related pages enable me to express myself regarding the books to an audience that expects me to discuss the books, or the business. This is something that brings great success as the audience is a target audience and the effort is rewarded with a positive result. 
How would I do this in an arena that didn't have that option? It is challenging but a business mindset is advantageous. My efforts need to be as effective for my business as they are at generating sales for clients, or creating covers for authors. Keeping the same business mindset I take to the pages empowers me with the ability to talk about my books, albeit occasionally, with the social networking family I adore. As an author, remembering that our work is our business is key for our progress and helps us reach a sales goal. Using the tools at our disposal enables us to press forward and discuss things that we were otherwise engrained to avoid doing. There are a plethora of additional business related resources for Authors and others on The Writing Network website. Feel free to venture there for more tips and ideas that work.
~About the Author~
C
atrina Taylor is a scifi author and the creator of
Xarrok
.
Xarrok
is a world in an undisclosed galaxy, far beyond our reach of space. She plays there often, creating a multitude of adventures that are character driven, and reader experienced. Watch for her free short story series: Xenonian Origins available on
Nook
,
Smashwords
,
Amazon
and where ever ebooks are sold.
As a single mother, her desire to create is driven by her adored children. Find out more about her on twitter and facebook as TheLadyWrites or on her blogs, TheWritingNetwork and Xarrok.com