Next up is one of my fellow writers in the MK Blog Tour. Tara Chevrestt talks to us about a song with lyrics that she associates with one of her books.
In Afterburn, you could say two of my characters are facing the Danger Zone. Remember that song from the movie Top Gun?

"Revvin' up your engine, Listen to her howlin' roar, Metal under tension, Beggin' you to touch and go..."
Crystal is definetly under tension, pulled tight by the sexual harassment she's dealing with at work. She meets Grant, a sexy pilot with tensions of his own...and together, they head into the danger zone.
"Headin' into twilight, Spreadin' out her wings tonight, She got you jumpin' off the track, And shovin' into overdrive..."
Crystal is spreading her wings, and she's got Grant going into overdrive and vice versa. The danger zone is their relationship: it's not only interracial (sadly, some people still react to this in 2012), but against military rules. When her coworkers use her love of Grant against her, Crystal has to think quick or risk everything.
"You'll never say hello to you, Until you get it on the red line overload,You'll never know what you can do, Until you get it up as high as you can go..."
And Crystal will never know how high her and Grant can go unless she stands up and fights.
So Danger Zone is the song I would associate with Afterburn, not only cause of the aviation theme, but the words.
Afterburn:
Their love burns hot, but will it stay fueled?Crystal is an enlisted mechanic with a tragic past. Grant is an officer and a pilot with a broken heart. When faced with a difficult decision, will Crystal choose wisely or lose the best thing that ever happened to her?
The love between them burns hot, but their relationship won't stay fueled if they can't beat the obstacles that stand in their way. Besides breaking the fraternization rules, Grant and Crystal have the difference of race between them…but can they prove to the rest of the world, and to each other, that love is color blind?
Afterburn is about overcoming one's past, not judging others, learning to forgive, and what it's like to be a woman in a "man's world."
http://cache.smashwire.com/bookCovers/c2ad159cc25e8487e99a975d72cf4c104d7d9e98-thumb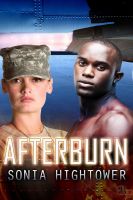 Available on Amazon: http://www.amazon.com/Afterburn-ebook/dp/B007OCAWIM/ref=sr_1_2?s=digital-text&ie=UTF8&qid=1332649532&sr=1-2
Also on All Romance ebooks, Bookstrand, Smashwords, 1Place for Romance, and Breathless Press
Tara Chevrestt is a deaf woman, former aviation mechanic, writer, and an editor. She is most passionate about planes, motorcycles, dogs, and above all, reading. That led to her love of writing. Between her writing and her editing, which allow her to be home with her little canine kids, she believes she has the greatest job in the world. She is also very happily married.
She also writes as Sonia Hightower. Sonia writes the racy stuff and argues that she was here first. She just wasn't allowed to be unleashed until the last year.
While Tara and Sonia continue to fight over the laptop and debate who writes the next book, you can find buy links, blurbs, and other fun bits on their website: http://tarachevrestt.weebly.com/index.html or their Facebook page: https://www.facebook.com/pages/Tara-Chevrestt-Sonia-Hightower/218383211513877.