Come help us make this year's 6th annual race one to remember.  We have come so far in 6 years and your donations have made it possible to help many community rebuilding projects.  We want this to be a time to gather as one community and reminisce about what we have come through and what is in store for the future.  We hope you and your families will make this event one to remember.  
RACE HISTORY
In May 2008 an EF5 tornado tore through the town of Parkersburg, IA destroying over 200 homes and over 20 businesses in less than a minute.  Eight lives were lost.  Although the devastation was great, what followed was even greater, an outpouring of help, support and love that met our immediate needs and stayed to rebuild this entire town in about a year.  In May 2009 we hosted our first Race of Remembrance with over 350 runners and walkers to remember what had taken place in our lives and the surmounting good that came out of such a terrible situation.  That first event was the perfect commemoration of our past year, complete with high spirits and lots of rain! We raised over $5,000 for the Parkersburg City Pool that first year with matching funds which helped us raise over $10,000.
 In June 2009, shortly after our first race, the town of Parkersburg experienced another tragedy. To our great sorrow, our High School football coach of 30+ years was tragically killed. With many still recovering from the tornado, the devastation of losing our beloved coach brought yet another difficult challenge for us to face. 
 In May 29, 2010, we ran our second annual EF5K and added a new course:  The Ed Thomas 10K.  The two races not only looked back at what we had come through since the tornado, but also honored a man who we dearly missed. With about 400 participants, this event raised almost $7,000 which was split between the Parkersburg City Pool and the Ed Thomas Family Foundation.
 In May 2011, 450 people joined us to run or walk in our 3rd annual event!  People participated to remember what our town has gone through, in honor of a great coach, and in honor of the men and women who serve our country on Memorial Day weekend.  We raised just over $7,000 and thanks to our generous sponsors, 100% of our registration fees went to benefit both the Parkersburg Library Expansion/Renovation Project and the Ed Thomas Family Foundation.
In May 2012, we had just under than 350 people run and walk our 4th annual event.  We raised around $7,000 dollars, which was once again divided between the Ed Thomas Foundation and the Parkersburg Library Expansion/Renovation Project.  We once again thank our sponsors so 100% of the registration fees could be donated.
 We hope you will join us this year on Saturday, May 24, 2014 for another exciting event!
NEW FIRE ENGINE FOR PARKERSBURG FIRE DEPARTMENT 
The Parkersburg Fire Department hasn't had a new fire truck engine in years.  The current truck was built in 1984, and has had to have more repairs that get more expensive and it just isn't reliable anymore.  As with any fire, time is of the essence, and there have been times that they have had to call neighboring towns for assistance. They are in desperate need of a new engine that can meet the standards the state has set and that can meet the needs of our community when emergencies arise.  Please come run this event in the event that you might one day need the fire engine yourself.
ABOUT THE ED THOMAS FAMILY FOUNDATION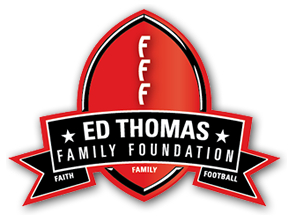 The Ed Thomas Family Foundation has been established to benefit those causes that Coach Thomas' family believes will extend his influence and honor his priorities. Priorities of Faith, Family, Character and Integrity guided Coach Thomas to one of the most decorated high school football coaching careers in the state of Iowa. Donations will be directed to faith-based organizations, for the advancement of his community and for sports and education related causes. It is the prayer and focus of the Thomas family that the gifts in remembrance of Coach Thomas continue to bless as many lives as he blessed during his life.
The Ed Thomas Family Foundation is being funded by the generous gifts that have flowed in since his passing.  Please click on the link for more information.