Game 3 of the 2013 State of Origin series will be played tomorrow night at ANZ Stadium in Sydney, as the NSW Blues and Queensland Maroons face each other in the deciding match of the series.If it feels like I've written the following sentence a hundred times over the last six weeks, it's probably because I have: the Blues will be looking to end seven years of pain, while Queensland will be looking to extend their already historical dominance by yet another year.
NSW are desperate heading into Origin III. They're desperate to end Queensland's seven-year dominance and desperate to wipe the smirks off the faces of Cameron Smith and company.
They're desperate to finish what they started in Sydney back in Origin I, and desperate to rectify the mistakes that saw them on the wrong end of a flogging in Origin II.
So far in the series, the Blues have scored a total of 20 points, and in a contender for understatement of the year, I'm going to predict that 10 points – their per game average – won't be enough to defeat the Maroons at Homebush tomorrow night.Optimistic New South Welshmen will point out that 10 points would have been enough to defeat Queensland in game one, but you would have to be crazy to think the Maroons will play that badly again.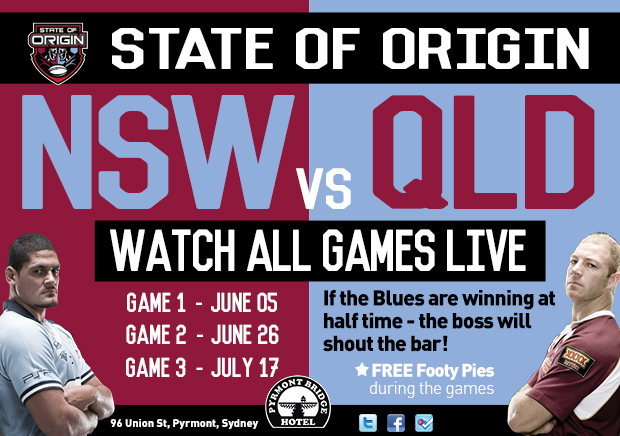 Which, for the mathematical professors among us, means NSW will need to score more than 18 points to win the game.
So the question I repeat is, do NSW have enough points in them?
The loss of Jarryd Hayne is a massive blow, as he has a knack of scoring big tries against Queensland. His absence will be felt in many facets of the game, but none more so that his propensity to cross the try line.
Though the backline of Michael Jennings, Josh Morris, James McManus, Brett Morris and Josh Dugan has an abundance of try scoring ability, the issue once again will be providing them with opportunities. This obviously falls back upon the go-forward the pack provides, and then the chances the ball-players can create for their backs.Anyone else remember the Origin that Robbie Farah played just after his mother lost her battle with cancer? I do. He was the epitome of Superman – making tackles with every possible chance and getting up in the face of Queensland.
And while NSW didn't get over the line, Farah hasn't forgotten that match.
In fact, according to comments he made earlier this week via The Daily Telegraph, it seems that he remembers his mum every time he puts on the Blues' jumper.
"It's always a difficult time for me putting on the Origin jersey because of what I went through last year and this Wednesday night will be no different. I'm sure she'll be up there smiling down on me. She'll be in my corner."
Throw in the added weight of a club-crisis with good "friend" Benji Marshall and the NSW captaincy next to his name courtesy of Paul Gallen's injury, and the result is simple for coach Laurie Daley: let Robbie do his thing.
In Origin II, Farah was taken off for Josh Reynolds.
And despite NSW having a mountain of possession and several attacking sets on Queensland's line, they could not get over the line. Farah came back on, and within his first set, he set up Brett Morris with a great kick for the Blues' only try of the match.
Farah – determined and inspired – will be in everything come Origin III and Daley needs to simply let his captain run wild.
Let him make 60 tackles, let him run freely from dummy half and let him be the creative player that has won him selection and captaincy duties at the representative level.
Let him be the player that he is, and then sit back and watch Farah do the thing that he does so well.
Fight with all that he has.
Use early substitutions
IfGame 2 showed anything for NSW, it showed that without a fast start, they are no chance of ending Queensland's seven-year Origin dominance.
A penalty followed by a soft try followed by a knock-on and a mount of possession and the Blues were on the back foot – unable to get themselves into the contest and simply gassed by the time they got themselves into any scoring position.
NSW simply can't allow that to happen in Origin II.