Please consider donating to the following charities. And if you know a charity that you want included here, please email the charity's name and your connection/experience/reasons to john.shepard@rrps.net.
"We are some of the luckiest people on the planet. We can help those who aren't."
This organization, WorldVision has lots of methods to easily donate and help needy people around the world. We can all relate to the need for a soccer ball or two. Donate 2 soccer balls for the price of one
HERE
, or go to
WorldVision.org
and pick another way to help.
RIVERS OF MERCY Children's Home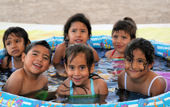 This is an orphanage in Juarez, Mexico, for abandoned and abused children. There is a personal connection here. This orphanage was founded by and is run by one of Shep's ex-students. We have given supplies and soccer gear to them in the past. They are also becoming a certified school. Click 
HERE
 to go directly to their donation page.

Malaria kills millions every year, mostly children, and it is completely treatable and preventable for very little money.
AMF is rated a Top Charity by GiveWell (a charity watch organization - www.givewell.org)
Buy a cool bracelet and remove a pound of trash!
 This organization,
4Ocean
, is dedicated to cleaning up trash from our oceans.
If you buy this cool bracelet, made from trash taken out of the ocean, you will also be clearing one more pound of trash out of the ocean.