Construction Of a Simplified
 Wood Gas Generator
This book comes with a complete 30 day money
 back guarantee if you are unhappy for any
 reason.
Please  don't forget to look at my other unusual books & videos and home made items in my eBay store at
http://stores.ebay.com/mrhulot
I make almost all these items below myself,
 take a look in my ebay store for the most interesting, low cost  and unusual items you will find on eBay
Train your dog in only minutes a day. New Training DVD
Civil War coins (copy)&1250 photo cd 4 more items
FIND POOL LEAK WITH HYDROPHONE KIT - See Video
How to Make a living While Living in the Woods
Chalks Grumman Miami Key West Seaplane Tour DVD
How to Make Low cost Underwater Camera Housings & Bags
I Make $150-$300 Weekly for 3 Hours Work Guidebook
Scottish festival Florida Bagpipe Bands Dancing DVD
Hydrophone Kit Hear fish talk & Whales sing SEE VIDEO
How to Escape from The City & Live Free on Your Land
Flying Flea How to Build & Fly It Henri Mignet
Easy way to make your own book for Fun & Profit
http://stores.ebay.com/mrhulot
I think all of us have wondered a time or two what would happen if the modern conveniences we all take for granted suddenly went away, how would we be able to survive if suddenly we had no more electricity or gasoline?
A hurricane Andrew or Katrina or a major earthquake somewhere in the world can suddenly make us aware of how fragile our modern life really is.
Think for a moment, what if there was no electric power grid or what if there was no more gasoline, how would you get by?
It is not as crazy as it sounds.
Stuff happens.
This booklet is a wonderful tool that shows you in a detailed and thorough manner how to make a simple Wood Gas Generator you can power a gas engine with. The booklet is fully illustrated and has many tables and graphs.
If you are the least bit handy with tools or mechanically inclined you can put together your own wood gas generator using commonly found items using the clear and detailed info in this booklet.
Once finished, you can use the wood gas generator to power your car, truck, tractor or even a boat so long as it uses a gasoline engine. The gas generator described in the book was used to power a small tractor but the design is easily enlarged or made smaller to fit your power needs.
The basic design of wood gas generators has been around since the First world war and has made a re appearance during every fuel crisis all over the world. The design shown is a modern and improved design and was popular in the fuel crisis of the late seventies.
If you have access to basic tools and a reliable source of fire wood, (or even corn cobs or coconut husks), you needn't worry about the next gas shortage if you have the information in this booklet. I want to emphasize that all the parts in this design are made from easily obtained vcommonly found materials.
The booklet is in an ebook format and comes with a 30 money back guarantee if you are unhappy for any reason. There is no risk to buy it, and if there should be a gas shortage or in the future you will be able to move your family anywhere you want to and to continue to operate machinery as others are idled as long as you have access to wood.
I think this tried and tested information could be very handy.
How to Run Your Car, Truck, Tractor or Boat on Firewood
Construction Of a Simplified Wood Gas Generator
" In this report, detailed step-by-step procedures are presented for constructing a
simplified version of the W.W.II wood gas generator; this simple, stratified, downdraft gasifier unit
can be constructed from materials which would be widely available
in the United States in a prolonged petroleum crisis. For example, the body of the unit consists of a
galvanized metal garbage can atop a small metal drum; common plumbing fittings are used
throughout; and a large, stainless steel mixing bowl is used for the grate. "
"A prototype gasifier unit was fabricated from these instructions this unit was then mounted onto the front of
a farm tractor and successfully field tested, using wood chips as the only fuel (see Fig. S-3).
Photographic documentation of the actual assembly of the unit, as well as its operational field test,
is included in the body of this report."
." Several years of laboratory and field testing have indicated
that such simple, inexpensive gasifiers can be built from existing hardware and will perform very well
as emergency units."
Construction Of a Simplified Wood Gas Generator
INTRODUCTION
CONTENTS
EXECUTIVE SUMMARY
S.1. PRINCIPLES OF SOLID FUEL GASIFICATION
S.2. THE STRATIFIED, DOWN DRAFT GASIFIER
CONVERSION FACTORS FOR SI UNITS
LIST OF FIGURES
LIST OF TABLES
ABSTRACT
ONE
1. WHAT 15 A WOOD GAS GENERATOR AND HOW DOES IT WORK?
1.1.INTRODUCTION
1.2.PRINCIPLES OF SOLID FUEL GASIFICATION
1.3.BACKGROUND INFORMATION
1.3.1.The World War II, Imbert Gasifier
1.3.2.The Stratified, Downdraft Gasifier
TWO
2. BUILDING YOUR OWN WOOD GAS GENERATOR
2.1. BUILDING THE GAS GENERATOR UNIT AND THE FUEL HOPPER
2.2. BUILDING THE PRIMARY FILTER UNIT.
2.3. BUILDING THE CARBURETING UNIT WITH THE AIR AND THROTTLE CONTROLS
THREE
3. OPERATING AND MAINTAINING YOUR WOOD GAS GENERATOR
3.1. USING WOOD AS A FUEL
3.2. SPECIAL CONSIDERATIONS AND ENGINE MODIFICATIONS
3.3. INITIAL START-UP PROCEDURE
3.4. ROUTINE START-UP PROCEDURE
3.5. DRIVING AND NORMAL OPERATION
3.6. SHUTTING DOWN THE GASIFIER UNIT
3.7. ROUTINE MAINTENANCE
3.7.1 Daily Maintenance
3.7.2 Weekly Maintenance (or every 15 hours of operation)
3.7.3 Biweekly Maintenance (or every 30 hours of operation)
3.8. OPERATING PROBLEMS AND TROUBLESHOOTING
3.9. HAZARDS ASSOCIATED WITH GASIFIER OPERATION
3.9.1. Toxic Hazards
3.9.2. Technical Aspects of "Generator Gas, Poisoning"
3.9.3. Fire Hazard
BIBLIOGRAPHY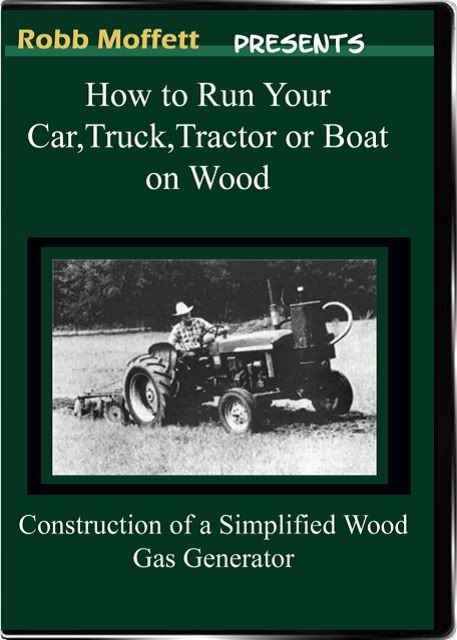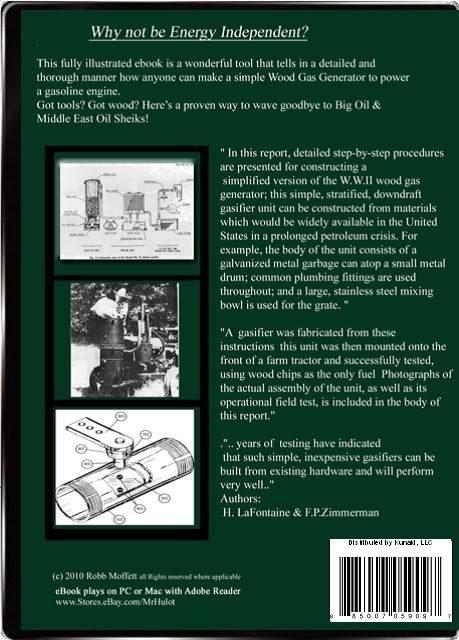 This booklet is an eBook format an can be read on any PC or Mac with the free adobe reader. If your computer does not have the Adobe reader it can be downloaded for free at Adobe.com
Click here to return Home