Mamabear7's Big Bear Den
Papabear, Mamabear and all the Puppybears!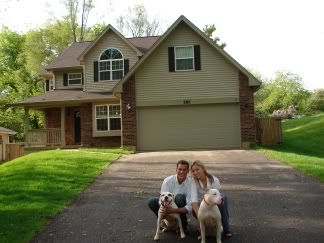 Our home
Est. April 2006
Outside/Landscaping
In the front with new landscaping summer 2007
Close-up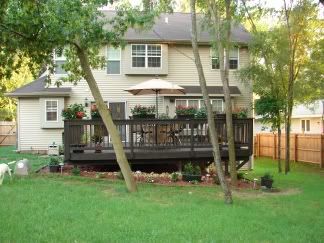 Back of house landscaping summer 2006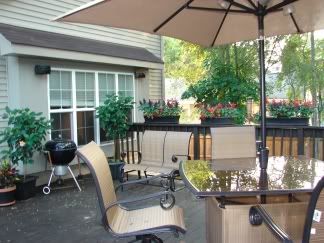 Looking towards the house from the 20'x20' deck.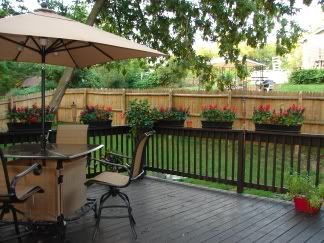 Looking out into the side yard
Looking out into the back yard
Our Foyer
Front door (basement door to the right).  Dark paint is SW Best Bronze.
DIY last name art made from clipart.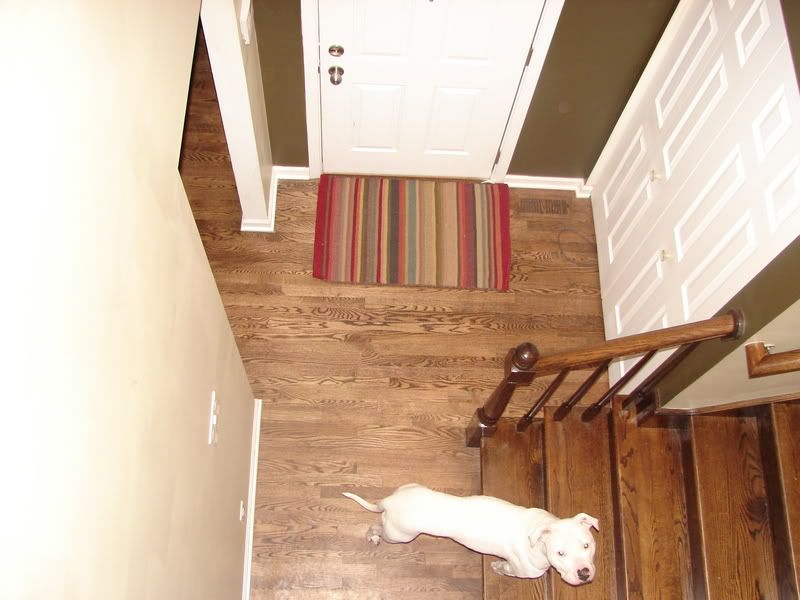 Looking down (hi Billy)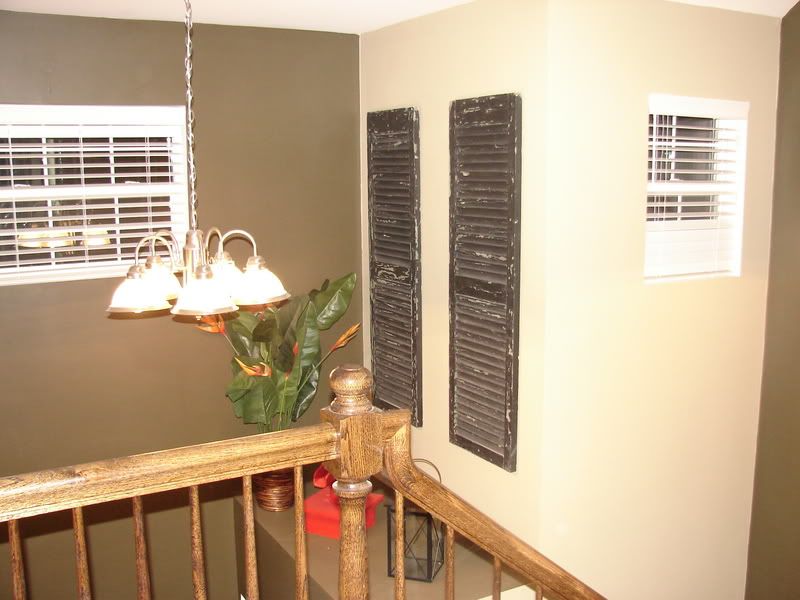 The ledge in the foyer with my flea market-find shutters.  Light paint is SW Favorite Tan, dark paint is SW Best Bronze.
Our Family Room
Dark accent wall is SW Connected Grey and the lighter color is SW Grassland.
Windows looking out into the back yard.
Looking towards the kitchen.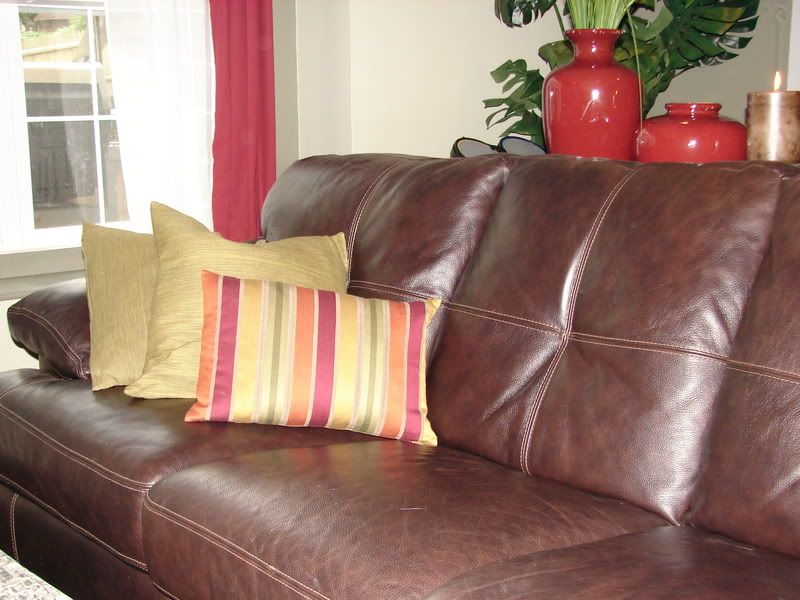 Spring/Summer pillows
Looking towards the TV from the kitchen.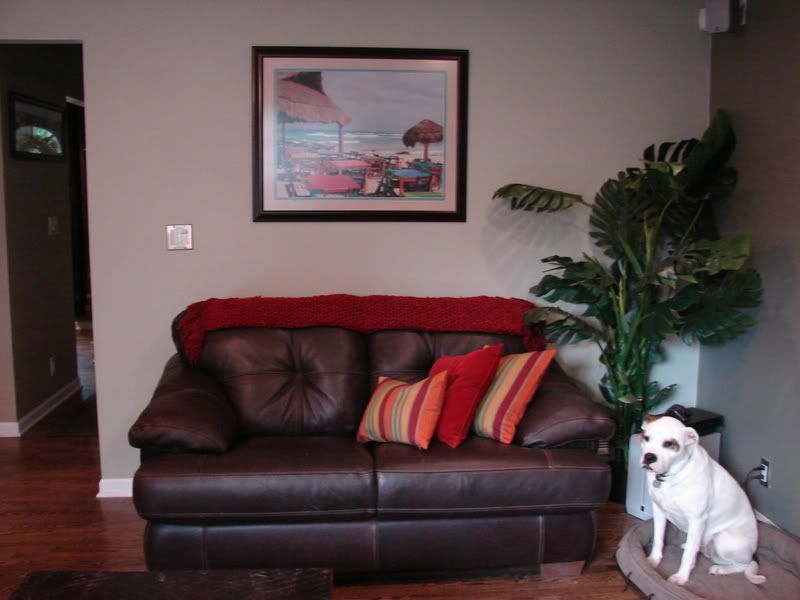 Love seat with picture we took in Tulum, Mexico.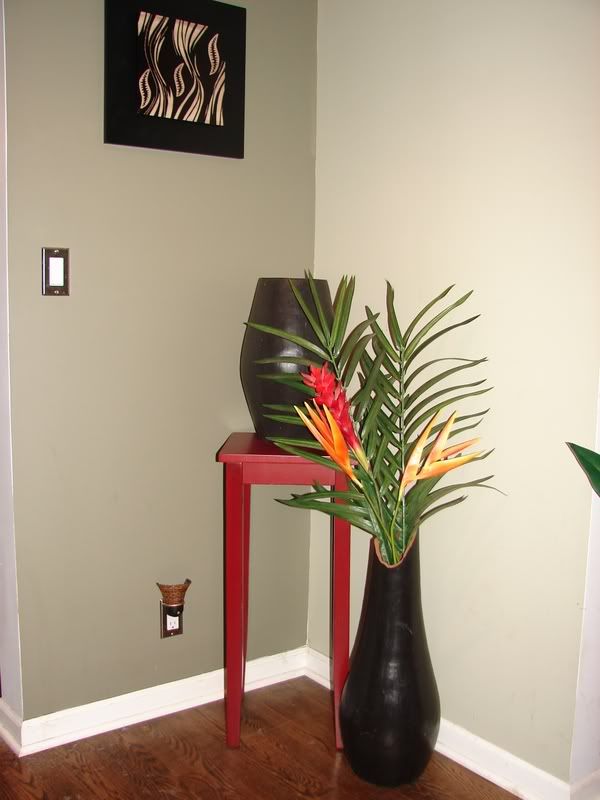 Our Kitchen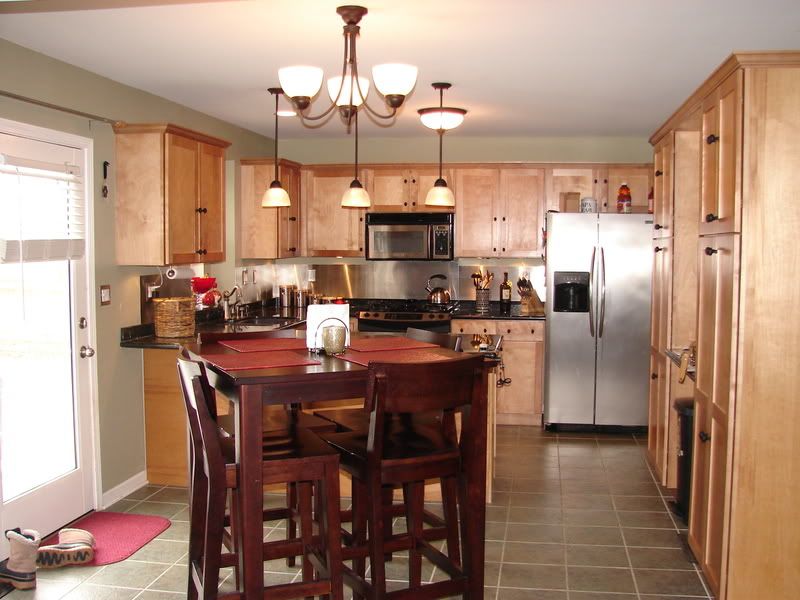 Looking into the kitchen from the family room.  Walls are SW Svelte Sage.  New lighting and new cabinet knobs, both in oil rubbed bronze.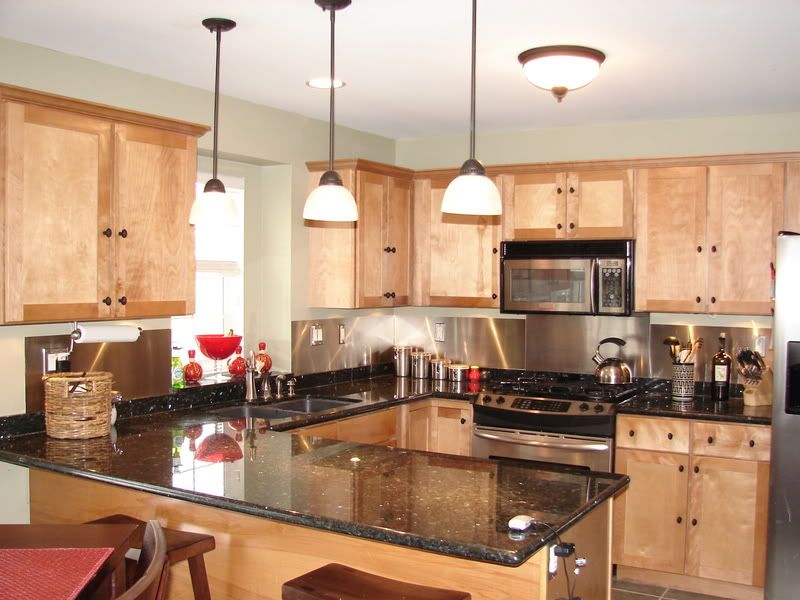 New granite counters!  Emerald Pearl.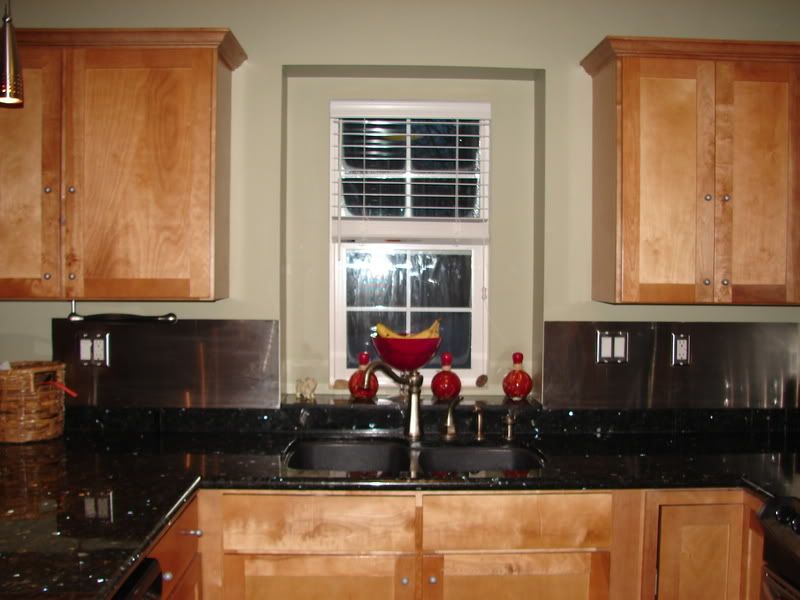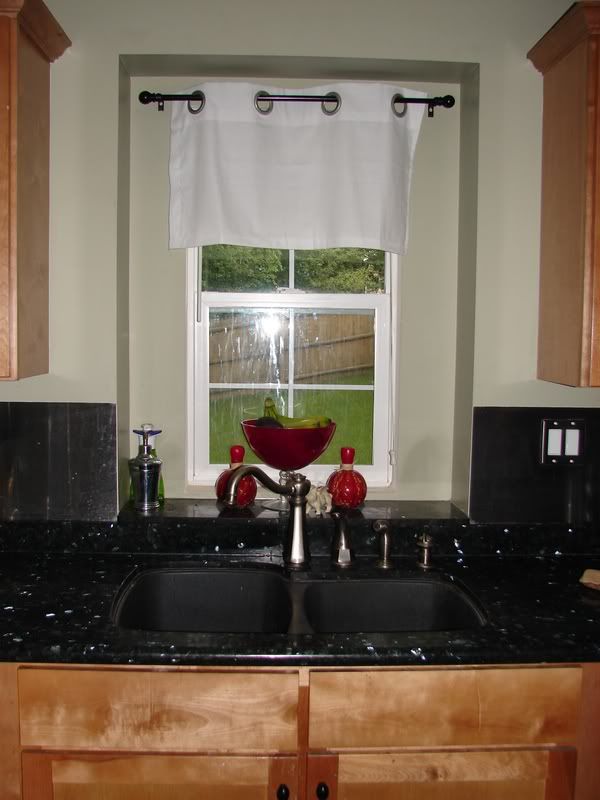 New window treatments as of 6/2008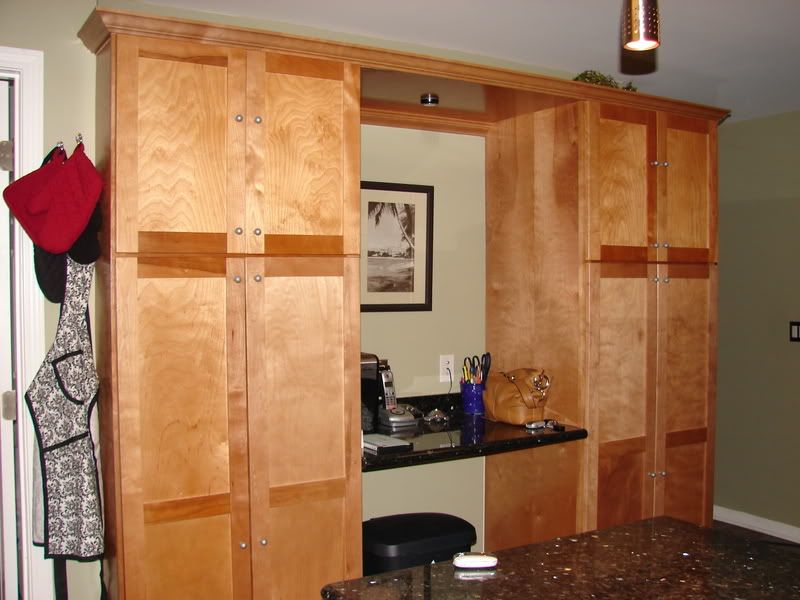 What DH refers to as the "purse station".  It's where I keep my purse, mail, phone and paper shredder.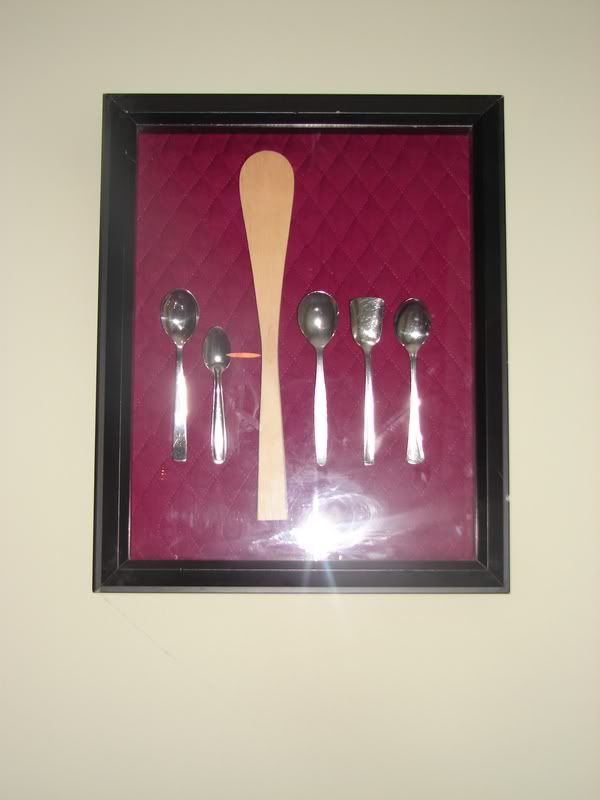 DIY art in the kitchen.  Spoons I collected when I backpacked through Europe after college.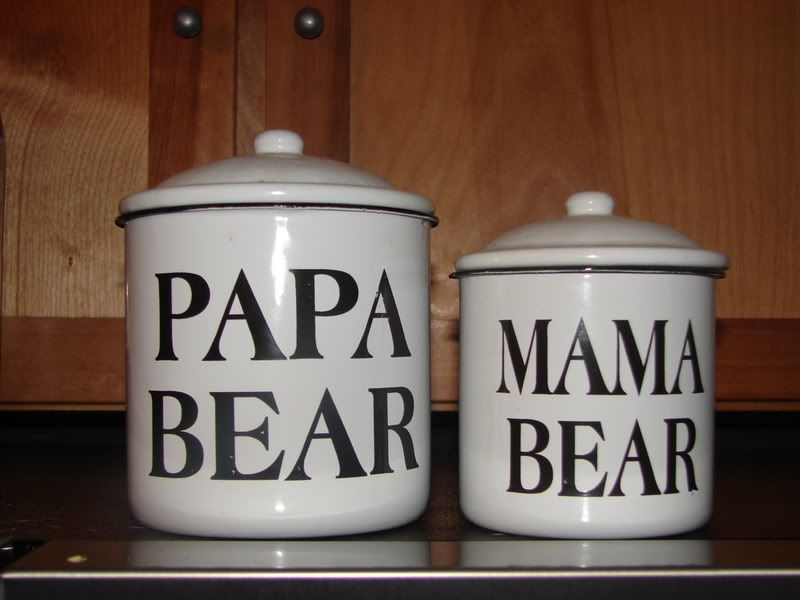 My namesake (there is a baby bear tin inside the mama bear).
Our Laundry Room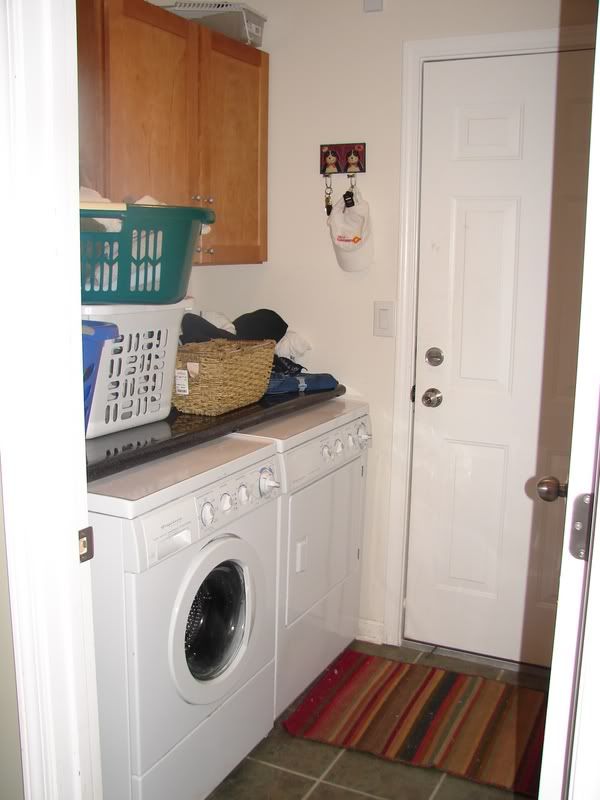 Used and abused laundry room off the kitchen with garage access.
Our Dinning Room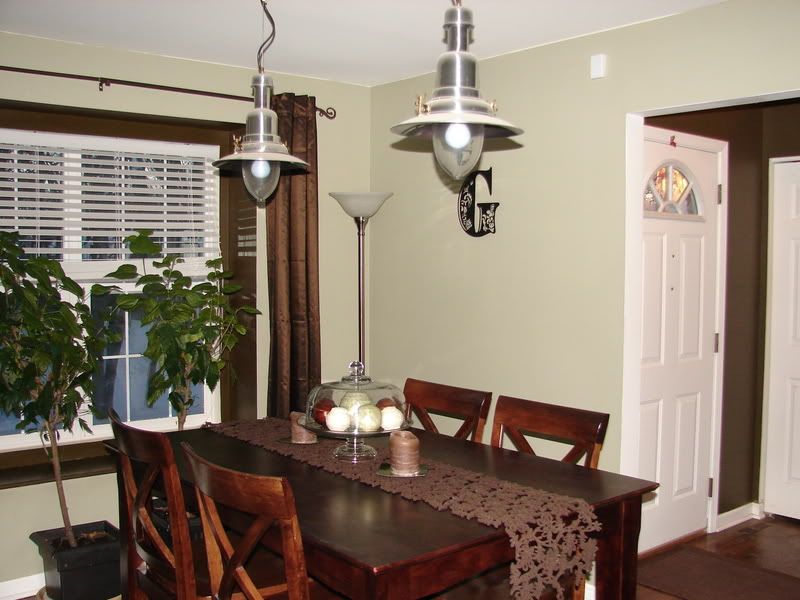 Walls are SW Svelte Sage.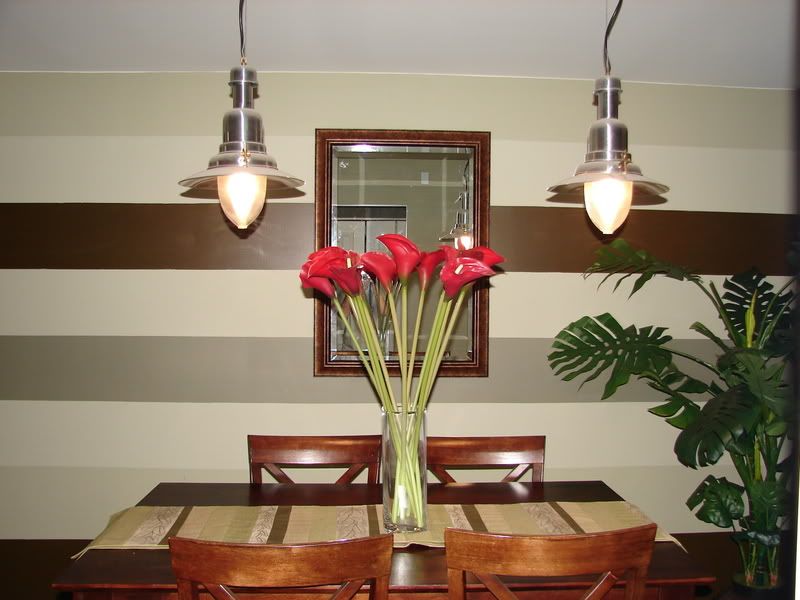 Striped accent wall - walls include (lightest to darkest) SW Grassland, SW Svelte Sage, SW Connected Grey and Behr Dried Leaf (brown).
The hutch and extra chairs.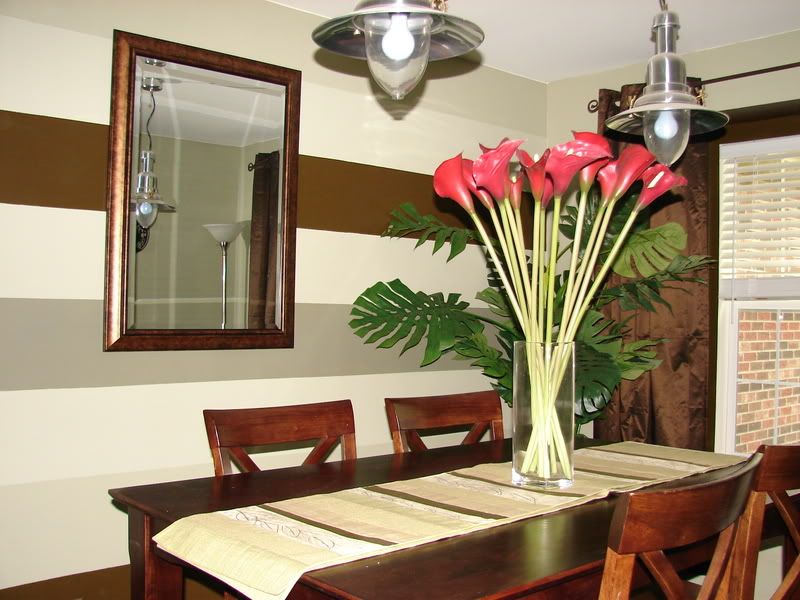 Centerpiece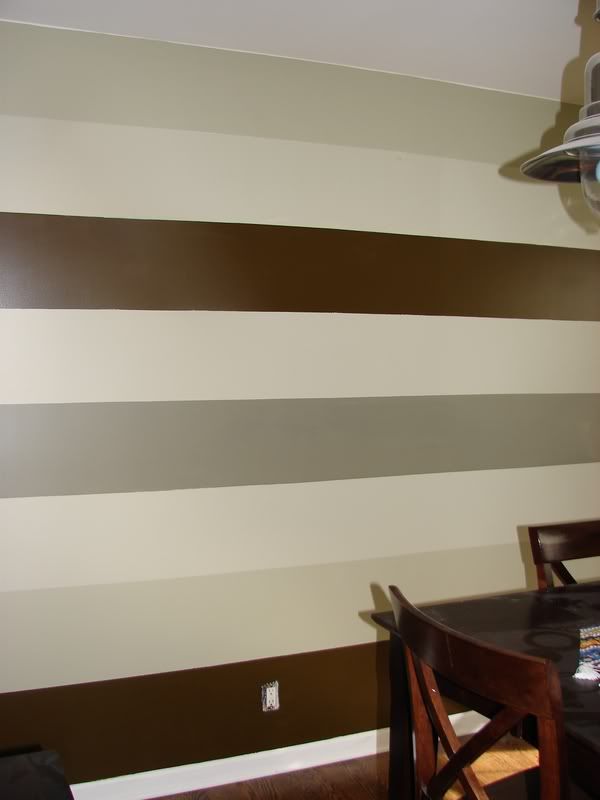 Close-up of the stripes.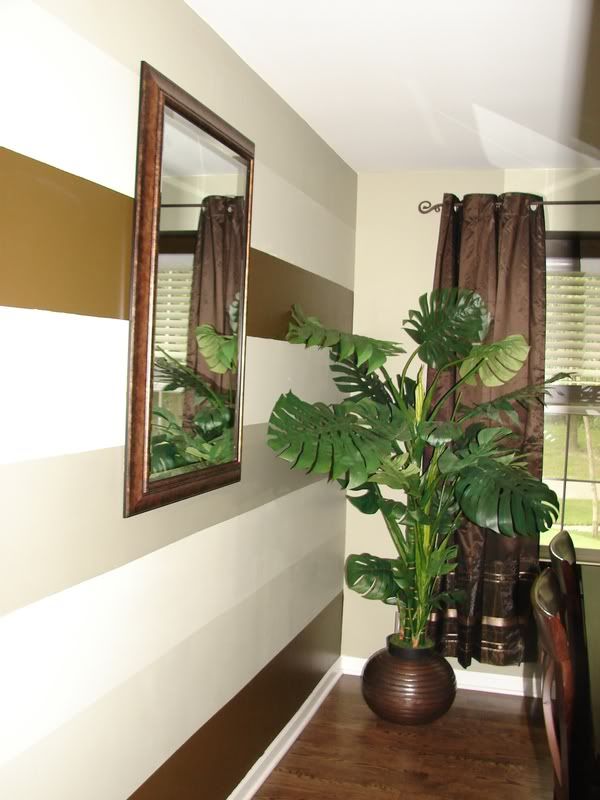 DH's second anniversary gift.  Its a three part frame with our monogram, our house key and lyrics from our first dance song.
Our Powder Room
Walls are SW Relaxed Khaki.
Shadow box with coral we found in Mexico.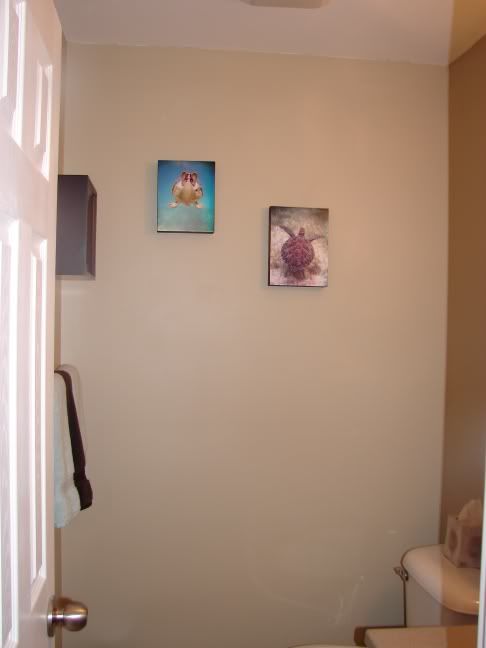 Turtle pictures we purchased in Mexico.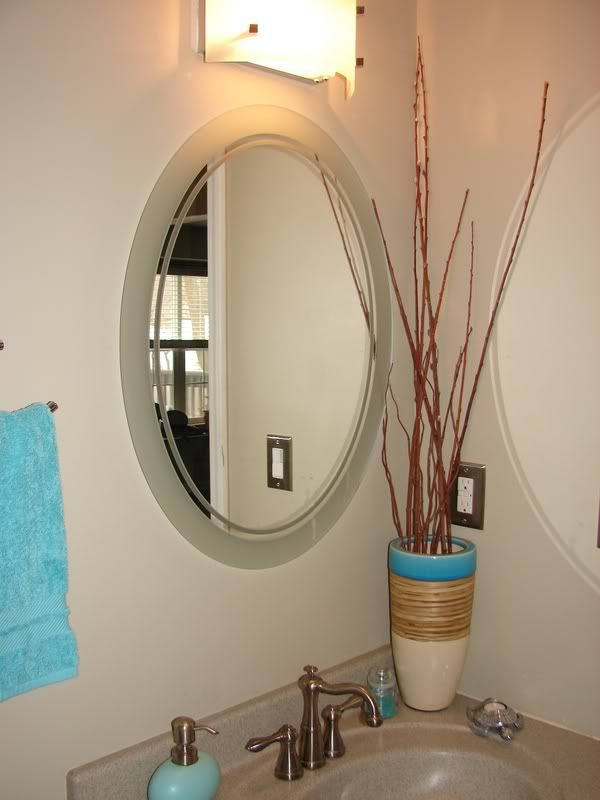 New vanity top and faucet we installed.
Our Stairway to Heaven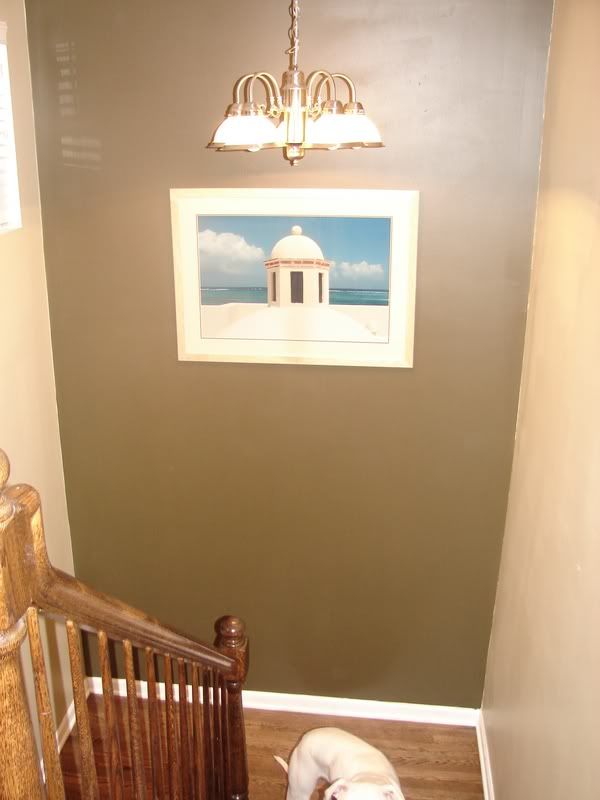 Picture DH took in Mexico.  Walls are SW Best Bronze (dark) and SW Favorite Tan (light).
Looking down the hallway from the master bedroom.
Our Master Bedroom
Fall/Winter 2008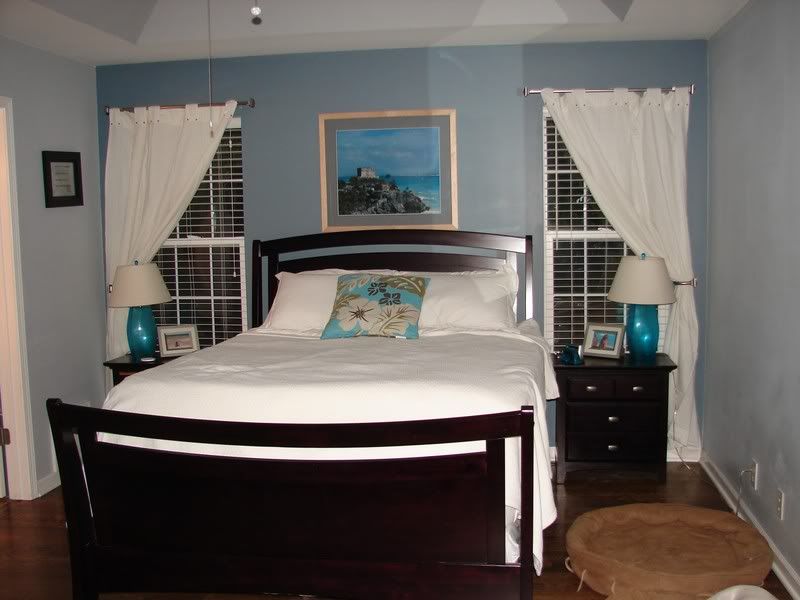 Spring 2008 - New Curtains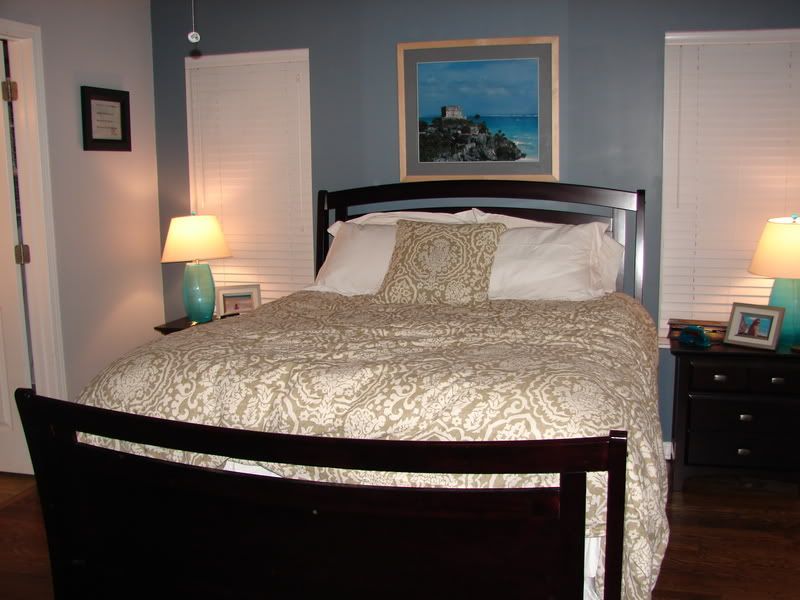 Winter Bedding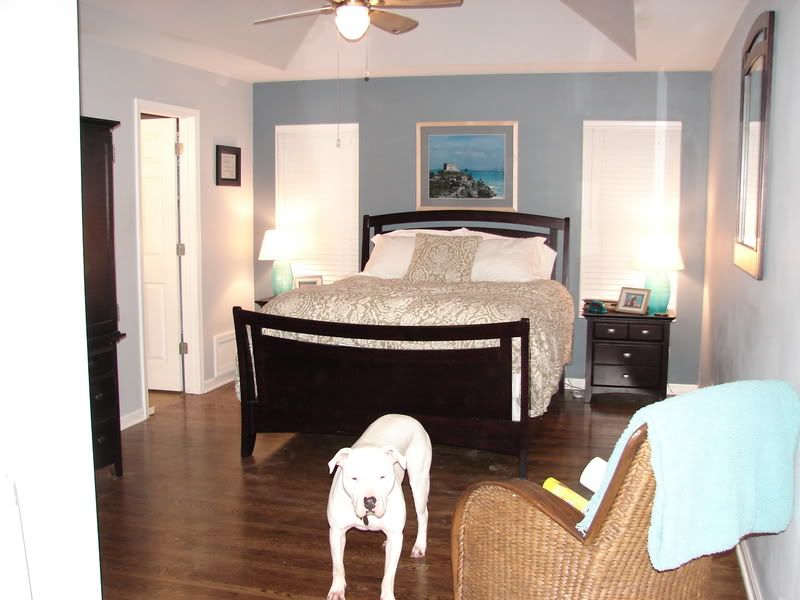 Hi Billy!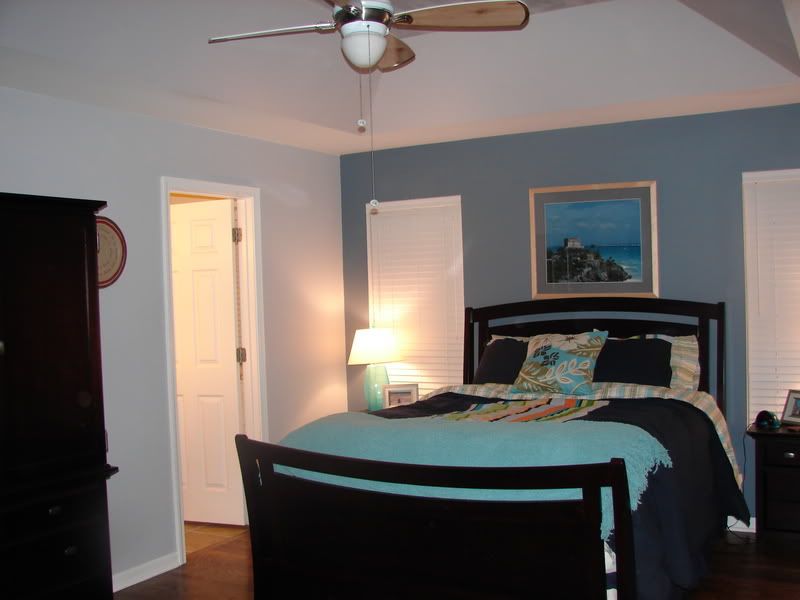 Summer Bedding
 Where all the magic happens!  Walls are BM Normandy (darker blue) and BM Stone White.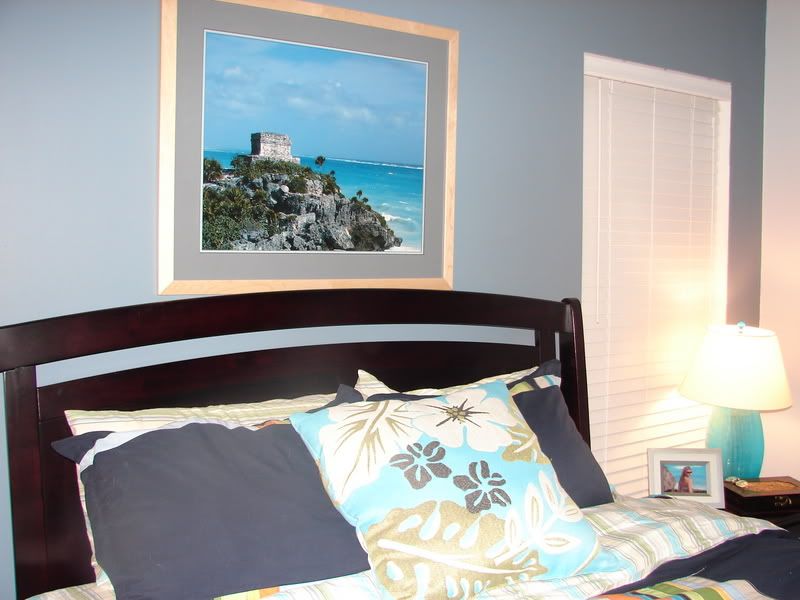 Close-up of the bed and picture DH took in Mexico.
Close-up of one of the nightstands.
DIY fun ceiling treatment we did.
Looking from our bed down to the other end of the room (all the way down).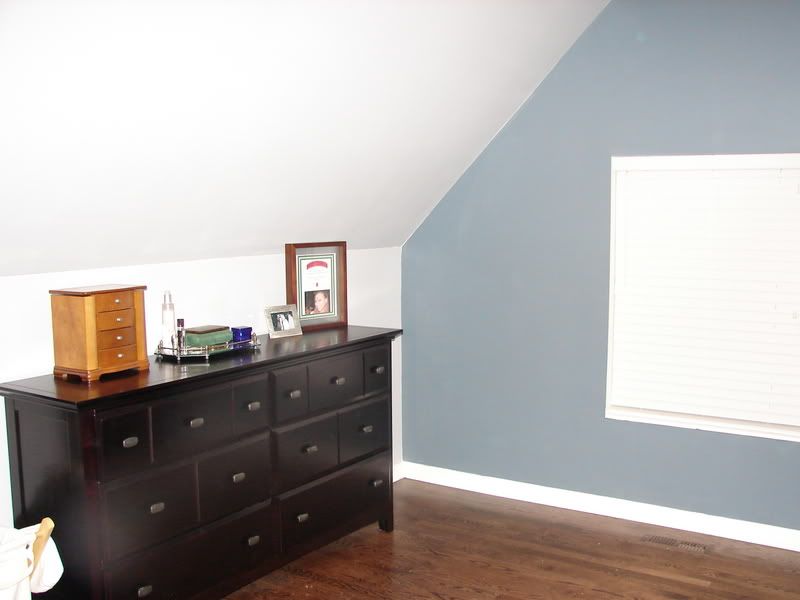 Dressers down in the "sitting room" of our bedroom.
Our Master Bath
Double vanity.  Walls are BM Steel Wool.  Shower and toilet are through the ajoining door.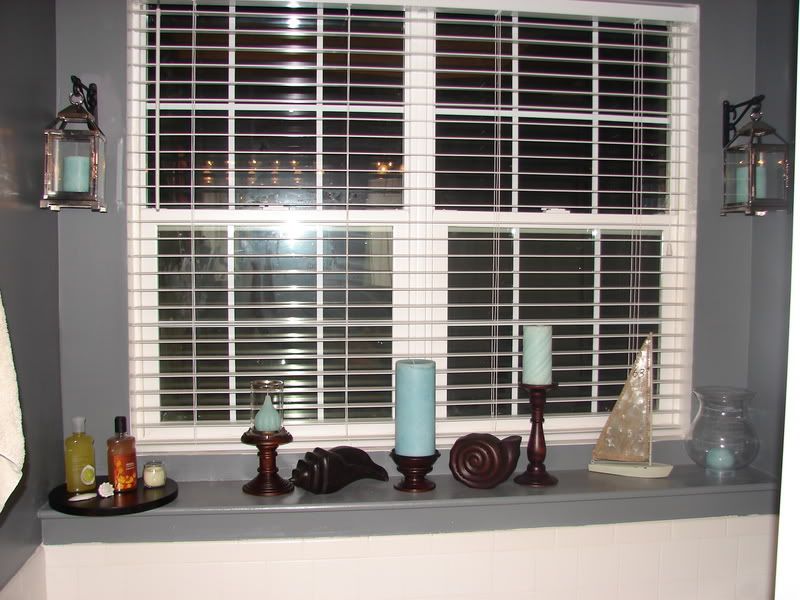 Ledge above the bathtub.
Our Guest Room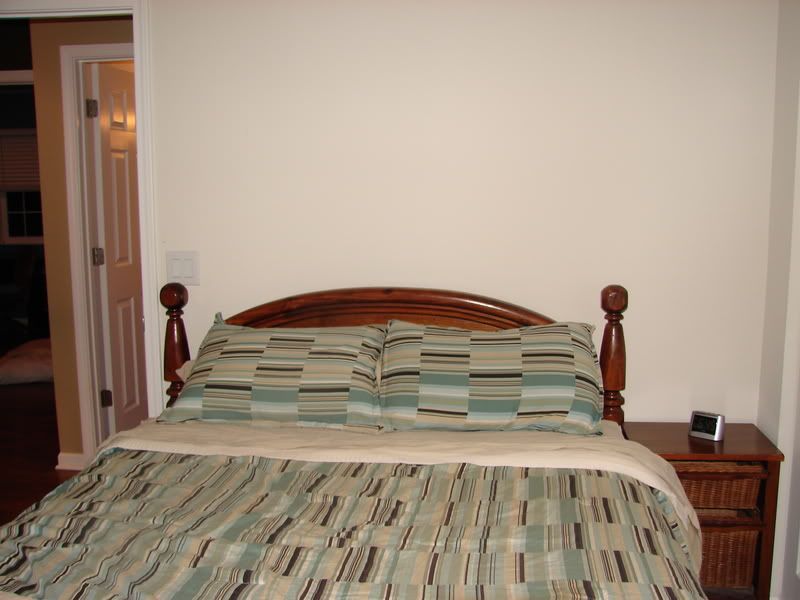 This room needs some TLC, but DH doesn't want to paint until we are expecting as this will be the baby's room.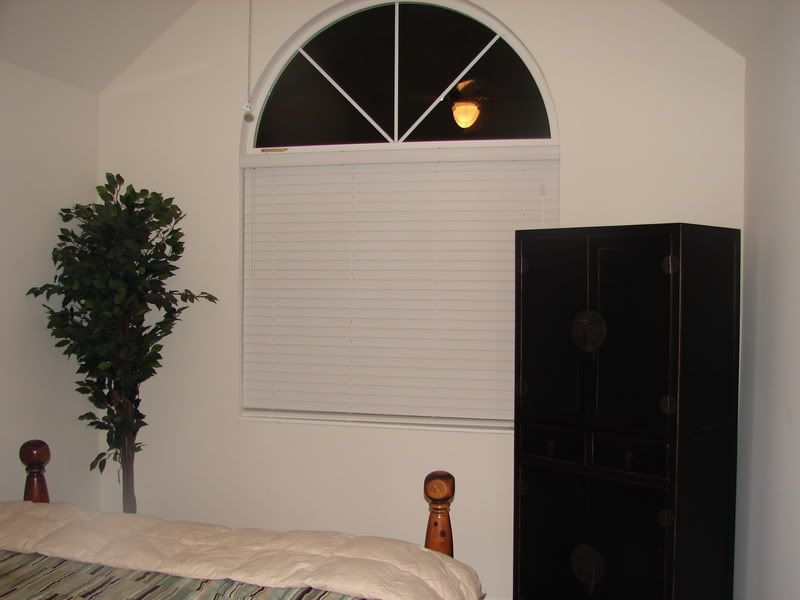 Pretty window in the guest room.
Our Guest Bathroom (upstairs)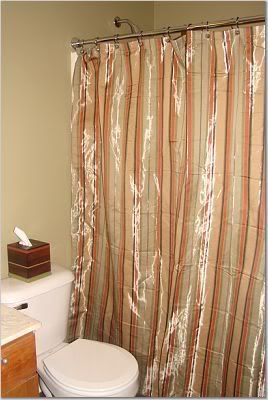 Walls are BM Olive Branch.  This shower curtain isn't this shiny IRL.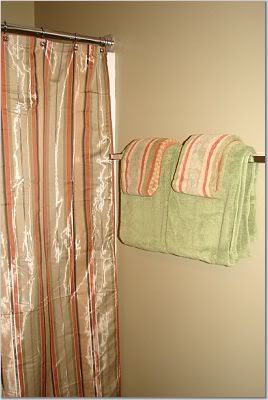 Close-up of shower curtain and towels.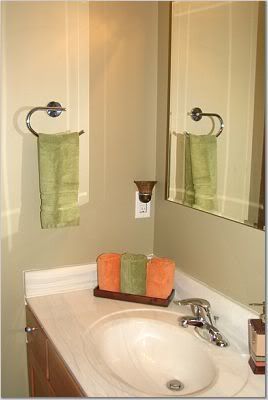 Vanity and towels.
Our Office/Guest Room #2
Walls are SW Refuge.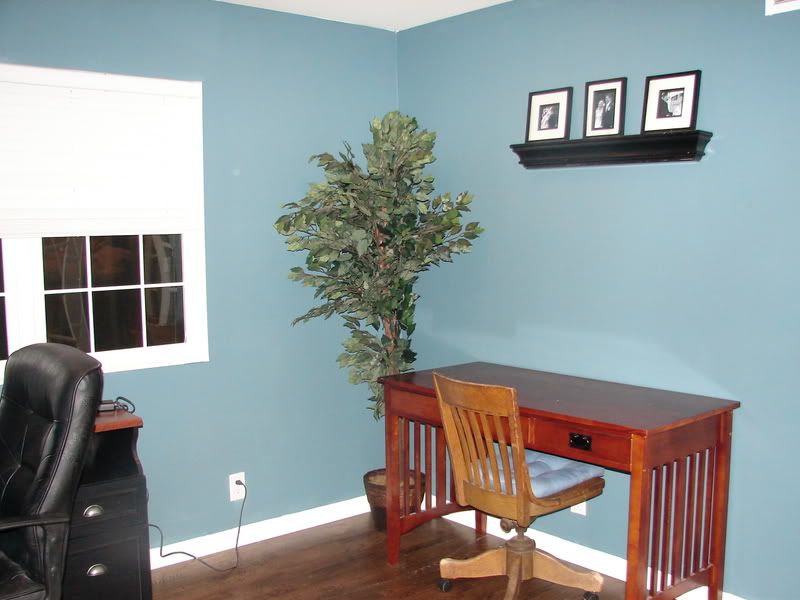 The second desk across from the other other.
Close-up of the shelf with wedding pictures.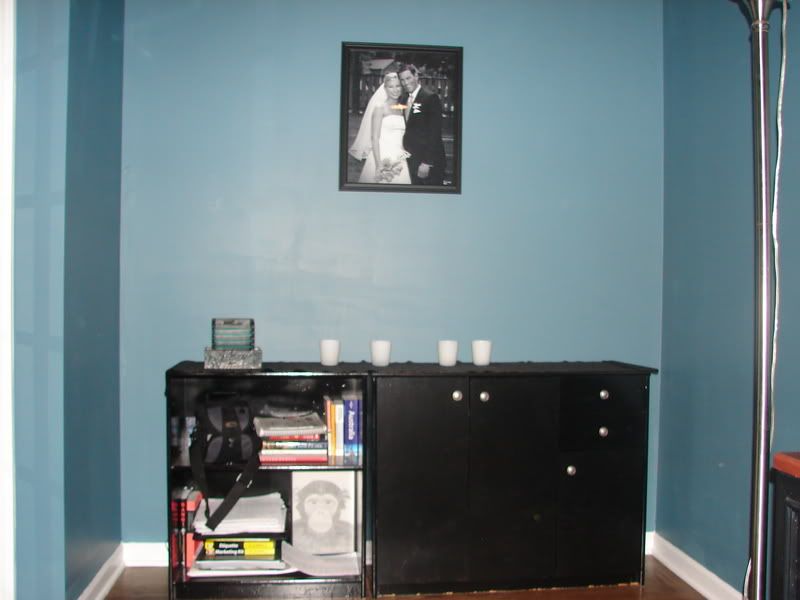 Bookshelves and cabinets with wedding portrait.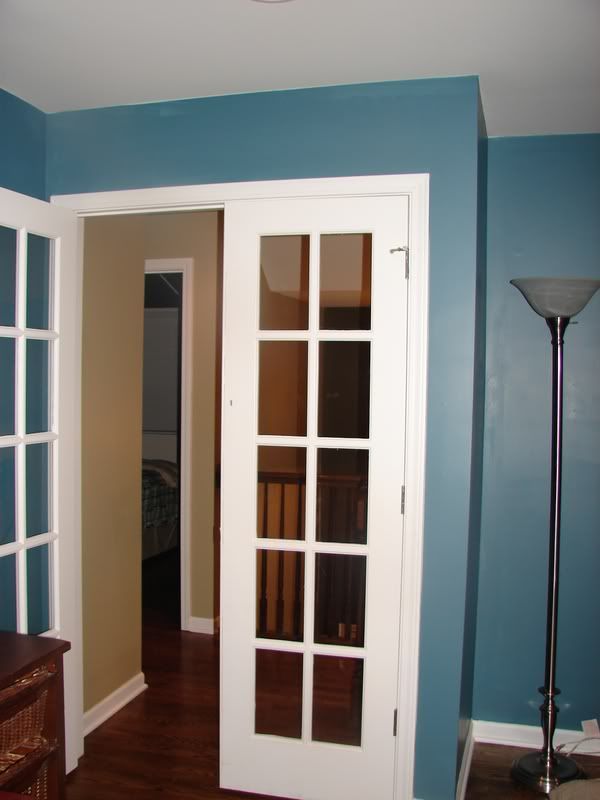 French doors out to the hallway.
My Obsessions/Inspirations
PB bench that would look fantastic at the foot of our master bed.
 Easter Decorations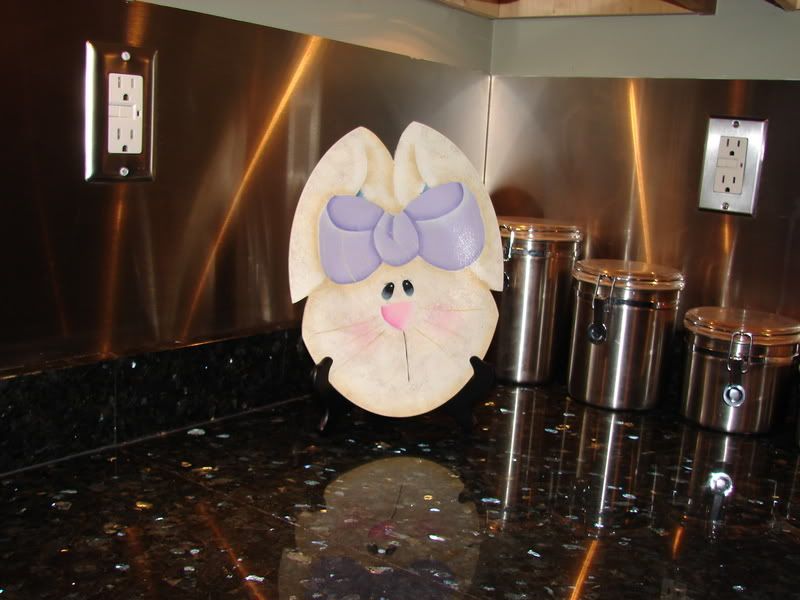 Kitchen - Bunny plate I painted. 
Kitchen towels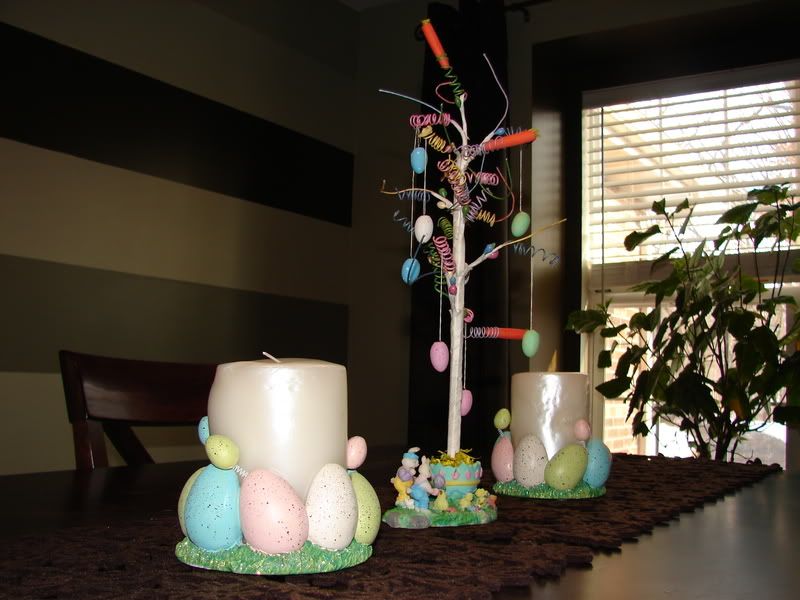 Dinning room table centerpiece
Topiary bunny in dinning room
Random decor I haven't figured out yet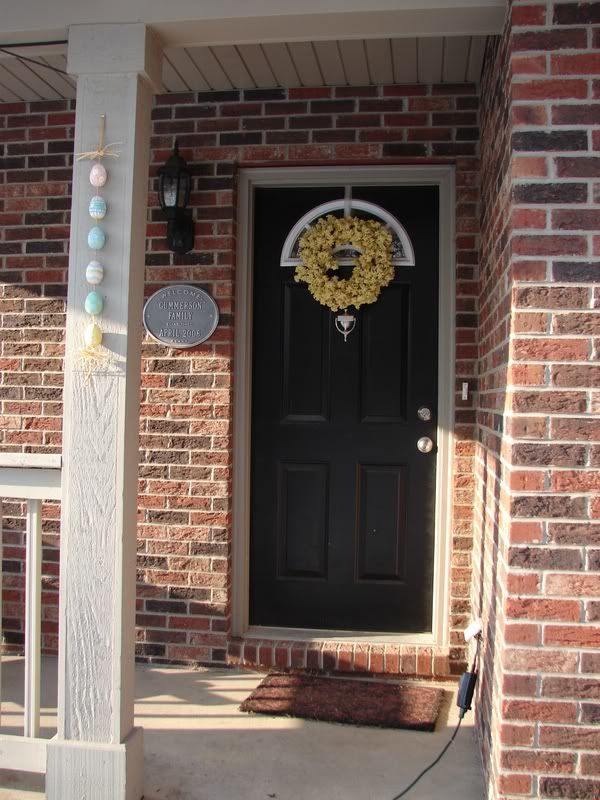 Spring wreath and egg decoration
Our Family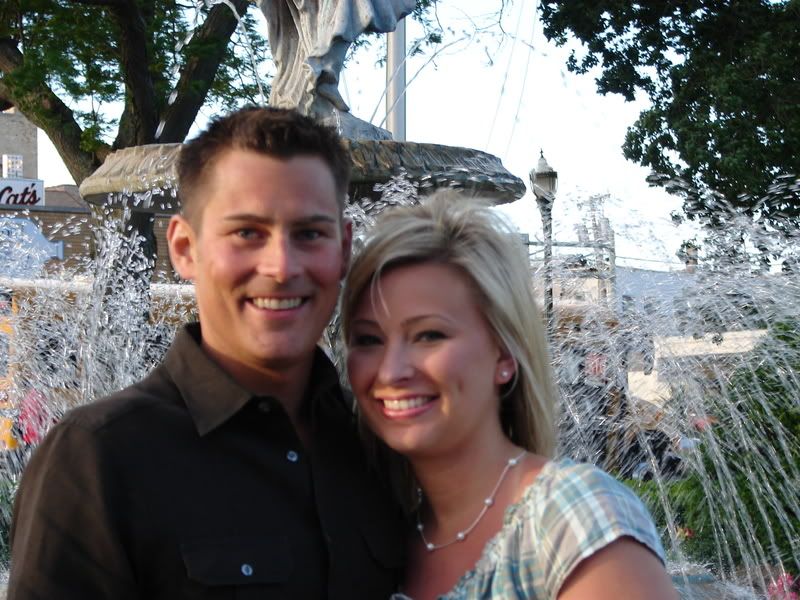 2nd Anniversary
1st Anniversary
On our honeymoon
One of my favorite wedding pictures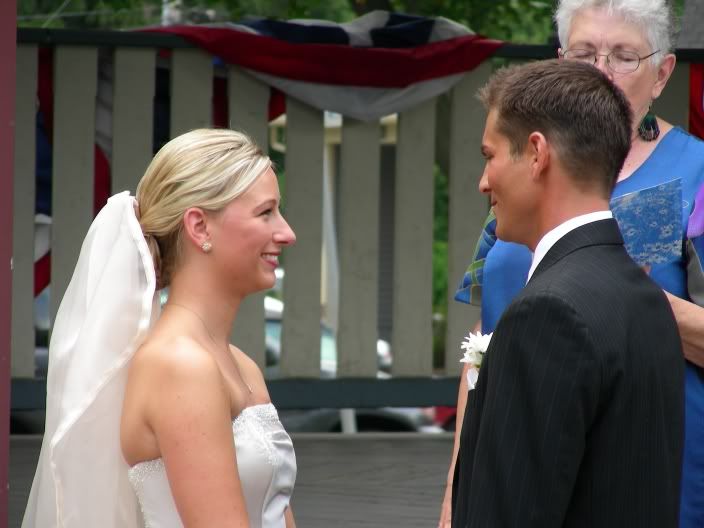 Look how happy I am!
An engagement picture.
Nina and Billy, our two rescued pit bulls.
All dressed up in their birthday bandanas!
Mama's little princess, Nina.
Big boy Billy Willy smashing Nina's head between the car seats.