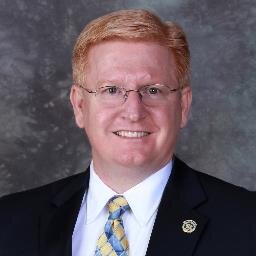 Dr. Rick Bateman, Jr. currently serves as the Chancellor at Bossier Parish Community College (BPCC); he was appointed the sixth Chancellor of BPCC on April 8, 2015.  Prior to assuming leadership at BPCC, Rick was the Interim Director at Northwest Louisiana Technical College with its main campus in Minden, Louisiana.  He also served as the Vice Chancellor for Academic Affairs and Student Success at SOWELA Technical Community College in Lake Charles, Louisiana.  He has 25+ years of progressively responsible and varied higher education experience in Belize, Texas, and Louisiana.  Rick has a proven record of success as a dynamic, visionary, servant leader committed to expanding access, promoting student success, utilizing data-informed decision making, promoting partnerships, and building a collaborative, cooperative, team-centered environment.
Prior to joining the Louisiana Community and Technical College System (LCTCS), Rick served as a consultant and doctoral intern to the Vice President of Academic Affairs at Austin Community College in Austin, Texas.  During his time at The University of Texas, he served as the Teaching Assistant to Dr. Walter Bumphus in The College of Education.  He also lived for thirteen years in Belize where he was an instructor, a department chair, and ultimately the Dean of St. John's College, Junior College in Belize City, Belize. 
Rick is passionate about the open door mission of the two-year college and believes that the community college is an essential tool of a healthy democracy and a vibrant economy.  His leadership style is driven by core values that include courtesy, integrity, perseverance, respect, trust, and personal growth. 
As a leader, Rick has consistently focused on issues of access, student success, and completion.  Under his leadership, BPCC has made tremendous strides contributing to Our Louisiana 2020—the public agenda for Louisiana's two-year colleges.  During his tenure at Northwest LTC and SOWELA, these institutions were among the fastest growing colleges in the nation while remaining among the best performing community and technical colleges of the LCTCS in retention and graduation rates.  He also led several successful programmatic, national, and regional accreditation efforts at BPCC, Northwest LTC, and SOWELA including the awarding of initial full accreditation with the Southern Association of Colleges and Schools Commission on Colleges (SACSCOC).  He regularly serves on off-site and on-site accreditation teams for the SACSCOC.
Rick has presented at international, national and regional conferences.  He is a NISOD Master Presenter and regularly presents on innovative student success initiatives.  He has also served as a repeat guest lecturer in Organizational Design and Behavior, a core course in the doctoral programs of the Educational Administration Department at The University of Texas.
As a first-generation college student who entered through the doors of Antelope Valley College (AVC), Rick understands firsthand the community college's mission of providing affordable, accessible, and quality education.  Born in the high desert city of Lancaster, California, AVC provided him a critical access point to higher education.  He transferred from Antelope Valley College to the University of California at Los Angeles and earned a bachelor's degree in history.  He later earned a master's degree in religious education from Loyola University New Orleans.  He earned a doctoral degree in educational administration from the Community College Leadership Program at The University of Texas at Austin.
Rick is married to Araceli and they have three children; he enjoys spending time with family activities.  His interests include reading, martial arts, swimming, snorkeling, fishing, University of Texas at Austin athletics, and all things Belize.