Solomon Kane News
Subscribe to posts
I want to congratulate all the players who ended this long Savage Worlds campaign with me tonight, and thank them for being thoughtful and interesting, entertaining and cooperative players, and wish them the absolute best for the future. I also want to thank all the other players I've had through the years and to "Hockey Hippie" for organizing the game to begin with, though I had no idea or intention for it to be as much as a year long, let alone me running this game in text chat from Feb 2011 to Aug 2014 (570 hours of play). Still, great game everyone!


*PS JB as Mario Luppicini also joined us for the final battle!
At some point, the Solomon Kane player group needs to go into Roll20 and set up the needed info, basically the details for the characters, choose "pogs" or tokens or digital minis, etc. I've set up most everything, including card decks and bennies and default PC characters with stats.

Trying out registered Whiteboards for our group:
Groupboard
Flock
Ditzie
FlockDraw
For some reason Scriblink doesn't work for me anymore, but these are amply suitable if needed.
Please look over the newly added page, House Rules, under the Core Rules section in the navigation menu to the left, to familiarize yourself with the overall changes from the regular Savage Worlds/Solomon Kane rules, including new rules I will be implementing. There are four new changes as of this post: Evisceration (Edge), Fell Strike (invoked somewhat similarly to Righteous Rage), Desperation Rolls and finally, Multiple Enemy Extras (Gangup/Support).

Also I would like to encourage you to look over the Basic Rules page to refamiliarize yourself with a summary of the standard features of the game and mechanics, including combat options, etc.

Hello, players of the "Path of Kane" campaign for the Solomon Kane RPG. I have a couple of announcements to make and I would ask you give these your attention, before we continue on with the start of the session.

Announcement Number 1: effective immediately, I am removing the 2 Wound and all lethality caps from play. This means unnamed "Extras" may now ace and raise rolls against any other characters, as previusly only NPC and PC Wildcards could do. This also means both named and unnamed characters, Extras and Wildcards, have no upper limit or cap on the damage or Wounds they can inflict in one or more "hits".

This means it is theoretically possible for a PC to "die" by a single lucky shot from a single d8 attack by a town guard. Now I will still use GM judgment and adjudication, as well as work with you, the players, to keep the story and adventures even and fun and interesting, as you are still the stars of the whole production.

Announcement 2: I am planning on redoing and restructuring the available Adventure Cards and how they are obtained. I have so far been unable to do that to the point I can put forth the alternative system, but it is being worked on; however, until that time, as part of the "cooldown" phase I had planned to do anyway, no new Adventure Cards will be drawn or given out, until I have fully overhauled the Advnture Card system. Basically, this will produce a gradual "attrition" effect, PCs may play the Adventure Cards that remain from the previous session, but do not replenish them, and may eventually will have no Adventure Cards remaining before the new system is implemented.

I want to stress that this is not a "punishment" or "scaling down" or "nerfing" of the PCs, in any sort of stop-gap measure, though in a larger sense, it is a sort of equalizing measure, but one that I had intended to bring into effect long ago, and simply never did so, due to a variety of factors. All the PCs are Extra-Legendary level now, most with 8+ Parry, 10+ Toughness, 4+ Bennies, around a dozen Edges of more, with extraordinarily high attribute and skill levels in many areas, and possessing numerous Relics and Artifacts, all of which place the PC Wanderers in a category of super-competent characters within sight of the level of Solomon Kane himself in many ways.

For this reason, I feel these changes will present very few difficulties requiring much adjustment on the part of the players. I do want to stress that this is the "downhill side" of the Solomon Kane campaign, and being the "Third Act", such as it is, the most challenging and potent obstacles, enemies and tasks still lay ahead. If anyone has any questions or comments, please take this opportunity now to adress them, or after the session or at a later time, and I'll do my best to speak to specifics.


Returning after a brief winter holiday break in filming, the Solomon Kane series resumes production, having been picked back up for its fifth and possibly last season, though there are conflicting reports from within the studio and production staff.

Cast members known to be returning are: Michael Chumbler as English Explorer Mortdechai Phillips, Robb Boros in his gender-bending role as Irish spitfire Sorcha Magee, and James McKay as the Vodka-Chasing Russian Noble, Dimitry Smirnoff, as well as Fortune the dog as himself. Last season's late addition of "Spike", playing "Draven" is so far an unknown quantity.

The cast is expected to be propelled into either Russia or Africa, by most estimations, and to proceed at a brisk pace, gathering up further artifacts and hitting upon character goals and arcs along the way. All other script changes or details have been kept very quiet, so fans will just have to wait and see what the future of the Path of Kane will bring!
Happy uh, Tevet and Chanukah and stuff, and Christmas and ... probably Something-or-Othermas, to all my players and visitors to this Solomon Kane gaming site. The game is on holiday break as of the last session played on Nov 11, 2012, until hopefully the New Year, probably Jan 6, 2013. Until then, have wonderful holidays!
Yep, definitely Christmas time. You can tell by the traditional Godzilla tree.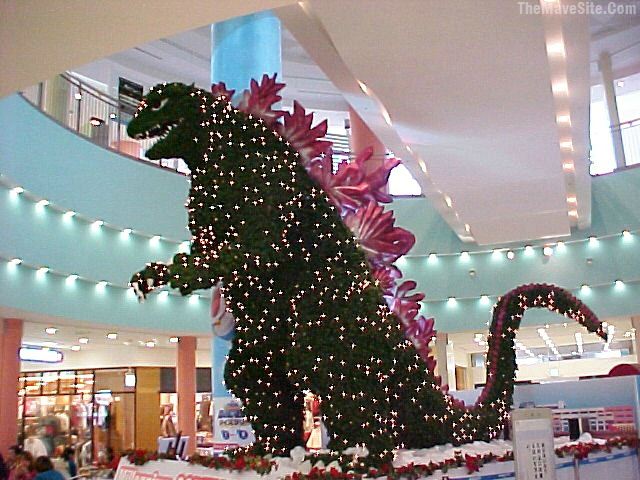 Japan, I love you.
I'd meant to do this earlier and just had too may things on my mind, but I'd like to wish one of the players, Omegaa, a hearty congratulations on the birth of his son, Alexander James, at 1:10 pm on October 19, 2012!