quanngardens.org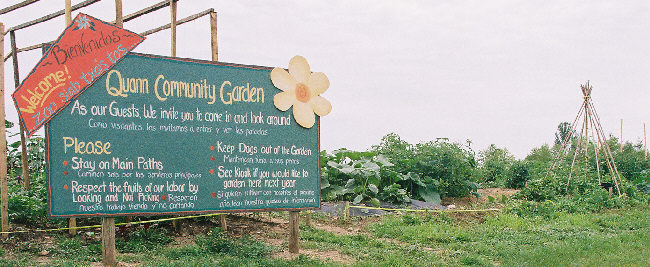 2015 Season

Please subscribe to our newsletter to receive announcements and news about the garden.
You can self-subscribe 
here
 or
contact us
to find out more about the garden.
Registration forms for 2016 will be posted in February or March. For information about registration in 2016, see our
Registration
page. 
Quann Community Garden provides neighborhood folks with affordable plots of land where they can grow their own food. If you've never gardened in a community garden before, you can look forward to more than fresh fruits and veggies. Cultural exchanges sprout and new friendships grow among diverse groups of people.
The garden is located at the southwest corner of Quann Park in Madison, Wisconsin, near the Bram Street viaduct.
Highlights of the garden:
Six water stations run down the middle of the garden for easy access by all.
The plots are approximately 20 by 22 feet.
All plots are no-till. This means people can get an early start in the season and grow perennials like asparagus, rhubarb, or raspberries. You may still till your own plot (though read this) if you wish.

The cost is very reasonable and is a sliding fee, $10 - $65, based on your income. You must also volunteer four hours during the season.
The garden is entirely organic.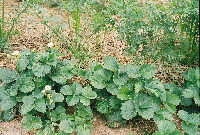 While there are lots of positives about community gardening, the one downside is that we've had problems with theft. We are actively working on solutions from many different angles, and welcome your input about this problem.
What are those positives? Community gardening has several benefits which lead to a higher quality of life not only for the gardeners, but for the neighborhoods as well. Benefits include:
Gardeners become 

more self-sufficient and empowered by growing their own food;

Community gardening builds bonds of trust amongst diverse peoples who come together to raise food and find that natural outgrowths of the gardens are relationships, community development, beautification, environmental justice, crime prevention, leadership and self-reliance for our neighborhoods as a whole;
Community gardens beautify neighborhoods and help slow traffic by creating visual stimulation that's unique and attracts attention.
Here are links to view the garden via Bing and Google Maps.  
Directions: Take Park Street to Beld to Bram; Quann Community Garden is just past the viaduct.
We hope you find this mini-website useful. Thanks for visiting! 
Garden established June, 2002