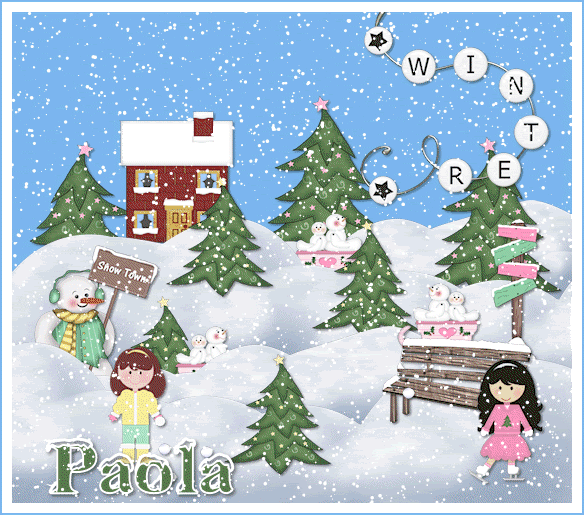 By © Purplechick Creations
Any resemblance to another tutorial is purely coincidental
and unintentional.
This tut uses PSPX2 but can be used with other versions.

Please do not share this or place on another website!!

Supplies
* Scrapkit Snow Town by Just a girl's designs. It's a payed kit and you can buy it at Designer Scraps.
* Tube of your choice, I used a the tubes that come with the kit.
* Fonts of choice, I used Snow Caps and you can find it here
* Plugins, VanDerLee Snowflakes, here, install this in your pluginfolder.

Remember to save often :-)
Have fun!!

1 Open a new transparent image 800 by 700, I always use a large workspace, you can always crop or resize later.
2 Floodfill this with color #7bb8ed.
3 Open the snowbank 1 and 2 in psp
4 Edit/Copy, Edit/Paste as a new layer on your working canvas.
5 Layers/Duplicate a few times.
6 Arrange them so it looks like you have a little snow landscape :-) Be creative
7 Open the two trees in psp.
8 Edit/Copy, Edit/Paste as a new layer.
9 Resize with 35%, All Layers UNchecked.
10 Layers/Duplicate a few times and move them around in the landscape. Make as much as you like :-)
11 Open the snowman, the house, the girls, the bench and the signpost etc, anything you would like to have in your little village, resize to your liking.
12 Edit/Copy, Edit/Paste as a new layer.
13 Put them on the different spots on the landscape too.
14 Open the snowmen on sleigh in psp.
15 Edit/Copy, Edit/Paste as a new layer.
16 Layers/Duplicate.
17 Arrange them on the landscape.
19 I did the same thing with the snowballs.
20 Give everything a dropshadow of choice or use mine:


Horizontal 2
Vertical 2
Opacity 55
Blur 5
color black, shadow on new layer UNchecked
21 Open the wordbeads, resize them.
22 Edit/Copy, Edit/Paste as a new layer.
23 Move this to the top of the tag, see mine for reference.
24 Take your texttool and search for a nice font, I used SnowCaps, and write down your name. Use colors of your own choice, I wanted the snow on the name white so you have to put that color in the foreground of your materialspalette.
25 Layers/Convert to a raster layer.
26 Give it the same dropshadow.
27 Image/Resize with 70%, all layers CHECKED or to your liking.
28 Add your watermark and copyright if needed.
29 Image/Add borders 10, color white, symmetric checked.
30 Image/Add borders 2, color #7bb8ed, symmetric checked.
31 Layers/Promote background layer.
32 Selections/Select all.
33 Selections/Modify/Contract with 12 pixels.
34 Effects/Plugins/VanDerLee/Snowflakes with these settings:
amount: 150
minimum size: 0
maximum size: 10
hardness: 100
transparency: 0
snow color: basic white
random seed: 1
35 Selections/Select None
36 Edit/Copy
37 Open animation shop and Edit/Paste as a new animation.
38 Back to psp, click the undo button twice and repeat step 34 to 36, only change the random seed to 7421.
39 Edit/Copy, back to animationshop, Edit paste after current frame.
40 Repeat all these steps again for the last snow frame, only change the random seed to 2956.
41 Back in animation shop check your animation to click on the view animation tab.
42 Edit/Select all.
43 Animation/Frame properties and change this to 15.
44 That's it, it's easy peasy with this plugin :-)
45 Now you can save your tag as a gif by using your optimation wizzard with these settings:
File/Optimation wizzard:
Click Next
(mine says volgende, yours sais next :-) I have a dutch version for this.
Click customize:
colours with these settings:
optimizations with these settings:
click OK. then next, next, next and finish
35 File save as a gif file :-)
That's it!!!
I hope you had fun making this tag
huggers Paola