Summer 2016
This summer we are excited to continue our Summer Literacy Program with almost double the number of students! 
Week 1: Arte
During our first week of camp we focused on art! Our reading focus was reading strategies and our writing focus was sequential art. Through this medium students created their own comic strips. We also visited the Philadelphia Museum of Art on our Thursday Field trip. 
Summer 2015
We continued our Summer Literacy Program this summer using the same challenging, bilingual curriculum that is both reading and writing intensive. All of our texts focused on social justice topics, such as fighting for equality, nature preservation, and immigration, and each text also aligned with our theme for that week. The students learned different styles of writing as each week focused on a different one. Along with reading and writing, we took a field trip each week to connect what we were learning to what is happening in Philadelphia. Follow along to see how our summer shapes up!
Week 1: Nature
In our first week of camp, we studied nature! Through the texts we read, we learned about the importance of protecting the environment and practiced convincing others to do so by writing a persuasive argument. 
For our trip on Thursday, we went to Passyunk Community Garden where we learned how to grow food, planted food in the garden, 
helped maintain the garden by weeding, 
and even got to take home basil or cilantro! 
To end the week, we made some beautiful 
artwork
 depicting nature!
Pictured above (left to right)
: Laura with a beautiful potted plant she got to take home; Mirian, Maria, Esmeralda, and Beatriz relaxing in the shade with some herbs they would plant later in the day; We even got to eat some freshly grown food at the garden! Here Luis is chomping on a spicy jalapeño.
Week 2: Food
During our second week, we explored our theme of food by reading poetry. The texts we read were in different styles and from each we learned about descriptive and figurative language. Each day, we practiced writing a different form of poetry - color poems, diamante poems, and haikus. We also each brought in a family recipe which we hope to put together into a Puentes Recipe Book!
On Thursday, we went to Bartram's Garden where the younger group collected insects to classify and the older group learned more how to grow food and got to take home some potted potatoes! 
On Friday, we followed a recipe together making 
trail mix
 to celebrate the week. 
We also wrote a final copy of our favorite poem from the week and drew some artwork to accompany it.
Pictured above (left to right)
: Sury being silly and using magnifying glasses as eye glasses; The whole group together!; Beatriz, Jocelin, Belen, and Stephanie shredding carrots that the older group used to make a salad. Other students made the salad dressing, washed the tomatoes, and picked the greens. The end result was a delicious salad we enjoyed for lunch.
This week 
we read about famous 
Latino musicians, 
such as Tito Puente and Celia Cruz. We practiced 
visualizing
 while we read and also practiced using descriptive language by writing 
sensory short stories
. We made sure to include words relating to all five of our senses! 
On Thursday the world-famous musician, 
Mafalda Thomas-Bouzy
, 
taught us all about music and 
rhythm.
 She brought many instruments that we got a play and she showed us how to do a fun African dance. We ended the day with a game of 
limbo
! 
On Friday, we wrote final drafts of our sensory stories and also made 
sound collages
 to accompany them.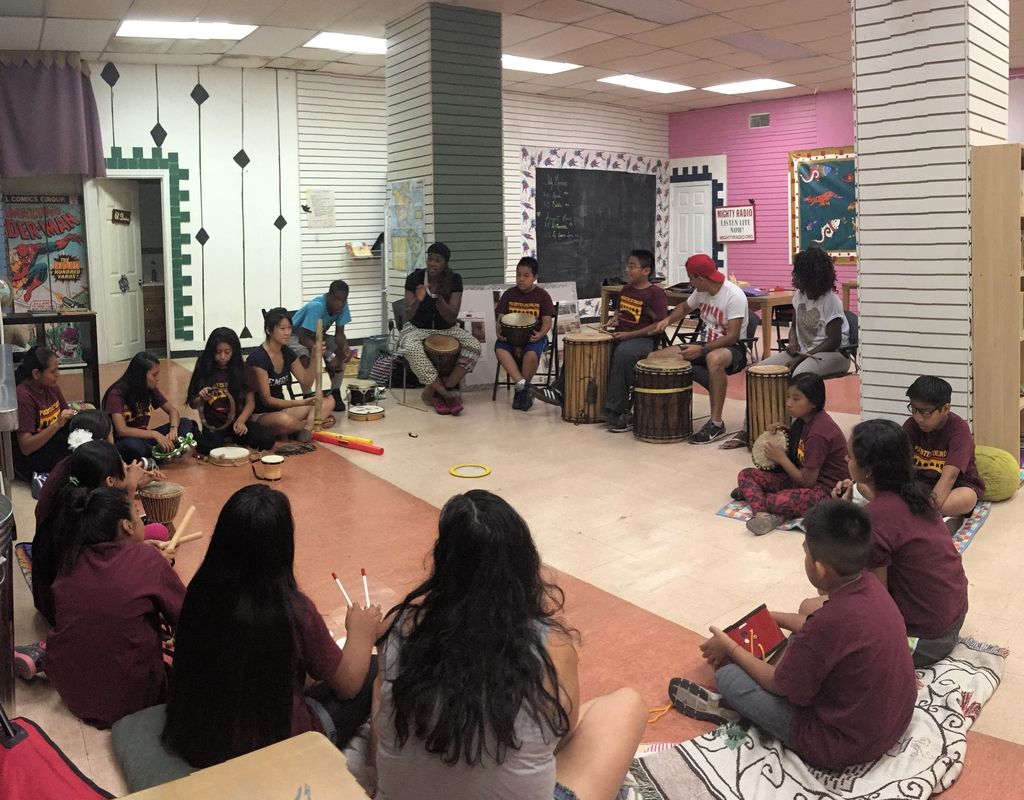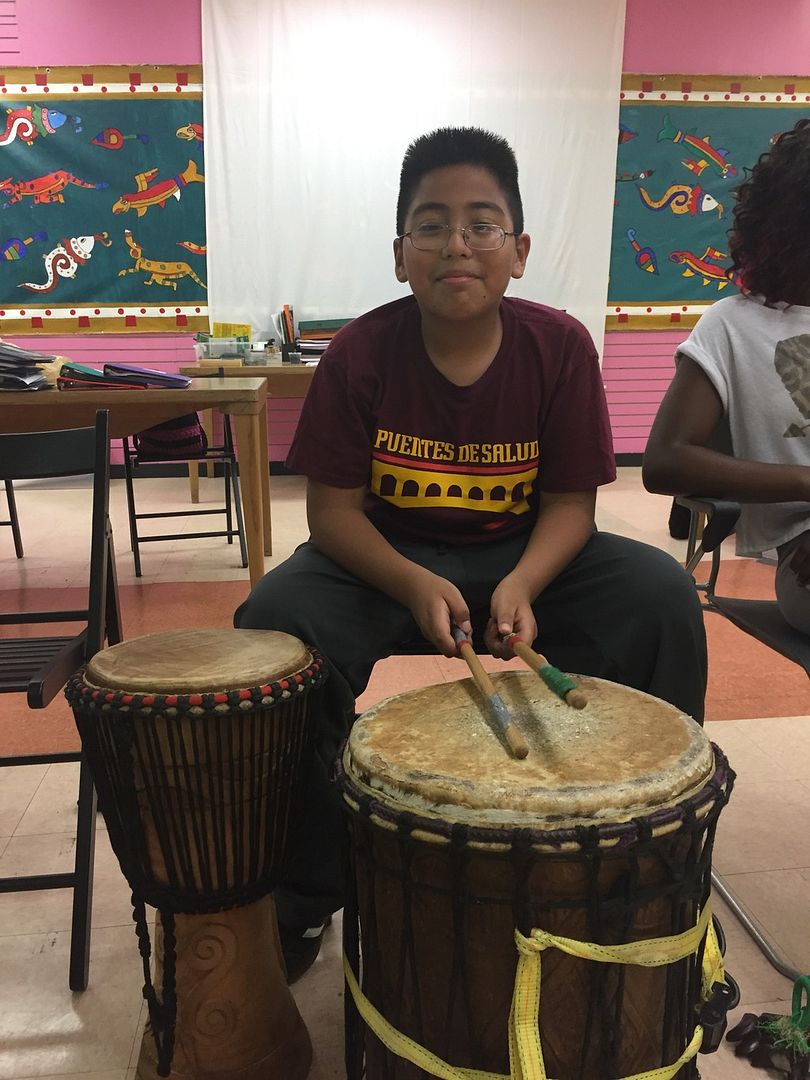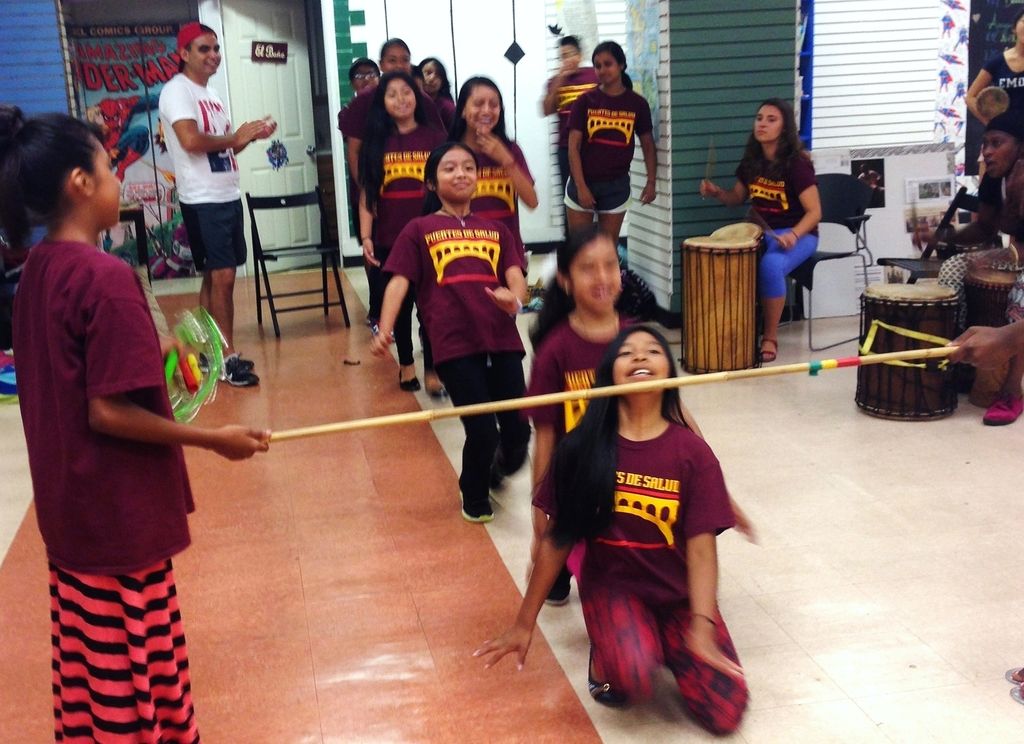 Pictured above (left to right)
: The older group learning how to keep a rhythm with different instruments; Alex rocking the drums!; The older group playing limbo at the end of the day.
Week 4: Journalism
To learn about journalism, we focused on reading news articles from Al Dia, The Philadelphia Inquirer, and the New York Times. We learned words to describe the different aspects of a newspaper such as a headline, a byline, a banner, quotations, and more! We also increased our vocabulary by finding words we did not know, using our context clues to guess what they mean, and finally looking them up in a dictionary. For writing, we worked on writing our very own news articles. We made sure to include the 5W's and H (Who, What, Where, When, Why, How) and also to interview someone to make our article more credible. 
To explore the theme of journalism further, we went to 
Philatinos Radio
.
 This is a 
radio station
 started by Edgar Ramirez and Susana Pimentel (one of Puentes' promotoas!) The radio station broadcasts Spanish music and talk programming. The audience of the radio station is mainly Mexican immigrants and reaches people in Philadelphia, Queens, Long Island, Miami, and Mexico! Check out this 
short article
 about Philatinos Radio. 
When we traveled here on Thursday, the kids got to meet a news presenter from 
Telemundo
! They also got the chance to host their own 
radio show
 which then aired on Philatinos Radio. 
To end the week, we finalized our news stories and shared them with each other.
Pictured above (left to right)
: Juan and Maria learning how to use the camera; the younger group talking on the Philatinos Radio station; Bryan and Julio getting excited to host a radio show!
Our last week focused on superheroes as real people who fight for equality. We read texts that showed people fighting for wage equality and against discrimination and we had discussions about superheroes such as Malala Yousafzai and Caesar Chavez. We encouraged the students to think about themselves as superheroes and to identify qualities (superpowers) they have that can change the world. Then, we complied the information into our own autobiographies!
To celebrate the whole summer, we had our annual pool party and BBQ at Haverford College! There was lots of food and fun. The kids got to break open a pi
ñ
ata
 and received
books
as a gift from Puentes. 
Unfortunately, we do not have pictures from our last week yet, so below are some pictures from throughout the summer.
Pictured above (left to right)
: 
(Top) The younger group together, go team!; Maci (tutor) with Esmeralda and Alison doing some yoga; 
(Middle) Juan, Sury, Elizabeth, Bryan, and Sammy playing soccer at recess. Keily and Sury working on some writing; 
(Bottom) 
Juilo, Elizabeth, Bryan, and Miguel playing a board game as they waited for their parents to come pick them up; 
Luis and Alex demonstrating how to properly brush your teeth. This summer, our two tutors from UPenn's Bridging the Gap program led health sessions for the kids. We all got to take home toothbrushes, toothpaste, and floss for ourselves and our families! 
A special thanks to 
Mighty Writers
 for sharing their space! 
¡
Mil gracias a todos por un verano incre
í
ble!
This summer we piloted an exciting, innovative curriculum that has an intensive reading and writing focus. We are excited work with our interns, tutors, and students for an engaging summer!
Week 1: Food
Our theme this week was food! We read books about Dolores Huerta and Caesar Chavez and talked about social change for migrant farm workers.
To celebrate the end of the week, we traveled to
Garces Luna Farm
where we
planted food and herbs, did yoga, and cooked lunch!
Week 2: Art
For our art week, we interviewed our families and put all the information together into a narrative. We also traveled to Puentes Art Studio where we made some art!
The whole group at Philadelphia's Magic Gardens!
This week we focused on animals and the zoo: how animals are similar and different to humans, and what the space of the zoo is like. On Monday, the students designed and explained their own zoos!
On Tuesday, we had a very special visit from People Helping People, part of the Goldenberg Foundation. Their team read with the students, and in the afternoon, made amazing 
monkey hats
with the kids! We talked about how monkeys and humans are both similar and different. 
On Wednesday, everyone designed the cover of their own book about animals and wrote a short summary. 
Finally, on Thursday, we took an exciting 
trip to the zoo
, where we did a scavenger hunt to find different animals! Here you can see us with some 
giraffes!
Week 4: Philadelphia!
We started this week by talking about who a mayor is and what a mayor does. The students answered the prompt If I were the mayor of Philadelphia for one day... Many of the students wrote topics like cleaning up the streets and adding more parks, and some said they would have a giant pizza party!
On Tuesday, students all got to draw maps of Philadelphia. The weather was so beautiful we did our activity outside! 
On Wednesday, we talked about what communities are, what communities we found in our books, and what communities we are a part of! We talked about how we are all part of the Puentes community. 
Our week ended in a trip to one of Philadelphia's most special places: the Franklin Institute. We loved exploring the giant heart, learning about aerodynamics and the physics of sports, and meeting Benjamin Franklin! We also got to see a show in the planetarium! On the way back to the subway, we stopped through Philly's famous Love Park! 
This week we talked about the what it means to be a good teammate, and the importance of sports. We read Miss Nelson Has A Field Day by Harry Allard  as a group, and worked on the difference between past and present tense verbs. We also discussed the rules of baseball and everyone made a "dream team" for their favorite sport! 
Finally, on Thursday, we went to a Phillies game! Everyone enjoyed hot dogs, cotton candy, and pretzels and we even saw ourselves on the "Phanvision" screen! The Phillies won 12-1! It was Summer Camp Day at the Phillies, so we got an extra-special treat and the Puentes kids got to run the bases. It was an exciting day for everyone! 
For our final week, the theme was family. We focused on the bilingual book: Family Portraits/Cuadros de Familia by Carmen Garza. In our journals we

wrote letters to family members far away

, we described our families, and wrote about our favorite family memories! We also made family trees, schedules for a typical day in our families, and family photo albums with photos from the summer. 
We ended the summer with an amazing pool party and cook-out with family and friends at Haverford College. After we dried off, we had a piñata and certificate ceremony with goodie bags! All students got to take home three books from the Puentes library to read and write about in their journals before school starts. The student who writes the most will get a prize in the fall! 
Thanks for following us here! Stay tuned for more exciting projects from Puentes Hacia el Futuro!