URL link for
this page
==>
Polaris Ficht Fuel Injected Engines
The FICHT RAM Direct Injection EMM (Engine Management Module) are known to develop several internal faults as they age. Most Ficht watercraft EMM are now about 20 years old and can fail in several different ways, with varying symptoms. 
I recommend Lakeside Tech to provide Ficht EMM diagnostics and internal repair   
DFI Technologies has been around for a long time. Recent years have included some concerning reports of long repair delays, inconsistent customer communications and some returned EMM that were not repaired.  Not currently recommended.  
Update Summer 2020: Numerous reports that DFI is no longer offering repairs
________________________________________________________________________________________
How to read Polaris Ficht EMM trouble codes using a simple LED tool, without special software or a computer
When the 
Check Engine
 message comes on, the EMM stores special codes into memory.
You can read those codes, and find out what the EMM thinks may be the problem.
Clearing EMM Service Codes using switch or TPS cycling
Note: the EMM may automatically clear old service codes after 15 running hours, if the same code has not re-occurred during that time.
How to make your own Ficht EMM Communications cables (2872454 & PW-45776 equivalent)
Required when using the Polaris Digital Wrench (Windows) and PODIAG (DOS) diagnostic software
______________________________________________________________________________
__________________________________________________________________________________________
Notes regarding Polaris PWC models with fuel injected engines
Checking fuel pressure on Ficht engines
Maintenance, fuel pressure, things to check...
Fuel injected Ficht engines REQUIRE the NGK PZFR6H spark plugs - no substitutes
 *
Start by checking compression and crank index
LR-503 Start/Stop module controls Start/Stop engine functions on Virage i, Virage TXi and Genesis i models (and how to bypass the LR-503)
How to bypass LR-503 Start/Stop module for 1999-2001 Ficht Virage and Genesis engines (spade terminals)
How to bypass LR-503 Start/Stop module on 2002-2004 Ficht Virage and Genesis engines (plug connector)
You can bypass the Start/Stop module to determine if it is causing a problem. Common symptoms could include not cranking when lanyard is in place, not allowing the engine to start even though it is cranking, not continuing to run after it starts, or not being able to stop the Engine using the Start/Stop button. The safety lanyard should
always
be able to stop the engine.
Flame arrestor cover cuts into air temperature sensor
Trim plastic web to clear sensor.
Update: Apparently Polaris added a spacer 
5812576
 for 2003-2004 to move the temp sensor down and away from the plastic cover webs. Adding the spacer seems like a good update if your temp sensor needs replacement anyways or has not yet been damaged. Note that the two sensor bolts need to be longer when using the spacer (7516603).
---
Still have the original Black start solenoid with metal backing plate?
Update that original solenoid before it fails
---
Throttle Position Sensor
What it does
How to check your TPS
TPS electrical connector can cause problems, check, clean and tighten the metal pin sockets
TPS failure symptoms
Ficht TPS versions, sources
1999-2001 non-pigtail TPS is
not
 mechanically interchangeable with 2002-2004 pigtail TPS versions.
Symptoms include very low fuel pressure, rough running above idle, engine surging, and lack of power above idle. 
Eroded depression in piston center (typically PTO piston) or very l
ow compression with
hole melted right through the piston center.
Red light and 'Check Engine' message may appear on the display.
Note: The Kawasaki inline regulator fix is no longer recommended as it provides inconsistent fuel pressure and may block fuel flow completely.
CAUTION - THIS INFORMATION NEEDS UPDATING.  AUTOMOTIVE FUEL PUMPS ARE DRAWING TOO MUCH CURRENT
The original 4010168 six magnet Ficht flywheels sometimes fail when the magnets become loose
Used from 1999-2004 on the two cylinder and three cylinder (1165cc) red fuel injected engines, the number 5000285 is embossed into the casting on the inside
If any of the six the magnets shifts sideways
, the result can be reduced electrical power for the EMM and injectors
If the loose magnets get jammed against the stator, the resulting debris can damage both the stator and the CPS sensor
You can try re-attaching the loose magnets, but it is difficult to get the repair to stay together
Note: If there has been
any
metal debris inside the flywheel housing, from a damaged Bendix, broken magnets, busted flywheel teeth, then you should remove the stator and visually examine it carefully. It is easy for damage to occur and be hard to see while the stator is still on the engine.
A better replacement flywheel seems to be the newer 4010646 twelve magnet Ficht flywheel, which was stock on the MSX 140 engine
The number 350146 is embossed into the casting on the inside, and a manufacturing date code is painted on the front
Not only does it deliver a stronger electrical output, and the 12 rare earth magnets stay in place better, it also has deeper encoder ribs which may deliver a stronger signal to the CPS sensor.
 The teeth on the starter ring gear are harder wearing.
Note that the 4010320 Ficht magneto stator was common across
all
fuel injected engines 1999-2004, two and three cylinders
Ficht fuel injected engines; fuel hose abrasion at injectors, possible fuel leak
How to repair, per
Service Bulletin PWC-04-01
, repair kit 2202878
Note: The Ficht fuel injectors do not work correctly if they are not mounted into the cylinder head. Without the injector tip being clamped against the cylinder head, the fuel will simply leak out around the shell of the tip. Do not test injectors by removing them from the heads and cranking the engine.
A properly operating Ficht injector will produce several hundred PSI during the injection pulse, even though the fuel pump pressure is under 30PSI.
Replacement circuit breakers (also known as Reset buttons)
Sometimes the body of the Reset button can crack, which not only lets moisture inside, but it also means the whole thing is on its way to failing. A busted Reset Button can leave you dead in the water.
Note: Some Ficht models came with a 5 Amp circuit breaker for the fuel pump. You might want to upgrade it to a 15 Amp breaker, as sometimes the 5 Amp 'Reset Button' weakens with age.
"
Digikey part# for the 15 Amp circuit breaker (aka Reset Button) 302-1264-ND. It is $3.31 US plus shipping. The original is an E-T-A Series 1658
..."
E-T-A   1658-G21-01-P10-15A
The OEM Polaris flexible plastic dome cover should fit right on, or you can buy a new one from Digikey.
MSX 140 engine - replacement pistons

Note: Do not use 1mm overbore pistons (84mm + 1mm) meant for the Polaris red 1165cc domestic engine, as the MSX pistons have a different dome profile. Using non-MSX pistons will reduce compression and power.
Genuine Polaris OEM MSX 140 pistons work well.
An aftermarket alternative is SPI brand (Sports Parts Inc.) pistons made for a Polaris RMK 800 Snowmobile.
How to remove a Ficht fuel injection EMM computer module from the hull
SBT
removal and re-installation

guide for
Polaris domestic three cylinder Ficht fuel injected red engine
How to remove the flywheel and magneto stator
Rope Trick

: How to loosen PTO coupler using rope inside the cylinder (works for flywheels too)
Checking engine temperatures using your hand
Exhaust water injection - Check and clean the mesh filter screen and orifice
The location varies with the engine model, but every Polaris PWC engine has exhaust water injection, and it must not be clogged
How to delete water injection solenoid 4010768 from Ficht fuel injected Virage i (2 cylinder 2002-2004)

Winterizing a Ficht engine Polaris PWC
How to safely reverse flush a non-running engine
Ficht fuel injector hose fittings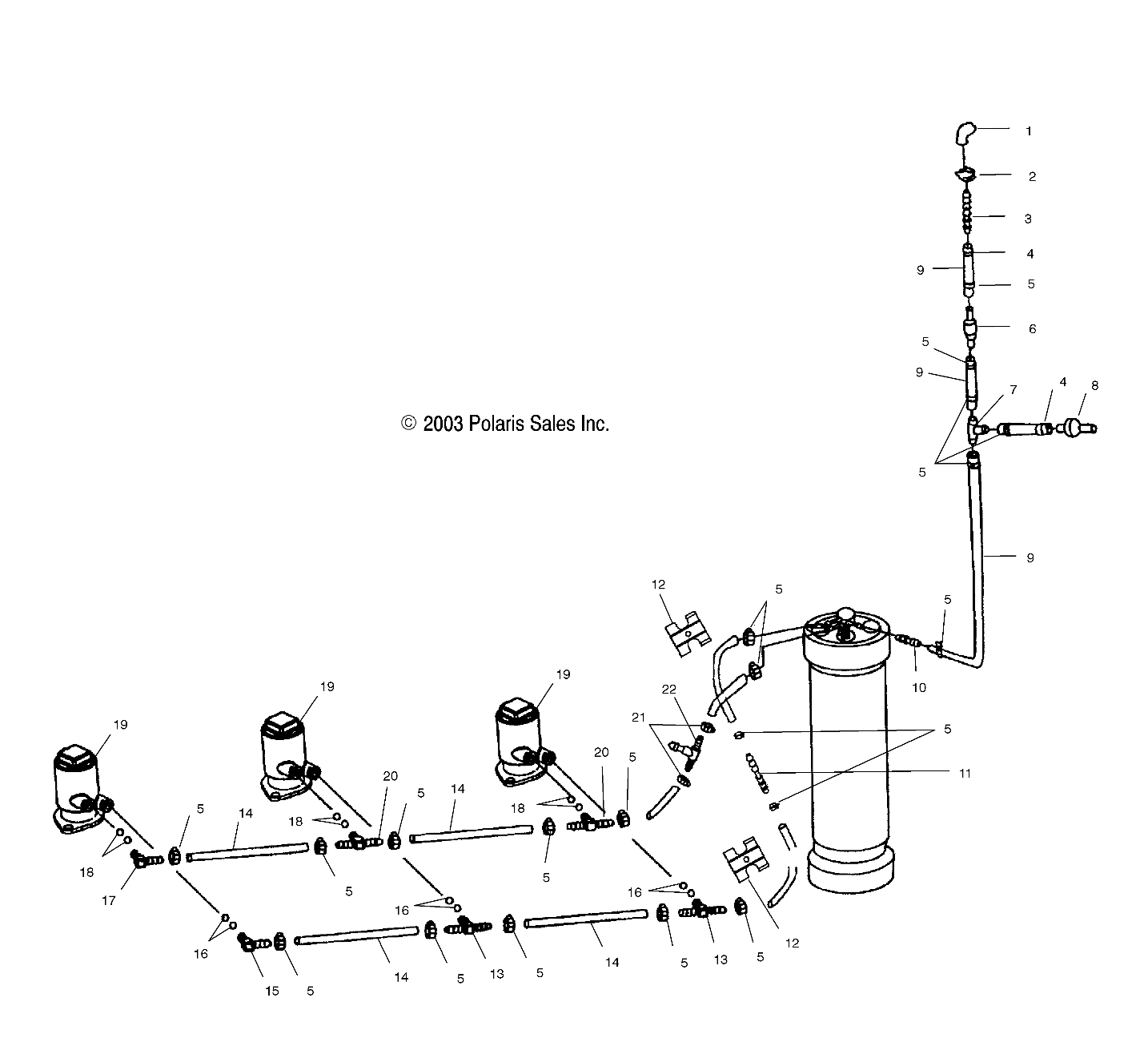 7052229 FITTING-
L
, FICHT, LARGE (White=Supply)
7052227 FITTING-
L
, FICHT, SMALL (Black=Return)
7052230 FITTING-
T
, FICHT, LARGE, BR (White=Supply)
7052228 FITTING-
T
, FICHT, SMALL, BR (Black=Return)
5411601
O-RING
-DFI FITTING, LARGE (Supply)
5411599
O-RING
-DFI FITTING, SMALL (Return)
There are two different ride plates for the MSX 140 hull
MSX 03 Rideplate - 5631257-329
MSX 04 Rideplate - 5631598-329
Six degree pump wedge, sources
Theory of operation info
Differences between the 1999 and 2000-2004 Ficht injectors, EMM
Evinrude Ficht DI Fuel System
Video description of how the Ficht fuel injection system works, as used on Evinrude outboard motors
More Ficht background from the OMC outboard perspective.