URL link for
this page
==>
Polaris Domestic (red) engine
Click here
for information specific to the Polaris
domestic
carburetor red engined PWC models (1996-2004 SL SLH SLX SLT SLTH SLTX Pro 1200...)
Click here
for information related to the newer generation PWC models (1999-2004 Virage, Genesis, MSX 140, Freedom)
Note: Some electrical, diagnostic and engine related material is located on these pages
---
Engine does not start, no spark => Replace the battery with a new batteryThe CDI on domestic engines requires the battery to deliver more than 10.6 volts while cranking the engine.
An old or weak battery can not deliver enough voltage while the engine is cranking, and you will not have spark. This is a very common problem with Polaris PWC.
Even if the battery is 'brand new' you should take the time to actually measure the battery voltage with a multi-meter (not the voltage on the Polaris MFD display). Connect the multi-meter, then watch the battery voltage sag when you press Start. If the voltage does not stay
above
10.6 volts the battery is no good. Even if you just bought it.
Want to buy a good battery? Look for a high quality
factory sealed AGM type battery
.
Why do I have no spark (or spark only when I release the Start button)?
---
Engine Problem diagnostics (1992-1997)
Start by checking compression and crank index
Service Bulletin PWC-00-05 (Fixes no restart when warm, no restart after stopping)
Move CDI Red/Purple wire to Orange terminal for reliable engine restarts
How to do Service Bulletin PWC-00-05 (CDI Red/Purple to Orange) Fix no-warm-restart
Applies to all domestic engine
carburetor
Polaris PWC, two and three cylinder red engines 1996-2000 (and possibly some 2001)
All later model red domestic carburetor engines through 2004 were wired this way from the factory.
How the LR module controls domestic CDI power, and ensures reliable warm re-starts
Special note for 1999 Genesis (carburetor engine): an additional Orange wire must routed between the
two
separate electrical boxes
---
Polaris PWC wiring colors - what each wire color is used for, Fuji and domestic
What wires are for what - How the basic electrical wiring system works (domestic carb models)
How to figure out which cylinder is running poorly
By testing the cylinders one at a time, you can narrow down which cylinder is dead or weak. Ground the ignition wires for all but one cylinder, and see if it will start (you may need to squeeze the throttle to get it to run). If it does, ground that plug wire, and test the next cylinder. Each single cylinder should run the engine about the same.
This video shows the process in action.
In this example, there were two problems. Incorrect spark plug firing order
and
the PTO carburetor was missing a part!
---
Ignition System - red Domestic engines
Basic theory of operation, Version differences
Polaris domestic engine Ignition System Update Kits
Applies to all 1996-1999 two and three cylinder carburetor engines
Note: Update kit does not apply to the 1999 '1200'(1165cc) engines
The original factory ignition in these 1996-1999 engines was not reliable over time
, so Polaris issued these ignition update kits.
The original domestic 1996-1999 ignition systems
'...WILL fail eventually...'
Kit part numbers
2873091, 2873022, 2873355, 2873356
2873022
1996-1997
Hurricane and twin carburetor
1998-1999
2873355
1996-1997 twin carburetor
except HurricaneNote: Apparently the better choice for all 1996-1999 two cylinder engines is the Hurricane update kit 2873022

2873091
1996-1998 three cylinder 900cc and 1050cc engines
2873356
1999  1050cc three cylinder engines only
Each kit includes an updated new CDI module
and
a new magneto stator.
For the two cylinder engines a new Ignition Coil and spark plug wires are included. Three cylinder update kits reuse the original ignition coil pack.
You can check whether you already have the update by
checking your CDI part number
.
Update Kit installation tips

There will be a couple of electrical box wiring changes, including delete of the thin Black battery ground wire.

Not part of the update kit itself, but recommended anyway, is to change the CDI power feed to come from the LR module Orange output. See Service Bulletin PWC-00-05.

After installing the stator and running the cable into the electrical box, but before connecting it to the terminal board, verify that you have zero ohms measured from the new Black stator wire back to the engine block. That Black stator wire is the only connection between the electrical box ground and the engine block ground, so it must be good.

Other notes
CDI part number 4010885, may actually be 4010447 (900 & 1050 Ignition Update Kit 2873091)
Parts interchanging
Note: Polaris changed the design of the stator housing cable exit hole circa 1999, so one of the reasons for the different stator models and update part numbers is so the replacement stator can directly fit into the original magneto housing you have.
If you are mixing and matching stators and engines from different years, these part numbers will help you get the right combo to physically fit the housing and the stator cable seal.
To utilize newer stators with 8 or 12 Pin Connectors on the outside of the electrical box
with a pre-2000 electrical box
;
For the three cylinder engines,
2460875
is the
short adapter cable that runs between the 12-pin stator cable plug and the electrical box insides
(must use 4010170 stator, which has the mating 12-pin connector 
Deutsch DTM04-12P with 9 wires
)
For the two cylinder engines, 2460718 is the short adapter cable that runs between the 8-pin stator cable plug and the electrical box insides (must use 4010172 stator, which has the mating 8-pin connector)
Info gleaned from Jay's old posting over here
Gen III ignition system diagnostics
Once you install the ignition update kit, you now have a Gen III ignition system and therefore must use 2000 and later Service Manual specs when diagnosing the ignition system and stator coils.

How do I tell whether I have an updated or original type domestic ignition?
What does a non-updated two cylinder Ignition coil look like?
How do I test old and new domestic red engine CDI, Magneto and Ignition coils?
Ignition System Upgrade Kit installation - Remove or cut & tape the thin Black ground wire between electrical box and battery negative
My ohm-meter measurements don't exactly agree with the service manual specifications. Is this OK?
Note: PVL (
Probosch-Vogt-Loos GmbH
) is the company that manufactured the ignition and stator system for Polaris domestic carburetor engines.
---
How to remove the flywheel and magneto stator
Installing the flywheel
Apply red Loctite 271 or 262 on the shaft taper. Make sure the woodruff key is in place and in good condition.
The taper on crank shaft and inside of flywheel must be a perfect fit before applying Loctite. No dings or gouges.
Use Loctite 242 on the nut threads.
Tighten to 90 ft-lbs torque on flywheel nut (14mm x 1.25 thread)

There are several versions of the domestic engine flywheel.
Original stock domestic engine flywheel is 4010189, and there is the 4010569 'high start' flywheel.
Do not use the 4010569 'High Start' flywheel without using a CDI programmed to match
'High-start' flywheels have ten degrees more base timing, and CDI base timing must match flywheel base timing
Octanes came with both flywheel versions, and different CDI versions to match the flywheels ... 
2002 flywheel PN ???
---
Replace gray Tempo brand fuel lines
The Tempo fuel hose degrades internally

, and

can gum up the carbs with greenish goo

From about 1994-2002, the factory installed gray Tempo brand fuel hose that

chemically reacts

where it connects to metal fittings, creating a greenish or bluish goo inside the hose that clogs the fuel system and carburetors, causing lean fuel delivery and burned pistons. The outside of the Tempo fuel line can look and feel just fine.

Often associated with SeaDoo PWC

, the same Tempo hoses were also used on Polaris and Yamaha PWC.

Where can I get replacement fuel and oil hose?

Depending on the model you have you will need maybe 20 feet of fuel line.

Marine rated fuel line, that is compatible with Ethanol, is preferredUSCG TYPE B1 SAE J1527

NMMA TYPE ACCEPTED (ISO 7840)

J1527

A1 is also acceptable, and the A1 hose has a fire resistant outer coating

SAE J1527 Type B2 (and A2) is for

fuel

tank vent hoses only, do not use B2/A2 for

fuel

lines unless it is also B1/A1

rated

.

From what I can tell, the current version of these

marine

fuel

hose ratings is for up to E10 (Gasoline with up to 10% Ethanol blend)

Be sure the hose you use for the pulse line is stiff enough not to collapse under suction Also applies to the fuel lines from tank to fuel pump, which are also under suction

The OEM

Polaris two position On-OFF fuel selector valve is 7052159

, costs a little over $20 new.

If you don't replace the entire valve, then clean the old valve, and replace/lubricate the O-ring seal inside.

Clean and rebuild the carburetors, especially if you had the gray Tempo fuel lines.

Even if you didn't, carbs that are old or have been sitting for a long time can become gummed up internally. A single clogged carb can damage the engine quickly
---
Does your 1999 or later model have an
external
start solenoid (mounted outside the electrical box)?
Is it the original Black solenoid with metal backing plate?
If so, update that solenoid before it fails
---
Checking engine temperatures using your hand
How to loosen PTO coupler using rope inside the cylinder (works for flywheels too)
aka the 'rope trick'



Printable Engine Degree Wheel
How to measure piston ring end gaps
Enhanced cooling of domestic stator on carburetor engines
Note: Useful for highly tuned and high output domestic non-stock engines to keep the magneto stator cooler on domestic engines
Engine removal and Installation guides
Polaris 1200 (1165cc) with carburetors
Polaris 900 and 1050cc, with carburetors
Polaris 700 twin cylinder, with carburetors
Polaris 1200 (1165cc) with Ficht Fuel Injection
---
Domestic engine rebuilding
Engine rebuilding overview, tips
There are several variations for the Mag and PTO crank shaft seals
A recommended upgrade for all 1996-2000 red domestic engines is to use the double rear PTO crank shaft seal arrangement
, which was the factory method on 2001-2004 domestic engines.
The two rear seals are installed without a rear snap ring
, and replace the single more expensive 5411524 (SEAL, TYPE BA SL).
Note: MAG crank seal always has a snap ring (two on the MSX 140 crank).
Genuine Polaris OEM crank seals are recommended for best fit and seal longevity, even if they cost more.
Two
5412091
(Seal, Flange - 2004, some 2003) or
5411937
(2001-2003) [SEAL-FLANGE 35X72X7,SS SPRG] for the rear.
Apparently the crank bearings used on SBT domestic crank shaft rebuilds are slightly wider than Polaris OEM crank bearings
, which causes an interference problem with the rubber 'tabs' or nubs on the double crank seals. SBT recommends
trimming these tabs off the inner seal
to accommodate the non-OEM bearing width when using SBT crankshaft and
SBT double rear crank seals.
Older style SBT single rear crank seal is here.
Polaris crank bearing replacement sources
6207 and 6307 bearings are used in many Polaris watercraft 2-stroke engines and are somewhat unique. In the case of the Fuji engine, the 6207 is pinned and the 6307 is pinned and also has a snap ring. The pin is used to keep the outer race from spinning in the case.
You can use the unpinned bearing instead of OEM but also use Loctite 680 Green on the outer race to secure them.
6207 Bearing
6307 Bearing
Loctite Green 680 bearing retainer
---
Domestic Engine Fuel delivery system
Keihin carburetor - accelerator pump is not working?
Priming the Keihin accelerator pump
Keihin carb diagrams...
Keihin CDK carburetor rebuild guide
Keihin CDK2 carburetor rebuild guide
Performance modifications, tuning tips
---
LR voltage regulator and Start/Stop modules
Connections, functions
; LR modules (Voltage Regulator, etc)
Freedom Fuel gauge, LR-85 functions and diagnostics
---
Carburetor sizes used in Polaris PWC
Polaris PWC Spark Plug Application Chart 1992-2002
Detonation - what is is, how to avoid it
Reading piston wash
Technical Articles and Explanations (How Stuff Works)

Combustion and Ignition basics
Homemade piston pin puller
Polaris Accessory Charts 1996-2001 Including Performance Parts, Triple Pipes, etc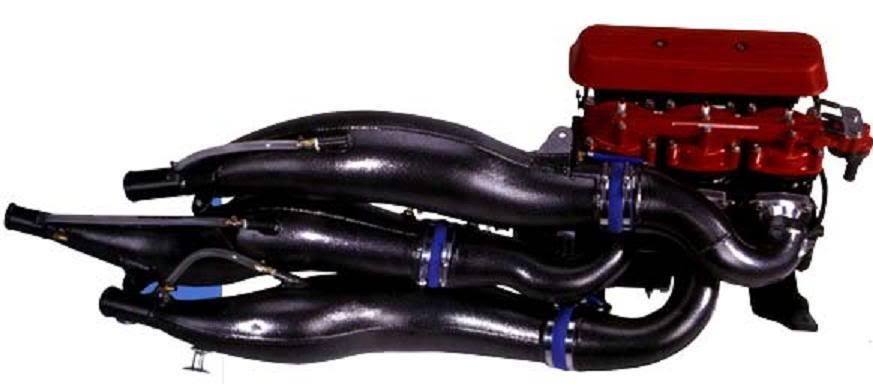 What RPM range are the various exhaust pipes tuned for?
Photo comparison of single, dual and triple exhaust pipes