URL link to
this
web page ==>
Polaris Jet Pump
---

Check and clean the cooling water intake screen
(5431523 Screen, Engine Inlet)
inside the jet pump exit nozzle
That would be the small postage stamp sized black plastic mesh piece (
Item 6 in this diagram
)
It should be there, don't run without it
Also check the cooling water tube beside the jet pump (
item 20
) - Look for cracks in water tube and metal nozzle casting, missing O-ring, etc.
How to remove and re-install the Polaris 148mm jet pump (1994-2004)
How to remove the 148mm modular jet pump (1994-2004)
How to check the jet pump to engine alignment using the alignment tool
Shims are just  large diameter 1/32" thick Stainless Steel or tough plastic washers
Alignment instructions from Polaris
Specifications for making your own alignment tool
---
Impeller blade clearance,
Stator fixed vane/blade damage example
My impeller is damaged, worn, nicked
Impeller refurbish services available from Impros and SBT
Results from SBT impeller refurbishing service
Before and after photos
Engine is revving up, but impeller is not providing proper thrust
Driveline
Check splines at both ends of the drive shaft,. 
Propulsion
Check impeller blades for damage or excess wear at blade edges.
Check stator vanes for damage
Jet pump ventilation can cause reduced thrust when accelerating from low speeds, yet at higher speeds thrust is just fine. Ventilation occurs when air gets drawn/sucked into the impeller.
Jet pump cavitation can have similar symptoms to ventilation, but the cause is usually damaged/worn/bent impeller blades or damaged/bent stator vanes.
If the impeller is not the original part number, check that the replacement impeller has the correct blade pitch for your engine power and hull.
---
Polaris PWC through-hull drive shaft seals
Water is leaking into the hull around the drive shaft

Check that the water is not coming from the small hose nipple on the speedometer pitot, which is directly below the drive shaft.
Best way to check for leaks is to strap the hull to the trailer front and back, back it down the launch ramp until the jet pump
intake
is submerged, and run the engine with the hull strapped down.
You can leave the seat off, and find out where the water is coming from.
Note: If the through-hull shaft seals are original, just replace them. The rubber has probably dried out, especially if your machine is from the 1990s.

Replacing the seals and bushing in the through-hull assembly
There are different versions of the through-hull bearing
Early units with crimped ends can not be repaired, but they can be directly replaced with the newer style assembly (1996-2004, except MSX)
Click here for a list of parts sources
The seals tend to wear more than the self-lubricating bearing/bushing, so you may not need to change the bearing, unless it is worn.
Replacement seals can be purchased from any
Polaris OEM parts source
, or generic seals may be installed.
Polaris part number 3610040
has a stainless steel shell with rubber coating on the concave face, measures 38mm x 20mm x 8mm. I think the garter spring is also stainless steel.
Engine mounts must not be loose
Always check the engine mounting for looseness.
Grab the top of the engine or exhaust and
firmly
push/pull the engine from side to side. There should be almost no engine movement as the rubber engine mounts will flex only slightly. If there is much movement at all, check for broken or loose engine mounts. Also check that the bolts underneath the engine that hold the engine case to the bed plate are tight. It is important that the engine not be able to shift around during operation.
After re-installation in the hull
and the drive shaft is back in place
be sure to pump grease into the through-hull bearing. You will need enough grease to displace the air pockets inside. Use a high-quality Lithium based waterproof bearing grease. Re-grease after every ride for the first few rides, until you are sure it is full of grease and all the air is gone.
Replacement bushings are Polaris part number 3576514
(2 required)
Apparently the
generic equivalent plain bearing is 14DU06
, a self-lubricating steel+
sintered metal
+impregnated Teflon bearing
WSM does offer a replacement through-hull product for non-MSX hulls. WSM 01-115-01 uses a steel bearings instead of bushings and must be greased regularly.
Generic Drive Shaft Seal carrier seal part# 8702 (Two required)
www.ebearings.com
SKF Rawhide 8702
Shaft 0.875
Bore 1.499
OD 1.503
Width 0.25
Note: Does not apply to MSX bearing carrier.
---
Polaris PWC Jet Pump Rebuild 
How do I check my impeller and impeller bearings?
How can I check the rear jet pump stator bearing for water?
How do I check the impeller stub shaft bearings in the pump stator?
I need to replace the stub shaft seals and bearings in my modular jet pump stator
(1994-2004)
The bearing spacer that fits in between the two bearings is a
Polaris specific part
, as is the stub shaft and the short impeller spacer that fits behind the impeller.
You can purchase replacement bearings and seals from any
Polaris OEM parts source
, or you can use generic parts.
Jet pump rebuild parts
kits
are available which include both new seals and both new bearings, and some kits also include new o-rings for the stub shaft and water tube.
SBT is one rebuild kit source.
The
600SB304 SBT kit
also includes a replacement flat gasket for the tail cone in addition to the large o-ring for sealing the tail cone.
Polaris Jet Pump generic Stator Bearings and Seal Numbers 1994 Thru 2004
Bearing
6304
20mm X 52mm X 15mm Wide Double sealed
Seal 30mm X 55mm x 7mm Wide with stainless spring Lip style A
Update
: The Polaris OEM bearing is a
NTN
6304
LLU
- which is a
deep groove
ball bearing
and has a higher load rating 
than a standard 6304 
as well as a double lip seals on both sides.
NTN 6304LLU 
SKF 6304-2RSH
Any 6304 double rubber seal with a medium load rating will do. 
Pick the manufacturer based on the quality you want.
www.ebearings.com
Part# 8702 C/R $2.88 each.
30mm X 55mm 07
A lip
SS Spring
.
Bearing # PEEB6304-2RS $7.25 each.
Bearings: Original part number NTN 6304UL
(2 req'd)
Replacements
: RBI (RB Tech) part number 6304-2RS/C3
Price: $16.98/ea
Seals: Original Polaris part number 3610043 (2 req'd) 
SKF
11652 is a seal of the same size but not stainless garter spring
SKF 
692377 might be the closer part number, but also without stainless steel garter spring. It is a double lip seal. Same as SKF 
11697
Daemar brand, part # 30557-DL-V
Made in Viton

How do I install the replacement bearings and seals?
If there is any question about the health of your impeller stub shaft seals and bearings, now is the time to change them
. You will need an impeller removal tool (under $20 from eBay,
$10 from Overtons
).
Instructions for removing the impeller and changing the seals and bearings are in the service manual.
When properly assembled, the internal spacer between the bearings does not
press
against the bearing races, it just nicely fits in there with no end-to-end slop.
Stub shaft O-ring locations
Note: If you want to verify how well lubricated your new bearings are
before you install them
, you can open up the side seal on your generic replacement bearings and make sure they are fully greased,
before you install them
.
Checking and/or packing a sealed bearing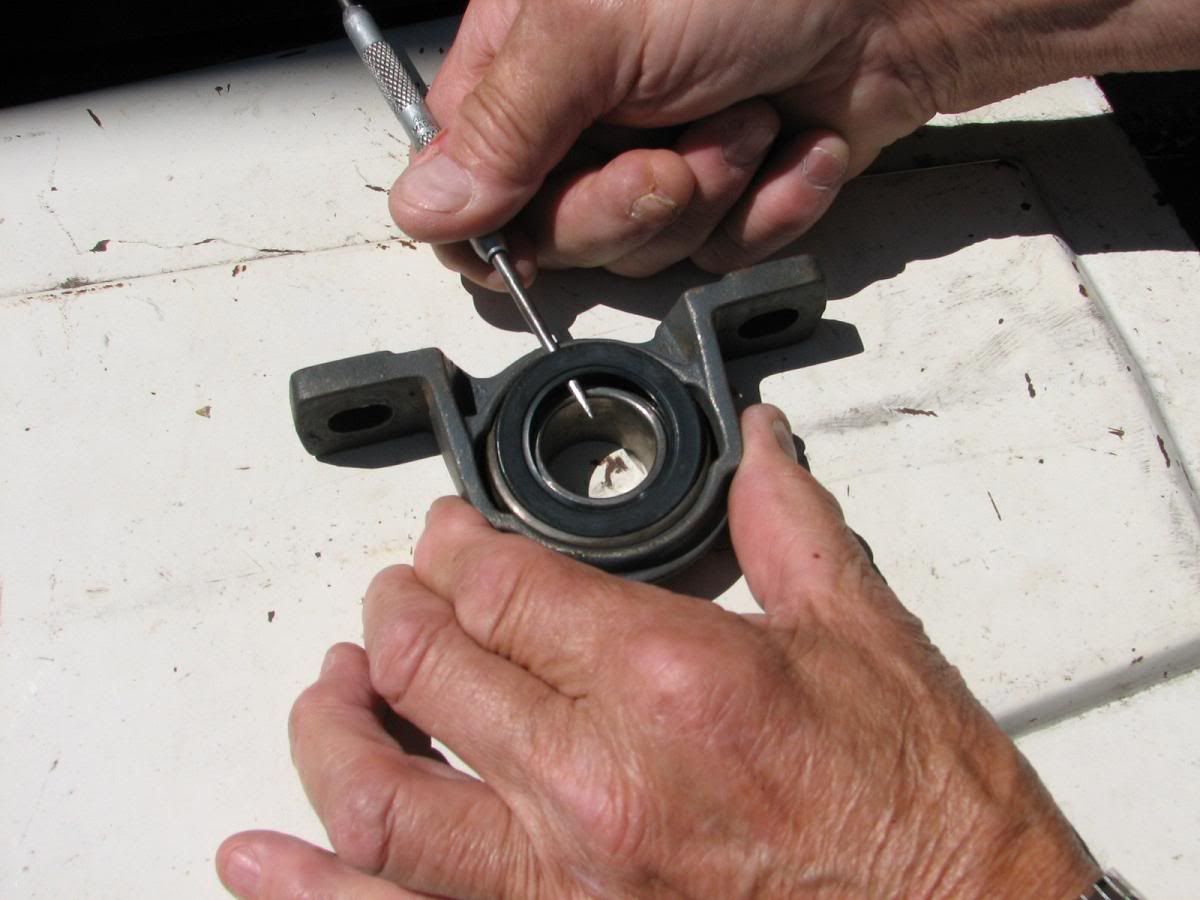 Alternative lubrication method when installing new jet pump stator bearings - the Sea-Doo style 'oil slurry' option.
"...remove the bearing cover/seals and flood the cavity with a

slurry

of grease and thick oil..."
---
Jet Pump Assembly & Parts Swapping
Make sure you connect the steering cable correctly to the steering nozzle. The steering cable end sits
on top
of the nozzle arm, with the bolt going downwards
through the flat washer
, then the steering cable end bushing, then through the hole in the steering nozzle arm. A self-locking stainless steel nut tightens the bottom of the bolt.
Make sure the cable end piece is fairly close to horizontal, not twisted. Loosen the lock nut on the cable to adjust the cable end, then re-tighten. It is normal for the cable end to twist slightly as you move the steering back and forth. You just want it to not be binding from being rotated too much when the steering is set to 'straight ahead'.
Do
not
put the steering cable
under the nozzle steering arm.
Click here for an example of the incorrect installation
, which stresses the steering cable and can break the cable where it passes through the hull.
If your steering cable has broken at the plastic cap for the through-hull cable fitting,
here is one way to repair it.
---
Jet Pump Upgrades, Special cases
Jet pump exit nozzle wedges
The pump wedge changes the exit force angle of the water jet, pushing the rear down and lifting the nose higher. 
This generally provides better top speed, but can aggravate porpoising on the shorter hulls unless a longer ride plate or trim tabs are in place
Wedges exist in angles from two degrees to eight degrees 
Polaris only made 2 aluminum wedges and they were painted black (one is a 4 degree wedge, the other a 'twisted' 5630564 wedge (which is junk).
All the other factory 4 degree wedges were plastic.
The 2, 3, 5, 6 degree wedges were sold separately and not painted
3 Degree Wedge Polaris Part# 2900078
(
2 and 3 degree wedges may be close to optimal on the short SL hulls
)
Six degree wedge sources
 Polaris OEM PN was 2900077
---

Six vane Stainless Steel jet pump stators

For any jet pump using the original five vane aluminum stator you can upgrade to a six vane SS stator. These stators provide better jet pump efficiency and are much stronger and tougher than the aluminum stators.
The six vane SS stators (5132088) are a direct drop in replacement for the aluminum five vane stators (5130983 ?).  
Unless the 6 vane stator you buy happens to come with NEW bearings and seals, I suggest you install
new
seals and bearings. Not expensive or hard to do, and worth it to know they are all fresh. The stub shaft and internal spacer from your old stator will swap over to the SS stator, as will your impeller and impeller spacer.
I suggest also installing a new O-ring (5410819) for the tail cone, and a new tail cone flat gasket seal (5811984).
Note: There are actually
two versions of the six vane SS stator.
The first version
was manufactured
for Polaris by Skat-Trak (5131711, OEM on
some
1998 Pro 785, also on 1999 Pro 785, SLX, SLTX, SLTX-B/X-45)
The other was made
for Polaris by Asia
Trend (
5132088, 1999 Genesis and all 2000-2004 high output models),
---
High performance SS stators with 7, 8 or 12 vanes
These are generally only used with high output engines or rough water configurations. These do drop right in in place of the normal stator, but sometimes the impeller must be altered or changed, or the spacer behind the impeller changed, to avoid contact between impeller blades and the stator vanes.
SS 8 Vane   2900081
SS 12 Vane  2900080
---
Note: 1995-1996 SLX780, 1996 SLT780 and 1996 SL900 models came with an unusual 'twisted' pump wedge (5630564),
3/4" angled stator tail cone Extension (5131245)
, and 3/16" longer water tube (5131166)
These parts were intended to compensate for a tendency of the aluminum five vane jet pump to curve to the right even when steering straight ahead. Replacing the stock 5-vane stator with an upgraded 6-vane stator eliminates the steering bias, so the unusual 'twisted' parts can be replaced with standard pump parts. Note that the extra length of the 5131166 water tube means the tube must be shortened or replaced if the twisted pump wedge is removed or changed to a regular wedge. If you don't correct this, you will crack the pump nozzle water tube fitting when you tighten the long pump bolts.
Twisted pump wedge not shown