The official editions of Plato and Aristotle that are used for this course are as follows.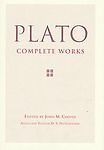 Plato: Complete Works, John M. Cooper, D. S. Hutchinson, eds. Hackett (1997).
ISBN-10:
 0872203492
| ISBN-13:
978-0872203495
Library of Congress: B358.C3 1997
Without dust cover, book is bright red
  The Basic Works of Aristotle, Richard McKeon, ed. Modern Library Classics (1995).
ISBN-10:
 0375757996 
| 
ISBN-13:
 978-0375757990
   Library of Congress:
B 407 .F56 2001