Portland Israeli Folk Dance Celebrates 40 Years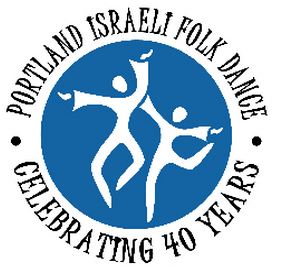 Our 40h anniversary celebration, 4/20/2013, was made possible by the generosity of sponsors, donors and energetic volunteers – and of course all the participating dancers and friends.
Thank you so very very much! We had over 200 participants dancing, learning, dining and celebrating, all to commemorate 40 years, and nod to the future of Israeli folk dancing in Portland, Oregon. The event was also part of the Food For Thought Festival and your food donations benefited the Oregon Food Bank.
Many dancers traveled from out of town including Marna Kleinman Snyder from Israel (founder of dancing at the MJCC in 1972), and Ayalah members from the '70s and 80s who traveled from the Midwest. Dancers and session leaders from the Seattle and Vancouver BC areas joined us, as well as world renowned dance leader/choreographer, Nona Malki from Vancouver, BC, and our very special guest from Israel, also world renowned, dance leader/choreographer Elad Shtamer.
To see loads of pictures see our Facebook page: Israeli Folk Dancing in Portland, Or. 
Below, is a list of sponsors, donors, special mentions, and a detailed list of volunteers. Thank you all again for the support and help in
making this event a huge success! 
Planners,
Debbi, Sue, Donna, and Avi

Event Sponsors
Jewish Federation of Greater Portland – especially Marc Blattner, Laurie Rogoway, Allison Specter, and Nicole Walters
Mittleman Jewish Community Center – especially Bethany West and Beth Germain
Major Donors
Diane Betcher
Finishing Touches by Donna Cole
David Karlin
The Kostiner Cultural Education Fund at MJCC
Debbi Montrose
Vicki Wasserman
Honored Donors
Dudi Amir & Jois Brownstein
Melba Davidson
Shannon Ellis
Bob & Mimi Epstein
Sara Harwin
Cindy Merrill
Esther Swart
Ted Scheinman
Special Mentions
Our Portland session leaders from 1972* to present:
Marna Kleinman Snyder 1972-73
Sue Kern Wendel 1973-77
Ann Fischer with Dee Wolf and Bonnie Bliesner 1977 – 1985
Hoa Brown 1986-88
Dudi Amir 1988-2010
William 1997-2004
Allison Victor 1997-Present
Robin Bacon Shone 2002-2007
Avi Tayar 2002-Present
Donna Cole 2010-Present
*and Bill Nelson early 1960s-Present


And thank you to Allen Levin Century Catering and
Oregon Jewish Magazine – especially Deborah Moon and Amy Kaufman
Volunteers
Dudi Amir – Oldies Session Leader
Roz Andronescu – Photography
Jeffrey Baker – Greeter
Diane Betcher, – Portland Israeli Folk Dance History, "Why We Dance"
Bonnie Bliesner – Greeter
Myra Coblens – Registration
Sarah Coblens – Registration
Todd Coblens – Greeter
Zachary Coblens – Registration
Donna Cole – Planner, Logo design, and Oldies, Partners and Party Sessions Leader
Warren Cole – Portland Israeli Dance Website
Sarah Cole & Jen Keene – Greeters
Dinner Program Dancers – Allison's Ai Ai Ai Dancers, Joanna's group, Melba's group, Rachel and Dorice's Teen/Young Adult dancers
Gary Fox – Historical books display
Deborah Freedman – Portland Israeli Dance CD's
Yafit Heyman – Decorations
Dorice Horenstein – Teens, Young Adult Session Leader, Rondo Leader
Ruti Kenan – Families Session Leader, and children's performance at dance party
Debbi Montrose – Planner, home hospitality
Alan, Elise and Jeremy Montrose – Technical help, dinner slide show
Tamara Patrick – Decorations, flowers
Arlene and Ravid Raphael – Greeter and Dinner MC
Duane Robbins – Technical and sound equipment support
Ronnie Schechter – Water bottles donation
Gary Sherman – All-day Greeter and assisting
Elad Shtamer  – Energetic participation throughout
Eric Singer & snack helpers – All-day snacks
Rachel Stern – Teen/Young Adult Session Leader
Candi Swan – Facebook
Susan & John Swank, Michelle Jaeger – Greeters, Registration
Avi Tayar – Planner, Partners Session Leader, home hospitality
Allison Victor – Newcomer Adult and Party Sessions Leader
Sue Wendel – Planner, outreach & publicity
Peter Wendel – Technical support
Max & JoAnna Wendel – Helpers
NOW, ON TO THE NEXT 40 YRS!!