September 19 2015.
Hi all. Just want to show you a new I2S-DAC that plays without any problems with the latest version of piCorePlayer.
It is a newly build version using a Sabre E9023 chip. It can be purchased from http://www.audiophonics.fr/.
I like it very much. The sound is very good but also if you notice they have build it so that the connectors are pointing in the same direction as the USB and LAN connectors. 
This will make it so much easier to put this combo into a nice looking case.
September 13 2015
Thanks to all your bug reports Greg and I are releasing a new version. piCorePlayer1.21b
Changelog:
The update process required a reboot in order for the I2S-DACs to be loaded. Resulting in "squeezelite not running" after first boot - this is now done automatically the first time you start after an in situ update.

This also fixed a host name problem.

The newconfig.cfg file was not removed after an in situ update, which probably is the cause of some of the inconsistent problems we are seeing - should be fixed now.

Alsa is patched to 192 kHz again.
September 10 2015.  
NEW piCorePlayer1.21a READY.
But first I owe you all an apology. Unfortunately all 1.21 users will find that you are unable to do in situ update - sorry about that. 
If you are using version 1.21 Y
ou will need to burn the 1.21a img directly to the SD-card. 
If you are running piCorePlayer 1.19 or older you can update from the web-pages as always. 
Changelog:
Kernel updated with the most recent fixes (4.1.6) especially this https://github.com/raspberrypi/linux/pull/1125 which I think indicate that the kernel is ready for fbtft users.

Build with fbtft support - (module package will come later).

host name setting is fixed (now a reboot is needed in order to change host name).

Hiface USB module included.

Build with IRDA support - modules still need to be included in a separate package (will come later).

Various bug fixes related to wifi, ALSA settings, in situ update etc.
PS: If you are comfortable editing a file in piCorePlayer you can fix the in situ update problem in version 1.21. 
Otherwise you simply download piCorePlayer1.21a_RPi or piCorePlayer1.21a_RPi2 and burn it to your SD-card.
Find and edit line no 59 using vi editor in the insitu.cgi file located here: /home/tc/www/cgi-bin/insitu.cgi

sudo -P "$UPD_PCP"/boot "$INSITU_DOWNLOAD"/"$INSITU"/"$INSITU"_boot.tar.gz

sudo wget -P "$UPD_PCP"/boot "$INSITU_DOWNLOAD"/"$INSITU"/"$INSITU"_boot.tar.gz
August 31 2015
May 17 2015
New version 1.19l ready for both the original RPi as well as the new RPi2
Timezone settings survive an update - FIXED.
Increase in boot speed (if not using wifi)
Issue: Still not save your custom ALSA settings after an update - we have it fixed now for the next version.
May 14 2015
April 15 2015.
Marts 3. 2015
Finally, piCorePlayer is 1.19 released. 
Actually there are to separate releases as we need a version for the older Raspberry boards and a version for the new armv7 version of the raspberry board (RPi2).
Greg and I have been working hard on improving the experience when using piCorePlayer. 
In addition, improvements in the wifi and autostart of Logitech Media Center (LMS) have been included. The autostart feature of LMS means that piCorePlayer is able to start playing one of your favourite radio stations after you boot is.
In order to use it on a RPi2 you will need to burn the image to a SD-card - and then piCorePlayer with analog output should be found in your network within 20 sec.
If you already are using piCorePlayer you can update piCorePlayer from the "main" web page.
November 2, 2014
October 27 2014
Small update to piCorePlayer1.18a:
October 7 2014:
In order to use these cards in piCorePlayer 1.18 you will have to use the HiFiBerry or Sabre ES9023 setting on the "Squeezelite Settings" page:
*****************************************************************************************
October 7 2014:
******************************************************************************************
September 30 2014.
August 24 2014
Development of piCorePlayer is now strengthened as Greg Erskine is part of piCorePlayer. He has rewritten all the web-pages and cgi-scripts. 
June 8 2014
I'm happy to announce that this will be the last time you will have to burn piCorePlayer to your SD-card, as in the future you can update your system without needing access to your raspberry: 
May 7 2014
May 4 2014
Sorry for the disaster with the piCorePlayer1.15c - It played very well using USB - but I did not test anything else - and as you all know it was inferior in all other aspects. So I'm removing it from download.
kernel updated to 3.14.2 with the latest USB-fixes, it plays via USB at least as good as the 1.15c version.
Analog audio is working
I2S-Audio cards are working
WiFi is working
HDMI is working (I hope please test)
This is probably the best piCorePlayer ever.
Now I will focus on developing some sort of in situ update of piCorePlayer, so we don't have to have access to the player when we want to update.
/Steen
May 1 2014
Changes:
Improved memory flow in the raspberry kernel and firmware now enabling DMA_CMA. The problem was that when 

the USB DMA engine fetches data for transfer, chunks of old 32-byte data get transmitted

, resulting in crackling USB-audio.
Now 

High-speed isochronous transactions should be accelerated as well - so those of you with USB-DACs that had problems, please try this version and report your findings.
April 28 2014
Please try the new version: 
piCorePlayer1.15b.  I really hope those of you having trouble with your USB cards will find this version better.
Updated the raspberry firmware to the so-called "Next" branch which should help fixing USB audio problems
Added these start-up command to the cmdline.txt file which enable the new USB-driver:
dwc_otg.fiq_enable=1 
dwc_otg.fiq_fsm_enable=1 
dwc_otg.fiq_fsm_mask=0x1
Unfortunately I was unable to use dwc_otg.fiq_fsm_mask=0x7, which should help High-speed isochronous acceleration - it produced constant crackling noise using USB audio.
Changes:
fixed the script that did different stuff after reboot - now the errors of not finding specific files are not displayed anymore.
April 26 2014
Changes:
Kernel updated to 3.14.1 - which should have improved USB-audio playback? Please report.

added missing firmware for TP-WN725 v2 wifi adaptor - sorry for that.

removed power saving option for Edimax wifi (8192cu) - so hopefully it will now stay on forever.

Fixed the option to skip the wifi connection during boot if Wifi has been disabled.
April 17 2014
Please try the new version piCorePlayer1.15.
Changelog:
Support for the IQaudIO I2S DAC
Added the power settings suggested by Fiatelis
Added the script provided by Randy for saving the content of wifi.db if you setup wifi using the old piCorePlayer script in the config.cfg.
Hopefully HDMI will be able to stream up to 192 kHz - will need testing.
Kernel updated to version 3.14.0
Added option on the Wifi config web page to disable WiFi. This will allow faster booting if you don't need WiFi as you then won't wait for time out of the WiFi script.
Marts 24 2014
Fixed a bug with dwc_otg.speed - so there was no effect of the tweak. If you had problems with pops and clicks then the tweak would have had no effect. Please try the new version.
Squeezelite updated to version 1.16

Fixed Triodes download link to version 1.6 - so now both Ralphys and Triodes squeezelite builds are up to date.
Marts 24 2014
Bug fix version - a firmware problem with Ralink wifi adaptors
Marts 24 2014
Minor bug fixed - if you had CODEC in your ALSA settings piCorePlayer would crash - fixed now
A new option. If you provide a configuration file: newconfig.cfg in the FAT partition it will be copied and used for configuration - and then deleted. You can easily add this file to the FAT partition from any computer with a SD-card reader. You can use the web-GUI to make the newconfig file from a working piCorePlayer
Marts 22 2014
wifi packages from microcore improved (fixed problem with

 

TP-Link WN725n (Realtek r8188eu firmware)) - thanks to bmarkus from the microcore forum.

Fixed that I forgot 

smsc95xx.turbo_mode=N

 in cmdline.txt (might improve USB-DAC problems with clicks and pops)

Support for a new I2S DAC (Sabre 9023) like this one: http://www.audiophonics.fr/audiophonics-dac-sabre-es9023-i2s-vers-analogique-24bit192khz-p-8396.html Thanks to Jean Beauve and Audiophonics for making this possible - (up to 24bit 192kHz) - is playing very nicely on the piCorePlayer.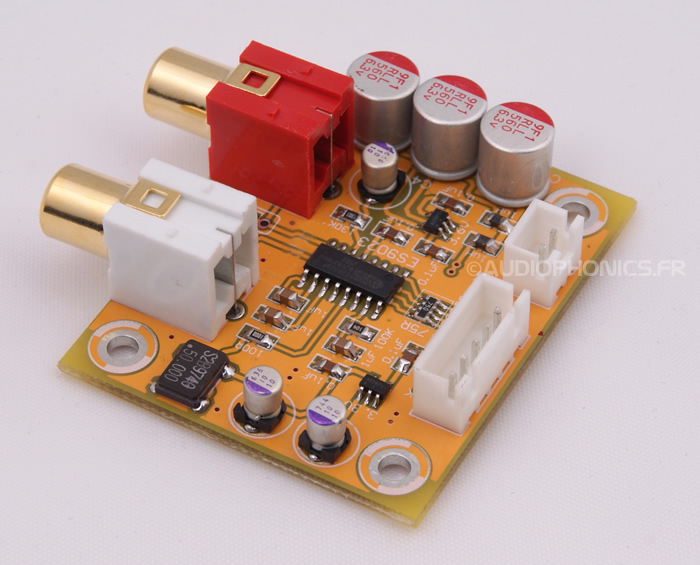 Marts 16 2014
Kernel updated to 3.13.6

wifi packages from microcore improved

wifi script improved in piCorePlayer

now space is allowed in SSID name
Marts 9 2014
Kernel updated to 3.13.3
piCore updated to 5.2
So Now it supports both the analog HifiBerry DAC as well as the digital HiFiBerry Digi.
The sound quality of piCorePlayer1.13 and the new HiFiBerry Digi is perfect I tested it up to 192 kHz Flac.
/Steen
Marts 3 2014
It is the same kernel, but has some bugfixes and some nice additions to the web-GUI.
Bug fixes:
1. Now use dos2unix on the file newconfig.cfg on the USB stick, so that it can be used as config file for piCorePlayer (Thanks to Gordon for the suggestion)
2. Now saves the newly copied config file from the USB stick, so that it survives a reboot.
Improvements:
1. In the "Main" page I added an option so you can save your current config file to an attached USB-stick. Will be save as "newconfig.cfg" so you can use it directly after an upgrade or in another piCorePlayer.
2. In the "Tweak" page, added an option to toggle "dwc_otg_speed=1" on and off in your cmdline.txt file. This has been suggested to solve some crackling noise from certain USB-DACs (especially USB-DACs based on the C-MEDIA chip)
February 22 2014
-Fixed a bug about starting WiFi after reboot - just missing a stupid ";" was enough to break the logic in the start script. Sorry 
February 19 2014
-Fixed a bug about starting HDMI after reboot
February 18 2014
1. HDMI streaming now once again possible with 192 kHz
2. Various improvements in the web pages (now the radio buttons show your selected output)
3. The start of wifi, dropbear and squeezelite after reboot has been rearranged.
4. A bug in saving the SSID and password for wifi has been fixed.
5. Kernel updated to 3.12.9
6. Firmware updated (Should have fixed some HDMI and USB audio problems)
February 4 2014
 - Fixed the bug with not saving the HOST name after a reboot
 - Fixed a few other not saving bugs.
 - Fixed a few graphical glitches
OBS. piCorePlayer1.11 is still only able to play up to 48kHz via HDMI - I'm looking into this and hope to fix it soon.
February 3 2014:
piCorePlayer1.11b
is ready - it is the same as piCorePlayer1.11 where some bugs have been dealt with, get it from the 
"Download section"
. 
.
Here the following bugs have been removed:
 - Now saves all your changes
 - Now squeezelite reliable starts after a reboot
 - Now the overclocking options are saved and used
 - All options are used (the codec selection was not used before)
 - The reboot page has been changed, in order to avoid accidental reboot 
 - The pages will refresh when using the "back" button in your browser, so your selected options are shown
February 1, 2014

It is piCorePlayer version 1.11 it is a major rework as it now has a build in web-server, so you can control the settings via your browser.  
Simply use the IP-address of the raspberry and port number 8077.  Something like 192.168.1.24:8077   And then it should be fairly simple to change the settings of your player.
I have only used a very small web-server with CGI support and bash scripting, so it is very lightweight and I haven't seen any negative impact on a running system.
It has support for the I2S HiFiBerry DAC which is based on a 5102 chip and a recent report stated that it also supported another I2S DAC based on the ES9023 chip.
The I2S DACs are working really well, as they don't connect via USB which sometimes can be problematic on a raspberry. 
I suspect that more I2S-DACs will become available, and if I have access to them, I will try to support them in piCorePlayer
Changes:
HDMI
For those of you using HDMI, I have incorporated the suggestions by 
Burki:
[CODE]hdmi_drive=2                                                         
hdmi_force_hotplug=1                                                           
hdmi_force_edid_audio=1                                                        
hdmi_ignore_edid=0xa5000080[/CODE]
And also the suggestion from Pete:
[CODE]amixer cset numid=3 2
[/CODE]
So hopefully the HDMI output will be fixed. Also I have patched the kernel, so now I think that you should be able to get 192.000 kHz via HDMI again.
But please test this HDMI stuff, because I'm not using HDMI myself and it is difficult for me to test it properly
New configuration option:

You can log into piCorePlayer as usual (user:tc  password:nosoup4u) and write picoreplayer. Then the old configurations script is still there (here you can also disable the web-server if you don't want it)
However, I would like to hear your opinion on the new configuration via your browser:  use IP-address:8077  something like 192.168.1.23:8077  (this is my IP address, yours will be different).
Tweaks section:

Here you can play with changing the number of NR-packs. Change the hostname of your player and change your overclocking settings (it can have an effect if you are using USB-DAC's)
About section:
Here you can easily see what version of piCorePlayer and Squeezelite you are using.
Also the content of your config.cfg file is shown.
NEW option:

In order to make it easier to port your settings to another piCorePlayer (and also to change your settings offline) I have made a file "newconfig.cfg" which you can download from here: 
newconfig.cfg
If you place this file on a USB stick that is present during booting of your piCorePlayer, the file newconfig.cfg, will be copied and used as the config.cfg file on the piCorePlayer.
It has been suggested that I should put this file in the FAT-formatted partition on the SD-Card, and I might do that in the next version. But for now you need to put it on a USB-stick that is present during booting.
Please report all the bugs, and suggestions for improvement. 
Steen
*************************
January 4, 2014
piCorePlayer 1.10 is ready
Hi all, I'm happy to announce a new version of piCorePlayer, which is a major improvement over previous versions. 
It is build on cutting edge linux kernel 3.12.6 which have support for I2S-connections. That means that you will be able to let the DAC communicate directly with the raspberry. There are already a few I2S-DACs available, however at the moment piCorePlayer only support the
HiFiBerry DAC
, you can read more about 
HiFiBerry
. 
This kind of connection is much better than the USB-connection, so I suspect much better results using these kind of DAC's compared with USB-based DACs
In order to support the other I2S-DACs I will need access to them, and at the moment only Daniel from
Crazy Audio
gave me access to a prototype of the HiFiBerry DAC. I have been playing with it for a few days and I really like it. It fits nicely on the Raspberry and the audio streaming from it is nice to listen to.
If you would like other I2S-DACs supported please donate and indicate which one I should focus on. 
Furthermore, I have included support for more WiFi-adaptors and this time I feel confident that several of the Ralink adaptor should work - so please report your findings.
Ralphy is supporting piCorePlayer by building the newest versions of Triodes squeezelite with build-in support of WMA and ALAC together with upsample support. In addition, piCorePlayer can update the squeelzelite directly from Ralphy's server.  So thank you very much for that. 
Finally, I have almost finished building a small WEB-based configuration menu, so within a few days I hope to release a new version (where the only difference will be the inclusion of a small WEB-server to easily configure the piCorePlayer)
This release has been the most difficult one to make - so I hope you will enjoy it.
Steen
.......................................................................................................................................................................  
November 21 2013:
piCorePlayer 1.09 is ready. 
EDIT 22 november - the first version of piCorePlayer 1.09 was corrupted - please download again

Changes:
Thanks to Ralphy you can now play WMA ald ALAC audio files, and possibly do upsampling on piCorePlayer as well.
Libfaad, libffmpeg and libsoxr are now included and enabled together with Ralphys squeezelite which is compiled with support of upsampling using the libsoxr resampling library. This allows squeezelite to upsample the output to the highest sample rate supported by the output device.
This version have built in pcm (wav/aiff) decode plus flac, mp3, ogg and aac via libFLAC, libmad/libmpg123, libvorbisfile, libfaad and includes support for wma and alac decode via the ffmpeg library.


Update of squeezelite, now downloads from Ralphy's squeezelite page

Added option to define upsample settings in menu (untested)

Bugfix:

Menu script had an error and has been fixed


Changed default settings for analog output (better sound quality with high samle rate Flac files)


November 11 2013:
piCorePlayer 1.08 is ready.
Changes:
-stupid mistake from my side (I forgot to include the libmad package, so no MP3 support)
piCorePlayer 1.07 is ready.
- updated kernel to rpi-linux-3.11.5
- better picoreplayer script, so now it is much easier to change the Squeezelite settings, like name etc - and you can see what the current settings are.
- more wifi adaptors are supported (I think that most the Ralink adaptors are working now)
- better wifi script (thanks to  

Randy McEuen who made it possible to save non-protected wifi's as well)
- The new version is larger than usual, as this has been requested by many who wanted to add extra packages to the piCorePlayer. If needed I can provide a smaller version. 
BIG thanks to 
Randy McEuen who helped by beta-testing the new version and also provided a valuable patch to the wifi.sh script in the microcore community. 
July 31 2013
piCorePlayer 1.06 is now ready.
I have disabled the automatic resampling in ALSA (the Dmix option), so now it play 44.1 and 48 kHz audio with the correct sample rate.
July 30 2013
piCorePlayer 1.05 is now ready.
It plays all sample rates from 44.1 to 192 kHz via HDMI.  Please use this string if you use HDMI:     -a ::32:0
I have included rt2800.bin, so hopefully more wifi devices are supported
I have updated ALSA to version 1.0.27.2
July 24 2013
piCorePlayer 1.03 is now able to handle both low resolution (44.1/16) as well as high resolution (192/16) via HDMI
(I hope)
July 22 2013  
OBS - both piCorePlayer version 1.01 and 1.02 have problems with 44/16 and 48/16 files via HDMI, whereas 88/24, 96/24 and 192/24 are playing fine. I'm looking into this issue, so if that is important for you, please wait for a new version.
New menu which makes it easy to use audio out via HDMI. I have tested it and it is working fine with 192/24 flac.
July 21 2013
piCorePlayer is updated to version 1.01
1. I have increased some of the buffer settings in the HDMI part, so hopefully you can use 192 kHz through HDMI (piCorePlayer could use 96 kHz whereas higher sample rates resulted in crackles and noise). Please test because I have no equipment to test it with.
2. Kernel updated to 3.9.10+ which include more USB fixes.
3. I added some extra files which might be important for the function of various WiFi dongles
June 16 2013
PiCorePlayer version 1.0 is ready and you can get it from the
download page
.
High resolution audio through HDMI:
Thanks to the suggestion from
giantpopples from the squeezbox forum
and the work by 
tghewett from the raspberry pi forum
 it is now possible to stream high resolution audio through the HDMI cable. Before the raspberry pi would down-sample everything to 48 kHz. But we modified the bcm2835-pcm.c and build the kernel. Now it is possible to stream 88.1 kHz and 96 kHz through HDMI. It might be possible even to use up to 192 kHZ, but I have not received any report on this.
Original:
                .formats = SNDRV_PCM_FMTBIT_U8 | SNDRV_PCM_FMTBIT_S16_LE,
 

    

   

    

  .rates = SNDRV_PCM_RATE_CONTINUOUS | SNDRV_PCM_RATE_8000_48000,
 

    

   

    

  .rate_min = 8000,
 

    

 

    

    .rate_max = 48000,
 

    

     

    

.channels_min = 1,
                .channels_max = 2
,
   

    

        

    

.formats = SNDRV_PCM_FMTBIT_U8 | SNDRV_PCM_FMTBIT_S16_LE | SNDRV_PCM_FMTBIT_S32_LE,
         

    

      .rates = SNDRV_PCM_RATE_CONTINUOUS | SNDRV_PCM_RATE_8000_192000,
             

    

  .rate_min = 8000,
          

    

      .rate_max = 192000,
           

    

    .channels_min = 1,
           

    

    .channels_max = 2,
Kernel:
Kernel updated to 3.8.13+ which is the special fiq_split version gsh is working on where the USB problems in the raspberry is in focus. 
Reduced size:
Once again back in small size 28 MB in all
Mild overclocking:
Other tweaks in the config.txt cmdline.txt and /etc/modprobe.conf.file     
Get maximal RAM for the processor added in config.txt:
S
low down wired LAN performance but help with wireless and reduce the frequency of the debug messages and fixes some USB-DAC audio problem

s (
Musical Fidelity V-DAC II
 and 
Hifimedia Sabre DAC)
smsc95xx.turbo_mode=n in the cmdline.txt
Fixes audio problems for some USB-DACs 
/etc/modprobe.conf.file added:
options snd_usb_audio nrpacks=1 
As usual - please report your findings, so that we can continue improving the piCorePlayer