From a wide range of outstanding artists, it is hard to pick only one of photographers. The choice of a specific photographer laid amidst photojournalists, surrealists, pictorialists, candid photographers and many other styles. During the research, I observed a famous picture of American sailor kissing a woman in Times Square that brought recognition of society to its author - Alfred Eisenstaedt. 
    Alfred Eisenstaedt or "Eisie" as friends called him, was born on December 6, 1898 in Dirschau, West Prussia. When his uncle presented him a camera for his 14th birthday, Alfred was not encouraged with photography. However, after serving in German army during World War I and bankruptcy of family business, Alfred's interest in photography was revived. Starting from Ermanox camera  and till first Leica 35 mm camera, Alfred made perfect candid photos of writer Thomas Mann in Norway, a royal wedding in Italy, meeting between Hitler and Mussolini, which served as background for the news articles in magazines. Because of oppression in Hitler's Nazi Germany ( Eisenstaedt was Jewish), he emigrated to the United States in 1935, where he started snapping pictures of famed movie stars and amusing pictures of waiters on ice, everything that brought him joy in his native surroundings. 
Notable Eisenstaedt's photos are: 
- V-J Day in Times Square, 1945 (V-J Day) 
- Waiter on Ice - Skates at the Ice Rink of The Grand Hotel, St. Moritz, 1930 (Ice Skating Waiter) 
- Portraits of Sophia Loren, 1961 (Portraits of Sophia Loren) 
- Children follow the Drum Major at the University of Michigan, 1950 (Children follow the Drum Major) 
- Marilyn Monroe at home in Hollywood, 1953 (Marilyn Monroe) 
- Children at puppet theater, Paris, 1963 (Children at puppet show) 
- Future Ballerinas, 1936 (Scene at the School of American Ballet) 
- Albert Einstein, Marlene Dietrich, Bette Davis, President Bill Clinton, Senator John F. Kennedy, Winston Churchill, Clark Gable, Bill Cosby, Katharine Hepburn, President John F. Kennedy, Actress Gypsy Rose Lee, Alec Guiness, Dr. Joseph Goebbels, Dr. Martin Luther King Jr. and Kenneth Kaunda, Frank Lloyd Wright, George Bernard Shaw, and many other well known and not famous personalities (if you would like to see Alfred's collection of photographs, proceed here). 
1. Kiss or V-J Day 
 Alfred Eisenstaedt (V-J Day)            Konrad Bratke (Iconic Kiss) 
Going Places Near and Far Blog (here)                         Debra L Rothenberg (here)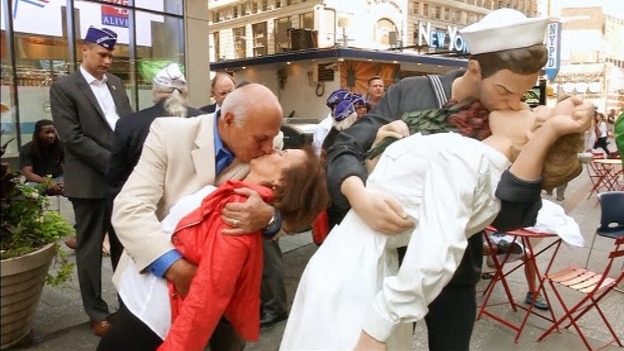 Unknown photographer (here)       RTV (here) 
Robert Doisneau (here)                                         Henri Cartier- Bresson (here)
The impact of Eisenstaedt photo's was so enormous that its subjects were embodied into the 3D dimension in the form of two identical 25' statues, one in San Diego, California, and the other in Sarasota, Florida. The essence of Kiss picture reflects American joy and relief after the announcement that century's deadliest and most devastating war was over. The main similarity of these photos concluded into a couple kissing, surrounded by passers amid "the hustle and bustle" of a street. Conversely, pictures of Alfred Eisenstaedt, Robert Doisneau and Henri Cartier-Bresson differ with poses and personalities of subjects, time and locations of kisses occurred. So we can not say that pictures look alike, but we can notice that the idea of candid photos is unique. Still nowadays people are trying to become look like a couple from Alfred's photo, demonstrating passion and fervour of their feeling through the same pose and gestures of illustrated sailor and nurse. The significance of photographs is about spontaneity of these occurrences, because people are not planning the time and pose to kiss each other, until they are not actors. Thus, catching a moment when two persons express their feelings in one romantic kiss is a challenging task. 
2. Celebrities
 Marilyn Monroe by Alfred Eisenstaedt (here)        Sophia Lauren by Alfred (here)      Frida Cahlo by Nickolas Murray (here)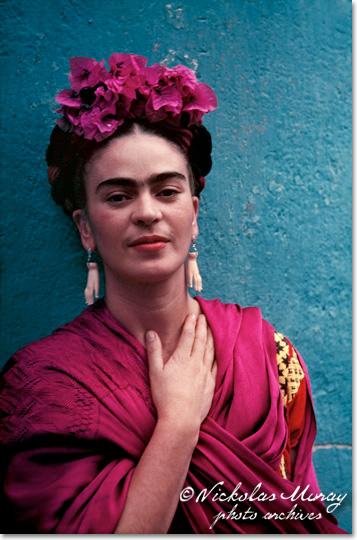 Marilyn Monroe by Alfred Eisenstaedt (here)             Sophia Lauren by Alfred  Eisenstaedt (here)               Frida Cahlo by Nickolas Murray (here)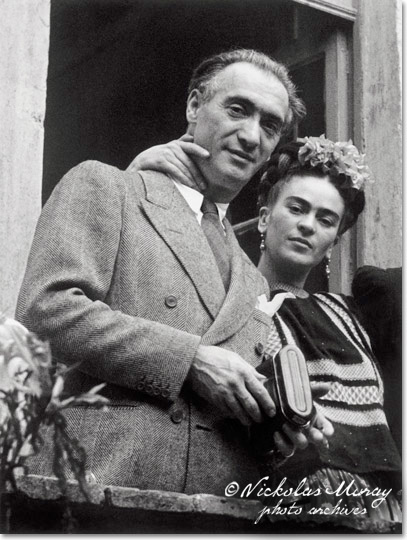 Marilyn Monroe by Alfred Eisenstaedt (here)             Sophia Lauren by Alfred  Eisenstaedt (here)               Frida Cahlo by Nickolas Murray (here)
Alfred Eisenstaedt and Nickolas Murray were also recognized as important portrait photographers, and their subjects included most of the celebrities and important peoples. Seems like, both photojournalists valued the beauty of a woman in their own way. However, some people might not love Marilyn's portraits, others might not be fond of Sophia's, while another might think that Frida has nothing to associate with beauty. But, we can see how charming women can be in those photographers' camera lens. Without anything on background, only focused on face features, Alfred and Nickolas transmit the fascination and charm of  their muses. From these photos viewers can observe a power, splendour and solicitude of women and their beauty; especially, from the third row of photographs, where models are together with their photographer, we can see how tender and close their relationship were. Technically, both photographers possessed 35 mm lens camera that time and may shoot coloured and B&W pictures. Both of them have learned in Berlin and then emigrated to USA. Moreover, for many years, actresses considered their photographers as part of themselves, as friends and even as family part. 
"When I met Eisie it was really a love at first sight. He became my shadow. 
But he never tried to interfere in my life" Loren recalled. 
Muray and Kahlo were at the height of their on-again, off-again, 
ten-year relationship when these pictures (above) were taken.
I think there is no difference between those techniques of Alfred and Nickolas, in terms of portrait photography. Furthermore, I would say that Alfred and Nickolas lived and made their careers as photographers at the same time, therefore there were no impact on each others work. However, I believe that Alfred had a big influence on photographing Marilyn at her early career rise. Life magazine's editor states that on Alfred's photographs Marilyn "looks like a beautiful young woman evidently, and perhaps momentarily, at peace with herself and her place in the world". I can say the same thing about photographs made by her make-up artist Allan "Whitey" Snyder on the following photos: 
 Allan Cynder (here)
3. Kids
Alfred Eisenstaedt (here)                                              Maureen Ruddy Burkhart (here) 
    More than 50 years, Eisenstaedt captured the thrill, the shock, the shared triumph-over-evil that the children feel at that moment when Saint George slays the mythical beast, without hiding their emotions. The same happened, when schoolchildren were celebrating their victory in festival. Pictures tells us, is an innocence that can remind even the most jaded of what it was once like to believe, to really believe, in the stories that unfold before our eyes. The only difference between those two styles is a type of photography. On photo of Eisenstaedt, viewers may assume that children did not pay attention to the photographer; also the style of photo considered to be as candid one, because author waited for this moment and captured it right away. While on photo of Burkhat, children in Kenya were aware about presence of photographer and were so happy to win the competition, so that they forgot about her; also Burkhat's photo is considered to be documentary. The other little difference between them is a focus of camera: on Alfred's photo, it is right at the faces of kids, on Burkhat's it is decentralized (spread) amongst kids. Overall, two pictures transfer some childish carelessness being distracted by some important event in their lives. I think that was one and only reason to capture such a moment. 
4. Ballerinas
Alfred Eisenstaedt (here)                                             Maria Helena Buckley (here) 
    Ballet routines and rituals might be strikingly familiar to society, we know that ballet dancing is a hard, steady, painstaking job. From photos of Alfred and Maria of ballet dancers we can see that at the most elemental level, some thing in ballet really do not change, meaning artists' rehearsals, feelings, concerns, and concentration. The intimate pictures in this gallery celebrate the many ways in which ballet, as an art form, has resisted change: a plié is ever a plié, and a dancer should still turn the legs out from the hips, rather than from the knees.  Through those pictures, photographers wanted to deliver the atmosphere of preparation to hit the stage at the theatre. Though, Maria's photo appears to be more modern, even she applied some alterations to give a photo a little "mystery" effect. On the other hand, we can see Alfred's simplicity in capturing his ballerinas, with usage of only lightening and shades. Both photographers did not attract ballerinas' attention and most of them did not look aside on cameraman.  I think that Maria might had a look on Alfred's composition of ballerinas, since his collection is recognizable among photographers' circle, and made some efforts on capturing ballerinas in his style. But, it is worth to mention, that Maria Helena Buckley has education in ballet category and have been a soloist in ballet theatre, and right now, she is specializing in freelance photographer. 
5. Triptychs
 Eisenstaedt (here)  
 Michael Putland (here) 
Triptych is a popular style to represent photographs these days. Michael Putland is a photographer of thousand artists and creator of cool triptychs. Triptych is a work that consists from variant images on a theme, or may be one large image splited into three related pieces. In case of Alfred's photo made at Premiere in La Scala theatre, Milan, viewers can notice great auditorium full of spectators. In the foreground of Alfred's photo we can mention the figure of a woman, who turns sideways during these three frames. Similarly, on Michael's photo we can observe Mick Jagger, who turns from side to side, obviously laughing and probably talking about something. I would say that the main difference between those pictures is a concentration of camera on different directions. For example, Alfred captured the half of an odeum and focused only on one particular person, sitting from the edge of it. While, Michael focused camera on Mick's countenance, and centralized his gestures and appearance.  In addition, I can say that triptychs, which were part of Alfred's style of photography, nowadays became popular amidst young generations. And I think, the reason is that photographer can express motion and action of subject in specific amount of captures, highlighting aspects of movements and bringing "life" effect into his/her collection. Here are some evidences of triptych's existence into social life of current generation: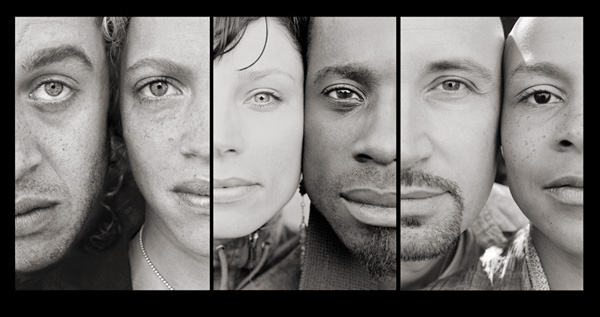 Davis Freeman (here) 
Sources: 
"Alfred Eisenstaedt" Encyclopedia of World Biography. 2004. Encyclopedia.com. Retrieved November 29, 2014 

http://www.encyclopedia.com

http://life.time.com/culture/the-hard-steady-work-of-creating-beauty-ballet-dancers-rehearse-1936/#10
http://www.capitalbay.com/latest-news1/429113-american-photographer-s-touching-pictures-of-world-s-largest-slum.html
http://www.dailymail.co.uk/news/article-2120983/Marilyn-Monroe-poses-27-trusted-make-artist-seen-pictures.html
http://www.dailymail.co.uk/news/article-2129634/Robert-Doisneau-French-photographer-centenary-birth-celebrated-Google-Doodle.html
http://www.itv.com/news/2014-08-15/veteran-and-wife-re-enact-historic-times-square-kiss-to-mark-v-j-day/
E. Halford (2009). Digital Photography School. Diptych and

 

Triptychs - 5 Prime Examples.

 

Retrieved November 28, 2014 

T. Thean (May, 2013). The Hard Work of Creating Beauty: Ballet Dancers Rehearse, 1936. Life magazine. Retrieved November 28, 2014 

 

Photographers Gallery - Alfred Eisenstaedt. Retrieved November 28, 2014 

http://www.photographersgallery.com/by_artist.asp?id=211
Children at a Paris Puppet Theater - Alfred Eisenstaedt. Sweet Juniper (February, 2009). Retrieved November 28, 2014 http://www.sweetjuniperinspiration.com/2009/02/children-at-paris-puppet-theater-alfred.html
 Behind the Picture: Children at a Puppet Show, Paris, 1963 http://life.time.com/culture/children-at-a-puppet-show-paris-1963/#1
K. Hmoong (June, 2013). Wonderful

 

Portraits of Marilyn Monroe at home in Hollywood by Alfred Eisenstaedt, 1953. Retrieved November 28, 2014 
 B. Cosgrove. 
Marilyn Monroe: Portraits of a Legend by Alfred Eisenstaedt, 1953 Retrieved November 28, 2014 
B. Cosgrove (August, 2014). V-J Day, 1945: A Nation Lets Loose, TIME magazine. Retrieved November 28, 2014 http://time.com/3517476/v-j-day-1945-a-nation-lets-loose/