Star Beach is a stylish brand new 4-star plus Holiday Resort, situated 50m from the sea in Hersonisos, 25kms east of the airport of Heraklion. The hotel is ideally located in the middle of Crete's most important points of interest, e.g. the archaeological site of Knossos, the plateau of Lassithi, the tropical beach of Vai, etc. Although it is quiet and peaceful around the hotel, Hotel Star Beach offers peace, tranquility, serenity and loads of fun all in a luxurious and unique complex.
The hotel offers spacious and comfortable twin rooms as well as family appartments.
The entire hotel is solely for the private use of the group guests
   Glatt-Kosher, Non-Gebrokts. Non Kitniyot, Matza Shmura (hand made for the Seders)
   Join us for another sucessful program with Vered Holidays
On your holiday:
• Seder: Central traditional Seder leaded by a cantor
A private Seder is possible upon request (subject to availability).
• Food and beverage service includes Full board, gourmet meals served with wines and beverages at no extra charge
• Lobby bar open 8AM to 12PM with hot and cold beverages
• 5 o'clock tea every day
• Lunch boxes for those who are traveling outside on Hol-Hamoed
• Rich Israeli breakfast
• The excellent chef of Hotel Star Beach with cooperation of an Israeli 5 stars chef will prepare gourmet meals joined by traditional flavors
• First class baker will design the beautiful and appetizing desserts
• Children and babies meals will be served earlier to adults' meals
• Sandy beaches 50m from the Hotel
• Dedicated hours for Separate Swimming (main pool)
• Sport activities such as, mini-golf, billiard, gym, nautical sports
• Daily Tfilot and conferences (in Hebrew English and French)
• Song evenings, cantorial shows and much more
• Greek evening with music and show
• Water Sports such as: canoe, yachts, sea bicycles, ski water, diving and more
• Jeep trips, sight, walking tracks, car, scooter and bike rent
    Excursion trips (for extra payment) to the following places:

The city of Heraklion and the antiquities of Knossos, the well known in the importance their heritage.

The beautiful city of Chania, the second city in her size in the island, the old quarter with its alleyways and the picturesque markets, taverns, ancient harbor and above all, the old synagogue that testifies on remnants of the oldest Jewish community in the island.

The city of Agios Nikolaios that is situated in the east the island, the famous and charming Elounda gulf and sailing to the island of the lepers -- Spinalunga.

 Prices are in Euro per person in a double room and include full board accommodation extra

| | |
| --- | --- |
| Occupant | April/8 - April/17 |
| Adult in a double room | 990 € |
| Single | 1,190 € |
| Third adult in a room | 890 € |
| Child (2-12) in parents room  | 660 € |
| Child (2-12) in separate room (minimum two)  | 750 € |
| Baby up to 2 Years | Free |
Supplement night per adult: 70 €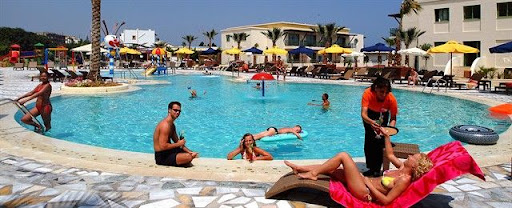 FOR MORE INFORMATION, DON'T HESITATE TO CALL.
           
 Toll free (866) 338 - 8798

                            (718) 258 - 4865 or (718) 338 - 8798 
                            Fax us at: (718) 338 - 1581
                            Mail to: tourkosher@gmail.com