Paracordist's Blog
Subscribe to posts
PLEASE CLICK "SHARE" BUTTON AT TOP OF VIDEO!
Here is the second installment of my portfolio slideshow. It contains everything the first video did, and all the new stuff up front. Please have a look and don't forget to click the "SHARE" button on top! Feel free to hit me up with questions
here
, on
Facebook
or
Twitter
!
If this isn't some of the world's best paracord work, I don't know what is. Teamwork is key within Paracordist Creations LLC, and I think Tony for his fine efforts on these #bushcraft gems! All the items shown can be purchased here at excellent prices!
[click to shop]
I'd thought I lost this sling, one of my favorites before I made all-paracord slings, but it turned up a day or two ago. This sling is made with ordinary braided (not twisted) mason's twine from the hardware store. I based the pocket size off of a template I found on slinging.org. Its the perfect all around size to throw anything from golf ball to tennis ball size projectiles. The sling braid splits in two to forum the outer pocket edges (sewn to leather with dental floss). I can't remember the specs on the number of strands, length etc. Look up "apache sling" on slinging.org becaust I think thats where I learned the basic approach. My all-paracord slings are currently for sale on this site
[click to buy].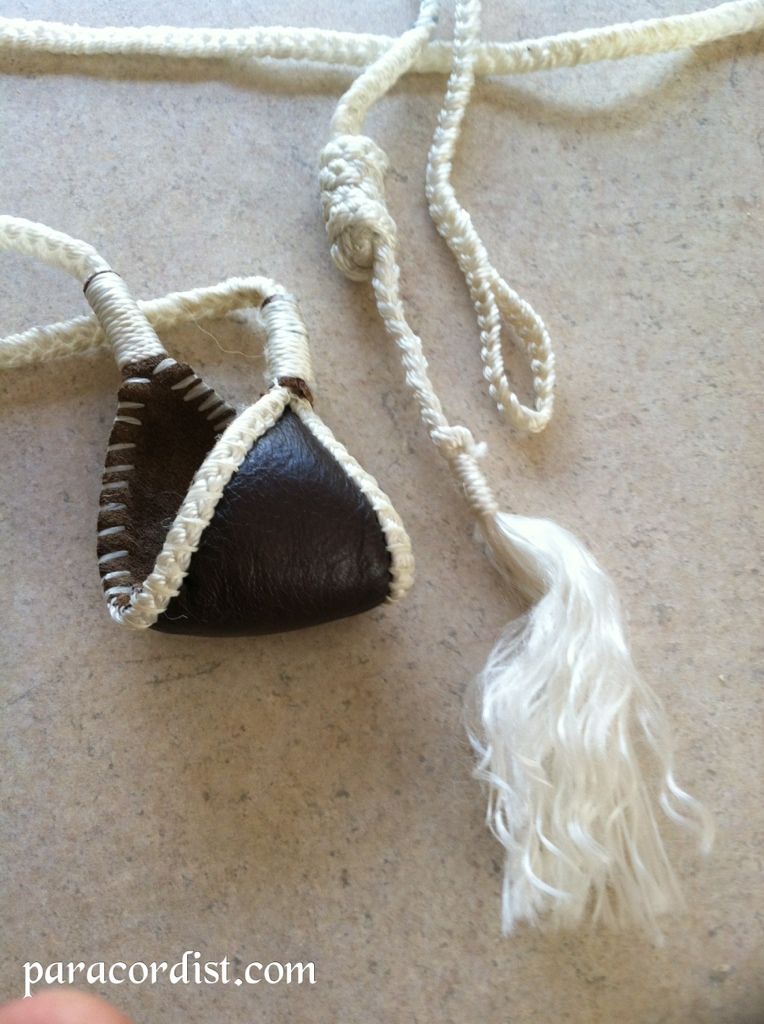 Here is a video of my dad demonstrating the jig he created and utilizes to hand ravel 100', no tangle paracord skeins for sale here on my site!
(Click to buy).
These paracord skeins can be deployed quickly without the tangling associated with machine coils.
PLEASE CLICK "SHARE" BUTTON AT TOP OF VIDEO!
Checkout this older video of mine, showing how this figure 8 style coil works!
 PLEASE CLICK "SHARE" BUTTON AT TOP OF VIDEO!
Tightening the paracord monkey's fist knot may be the most challenging part of the process, and the most critical to a satisfactory final product. Despite this fact, no one including myself had dedicated any video to the topic. By popular demand, I've made the second installment of my "two color monkey's fist" video series
(click for first part)
all about tightening the monkeys fist knot! Care and patience are key to maintaining uniformity through multiple tightening passes. Rush to finish, and you get what you get! While the video shows the two color monkeys fist, the process is the same for a solid color version (
like the one shown in my 8-pass, 1.5" monkeys fist video
).
Please
subscribe NOW
so you don't miss future parts!
This is the first of a three part video series on making the two color Monkey's Fist keychain fob. I've never seen any two-color monkeys fist how to videos, so this is my take on the process. Any similarity to someone else's approach is coincidental, and if I learn better ways to do this maybe I'll do a follow-up video. The finished keychain fob can be used in self defense applications, it can be tied to the ends of 550 cord to create a boleadora (bolas), or it can be used to weigh a heaving line for nautical and other purposes. This first video segment will demonstrate the use of the exclusive monkey's fist jig and two strands of 550 para cord to form the knot. I'll soon be following up with Part II which will show the proper tightening of the monkeys fist (a task I took for granted, but many people have requested that I film). Finally, Part III will show the formation of the doubled lanyard knot with a loop. Enjoy and as always, if you find this video helpful please click Share, Like, Favorite etc...
Please visit my Products page to see these and more unique paracord creations for sale!
Now my BSB life saving bracelet has taken on an even more important EDC role - becoming your Emergency Medic Alert bracelet. Finally, a "cool" medic-alert bracelet that has everything the BSB has, including the firesteel toggle. The front/top will have the universal medic alert symbol engraved as indicated on the photo. The back, accessible to EMS personnel upon clipping/cutting the jute at the tag, can be engraved with two lines with information such as "John Doe - Insulin Dependent". After ordering, you'll need to contact me ASAP with snug against the skin wrist measurement, and medical engraving info. The sooner I hear from you, the sooner we can make the bracelet. Please allow approximately 4 weeks from order to shipment. CLICK TO BUY NOW! Available colors include Black, OD, Tan, Woodland Camo, ACU & Orange!
I've acquired a limited quantity of these cool "D" shaclkes perfect for your DIY paracord bracelet projects. They are available while supplies last!
CLICK TO BUY
.