Pamela and David
                                                                            April 2008 Las Vegas, NV

E-pics courtesy of Barbara Alessandra
Locations: Venice and Marina del Rey

Plan B:

Our wedding didn't start in Las Vegas. We had initially planned our day in Santa Barbara for May 2008.  After a series of cursed events we threw in the towel and said screw it! We're happy to tie the knot Vegas style in the beautiful Wynn! We'll also be able to take an extended honeymoon through Europe. Everything happens for a reason =)

We've decided to get the Salon Suite for the evening and have our guests up for cocktails and cake after the ceremony. Afterwards we'll head back downstairs for bottle service at Tryst for the remainder of the evening.
This is where FI and I will meet up to see each other for the first time before the ceremony.

Reception 
Our reception will take place during the afternoon the day after our ceremony at a Spanish Tapas bar called Firefly on Paradise.They have great reviews on yelp and not many Vegas knotties have used them but the food is certainly tasty! Our menus options are:
Steak Frites
Herb Roasted Chicken
Paella
We will have pitchers of Mojitos and Sangria placed at each table for the entire time, as well as an open bar for the first 2 hours. Since we're cutting the cake the evening before, we're offering chocolate molten cake and tres leches cake as a dessert option after the lunch.

Rehearsal Dinner/Bowl-O-Rama!
In lieu of a traditional rehearsal dinner, we have scheduled a bowling party with immediate family, their guests and our bridal party.  We went with The Orleans Bowling Center, which runs a shuttle back and forth between the strip. Our package comes complete with pizza, sandwiches, cheesy decor, shoes and 2 hours of bowling. I can't wait to pull some Big Lebowski lines!



Favors
My sister is famous amongst our friends and family for her chocolate chip cookies. Growing up, we used to have late night milk and cookies whenever we had sleepovers. Our friends and family always request her tasty treats so I'm sure they'll be a hit! I'm also baking french macaroons and we're purchasing Amaretti cookies to pay tribute to FI's Italian heritage.

I ordered the takeout boxes from Uline. My only complaint is that they arrived kinda bent and jacked up. I affixed a 2" custom label from beau-coup that was supposed to go on the STD's but ended up being too large for them. Hooray for repurposed labels!

We did a trial run using a 1" cookie scoop to see how many would fit in our containers. We were able to fit 5 without the french macaroons and amaretti cookies. I'm still trying to decide if I should use shredded tissue, tissue paper, cello or just plain paper towels to cushion the cookies, anyone have a better solution?
Cake

6" layer = german chocolate

9" layer = vanilla with fresh strawberries
12" layer = marble with chocolate ganache
We're getting married on my Dad's birthday and german chocolate is his favorite, so the 6" layer is our tribute to him.

 Ours is a lot like the one below, but with white (or slightly yellowish) real buttercream frosting instead of fondant. To save money on the design, I've decided to make the fondant birds in a chocolate brown using a stencil I have yet to create. It shouldn't be too difficult to affix them the day of.

Alex Cad/ The Knot

Save the dates
Invitations
This is the kraft box that they were mailed in, yes that's $2 in stamps. Yes, those are labels. No, I don't care if other knotties are offended by them! Boxes were sealed on the sides using clear packing tape.
We used gatefolds from Paper Source. I'm certain we could have found them cheaper, but I ran short on time and Paper Source was down the street. The advantage to their gatefolds is that they already have the slits cut into them so that you can easily thread the ribbon through. I used double faced satin ribbon.
I affixed the invitation using 3M adhesive in one of those handy dandy refillable dispensers.The invitation was mounted over the ribbon.
The color here is off because of the lighting at the time the pic was snapped, but here you can see the design I replicated from weddingpaperdivas.com. I was unhappy with their quality and pricing after I received my STD order from them. Instead, I ran these through a 4 color press and paid $100 for 150 5x7 invitations, 3.5x5 reception cards, and 3.5x5 response cards. I could not be more thrilled with the final printed product!
Reception card
4 bar response envelope, and yes those are labels again. I'm most definitely going to hell, I know.
Overall, I was happy with how our invitations turned out. I saved a ton of money because of DIY. It took a lot of time to assemble everything but after all of the compliments we have received I feel like it was totally worth it. I encourage every bride to DIY if they have the patience and time and don't settle for overpriced crap digital printing!
Lessons learned from this DIY project:
1. If you have access to a designer (and most print shops do), you can really save on litho printing online and at smaller shops that specialize in small runs. You can find trade magazines at paper supply stores with directories of your local print shops.

2. Many online vendors have HUGE markups on plain, digital printing. Many office supply and copy shops can do the same printing for A LOT less.
3. Postage for boxed invitations can be pricey. Consider the weight because postage is calculated by ounce. Uneven items should not be placed in envelopes. This doesn't mean that you can't get away with it, but it can be rejected at any point during the journey to your potential guests. 
4. Labels are okay. Seriously.

Guest Book

We decided on a Polaroid Photo Guest Book. I purchased a Kolo album and additional pages from Aaron Bros using 50% coupons. Total cost for both was about $20. I had a 4x6 print professionally done through a vendor our e-pic photog suggested. Please excuse the shadow!

I purchased our 2 Polaroid cameras from ebay for $10 and $15. I purchased 125 Polaroid exposures on ebay for $60.
I used a polaroid as a template for affixing the photo corners. 
 Guest book pen - I purchased 3 archival quality pens and wrapped them with brown florists tape. I made the paper dahlias using a Martha Stewart kit that I purchased at Joann on clearance. You can make the paper flowers yourself with just regular tissue and wire.
Some things I learned with this DIY project: 
1. If you go with the kolo brand corners, be advised that they are lick and stick. This was a pain after affixing 240 of these bad boys, it may be wise to buy the peel and stick ones.
2. If you plan on having lots of guests and they have limited time to snap photos, it may be a better idea to purchase small note cards and add more photo corners so that guests can snap a pic, fill out a note card and then hand it to the person to insert into the album.
3. Use as many 50% off coupons from Joann Fabrics and Aaron Bros as you can. All of these items are available at those stores.
4. After speaking with other knotties, I've learned that I got a ridiculous deal. It is not common to pay $60 for 125 Polaroids

 5. If you go the ebay route, MAKE SURE YOU PAY ATTENTION TO THE EXPIRATION DATES! There are LOTS of sellers with old film, and old film won't work.
6. Be advised that Polaroid recently announced that they will no longer be making film or cameras, so prices may go up on ebay even though other stores may be throwing them on the clearance shelves.
8. Procrastination pays off....sometimes.

Card Box
 I picked this up at a craft store on clearance for $1 and added some ribbon I had leftover from the invitations. Not bad for something I didn't feel was a must have, right? I'll probably spruce it up a bit more, I'm just fresh out of creativity at the moment.

Flowers 
My bouquet will be white and light pink peonies
Bridesmaids bouquets will be pink and white peonies and roses
My Dress 
 Sottero & Midgley SSM5032 in diamond white
Here's a terrible blurry pic of me in my dress

Shoes
...and more shoes!
I think these flip flops are kinda heinous, but they're the perfect height and they cost me $5. I'm sure they'll come in handy.
My MOH picked this up for me when we were downtown. I wasn't planning on doing a garter toss but she insisted. Luckily, this only set her back $2. Little does she know that while I will promise to wear it, I will NOT be doing a garter toss. It's all about compromises =)
 Jewelry
This is a smaller Haute Bride bracelet that I purchased from Perfect Details.

initials for the bouquets

 Rings
FI's ring is 6mm, engraved with "Too much to measure" on the inside. Over the past 5 years, when FI has asked how much I love him, that was always my response. My ring is a simple pave band.

 My e-ring, my camera wasn't set on macro so it's pretty blurry.
FI gave me this blue topaz and diamond ring to replace a birth stone ring that we lost when we moved. It will double as my something blue (not that I've really thought about old, new, borrowed, and blue but I've got 1 out of 4 complete!)
Hair ideas I like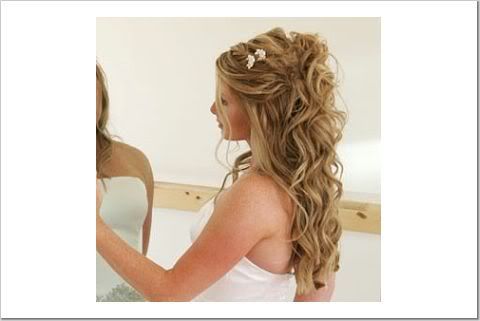 Knottie Jacque85
Makeup Ideas 
Here's my MOH in her dress. She hates this picture because her white legs make her look like she's wearing tights. It's the only pic I have of the dress...shh, don't tell her I put it up! Since my slacker bridesmaids waited until 10 weeks before the wedding to pick out dresses, we ended up buying them off the rack in downtown L.A. Total cost = $59 without alterations. The other BM's are spending about $30 to have them taken in at the waist and hemmed.
I found these gift bag/tissue paper sets @ The Body Shop for $.50. Do I care that they don't match my wedding colors? NOPE!
I'm paying for the ladies dresses, hair, makeup, shoes and part of the cost of their accommodations. In addition to that, I did pick up some little things along the way. Some of their stuff is identical, some of their stuff like the gift cards are personalized a little for different tastes. Here's what all of the identical items are:
 Francis Coppola sparkling wine 4 pack. The cans are uber-cute and they have lil' straws!
All of the ladies are down with bath stuff, and I'm most certainly down with after christmas clearance sales =)
 The infamous bath bomb. If you don't know, ya better ask somebody! These things are fantastic!
 This is underwear on a stick, have you ever seen something like this before? Neither have I, and that's why I had to have them! (Yes, I'm close enough to my BM's that I know what size chonies they wear)
 spa slippers

I also picked up some Coach wristlets... 
I'm not a huge fan of the rhinestone bridal party shirts, but my bridal party actually purchased some rhinestone swag for me, and two of them expressed how excited they were to make some matching bridal party tank tops to wear while they got ready. They're thinking that if we rock these around the casino the morning of the wedding that we'll pick up some free booze. I decided to beat them to it and just pick up the tank tops myself. I always thought matching bling tops were a torture device the bride used against her bridesmaids, apparently some ladies like sportin' them...

Here's the stuff they got me
Grooms Attire
Suit by Hugo Boss  (sans checkered shirt and purple tie!)

Our groomsmen will wear black suits and white shirts, all of them already own this ensemble so that makes things easier and they'll look handsome in their own tailored clothing.

 Ties 
I purchased 5 silk cream colored ties from J. Valentin in the fashion district in Downtown L.A.
I paid $10 a piece! Always negotiate when buying in bulk except at J. Valentin. Wait for them to initiate. Note that the ties came with matching pocket squares.

Cufflinks 
I purchased cufflinks for the guys rockin the french cuff shirts from
Kenneth Cole
. 
 FI is a musician so the treble clef ones were PERFECT for him. My Dad is a beer drinker and only drinks bottles, so I found his to be very appropriate too.   
So my MOH and I were cruising through Macy's one day and along came these platinum champagne flutes. They were hanging out in the clearance bin and there were 12 of them. None of them had a price tag so we went and asked a sales associate to do a price check. She couldn't find them anywhere in her system so she decided to sell them to us for $2 a piece. Sounds ridiculous right? We thought so too. I'm now the proud owner of 12 platinum champagne flutes that were probably overpriced in the first place.

*** I can be contacted via the Los Angeles board =) ***