If you want to use any of these pictures please credit me. Knottie: Paige&Jeff
and Cornerstone Photography
Best. Day. Ever!!!
Our wedding was just about as close to perfect as you can get! We had the most amazing time!  
Our wonderful wedding weekend started out with a torrential downpour all day Thursday (Thank you Hurricane Hannah!) I spent the day getting a pedicure and a full set of nails. As soon as I get home we finished loading up the cars for our trip to Starved Rock. (We had loaded most of my car up the night before, just needed to load up Dad's car with the dresses and all that good stuff.) We made it there in really good time despite the rain (which I was worried about since my nails ran longer than expected)
 We got to load all of the wedding stuff right into the room for the reception which was a huge relief, we didn't think we would be able to do that until the next morning when it would be crunch time.
After everyone got checked in and went to our rooms to freshen up we met back in the lodge by the great big (gorgeous!) fireplace to have the Rehearsal. We did that inside since it was still pouring, hoping the whole time it would clear up for Friday. Everything went very smoothly I talked to our coordinator down there and she said we could get back into the other room that night to start decorating! :) I was so excited I was going to be able to help out with that. We also found out that we had until 12 the next day to determine if the ceremony was going to be inside or out.
From there we all piled into the trolley Jeff's parents rented for the night and went to dinner. The food was delish! Everyone really enjoyed themselves. It was great to mingle with our close family and friends. We gave them all their gifts and our parents loved the photo albums we got them. (Can't wait to make the wedding one. :) hehe)
After we got back to the lodge they had the inside set up for the reception! We were going to get to have the wedding outside! Everyone then went into the bar for a bit and 2 of Jeff's uncles were buying shots for everyone left and right. I did 2 shots of tequila within 5 minutes (this is after dinner with 2 glasses of wine and a martini too!) Then they gave my BFF- Sierra another shot of whisky on top of her tequilas. Then Sierra and I met up with my mom, Jeff's mom and my aunt to start decorating! We got the escort candle table all set up and some other things like the bar and the gift/guestbook table! It was great! (Lots of fun - oh and I didn't really even feel the shots because I was just to into everything.) And Jeff and 2 of his GM figured out how to turn on the sound system and had fun entertaining us with music from Jeff's iPhone.
That night Sierra stayed in my room and we sat up and talked for just a bit - up until about 1 I would say and then I slept like a baby. Though I did have a dream that my sister's boyfriend was beating me up. Weird I know!
We got up about 7 the morning of the wedding and showered. We then met my parents, aunt, sister and her bf for breakfast before more decorating and getting ready. I was so calm and so happy to be having things to do. I was sad to think I wasn't going to be able to help set up
Once our hair and make up people got there Sierra and I went to get ready. My sister came up a bit later and we were all getting beautiful. :) I was having so much fun and still calm as can be. Our photog showed up as I was getting my hair done and he got tons of great pictures. (I cannot wait to see them!!!!)
Here are some pics... from the morning.
That face was caused by this...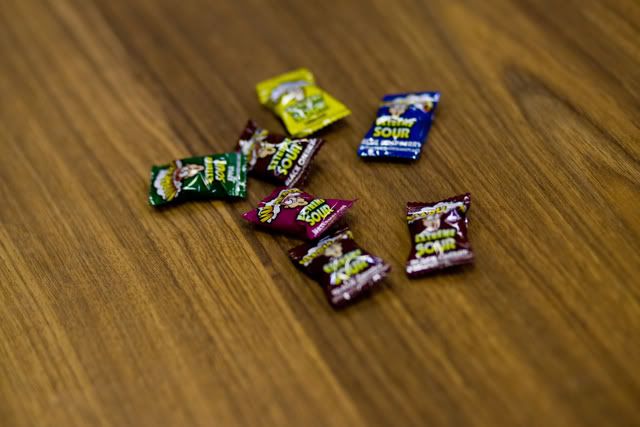 Texting knottie Jessica
I just love these pictures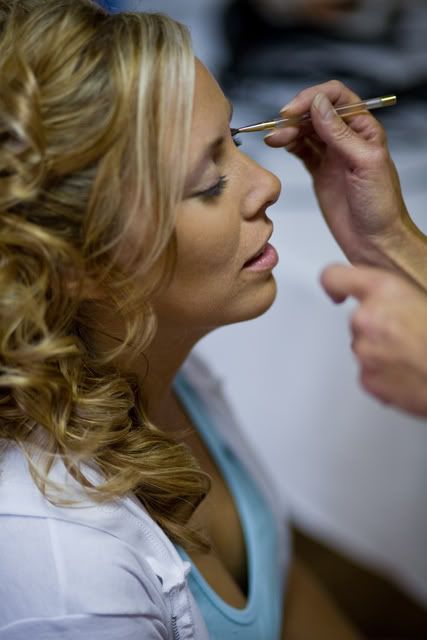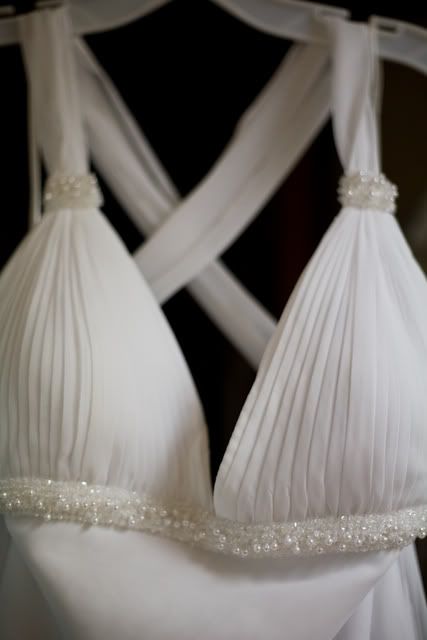 This is me and my sissy making fun of mom right before she walked in the room.
My other Bridesmaid and Bridesman showed up shortly after that and looked great! Everyone looked wonderful. About 1:30ish I started to get dressed. I was doing so great and then I looked in the mirror to put my jewelry on and I almost lost it. I kept everything in though. (I still cannot believe how calm I was all day.)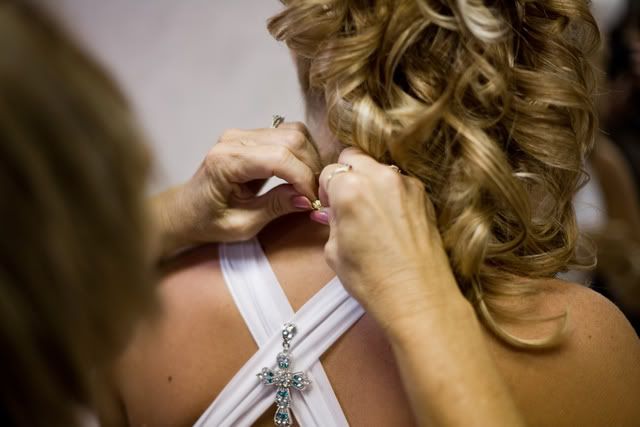 About 2:00 I went down to the lodge to meet Jeff for our "reveal" he looked so handsome and I started tearing up when I saw him. It was just little tears though so I didn't ruin any of my makeup. ;)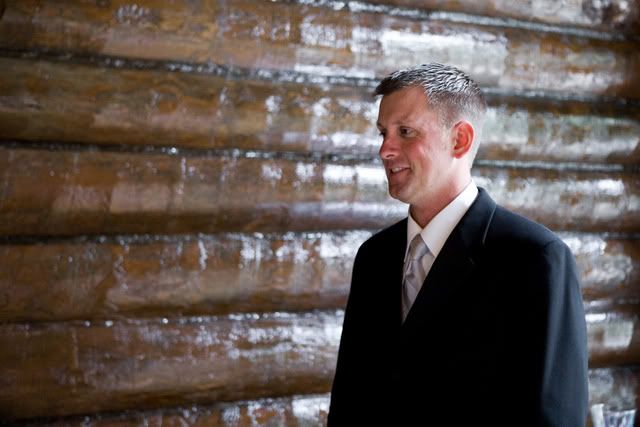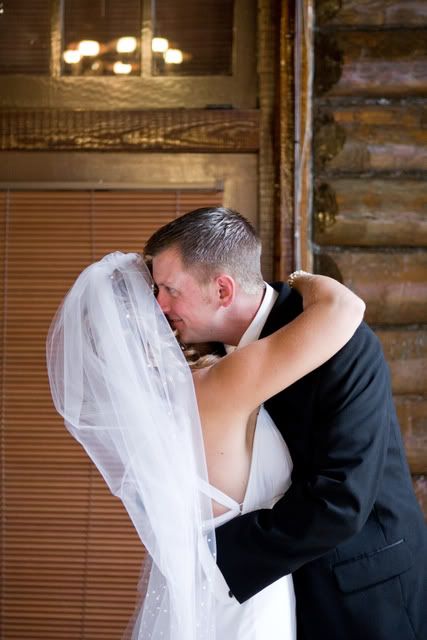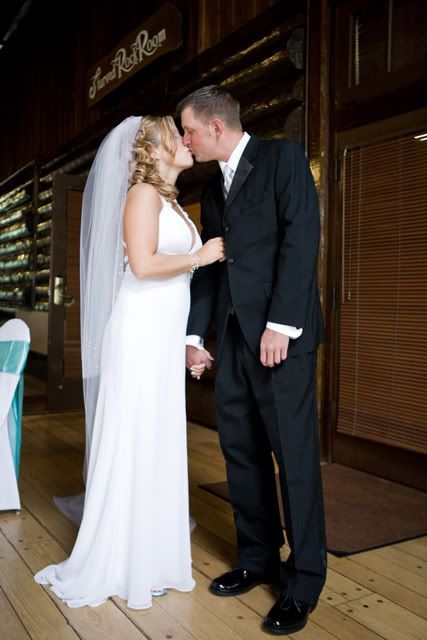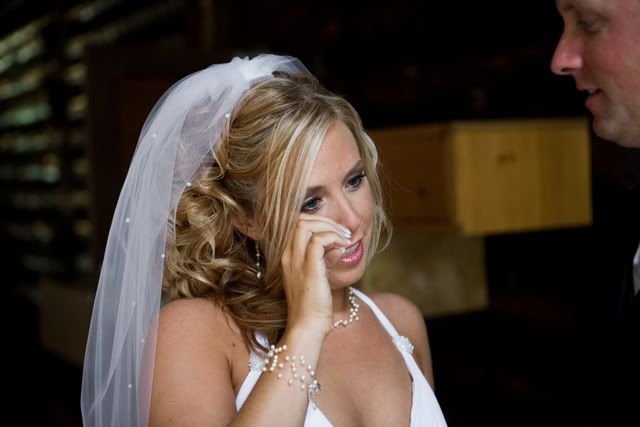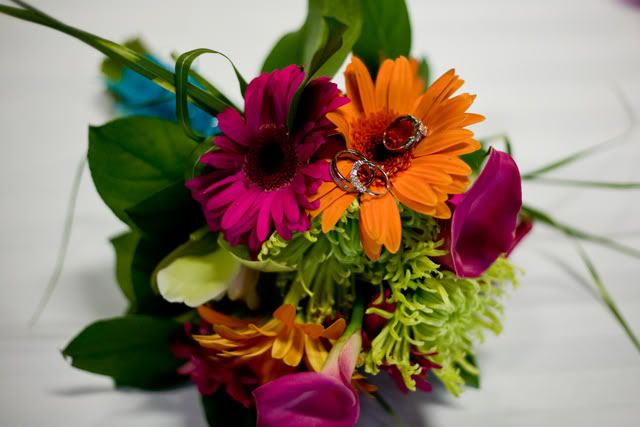 At that point I also got to see the centerpieces in the dancing room and they looked awesome. We got all of our bouquets and bouts and went off through the park to take pictures with the bridal party.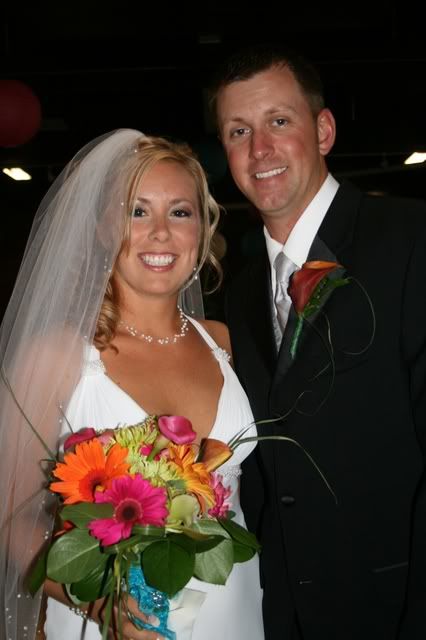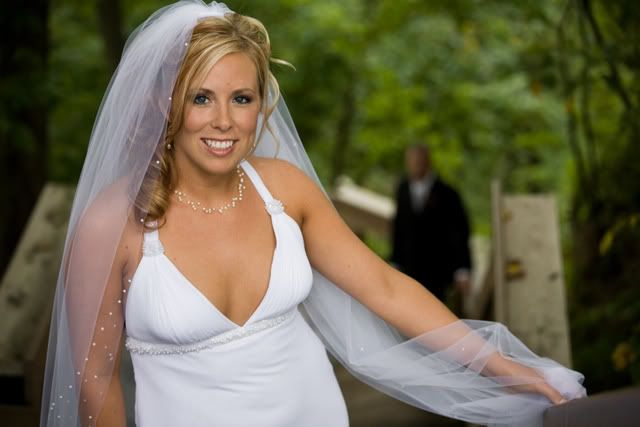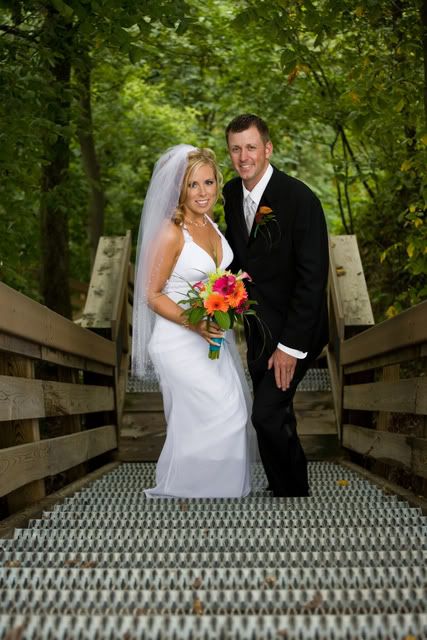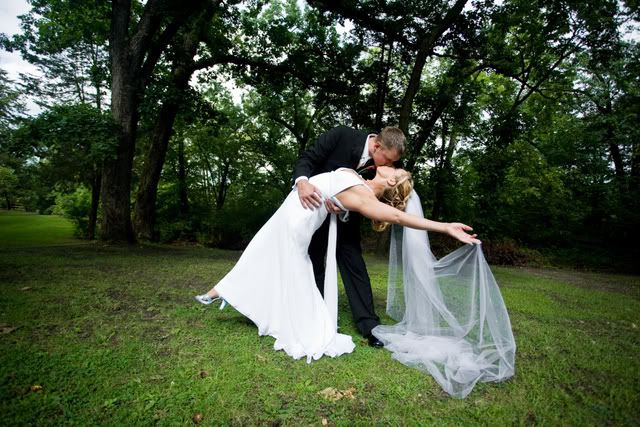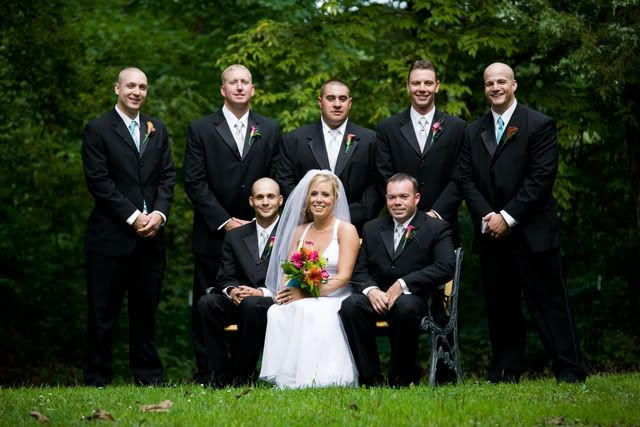 (Yes a GM had fake teeth in... just found that one out...)
At this point we had our parents join us for some pictures at the ceremony site.
Jeff's Parents
My Family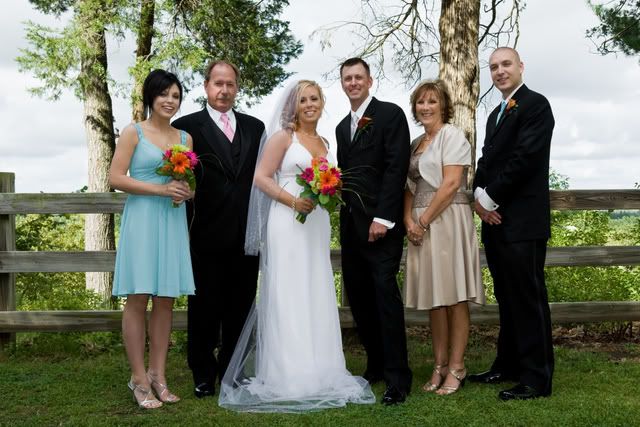 Siblings!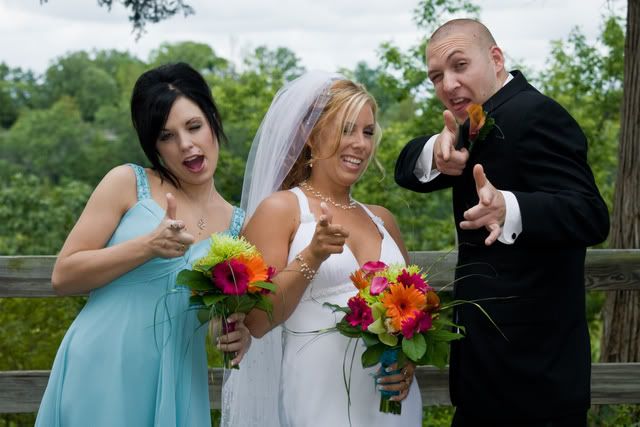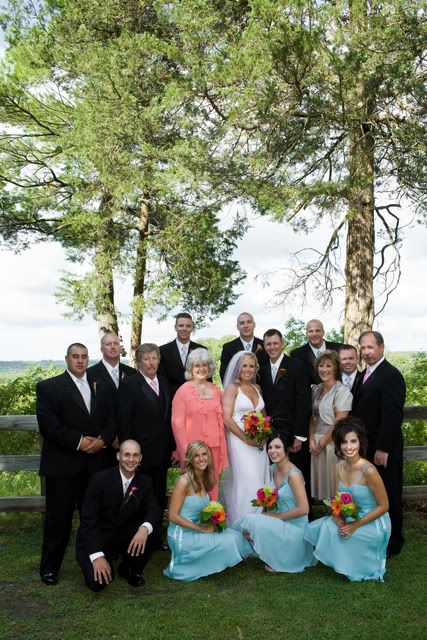 Everyone looked amazing and we all had fun with the pictures. We also got to take some pictures with Jeff's dad's 65 Impala that they had been working so hard on to have ready for the day.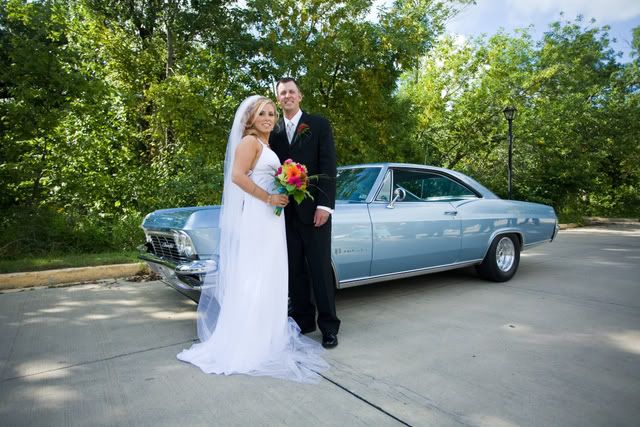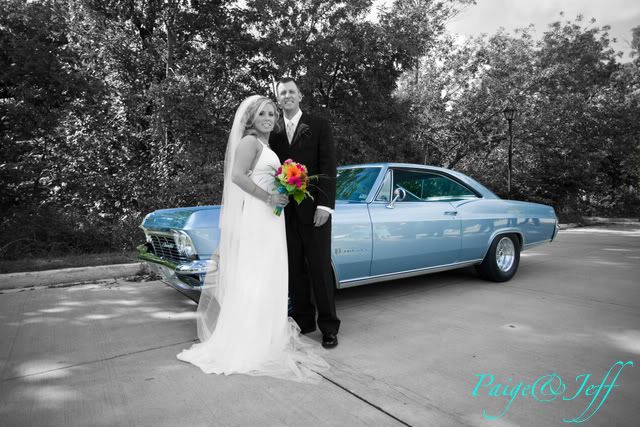 (Yea I had a litle bit of fun in Photoshop!)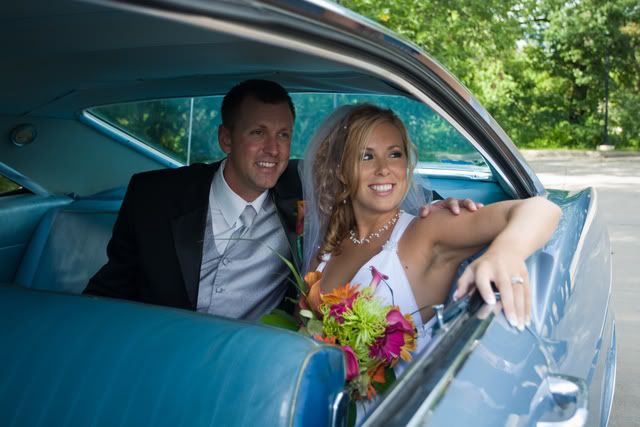 Bridal Party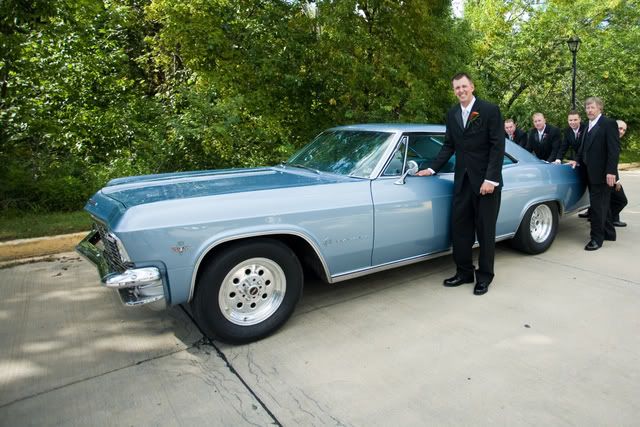 This is Jeff's Favorite picture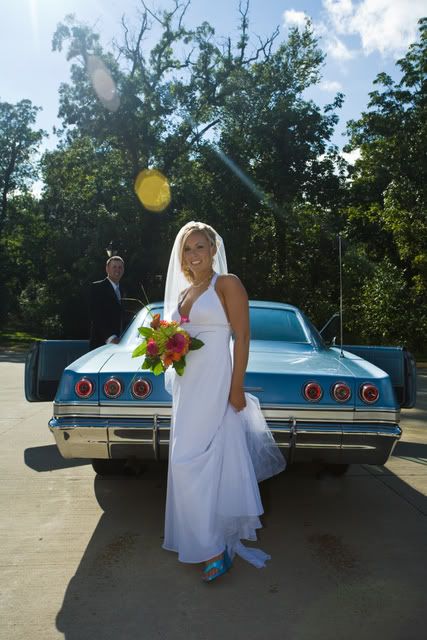 After all the pictures we went into hiding before the ceremony. When we went out I was even calmer than I was before. Dad and I hid back farther so people couldn't see us as we were waiting for our turn to go down the aisle and he started talking about how happy he was. I told him at that point that he could say whatever he wanted later but not then because I didn't want to cry.
Jeff was shocked and so happy with my song choice to go down the aisle! I used the Apocolyptica Version of Metallica's ONE) He looked at his BM and Steve said Yep she did! I impressed him with that one. (And we walked back down the aisle to Thank You for Loving Me by Bon Jovi- My fav!)
Our ceremony was short and perfect! It was personal and we were so focused on each other we barely noticed the people there to see us. The reverend didn't read the vows we gave him (at least I don't remember them being those vows – I thought we said the traditional vows.I still haven't seen the video from my cousin.) But in the end I don't care because we are husband and wife. I cried a little during the vows but that was it. I was so proud of myself for not crying too hard.
DH waiting for me at the "altar"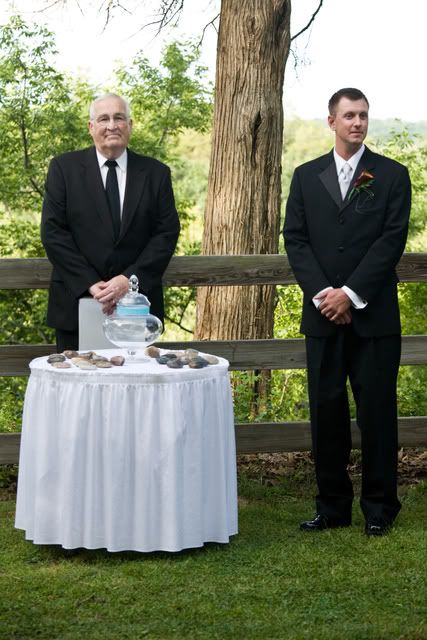 Daddy walking me down the aisle.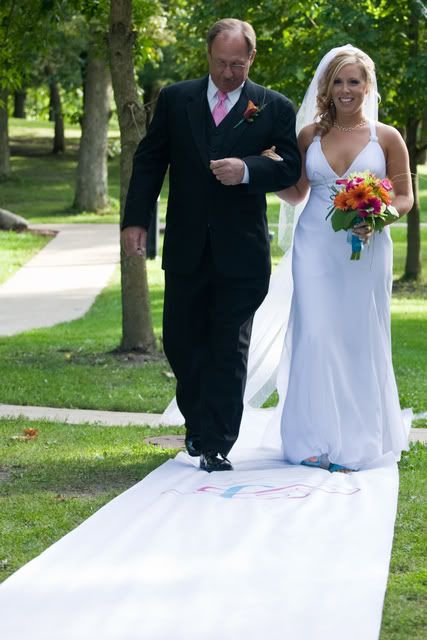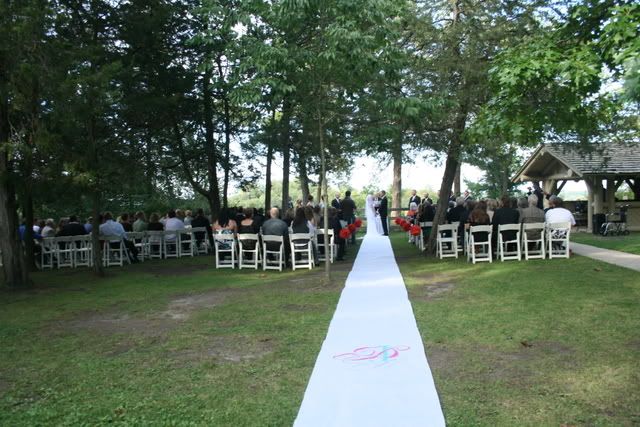 This was our Unity Ceremony. There are details on it in the Planning Bio.
I love this picture! I love the way it shows off the Kissing balls we made.
Our First Kiss as Husband and Wife!
Here are some Ceremony Detail Pictures.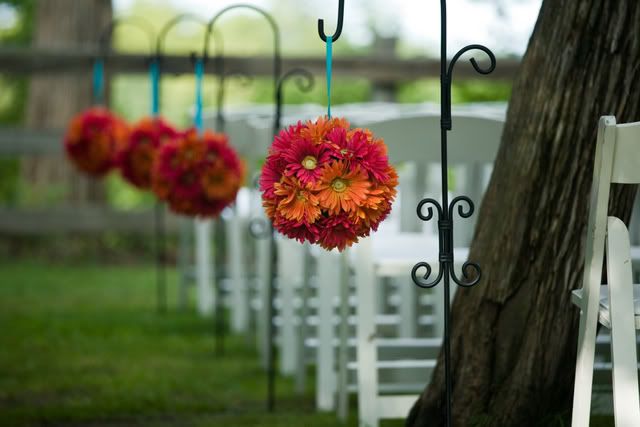 I'm sad there isn't a great picture of the aisle runner but you can see it a bit in the picture of my dad walking me down the aisle.
Once we walked into the reception I teared up again because it was even more beautiful than I imagined in my head. I LOVED IT! This is the room where dinner was served.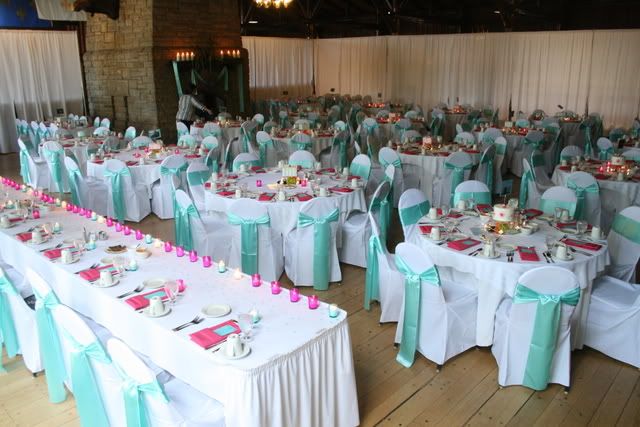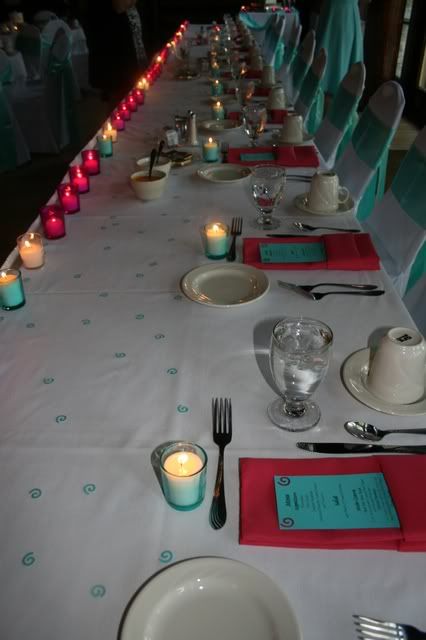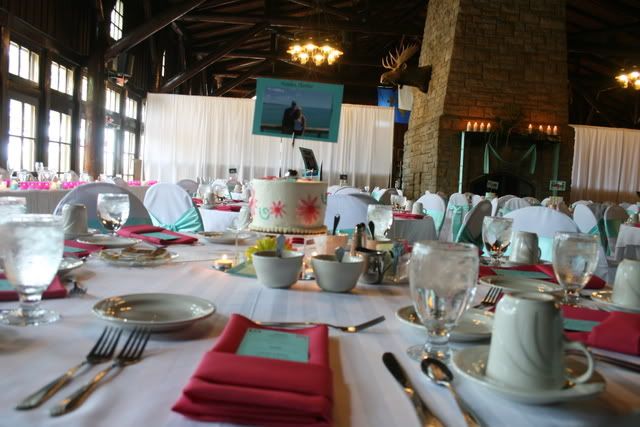 During the cocktail hour we took a couple picture with Grandparents out on the deck.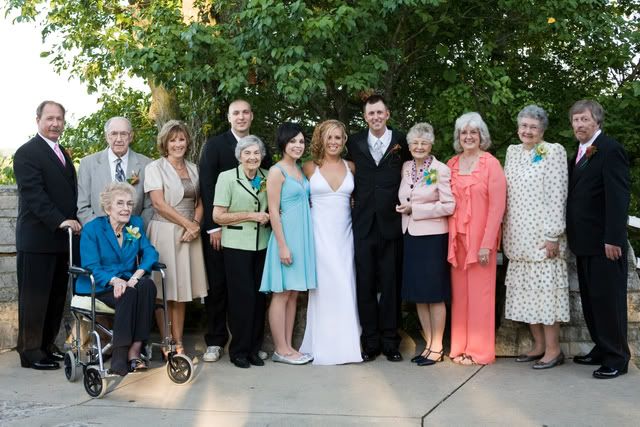 This is the Cocktail Hour/Dancing Room (The Starved Rock Room)
Us being announced into the reception!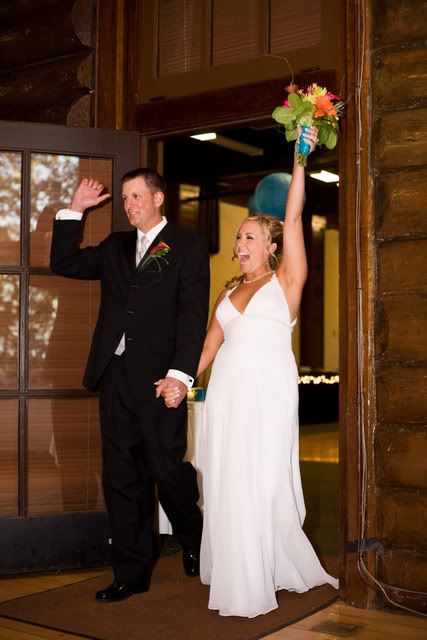 Cake Cutting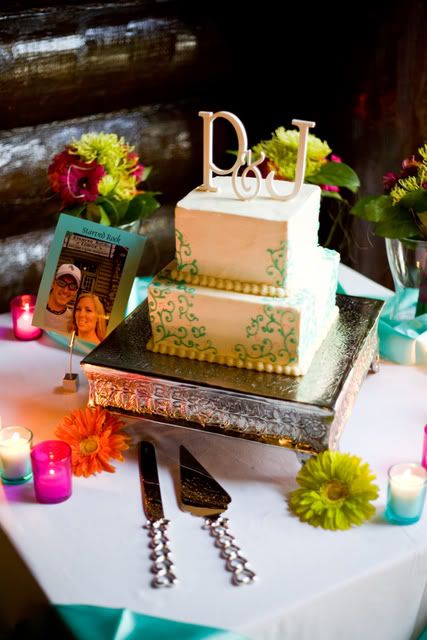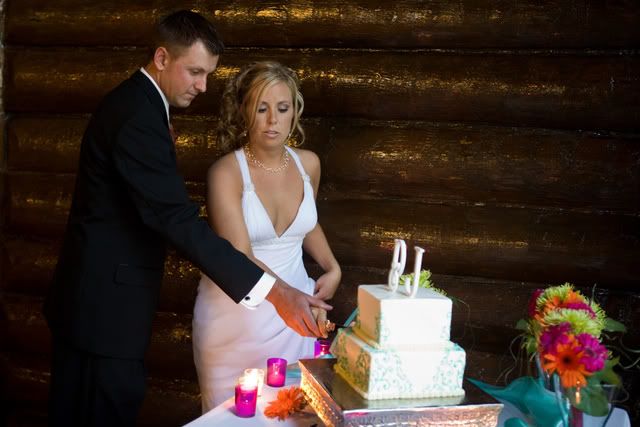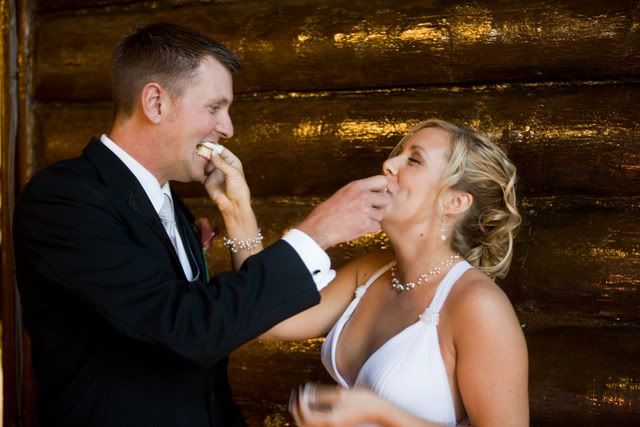 Toasts were given by my Sister (Bridesmaid), Brother (Man of Honor) and the Best Man and I had to throw in this picture of my Gram 'cause she is so precious!
The rest of the night went so fast but our day was completely amazing! We had the time of our lives!
Our First Dance was to Michael Buble - Everything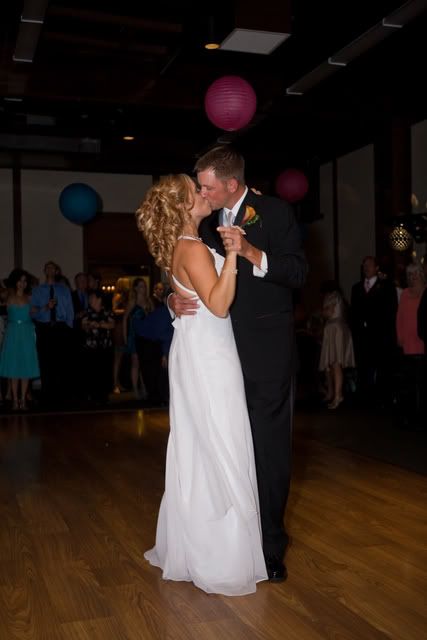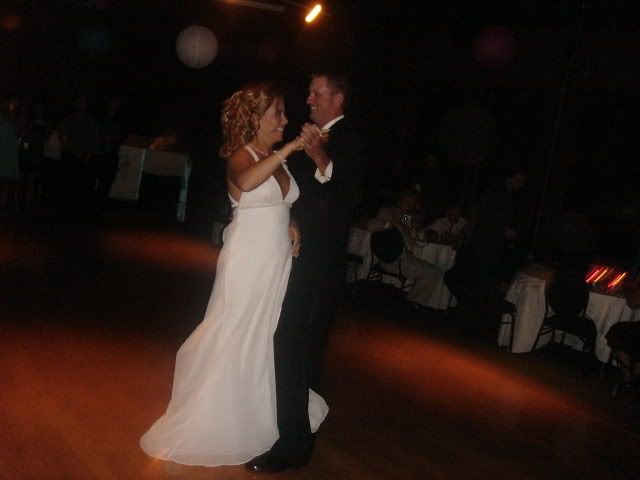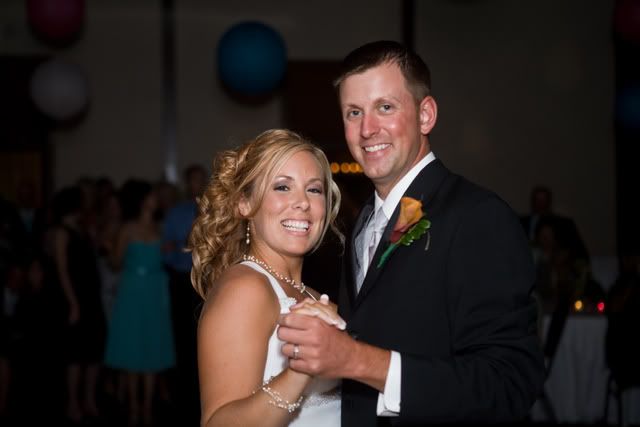 Father Daughter Dance -My dad thought we were dancing to Stealing Cinderella but I actually switched it up on him! The day I was born my dad finally got a copy of a record he had been searching for Straight Down the Middle by Bing Crosby - the only version he likes. Well it is still pretty hard to find but I did it! About 30 seconds into the song I had the DJs kind of scratch it out (everyone gasped in panic) and then the song switched! My dad was floored!! He was so happy and just kept asking me how I found it!
Then was the Mother Son Dance to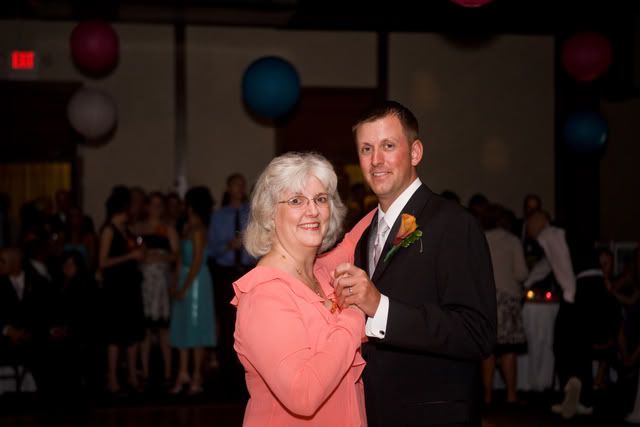 After that we had a dance with our new inlaws and my dad and his mom danced together. This dance was to What a Wonderful World - Louis Armstrong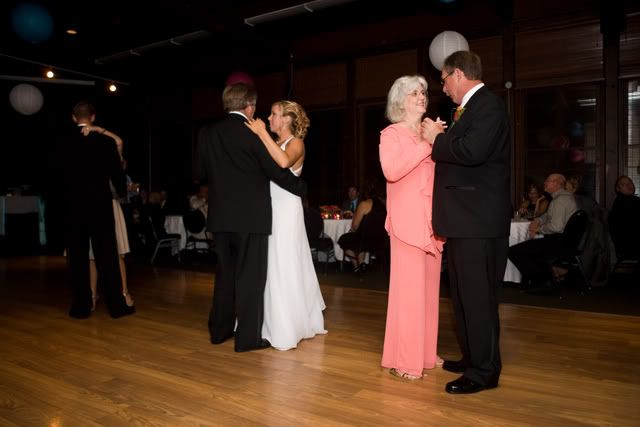 Then came the Bouquet and Gater Tosses - Where I surprised DH with his wedding present... Bears Tickets!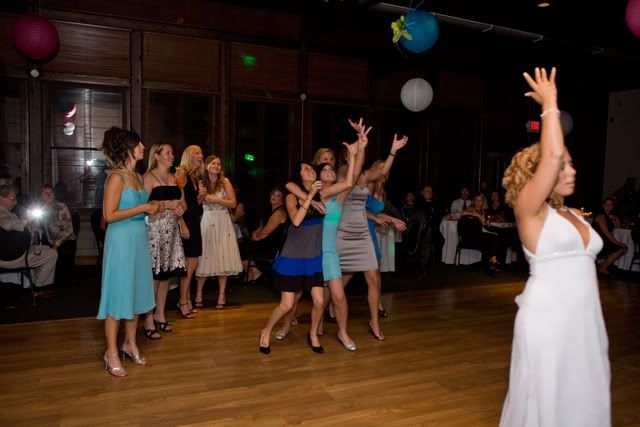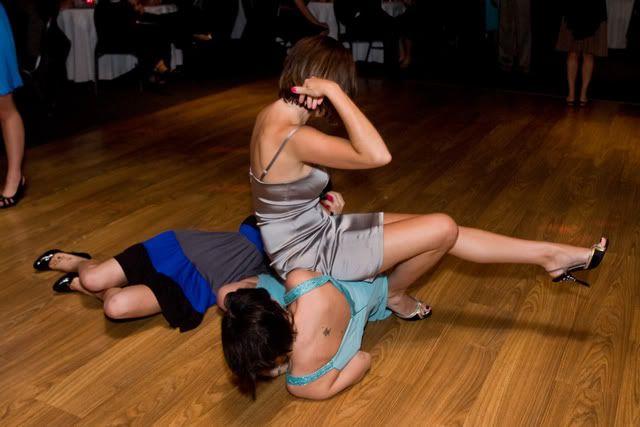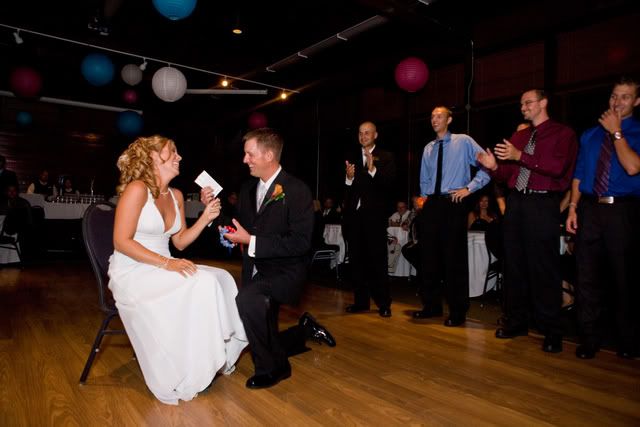 Then came the dancing! The dance floor ws packed all night long! It was the best night of our lives! DH even danced with me a bunch! :)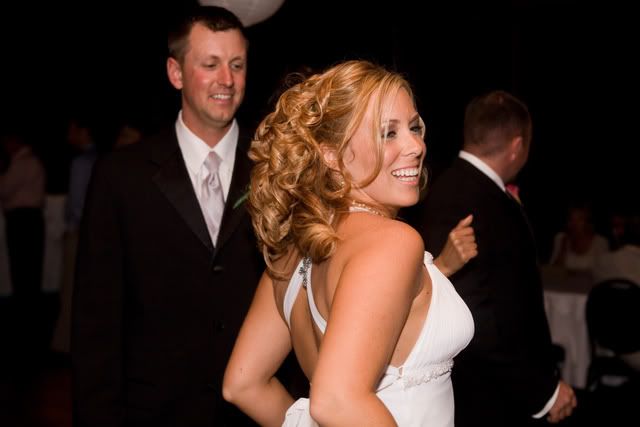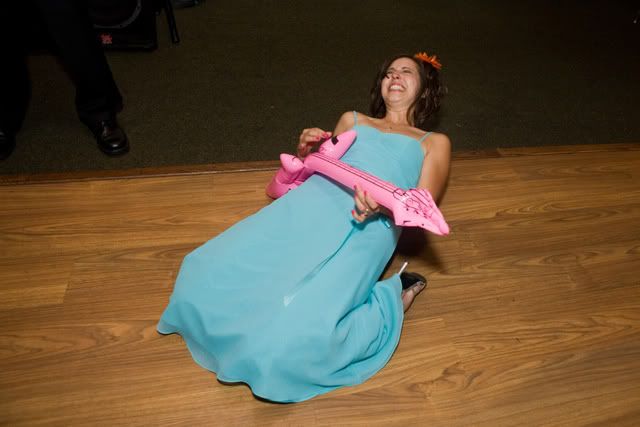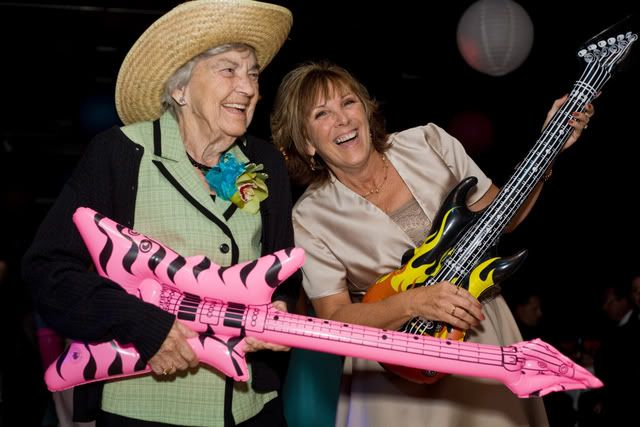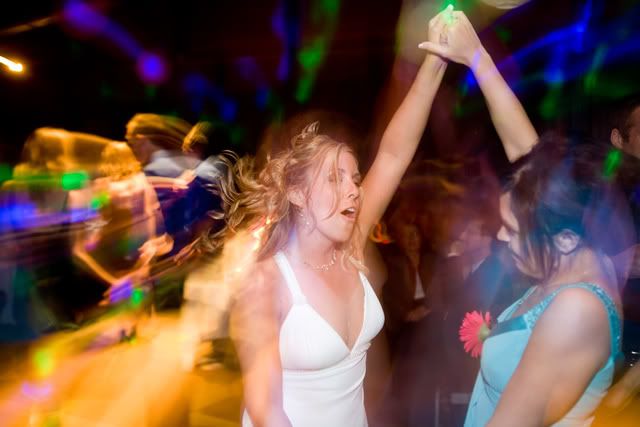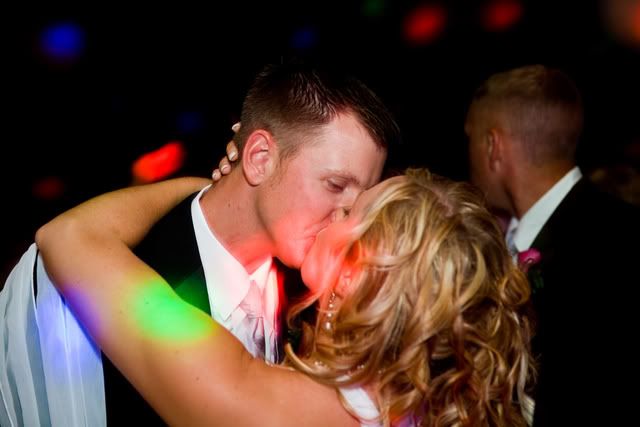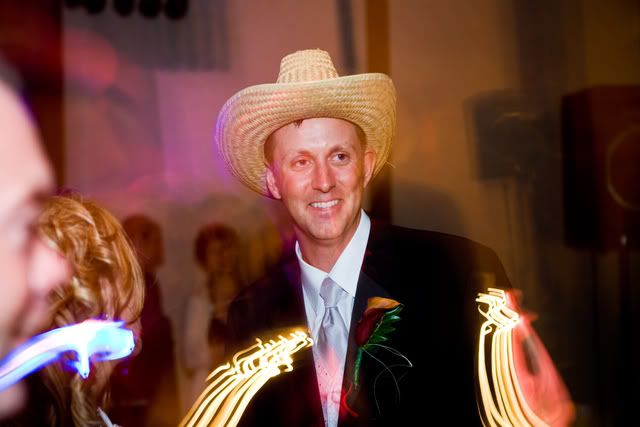 It was totally perfect. We did not want the night to end!
Random Beautiful Details!