Telangana Community, Inc. (TCI) is now
Greater Atlanta Telangana Society (GATeS)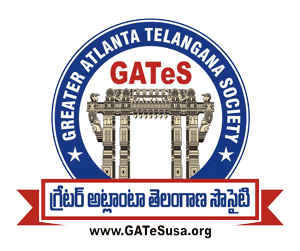 Greater Atlanta Telangana Society - GATeS would like to thank everyone for attending last nights (Sat 14 March) New Logo/Name and Fund Raising Gala Event and making it a big success. Your presence made a lot of difference to our already firm faith that our community is growing stronger and steadily.
 
We acknowledge the efforts of the following individuals for extending their services and support.

Donations are pouring in... we will shortly share with you the list of all donors and sponsors. Please stand by. Thank you for your continuing generosity!
 
Thank you once again for lending your hand for the needy people back home in Telangana !
Audio and Stage Management
Suresh Korothu, Kamal Sattuluru and Nanda Chatla
Artists for Songs
Janardhan Pannela & Srinivas Durgam
Chief Guest
R. Srinivasam, Chancery, Indian Consulate, Atlanta
Event Sponsor - venue and food
Narasimha Rao - H2K Infosys
Event Management, Website, Newsletter
Viju Chiluveru
Guest Artist
Mimicry Ramesh
Guest Artist coordination
Anil Bodireddy and Chanki
MCs
Viju Chiluveru and Madhurima Charugundla
Plaques
Suresh Volam
PowerPoint
Suresh Volam and Rathnakar Elugunti
Venue
Management of Taste of India
Photography
Vakiti Creations Team
Face painting and balloons
Rahul
Hospitality
Prashanth
Several volunteers have worked on this project. If we have missed out any names we apologize.
Press Report:
Telangana Community, Inc. started in Atlanta has grown leap and bounds to serve the Telanganite Community of Atlanta.  The organization evolved to a brand new name as Greater Atlanta Telangana Society ( GATeS for short) and a new logo to reflect the new and reinvigorated spirit and cultural identify of  Telangana was unveiled on Saturday, Mar 14, 2015 at Taste of India Banquet Hall.  The formation of Telangana, the 26th state of India - a culmination of 6 decades of struggle - brought along with it new hopes coupled with new sense of responsibility among every NRI Telanganite across the globe. The Telanganites in Atlanta and all over the world have awakened to this new challenge and are responding with renewed dedication as was shown at this event.
The banquet in Taste of India restaurant was attended by a packed crowd of over 500 exceeding the seated capacity with many standing in and outside the hall. People that cheered the event came not only from local Atlanta and nearby cities in Georgia, but also from California, New Jersey, Washington DC, Dallas, Alabama, Florida and California.
The celebration started with invocation to Lord Ganesha followed by singing the Telangana State song (Jaya Jaya He Telangana Jananee Jaya Ketanam…) and paying homage to martyrs of Telangana.  Head of Chancery Sri R. Srinivasan of Indian Consulate in Atlanta along with Board CHAIRMAN Dr Sreeni Gangasani and President Venkat Veeraneni unveiled the new name GATeS  and its new Logo (encircling Ekasila Toranam – the famous Single Stone Arch of Kakatiya rulers).  Sri Srinivasan expressed his happiness to be part of the unveiling and wished the organization to do more service oriented projects.
Dr. Gangasani announced the need of name change to move ahead with the new evolution of the state while Dr. Veeraneni welcomed the cheering crowd.  Dr. Gangasani also gave a brief idea of TCI and its Community Service Projects conducted in India and outlined the contribution TCI to the Society.
Telangana folk Singers – Janardhan Pannela & Srinivas Durgam set the tone of the evening and added color, melody and sparks with many performances. The star entertainer of the evening – Mimicry Ramesh - the renowned mimicry artist of Telangana enthralled the audience with his mastery. He sang, imitated the stars and politicians, shared his life's moments and reminded people of their duties and responsibilities to the needy back home. Audience of all groups wanted more of him and Ramesh honored the crowed by coming a second time to do everything again and more.
While two young girls performed a devotional dance -Subramanya Ashtakam to the delight of everybody, more girls and women did a colorful harvest dance showing gratitude to mother Earth to the tune of Janardhan Pannela singing 'Nelamma Nelamma Nelammaa Neeku Vela Vela Vandanalamma…' of Suddala Ashok Teja. As if taking a cue from this, kids under 10 tapped their feet with a patriotic piece waving the tricolor. Amika Nagara sang wonderfully to remind everybody the breadth and depth of cultural talent from the community
Leaders of various organizations attended the event to extend their support and solidarity – Telangana Development Forum (TDF), Telugu Association of North America (TANA), American Telugu Association (ATA), North America Telugu Association (NATA), North America Telugu Society (NATS), Telugu Association of Metro Atlanta (TAMA), Greater Atlanta Telugu Association (GATA), Friends of Atlanta, Indian Friends of Atlanta and Atlanta Telugu Friends.
Chandra Mohan Nellutla, Anjaiah Chowdhary Lavu, Venkat Meesala, Girish Meka, Murali Reddy, T.R. Reddy, Srinivas Peddi, Goutham Goli, Sunil Savili, Vishweshwar Reddy Kalvala, Bala Reddy Indurti, Anil Bodireddy, Bharath Neravetla, spoke on the occasion and blessed the Organization.
The organizers showed their appreciation for the support of sponsors.  Dr Gopal Rao for sponsoring the Logo, Narasimha Rao of H2K Infosys for funding the banquet and numerous donors that contributed at various levels.  Viju Chiluveru presented the huge list of sponsors and thanked for their continued support to the Organization over the years.  Past presidents Rathnakar Eluganti and Srijan Joginapally were honored for their self-less dedicated work to the Organization and to the Community.
The event would not have been so meticulously executed without the support of untiring volunteers of Telangana, Executive Committee, Board of Directors and various Committees – S.P. Reddy, Kiran Pasam, Madhu Tata, Jagan Mohan Rao, Mohan Reddy, Laxma Reddy, Murali Reddy, Satyanarayana Reddy Tangirala, Mahesh Nilagiri, Prabhakar Boyapalli, Srijan Joginapalli, Viju Chiluveru, Narender Reddy, Karunakar & Prashanti Asireddy, Satish Cheti, Nanda Chatla, Raghu Banda, Suresh K. Volam, Vivek Reddy, Prashanth Paripati, Satish Nandala, Janardhan Pannela, Rahul, Jagadeesh Cheemarla, Ratnakar Elugunti, Srinivas Avula, Pavani Putta, Rama Chari, Venkat, Madhurima, Aneesh, Venkata Parupalli, Ranjith Ganta, Venu Pisike and Anil Bodireddy.
Sridhar Reddy Vakiti of Vakiti Creations as usual extended his support to capture the golden moments – by Photos and Videos along with his dedicated team.  Taste of India added elegance to the event while Suresh Karothu and his teem provided excellent Sound System and DJ.
Dr. Sreeni Gangasani
Board Chairman                                    
Dr. Venkat Veeraneni
President