Thank you for making our Vanabhojanalu a Big Success.
We had overwhelming crowd this time. A 'Big Thank You' to every volunteer who worked diligently for several weeks in putting together this event!
Click here to see photographs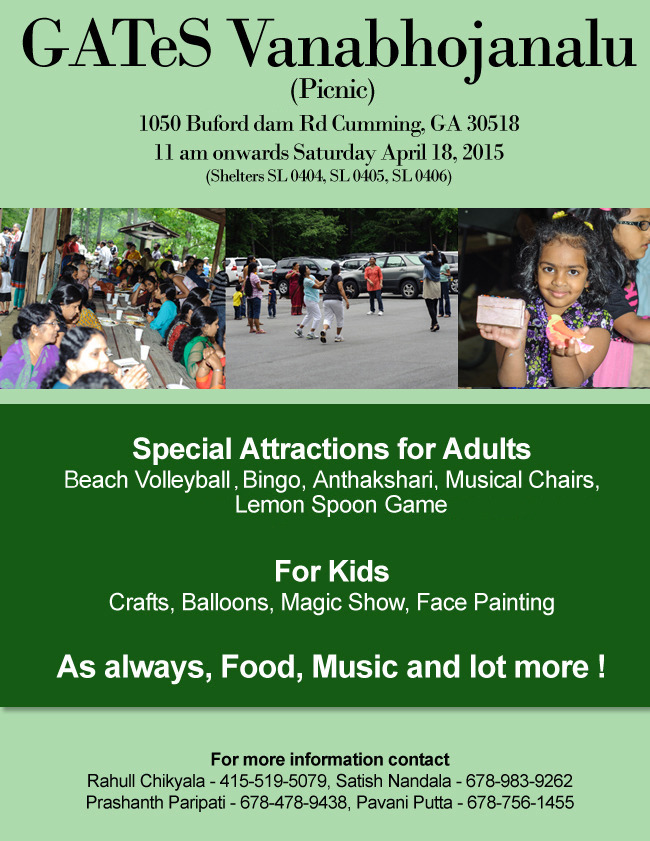 Let's Help Nepal Earthquake Victims
If the link does not work: Simply copy and paste this URL in your browser
https://www.paypal.com/cgi-bin/webscr?cmd=_s-xclick&hosted_button_id=QERL72HD8JQ9C
--------------------------------------------------------------------------------------------
TCI is now GATeS
Here is our new Logo
Greater Atlanta Telangana Society - GATeS (formerly TCI) would like to thank everyone for attending last nights (Sat 14 March) New Logo/Name and Fund Raising Gala Event and making it a big success. Your presence made a lot of difference to our already firm faith that our community is growing stronger and steadily.
We acknowledge the efforts of the following individuals for extending their services and support.
Donations are pouring in... we will shortly share with you the list of all donors and sponsors. Thank you for your continuing generosity!
Thank you once again for lending your hand for the needy people back home in Telangana !
Audio & Stage
DonDJ - Suresh Korothu and Kamal Sattuluru
Artists for Songs
Janardhan Pannela & Srinivas Durgam
Chief Guest
R. Srinivasan, Chancery, Indian Consulate, Atlanta
Primary Sponsors
Dr. Gopal Rao, Dr. Srinivas Gangasani and Paramount Software
Event Sponsor - venue and food
Narasimha Rao - H2K Infosys
Event Management, Website, Newsletter
Viju Chiluveru
Guest Artist
Mimicry Ramesh
Guest Artist coordination
Anil Boddireddy and Chanki
MCs
Viju Chiluveru and Madhurima Charugundla
Plaques
Suresh Volam
PowerPoint
Suresh Volam and Rathnakar Elugunti
Venue
Taste of India
Photography
Vakiti Creations Team Sridhar Vakiti and other name

s
Our Logo Sponsor


Dr. Gopal Rao


Atlanta Heart Associates

Our Gold Sponsor



Event Sponsor




To receive newsletter click 'Subscribe & Advertise' Link. Please forward this information to your friends and encourage them to subscribe too.
Want to Volunteer?

We are looking for Volunteers in various departments like Event Coordination, Public Relations, Membership Drive, Special Projects, Youth Programs, etc.. If you are interested and have some prior experience in volunteering, please contact us by sending an email to info@gatesusa.org.
.........................................................................................................................................................................................

Media Coverage of Bathukamma 2013. Links open in new window.
Bathukamma Panduga 2013
Photo Gallery by Sridhar Vakiti
Photo Gallery by Pavan Tanguturi
'Bathukamma' Celebrated - Reverence Grows Every Year !

The most favorite religious festival of Telangana Region in India, 'Bathukamma', is also the largest crowd pulling event here in Atlanta. Organized every year by Telangana Community, Inc., this 7-day 'Bathukamma Panduga' observed during navaratri days, meaning festival of flowers, was sponsored this year by American Telugu Association (ATA) and co-hosted by Greater Atlanta Telugu Association (GATA) and Telugu Association of Metro Atlanta (TAMA). Attended by about 1000 men, women and kids, this year's event surpassed everyone's expectations by every parameter… size, outcome and number of Bathukammas and the program line up. 

It all started at 11am with women bringing colorful 'bathukammas' to the event. Lunch, sponsored by Jaihind Groceries and Chaat House, was served from 12 noon. When crowd settled down in the hall, cultural programs began at 1:30 pm with Viju Chiluveru and Madhavi Gangasani welcoming the crowd and introducing the event organizing crew and MCs of the day - Anitha Vangala and Madhurima Charugundla. Lighting of lamp in the presence of Executive Committee Officers and Members of Board marked the formal start of the program. Srijan Joginapally, president of TCI gave a brief overview of Organization's activities and services and sought audience participation. Folk songs presented by Srinivas Durgam, Ram Durvasula and Janardha Pannela drew more crowds into the hall. A lambada dance, Lalaguda Lambadi Pilla, coordinated by Shirisha Mettupalli was applauded by everyone. Another folk dance, 'Mallepoolu Vetti' by Snigda Nellutla, Srinidhi Vangala and Srihitha Chakilam was truly a highlight. Second segment of songs included the only lady singer Bhanusri. Audience enjoyed select and relevant songs presented by the entire team - 'Gollamallamma Kodala' and 'Maradalu Pilla' were well received.

In the non-performing segment Ravi Chander and Vivek Reddy received 'Community Person of the Year' award by Dr. Sreenivas Gangasani and Narender Reddy. As Ravi Chandar was away from town, his wife Sushumna Roy received the award and said that her family is very proud to be associated with such a noble cause of supplying clean water to people in Telangana. Vivek Reddy thanked the organization for recognizing his contribution to the community. All child artists received medals while adult artists, MCs and coordinators were recognized by President of TAMA, Mahesh Pawar and Vice-president Sandhya Yellapragada. ATA Board Member, Karunakar Reddy Asireddy, presented a plaque to Srinivas and Shirisha of Jaihind Groceries for their generosity of supplying food during the event. Shekar and Prashanthi Reddy recognized all the volunteers of the day led by Mahesh Nilagiri, who is also the Treasurer of TCI. Venkat Veeraneni, Vice President, in his message requested members of the community to come forward and make financial contribution by becoming members or a part of projects initiated by TCI. Prabhakar Boyapally, personally connected with everyone and got about 55 memberships within two hours time - a record till date. Earlier Photographers, Sridhar Vakiti and Pavan Tanguturi were recognized. Srinivas Durgam arranged the audio equipment for the event and also coordinated with other singers.

TCI thanks the efforts and the unconditional support of these volunteers: Nanda Chatla, Raghu Banda, Chandrasekhar Palla, Srinivas Avula, Sunil Reddy Kuturu, Premdasu, Amrendar Reddy Bomyneni, Madav Kusum, Ajay, Anil, Raghu Gandra, Chandu, Pratap Gani, Rajesh Vaddi, Gautham Nyalakonda, Ritesh Sagi, Sridhar Edupalli, Anup Nilagiri, Ramgopal Madarapu, Chalapathi Vennamaneni, Sridhar Nelavelli.

A bathukamma contest held simultaneously was led by Ramadevi Boyapally. Towards the end of the cultural program following winners received cups and medals presented by Ramadevi Boyapally, Lavanya Joginapally, Radhika Veeraneni, Neeraja Boyapally and Lavanya Nilagiri. 

Winners of Bathukamma contest:
First Prize (tied) - Madhuri Madarapu, Sandhya Chiluveru
Second Prize - Madhavi Vuppala, Lakshmi Busa, Twinkling Stars of Telugu,
Third Prize - Gowri Bathukamma ( group), Kakatiya Queens Group, Reddy Dorasani Group, Roopa Pannela.

Report compiled by Viju Chiluveru
Click here to review Balance Sheet and Income Statement for the year 2012
TCI Activities
Recent activities
Donations:
$5000 to SPARSH - provides Hospice services to the terminally ill ( Cancer Patients)- S.P.Reddy

$30,000 IMPACT – Cancer Care for Children

$1500 Electrification in Pothareddypalli (Kallupally) village, Veenavanka Mandal in KNR district donated by Sri Laxma Reddy Paripati & Prashanth Reddy Paripati

 $1000 - to Prashanth Maringanti thru NATS , Atlanta

$900- to Niveditha Sewa Ashram in Jagtial , Karimnagar- Srijan / Friends
Education
$600 towards cycles for Girl Children – Katkanipally , Karimnagar- Vivek Reddy

$500 towards Books in Telangana Districts thru Telangana Netizens Forum

$1650 Full fee support for Sai Medpally- Student of Pujya Shri Madhavanji College of Engineering and Technology (PJMS) LB Nagar, Hyderabad . – Anonymous Sponsor

$500 Financial  Aid to K. Mounika  – Student of Bharat Institute of Engineering & Technology received aid– Anonymous Sponsor

Harika Reddy – pursuing CA- Donation of new lap top – Anonymous Sponsor
Water Projects :
Application under matching grant no: 79623 for 27 RO Plants has been approved, Work is in progress,

We take this opportunity to express our sincere thanks and appreciation for the untiring efforts of Rtn. Siva Kumar Narne (Rotary Club of Secunderabad West) & Rtn. Ravi Chander in coordinating with the Rotary Clubs in US and in India, overseeing the whole process from approval of Matching Grant to Installation of these RO Plants.
Religious : 
Donated $1900 to Sree Seeta Ramachandra Swamy Devasthana Committee", Choutuppal, Nalgonda, A.P- towards Vigraha Prathistapana – Donor – Muscu Anantha Reddy
Past Activities
Contributed $5,000/- towards School Benches in partnership with Rotary Club of Secunderabad West, around $1200/- for this effort were raised by

 

Chandramohan Nellutla thru conducting "Math Class"

 

Three Engineering Students were adopted - full fee support for Sai Medpally and Akhil Boyapally and financial aid for K. Mounika    Reddy. Financial    aid will continue till completion of engineering course

Financial contribution to Niveditha Sewa Ashram in Jagtial , Karimnagar

Raised and donated $1000/- to support SEWA - USA's effort to help Bhutanese accident victims

R/O Water projects implemented : three in first year and nine in the second year in partnership with Rotary Club/s with Ravi Chander's initiative.

Current year 25 projects are undertaken in partnership with Rotary. $10,000 contribution by TCI multiplied by matching grants from Rotary Clubs to make a grand total of $63K.

Appeal for membership: please donate for worthy causes like these and other similar activities