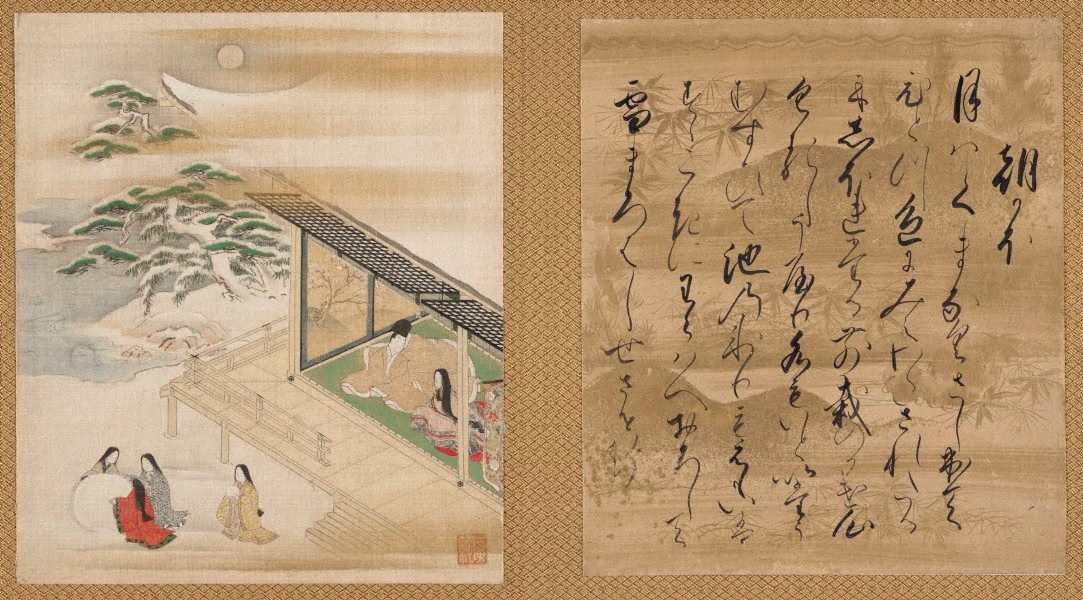 Sumiyoshi Gukei (1631-1705) chapter Asagao from The Tale of Genji with accompanying calligraphy Edo (Tokugawa) period 1650-1700
                                                                                                                                                                       FOREWORD
                                  In his twenty-sixth year Genji goes into exile at Suma, leaving Murasaki 
at home in charge of his affairs. 
                                  Their three-year separation is painful 
(she is only nineteen when he returns), but it never occurs to her that
he might not be faithful.  
Meanwhile, he misses her desperately and 
hesitates to take the opportunity that 
                                  the Akashi lady's father is so 
eager to press on him.  
Still, he yields in the end to the Akashi Novice's 
urging,
                                  to the exotic enchantment of the place, and to the lady's 
personal distinction, so unexpected in a provincial 
                                  governor's daughter. __ 
He returns  from Akashi understandably full of his experience and 
especially of 
                                  t
houghts 
of the lady and the child she is soon to bear.  
Genji feels "deeply content" once reunited with 
                                  Murasaki, and he sees 
" that she would always be his this way." At the same time, however,
                               " his heart went out with a pang to [Akashi], whom he had so 
unwillingly left."


                                                                              Asagao: the question of Genji's motive
                    Three years after the birth of Genji's daughter, Murasaki finds that her 
distress then was nothing to what she feels now
                    as Genji courts 
Princess Asagao.  She is acutely aware that, as Richard Okada put it, 
"forever vulnerable 
to threats 
posed
                    by other women," 45 but 
in the meantime things have gone well.  The lady from Akashi has 
come 
no closer,
Genji 
has
                    pursued no new affairs, and Murasaki has 
had the joy of adopting the little girl. 
 Genji,
now palace minister,
has 
not
 yet
built 
his Rokujō estate, but he is already the key figure at court.  
Genji has known 
the highly respected Asagao
 for years. 
                    She first 
appears in Hahakigi, when he overhears women 
"discussing 
a poem
that he had sent with some 
bluebells 
to
                    the 
daughter of His Highness 
of Ceremonial, although they had it slightly wrong." 
46 He seems to 
have 
attempted 
                    a 
liaison
 with her already in his youth, but although 
he remained in touch with her, she refused all new 
approaches.  
                    Once 
she had
 become Kamo Priestess (
Sakaki
) he pressed her nearly to 
the point of scandal, considering
 that a Kamo
                    Priestess 
properly 
remained untainted by any suspicion of such concerns. When her 
father's death obliges
 her to resign
                  (
Asagao
), she retires 
to his house 
and begins there the life of Buddhist devotion that her role at the Kamo 
Shrine forbade.  
                    She clearly does not 
mean to marry.  Social constraints 
discouraged the daughter or granddaughter of 
an emperor from
marrying, 
and besides,
 she long ago noted that Genji only toyed with 
Rokujō and decided that she 
would not let that 
                    happen to her.
45 H. Richard Okada, Figures of Resistance, 358, n. 51.
                    46 TTG, 37; GM 1:95. Asagao is translated "bluebell," rather than "morning glory"
 because 
                    the word is more likely to
 have referred in Heian times to the modern kikyō, a bluebell-like 
flower.
She has hardly retired from Kamo when, without a word to Murasaki, 
Genji lays siege to her. 
                    No doubt he has always
 liked her.  In Aoi, 
for example, the narrator observes that Genji __
" 
was struck by how truly in
                    her case
 ' distance is the
 secret of lasting chart.'  
Distant she might 
be, but she never failed to respond just as she should."_
_
                    47
 However, 
this 
does 
not sound like passion. What does he want with her?  There 
are two lines of thought on the question.
                    One, the 
simpler, is 
associated with Saitō Akiko. The second, dominant and more complex, 
was proposed by 
                    Shimizu Yoshiko
 and developed by other scholars,
 including Akiyama Ken and Suzuki Hideo.
47
 TTG, 182; GM 2:58.
Saitō suggested that Genji had always been drawn to Asagao by the 
difficulty of success and had courted her even at 
                    Kamo for the same 
reason he made love to Oborozukiyo (with whom he began a perilous 
affair in
Hana no En
"):  
                    because of the risk.  48  The Asagao chapter 
begins: " The Kamo Priestess had resigned because of her mourning.
                    Genji, whose peculiarity [kuse] it was, as always, never to break off 
a courtship he had once started, sent her frequent 
                    notes." 49 Saitō 
gathered from this that Genji's initial approaches to her are only 
"lukewarm" 50 and that her rejection
                    is what challenges him to conquer her resistance at all costs.  Norma Fied agreed that Genji pursues Asagao because
                 " her very resistance poses a challenge that he cannot overlook." 51 While Saitô's reading recognizes the urgency of Genji's
                    interest in Asagao and the need to explain it, it gives Genji, shrewd and powerful courtier though he is, no intelligible
                    motive but a blind refusal to give up.
48 
Saitō, "Murasaki no Ue no shitto: Akashi oyobi Asagao no Saiin," 32–42.
                    49 TTG, 366; GM 2:469. 
50 Saitō, "Muras
aki no Ue no shitto," 37. 
51
Norma Field, The Splendor of Longing, 177.
                    Several years earlier, Shimizu Yoshiko suggested that Genji courts 
Asagao out of nostalgia for Fujitsubo.
52
                    Fujitsubo died in the previous 
chapter (Usugumo), in the third month of Genji's thirty-second year, 
and Asagao 
                    begins in the ninth month of the same year.  Genji must 
feel her loss deeply.  The first time he visits Asagao, he finds at 
                    her 
house the Dame of Staff (Gen no Naishi) over whom he and Tō no 
Chūjō quarreled comically fourteen years before 
                    (Momiji no Ga).  
According to Shimizu, this reminder of a past now lost — the world of 
his father's court — wakens 
                    memories of Fujitsubo, and he courts 
Asagao as his sole surviving link to those days.  He desires her because 
she is
                    now
 to him a token of Fujitsubo.
52
 In "Fujitsubo chinkonka": Shimizu, Genji no onnagimi, 43–9.
                    In the chapter's closing scene, which Shimizu discussed at length, Genji and Murasaki sit with blinds raised before
                    their moonlit garden, deep in snow. Murasaki has expressed her fears about Asagao, and Genji has sought to allay them. 
                    He then sends the girls of the household down into the garden to roll a snowball and begins to talk about Fujitsubo, 
                    who once did the same.  He contrasts her favorably with Murasaki (her niece). Next he muses about some of his
                    other women. When he has finished, Murasaki speaks a poem, and Genji sees her with new eyes:
                                                               Leaning forward a little that way to look out,
                                                               she was lovelier than any woman in the world.
                                                               The sweep of her hair, her face, suddenly brought back to him most wonderfully 
                                                               the figure of the lady he had loved [Fujitsubo], and his heart, 
                                                               which had been somewhat divided, turned again to her alone. 
                                                               That night, Fujitsubo comes to him in a dream and reproaches him 
bitterly.
                   For Shimizu, Genji's memories of Fujitsubo spill forth willy-nilly before 
the snowball scene, and he goes on talking 
                   about the others (Asagao, 
Oborozukiyo, Akashi) only to cover his indiscretion.   As he talks, he 
realizes that Murasaki 
                   looks exactly like Fujitsubo, and his longing for 
Asagao vanishes.  However, Fujitsubo, who loved him, has heard him
                   from the afterworld.  She feels not only insulted that he should speak 
of her to another woman, but jealous that, to him,
                   the other woman 
should have now become, as it were, she; hence she reproaches him 
in his dream.  Shimizu did not
                   wonder why Genji pursues Asagao so 
stubbornly, nor did she seem to believe that Murasaki's fears, which 
she hardly 
                   discussed, ever had substance.
A
few years later, Imai Gen'e analyzed Murasaki's poem in order to illuminate her mood in the chapter:
Frozen into ice, water caught among the rocks can no longer flow,
                                                               and it is the brilliant moon that runs freely through the sky.
                                                               54 Imai, "Murasaki no Ue: Asagao no maki ni okeru."
                   Having shown that the poem had always been read simply as an 
evocation of a beautiful winter scene, Imai argued that
                   in reality it 
conveys deep distress:  it is Murasaki who is "frozen into ice" and Genji 
who "runs freely through the sky" 
                   (spends night after night away, 
courting Asagao).  Imai demonstrated that Genji misrepresents his 
interest in Asagao to
                   Murasaki and that she recognizes his duplicity.  
He also stressed that Murasaki is upset about Asagao and that, while
                   Genji has not actually done anything yet, so that he has nothing definite 
to tell her, her anxiety is understandable. 
                   For Imai, Genji's silence, 
which is meant only to spare her feelings, alarms her more than would 
the truth.
                   While Shimizu gave Genji a motive and Imai understood the depth of 
Murasaki's distress, both therefore considered 
                   her fears unwarranted.  
Their Genji may do as he pleases and is not accountable to Murasaki, 
and she has nothing to 
                   worry about as long as he has not actually 
succeeded in committing Asagao to himself.
A
kiyama Ken's interpretation of Asagao 
55
 published soon after 
Shimizu's essay appeared, shared Shimizu's belief
                   that the snow scene 
resolves key tensions and Saitō's that Genji's pursuit of Asagao is 
helplessly compulsive. However, 
                   he particularly stressed the operations 
of the author, finding Asagao's sudden appearance in the foreground 
of the narrative
                   hard to explain except as a device to remind Murasaki 
of her insecurity vis-à-vis Genji and so to prepare for "repositioning"
                   her (suenaoshi) in the tale.  He argued that Genji is upset over the way 
he failed to resist trying to seduce Akikonomu 
                   (Usugumo), the 
daughter entrusted to him by Rokujō, and over the way he now cannot 
help pursuing Asagao;
and he
                   suggested that, 
thanks to Genji's 
preoccupation with Fujitsubo, these tensions are resolved for him in 
the snow scene. 
                   When Genji sees Murasaki as Fujitsubo, the "repositioning" is complete. Murasaki is no longer a substitute for Fujitsubo, 
                   but herself, and once the chapter is over Fujitsubo will all but disappear from the tale.
                   55 Akiyama, Genji monogatari no sekai, 93–113.
S
uzuki Hideo continued this line of thinking in a further attempt to 
define the significance of the chapter. 
                   Taking Genji's reassurances to 
Murasaki ( "There is nothing serious to any of this" )
56
 at face value, 
he proposed that
                   the author contrived the "device" of the closing 
passage about the snow and the moon in order to settle Murasaki's 
fears. 
                   Rejecting Imai's understanding of Murasaki's poem, he wrote 
that in this scene Genji successfully draws Murasaki 
                   into
 harmony 
with his own attunement to the "nature surrounding their solitude."  
He held that when Genji sees
                   Murasaki 
as Fujitsubo, "and his 
heart. . . turned again to her alone," she becomes for him, and will remain 
thereafter, 
                   what Fujitsubo had been. 57
                   56 TTG, 372; GM 2:490.
                   57 Suzuki Hideo, "Fujitsubo kara Murasaki no Ue," 140-144.   
As evidence, 
                   Suzuki cited 
the way Murasaki keeps her peace even after Genji's marriage to the Third Princess, 
                   and 
the admiration her silence arouses in Genji.  He concluded that Murasaki's suffering turns 
her
                   definitively into Genji's ideal, and that this transformation takes place in Asagao, under 
the winter moon.
                   Shimizu, Akiyama, and Suzuki held that in the snow scene Genji renounces his attachment to Fujitsubo in favor of 
                   Murasaki and that thereafter Fujitsubo ceases to figure in the tale. 58 Even in the closing lines of Asagao, however, 
                   Genji longs to share Fujitsubo's lotus throne in paradise.  She and Murasaki still do not seem to be identical, and Genji's 
                   attachment to her memory does not seem to have been ended by that single rush of feeling.  The Shimizu reading, 
                   in particular, has Genji's interest in Asagao extinguished by that moment under the winter moon, when it is not.
                   At the beginning of the next chapter (Otome), the following spring, Genji is still writing to Asagao and sending her gifts, 
                   the narrator is still claiming that he has never meant to force her, the Fifth Princess (Asagao's aunt) is urging her to
                   marry him, and Asagao herself is still afraid that her gentlewomen will take things into their own hands.  In fact, eight
                   years later (early in Wakana One), bystanders are still saying, "One gathers that [Genji] deeply desires a lofty alliance, 
                   and that he has so little forgotten the Former Kamo Priestess that he still corresponds with her." 59 They assume that
                   Genji's preoccupation with Asagao remains unresolved because he still does not have a proper wife.
                   58 Akiyama, Genji monogatari no sekai, 112;  Suzuki, "Fujitsubo kara Murasaki no Ue,"
                   59 TTG, 580; GM 4:28.
               None of the readings just outlined acknowledges what would happen in practice if Genji were to succeed with Asagao.
                   Both his life and Murasaki's would change.  In getting behind her curtains—those of a princess of unassailable standing—
                   he would marry her, and he would then have to treat her properly as his wife.  At his age and with his experience he could
                   not doubt this or hope to get away with less. (The disasters associated with Rokujō stem from his having tried to do just
                   that with her.)  No wonder Murasaki is apprehensive. She understands the gravity of what he is up to, and his silence,
                   far from sparing her feelings over an affair of no lasting importance, confirms that he understands it, too. 
                   The truth is too awful to confess.  He must want to marry Asagao.
                   Rumor supports Murasaki's fears. "He is courting the Former Kamo 
Priestess," people said,
                 " and the Fifth Princess has no objection. Those 
two would not go at all badly together."
60
                   This is how Murasaki first 
hears about Genji and Asagao: from her gentlewomen. 
                   Those spreading 
the rumor approve the match, as does the Fifth Princess, because
                   Asagao, unlike Murasaki, has the rank to be worthy of Genji. 60 TTG, 368; GM 2:478.
                   The Fifth Princess explains her position near the beginning of  
                      Otome:
                    " I gather that [Genji] has been keen on you for ages," she observed to her niece [Asagao] when they met; 
                         " it is not as though this were anything new for him. [Your late father] regretted your life taking another course,
                           so that he could not welcome him;  he often said how sorry he was that you ignored his own preference, 
                           and there were many times when he rued what you had done [in becoming the Kamo Priestess]. 
                           Still, out of respect for [Aoi's mother's] feelings I said nothing as long as [Aoi] was alive. 
                           Now, though, even she, who commanded great consideration, is gone, and it is true, 
                           I simply do not see what could be wrong with your being what [your father] wished, 
                           especially when [Genji] is again so very eager that this seems to me almost to be your destiny." 
                           61 TTG, 380; GM 3:19
                   In other words, Asagao's father wanted to marry his daughter to Genji and did not consider Genji's existing
                   marriage to Aoi an obstacle.  The Fifth Princess agreed, although she refrained from seconding him aloud.
                   Both assumed that Asagao outranked Aoi, even if the prestige of Aoi's mother and the power of Aoi's father
                   (the minister of the left) might have made the marriage politically tricky to achieve. 62  
                   Meanwhile, the Fifth Princess says nothing at all about Murasaki, who for her does not count. 
                   Social "commonsense" does not give Murasaki the weight to be taken seriously as Genji's wife.
                   The same will be true later on, when Suzaku ponders marrying his Third Princess to Genji. 
                   Murasaki does not count then, either.
                   62 Could it be that Aoi's father engineered Asagao's appointment as 
                   Kamo Priestess in order to remove this threat and that the reason given in the text
                   (no other suitable princess was available) was only an excuse?
                   Surely this is the problem that Genji knows he can no longer ignore, 63 and his reason for courting Asagao.
                   Perhaps Asagao's prestige even partly explains why he began courting her in the first place, all those years ago. 
                   Now, his long relationship with her makes it easier to seek in her the solution to his difficulty.  She has the rank, 
                   and he likes her.  She is an old friend.  He therefore moves quickly to court her when she returns from Kamo not
                   because she reminds him of Fujitsubo, but because she is now there to be courted, as she had not been before.
                   Long ago Genji chose Murasaki himself, without reference to social convention, although he then found her birth
                   adequate.  She is the emblem of the private autonomy on which he insists.  However, he realizes as he rises that
                   autonomy outside the accepted social structure is not enough, and he comes to wish to conform to this structure
                   in order to turn it to the ends of  his own sovereignty.  Therefore, if Asagao marks a change, that change is not in 
                   Genji's view of Murasaki but in his view of himself and of what his position requires.  The death of Fujitsubo and
                   the reappearance of Asagao in private life wean him from the idea that to make one's own way one must break the rules,
                   as he did before with Murasaki and Fujitsubo, and persuade him to act. That moment before the snowy, moonlit garden
                   may remind him that in Murasaki he has Fujitsubo after all and so console him for his failure with Asagao. However,
                   his love for Fujitsubo, too, was irregular, and having Murasaki is still not enough.  That is why he will eventually 
                   marry the Third Princess.
                   63 Only Tanabe Seiko (Genji monogatari kami fūsen, 145) attributed Genji's interest in
                   Asagao to social pressure and observed that he is "a little bothered by not having a proper wife."
                   Utagawa Kunisada I (Toyokuni III) 1786-1864 * 
Asagao, from the series Genji Incense Pictures 
Genji kô no zu.
Vertical chûban
 published by Yamamotoya Heikichi, (Eikyûdô)
                   *** Genji and Murasaki: Between Love and Pride  * Asagao: The scene between Genji and Murasaki
               G
enji says nothing to Murasaki about his pursuit of Asagao in part because, for him, his ambition to marry Asagao is
                   unrelated to his love for Murasaki, and in part because he knows that this time he is in earnest.  Murasaki, who learns 
                   what he is up to only through rumor, says nothing either.  Her silence measures the seriousness of the matter.  She is
                   not just hurt but frightened.  Noticing her changed mood, Genji reproaches her as before, although with sharper deceit.
                   One evening, overcome by the empty hours, Genji decided on one of his so-called visits to [Asagao's aunt]...
                         " I gather that the Fifth Princess is unwell, and I thought I might pay her a call,"
                            he said, on one knee before [Murasaki];  but she did not even look at him. 
                            Her profile as she played instead with her little girl suggested that something was wrong.
                         " You are looking strangely unlike yourself these days," he said.
                         " I have not done anything.  I have been staying away a bit because 
                            I thought you might find the same old salt-burner's robe dull by now.
                            Now what can you possibly have been making of that?"
                         " Familiarity often breeds contempt," she replied and lay down with her back to him…
                            She lay there thinking how naive she had always been, when such things as this could happen…
                            As she watched him go… she ached unbearably to think that he might really be leaving her. 
                            64 TTG, 368–9; GM 2:480. 
                         " The same old salt-burner's robe" (a poetic allusion) means, roughly, "the same old me."
                   The way she turns her back recalls the ware wa ware of three years earlier. 
                   His conduct is beyond words.  She can hardly speak to him. 
                   Further, decisive rebuffs from Asagao leave Genji undaunted, but when Murasaki's continuing torment
                   troubles him and draws him back towards her after all, at first reluctantly, this crisis, too, begins to pass.
                         " You are looking curiously unlike yourself—I cannot imagine why," Genji said to her, stroking her hair…
                         " You are quite grown up now, but you still think seldom of others, and
                            it is just that way you have of getting their feeling wrong that makes you so dear." 
                            He tidied a wet lock of hair at her forehead, but she turned further from him and said not a word.
                         " Who can have brought you up to be such a baby?" he asked. 
                            It was such a pity, when life was short anyway, to have her so upset with him!
                            But then daydreams would sweep him off again…
                         " Please
understand that you have no need to worry." 
                            He spent the whole day 
trying to make her feel better. 
                   That night a brilliant moon illumines the snow, and Genji waxes eloquent as he strives for reconciliation.
                         " More than the glory of flowers and fall leaves that season by season capture everyone's heart, 
                            it is the night sky in winter, with snow glittering under a brilliant moon, that
                            in the absence of all color speaks to me strangely and carries my thoughts beyond this world." 
                            66 TTG, 373; GM 2:490.
A
lthough justly famous, his praise of winter is not a good sign.  He is 
becoming overwrought.
K
een to act and to be amused, Genji sends the girls down to the garden 
to roll their snowball, 
                   while exaltation sweeps him 
on
 to dream aloud 
about Fujitsubo.  It is not that the thought of Fujitsubo, 
                   having filled
 his mind all the time 
he courted her stand-in, Asagao, has at last spilled 
over into words. 
                   His thoughts of Fujitsubo and his interest in Asagao 
are unrelated, belonging as they do to the realms of
                   private feeling
 on 
the one hand and of public ambition on the other.  
Having failed with 
Asagao, 
he seeks solace 
                   and reassurance in 
memories of Fujitsubo, 
and he also seeks to bring Murasaki closer to him by confiding in her. 
Thus he flirts not only 
with betraying what Fujitsubo was to him but 
with taking her name in vain, so to speak, 
                   by putting her memory to 
the ends of his own self-satisfaction. 
                        " The smallest thing she did 
always seemed miraculous," he says.
                        " How one misses her on every 
occasion…  
She made no show of brilliance, 
                           but a talk with her was 
always worthwhile…  No, we shall never see her like again." 
                  He then 
goes straight on to compound his fault towards her and Murasaki 
                  by 
comparing 
Murasaki explicitly, 
and unflatteringly, to her and then to 
Asagao.
                        " For all her serenity, [Fujitsubo] had a profound distinction that no 
other could attain, 
                           whereas you, who despite everything have so 
much of the noble murasaki, 67
                           have a difficult side to you as well 
and I am afraid you may be a little headstrong. 
                           The Former Kamo 
Priestess's [Asagao's] temperament seems to me very different. 
                           When 
I am lonely, I need no particular reason to converse with her, and by 
now
                           she is really the only one left who requires the best of me." 68
                           67  "Who are so much like her."
                           68 TTG, 373–4; GM 2:492.
                   A discussion of Oborozukiyo and others follows, without comparisons.  
                   In the guise of confiding in Murasaki,
 Genji has complacently reviewed 
his secure emotional assets 
                   while simultaneously placating her and 
reminding her
 that she depends on his indulgence.  
Nonetheless, 
                   her 
protest has worked as a loyal wife's was supposed to
 in the "rainy 
night conversation": 
 it has convinced 
                   him of 
his folly and returned him 
to her.  
After a day spent talking her round, he has come round himself.
                   Having indulged in calling up the image of Fujitsubo, he sees that 
Murasaki, there before him, has exactly her quality.
                   This is not a new 
discovery for him.  He has made it before when failure to grasp some 
petty prize has opened his eyes
again to the treasure he already has.  
Disappointment with the Third Princess will affect him the same way,
                   but by then it will be too late.  
Later that night Genji falls asleep thinking of Fujitsubo, and his 
performance
                   earns
 its reward when "he saw her dimly—it was not a 
dream—and perceived her to be extremely angry.
                       " ' You promised never 
to tell, yet what I did is now known to all. 
                            I am ashamed, and my 
present suffering makes you hateful to me! ' " 
                            69 
 TTG, 374–5; GM 2:495.
He awakes with a 
pounding heart to hear Murasaki crying out, "What is the matter?"
                    Murasaki's challenge to his willful ways has provoked a play of 
ambition, treachery, love, conceit, 
                    cajolery, and contrition 
with an 
eerie outcome, and this pattern will recur in connection with the Third 
Princess. 
                    Murasaki's open unhappiness over Asagao recalls her behavior 
as a girl, when her sulking persuaded him to stay home
                    instead of 
going out for the night.  While her conduct then appeared wanton, she 
was really only an innocent child, 
                    and her feelings in
Miotsukushi
or Asagao are natural to any wife.  Still, to Genji's mind, especially 
when 
                    he compares 
her 
to Fujitsubo or Asagao, the sharpness of her 
temper is a flaw, even if an attractive one. 
                    It is the inner counterpart,
 and perhaps the consequence, of her flawed origins.
                          "Who can have 
brought you up such a baby?" he asks.
                    The girl he reared himself, 
hoping to form her entirely to his will, has a will, an "I" of her own.
                    She has "a difficult side to her"
(
sukoshi wazurawashiki ki soite
) 
and 
is "perhaps, alas, a little headstrong" 
 (
kadokadoshisa no susumitamaeru ya kurushikaran
). 
That could not be said of Fujitsubo, 
                    who despite her 
great depth
 "never put herself forward"
(
moteidete rôrôjiki koto mo mietamawazarishikado
). 
                    Supremely distinguished, she betrayed no 
sharp glint of wit or temper.  
                    No more does Asagao, 
who, 
apart from 
her stubborn refusal to engage with Genji, seems utterly bland.  
                    These 
two great ladies do not have Murasaki's "prickles."  Murasaki is too 
proud, cares too deeply for Genji, 
                    and depends on him too much to 
hold her peace;  while Genji, more headstrong even than she, loves her 
too much
                    either to ignore her or to scold her outright.  It is the 
exceptional strength of the bond between them
                    that allows 
their story 
to grow through crises like these towards real disaster.
                                                                                                              NOTES  &  REFERENCES
                                                                                                     THE  WORKS  OF  SUMIYOSHI  GUKEI

Waseda University Library 
                                                                                                                Kotenseki Sogo Database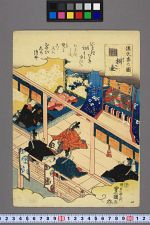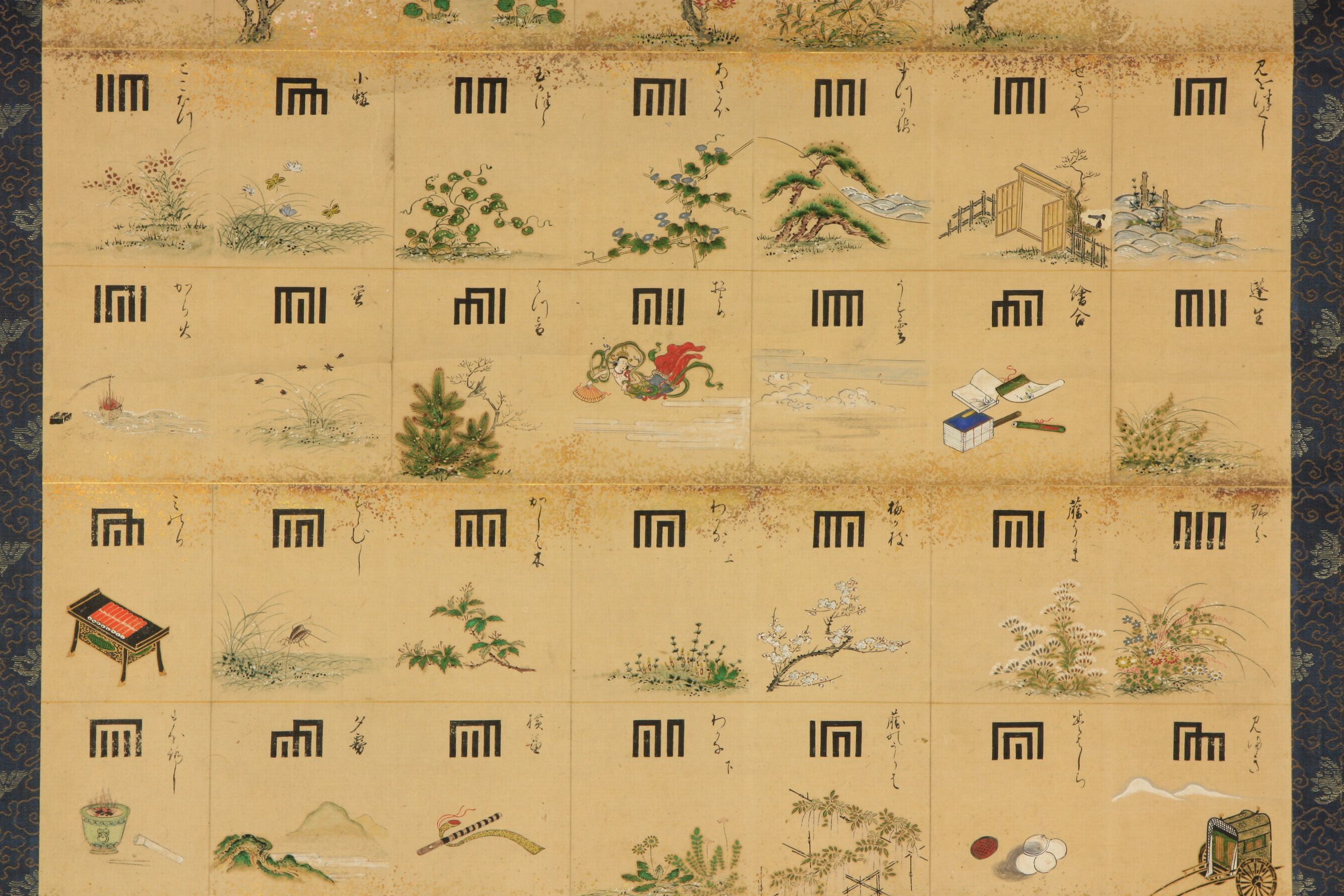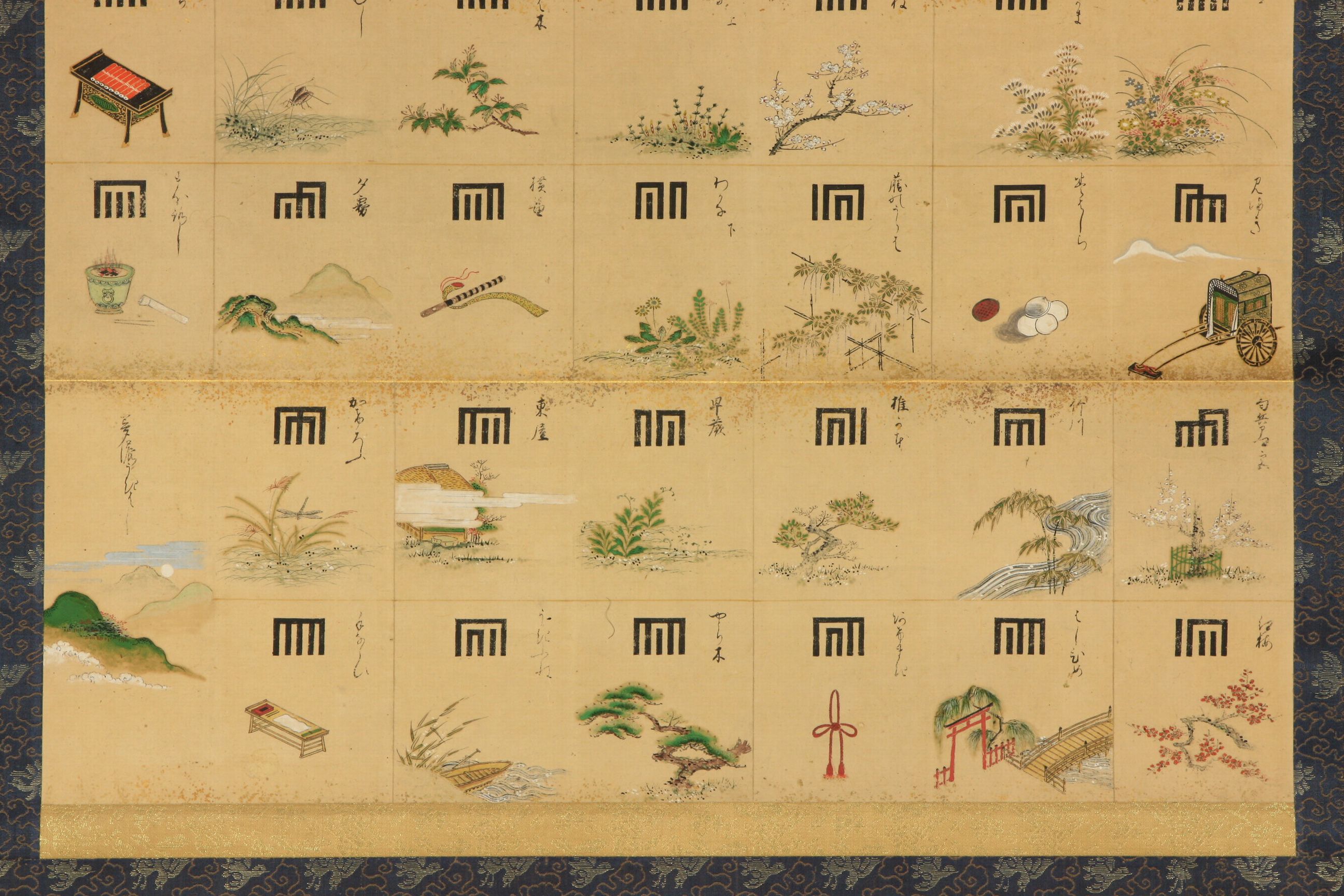 Another important mid-Edo development in
Genji
printing design was the
Genji
incense (
Genji kô
) sign.
                                  The Genji incense game, which emerged in the imperial court in the late Muromachi period, used five types
                                  of incense, with five samples of each, for a total of twenty-five packages.  Each of the five was burned in
                                  succession, and the players had to decide if each incense was the same as or different from the others.
                                  The Genji incense signs gradually took on an exisiting independent of the incense contest, as visual 
                                  icons
 representing each of the chapters in
The Tale of Genji.  
They appeared in card games, confectionary, 
                                  tea
 utensils, architectural decorations, family crests, company logos, clothing, wrapping paper, and Genji 
                                  pictures.  For example, the card game Fûryû Genji uta-karuta (Elegant Genji Poem Cards) illustrated by
                                  the noted ukiyo-e artist Katsushika Hokusai (1760-1849), is a four-sheet woodblock set, beginning with
                                  Kiritsubo, and going to the fitfy-four and last chapter, Yumae no ukihashi.  
Each Card is marked by
                                  a Genji incense sign, a scene from the chapter (to be matched by another card with the bottom half of the
                                  poem, in the fashion of the New Year's card game on the hundred poems by a hundred poets). __ See,
                                                             *  Iwasaki Yoko, Doshisha University, Kyoto  * AESTHETICS No. 13 (2009)
                                                                                                      Kodo * Japanese Incense Ceremony