Welcome to this "Virtual Office" where we develop and unlock the CO2e-potential of the One Laptop Per Child - alias 100$ Laptop - Universal Education Initiative and it's spin-outs.

* to our tool to manage our discussions     : http://groups.google.be/group/olpco2e   (Discussion Group)

* to our wiki-based website tool                  : http://sites.google.com/site/olpco2e/      (Website Tool)
* to our common working calendar             : http://www.google.com/calendar

* and a lot more ...

* CCC = Creative Commons Copyright

These tools are only accessible to all to allow us to have a Virtual Office to develop our initiatives and collaboratively develop, share and allow other similar initiatives to follow-up, exchange info and viewpoints and interact.

Check out the "SiteMap" and ... Good collaboration,
Sven
Peru XO 100% Penetration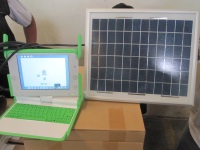 "
The study describes very promising results in this section. For example, only 13% of laptops malfunctioned at some point and half of them were successfully repaired. This is a demonstration of the XO's ruggedness and the success of our training program, which devoted 8 hours to technical maintenance by teachers.  
Also promising was that the theft ratio was only 0.3%. It's worth noting that
we decided to give the computers but not the property
because in those places where parents were mistakenly told the computers were theirs to own, many of them immediately decided to try to sell them for cash. "
extract from "An Alternative Reading of the independent IADB Study on Peru's OLPC Implementation" 18 Apr 2012, by Oscar Becerra, the person responsible for Una Laptop por Niño for almost five years with over 400.000 XO's implemented.

Suggested Links:

OLPC Wiki:                             http://wiki.laptop.org (Open to the Outside World)
OLPCO2e Virtual/Wiki Office: http://sites.google.com/site/olpco2e/    (Open to the Outside World)
OLPCO2e Discussion Group: http://groups.google.be/group/olpco2e (Open to the Outside World)
OLPCO2e - Team Private:      http://sites.google.com/site/olpco2eteamprivate/Home (Only for staff & Kernel Team)
olpcnews.com:                        Objective & Critical News over OLPC, makes every OLPC Board Member, Staff & Ambassador shiver !
IRC: OLPC (Just google IRC if you're not familiar with it... it's brilliant if you want to talk to people here and now, instantly, that are familiar with OLPC, there's people from every continent, so 24/24 - 7/7 365 days/year !)
Skype: SvenAERTS or Brussels Office: +32 2 6553829 or www.olpceu.org = OLPC-Europe / eu_info at laptop.org
Thx for reading and - in name of many - looking forward collaborating :)