These Free patterns are for your personal use only.  Each is available as a PDF file download.  
All Rights are reserved. 
There are several other free patterns in the Double Knitting tutorial, all for double knit potholders
NOTE:
Selecting 
Download  now automatical down load the PDF to your down load file.
Holiday (Easter) Eggs Recipe.
 This recipe (not a true pattern) has information on cast on, increases, decreases bind offs and other details.  These eggs are great for using up scraps of yarn--and for experiementing with patterns and techniques.  Recipe has stitch count for anything from a quail sized egg to an ostrich sized on.
PDF with all images on a single page (printing this page is optional)--these are a quick to knit project.
The Twisted Rib Slouch Hat.  A quick and easy hat, in 3  sizes, knit with bulky yarn and big needles (US11/8mm). It has a deep cuff of twisted ribbing, and crown of welting. A pom-pom is an optional finish to the easy to knit slouch hat.  There is a link to a video tutorial for beginners to learn how to knit the twisted ribbing.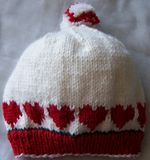 The Sweet Heart Hat
--is a great first project for stranded knitting.  The hearts motif is just small enough for a learner, and make a pretty border to another wise simple hat.  Just the thing for your sweet heart on Valentine's day, or any time you want to send some love. (This hat is a medium woman's size. If you have a large head, it might not fit)
download now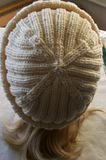 My most popular design--The Squared Away Watch Cap. Over 100 different version are posted on Ravelry--
Several knitter have knit the pattern 2 and 3 times! It's just a basic watch cap--simple 2 by 2 ribbing--but with decreases that take the hat from ho-hum to special!
This hat has directions for two sizes (medium/woman and large/man's) but the ribbing has enough give to fit an extra large man's head) You can also change the size by knitting the hat with DK yarn and smaller needles for a small size.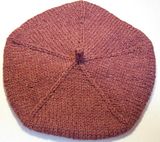 The Red Star Beret
is a classic beret design--the raised center decreases natural create a simple 5 pointed star--Luckily, stars come in blue, yellow white--a range of colors--not just red. Pick your favorite color and have a star of your own. 
You can  make it with or with out the small center stem.
This knit
Flower and Leaf
is shown as a shawl pin. But it takes almost no effort to sew it onto a jewel pin base (instead of sewing onto a stick pin) or to knit it up and sew it onto a plain hand knit (or store bought) hat. (There is a video tutorial to see for your self how easy it is to create.)
A 
pattern for a 
Double Knit Gingham Potholder.
I like to think of pot holders (or hot mats, or coasters--all simple squares) as over sized swatches for learning double knitting techniques.
Pick any two colors--to match your kitchen, and begin practicing double knitting techniques with this classic design.  Several knitters have continued to knit--and turned this pot holder into a scarf.