News
Subscribe to posts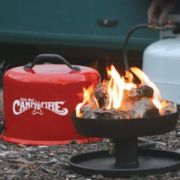 CAMCO
Propane Camp Heaters & Campfires
The Camco Big Red Campfire allows you to take your campfire with you. No mess, no ash and no need to gather firewood--you can have a campfire wherever you go. The compact, portable campfire is great for campsites with restrictions against in-ground fires. Take it tailgating or put it on a patio. Its size is convenient for wherever you need a fire. Realistic log piece and full 9-1/2" diameter ring burner help create the natural look and ambiance of wood-burning campfires. Its sturdy lid and security latches make it safe and easy to transport. The campfire includes a 10' propane hose for use with standard LP gas cylinders. The fire tray diameter is 13-1/4". It includes an adjustable regulator with a maximum output of 65,000 BTU/HR.
We even have the OLD FASHION Campfire Rings - The Good Stuff!

Overland Solar
Panels & Chargers



28 Watt, 60 Watt, 90 Watt, 150 Watt Kits




Not All Solar is Created Equal

! 



There are many types and brands on the market to choose from, some at much lower or higher costs. Ultimately, the value of a system is only measured by the amps into your battery. With the most efficient and shade-resistant cells on the market combined with our high-quality charge controller and wiring, our systems offer the best value - more power, smaller size, and longest life. In fact, 
we guarantee that our system will outperform any equivalent system on the market or your money back. 
Additional Information: Solar | Portable Solar Charging Systems
Is constantly looking for 
New Quality Products, 
to make your
 Outdoor Adventures 
The ALPS Mountaineering Ready Lite Low Chair is stable, lightweight, comfortable and portable. Whether you're headed to a concert, beach, on a canoe trip or a backpacking excursion there is sure to be room to bring along this low profile chair. This low-profile chair provides hours of comfort and strength you want in a chair. The Ready Lite Low Chair features 420D rip stop fabric and a durable 7000 series aluminum frame that folds down to fit into a 7 x 15 x 4 inch carry bag. Despite weighing less than 2.5 pounds, the Ready Lite Low Chair has a 250-pound weight capacity. Sit back, stretch your legs and enjoy the simple hassle-free comfort the Ready Lite Low Chair has to offer!
The ALPS Mountaineering Ready Lite Table is easy to set-up and provides a stable surface for your campsite or tailgate party. The light weight 7000 series legs are pre-connected with a unique hub that folds out in seconds. The 19" X 19", 420D polyester honeycomb ripstop fabric top is easily attached at the corners. The table also features two beverage holders and a 4" x 14" carry bag with shoulder strap. With a weight of just 1lb. 4oz., the Alps Ready Lite Table is perfect for your active lifestyle.






    


The ALPS Mountaineering Ready Lite Cot uses a 7000 series aluminum design frame and 420D polyester honeycomb rip stop fabric throughout. The use of aluminum rather than steel makes the cot extremely light - weighing in at under 5 pounds yet still extremely durable! The unique design breaks the cot down small enough to fit into a 7 x 17 inch carry bag and makes setting up and taking down a breeze! Don't be fooled by its light stature, the Ready Lite Cot has a 300-pound weight capacity!


---
Alps Mountaineering Backpacks
Internal Frame & External Frame
2017 New Backpack Designs and 
Capacity
---
                                                       Find The Right Backpack for Your Type of Outdoor Experience!
ALPS Mountaineering - Day Packs
The Day Pack is just right for a full day or overnight hiking, cycling or skiing adventures. These packs are a necessity for carrying the essential gear needed for your outdoor adventures.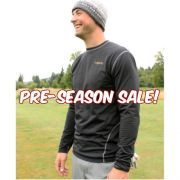 Volt Resistance TACTICAL
7V Heated Base Layer
The Volt Resistance TACTICAL 7V Heated Base Layer is a lightweight garment will not only provide you with soothing heat but also wicks away moisture to keep you dry making it the perfect base layer choice. Constructed with a Micro polyester/spandex material with a brushed fleece lining that contributes to making it a really comfortable fit. The Zero Layer heating system uses four 7v heating panels concentrating heat to the middle of the back. 
 Provides over 170 degrees of soothing heat on high for 3.5 hours and up to 15 hours on the lowest setting
 Micro polyester/spandex material with a brushed fleece lining
 A large four panel heating system centered in the back of the garment
 Safe & Durable 7v Heating Technology
 Built-in 4 level microprocessor controller to select desired heat output
 Includes 7.4v 2900mAh battery and charger
PRE-SEASON SALE ! 
SAVE $15.00