Announcements
Subscribe to posts
བོད་ལྗོངས་ང་ཚོའི་ཕ་ཡུལ། Tibet Our Country:
NWTCA education department will present this program once a month:
This project provides a platform to learn about our country, Tibet; through discussion, debate, guest speakers, documentary movies, inspirational poems and songs, and other related activities.
Objective:
Teaching our children about Tibet, its culture and history, understanding present situation and becoming responsible Tibetan youth
Admission Fee: no charge
When: One Friday a month.
Time: 6:45 PM - 7:45 PM
Focus Age Group: All Children (8-18 Years)
Young and adults are welcome as well.
Snacks will be provided.
1st Program of Tibet Our Country: March 31st 2017, Friday
Presenting a short documentary film produced by New York Times about Tashi Wangchuk, who pursue to sue the Chinese government regarding the lack of Tibetan language education in Tibet. Also some inspirational songs by Tibetan artist in Tibet. Discussion and expression of thoughts on this is encouraged after the show.
2nd Program: Presentation by Machik in April. More information will be posted later.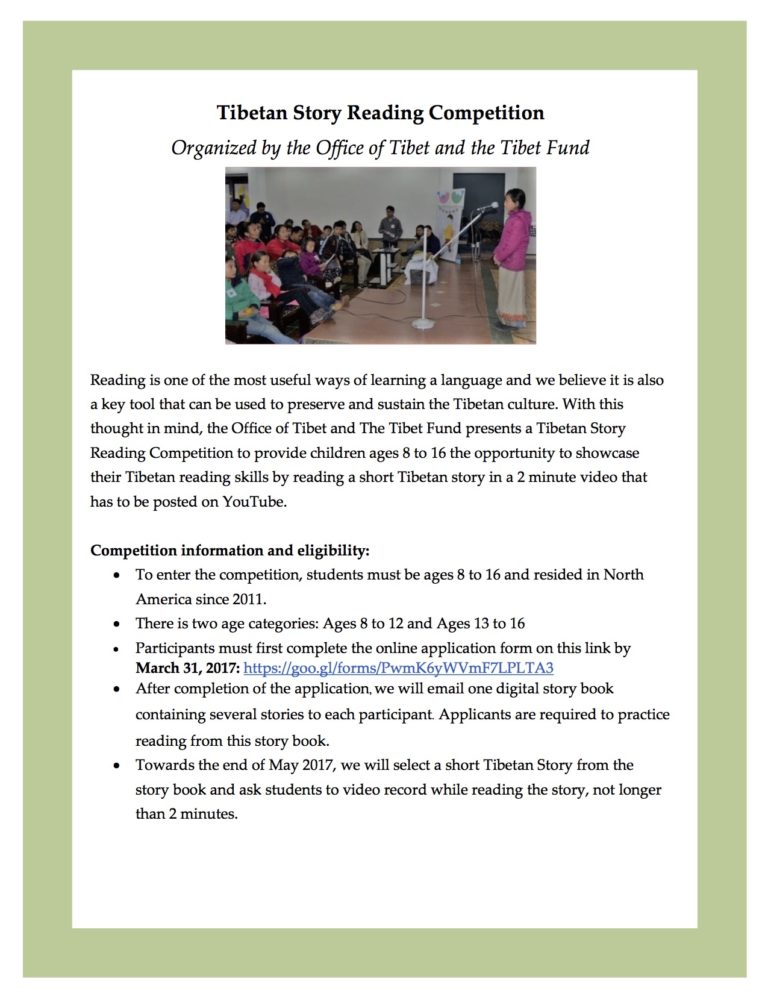 Reading is one of the most useful ways of learning a language and we believe it is also a key tool that can be used to preserve and sustain the Tibetan culture. With this thought in mind, the Office of Tibet and The Tibet Fund presents a Tibetan Story Reading Competition to provide children ages 8 to 16 the opportunity to showcase their Tibetan reading skills by reading a short Tibetan story in a 2 minute video that has to be posted on YouTube.
Competition information and eligibility: 
To enter the competition, students must be ages 8 to 16 and resided in North America before 2011. 
There is two age categories: Ages 8 to 12 and Ages 13 to 16 
Participants must first complete the online application form on this link by March 31, 2017: https://goo.gl/forms/PwmK6yWVmF7LPLTA3 
After completion of the application, we will email one digital story book containing several stories to each participant. Applicants are required to practice reading from this story book. 
Towards the end of May 2017, we will select a short Tibetan Story from the story book and ask students to video record while reading the story, not longer than 2 minutes. 
In the video, the applicants must introduce themselves and state where they are from at the beginning of the video. Example of introduction: "My name is Tenzin and I live in Toronto, Canada" 
Video and audio has to be high quality so judges can clearly see and listen to the applicant 
Upload your YouTube video link at least one week before the dead line here https://goo.gl/forms/uKy6ZTJrm0Vo72fO2. Last day for the video submission is: June 10, 2017. 
A Panel of the following three judges will review the video and fill in the evaluation forms to select the finalists:


A representative from the Office of Tibet
A representative from the Tibet Fund
Mr. Tenzin Norbu Nangsal, writer and experienced teacher
Prizes: 
$100 will be given to the Top 10 readers. 5 readers will be chosen from each age category mentioned above 
An e-Certificate will be issued to children for participation 
Final award will be announced by first week of July, 2017 
The recommender organization will win an award of $1,000 if more than one student recommended by it are selected in the final 10 best readers. For individuals who recommend more than one winning student will receive an award of $100.
The DLT Scholarships are highly competitive supplementary bursary awarded to outstanding Tibetan graduate students pursuing a full-time graduate degree in any reputable University in Europe/Australia/North Americas.
The purpose of the scholarship program is to further the human capital development of Tibetan people by encouraging the pursuit of excellence among Tibetan students in a graduate field of study that has relevance and potential to contribute to the welfare of humanity and the Tibetan people in particular.
The Dalai Lama Trust is pleased to announce its seventh round of annual graduate scholarship grants for the academic year 2017-18. Ten to fifteen exceptional candidates of Tibetan descent will be selected to receive scholarship awards of up to US$10,000.
The deadline for submission of 2017-18 DLT Graduate Scholarship is April 22, 2017.
Application materials for the 2017-18 academic year are now available
here
.
Contact address: Scholarship Committee
The Dalai Lama Trust
9920 Pacific Heights Blvd. #150
San Diego CA 92121
USA
Email:
scholarship@dalailamatrust.org
Shay-Gu (49th Day) prayer service at Bodkhang on Sunday,
February 19th for late Lekshey Gyatso la. He is one of the early Tibetans to settle in the Pacific Northwest as a Shingchodpa. He passed away recently at his home in Salmon Creek after a long illness.
Prayers will begin at
10:00 AM.
Lunch and tea will be served by the family.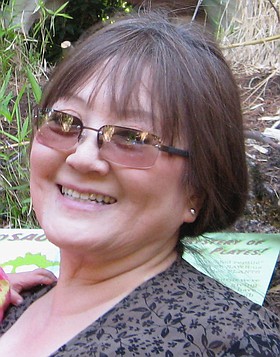 Please join us for a special morning prayer dedicated to our old friend and supporter Joan Y. Emerson on Sunday, February 12, 2017 from 10:00 am - noon. Joan Emerson left for her heavenly abode on September 7, 2016. The Tibetan Community of Oregon and Southwest Washington will remain forever indebted to her for her love and kindness.
Please order your Losar Derga from NWTCA by contacting our President Lobsang Dhondup lak or PRO Dawa Tuladhar lak before
February 11, 2017.
The cost for a Derga (a full set) is $75 if you submit your order before February 11th, 2017. Orders submitted after February 11th will cost $100.
The Derga set will include 8 Bhungu Amcho, 1 Bulug, 2 Nyapsha, 2 Kongcha, 2Muktoong and 1 Pimpi Dokdok
Please contact our PRO Dawa Tuladhar la ASAP if you want to participate in the 9th Annual Tibet Lobby Day in Washington, DC on Monday, March 27 and Tuesday, March 28, 2017, along with a Lobby Training Session on the afternoon of Sunday, March 26. This annual event is a collaboration of ICT and U.S.-based Tibet Support Groups and Tibetan Associations. The ICT's deadline to sign up is Sunday, February 26, 2017. NWTCA will pay round trip airfare.
https://tibetlobbyday.us/
Please note that the NWTCA General Body Meeting scheduled for Sunday, January 8, 2016 has been
rescheduled to Sunday, January 15, 2017 due to inclement weather
. The outgoing Board will present their reports followed by introduction of the new Board. The meeting will begin at 1:00 PM. Please come and share your thoughts and concerns.