Diễn viên
Quốc gia
Hàn Quốc
Ngôn ngữ
Hàn Quốc
Số tập
16
Sản xuất
Giám đốc sản xuất

Cho Hyung Jin
Kim Sang Heon
Park Ho Sik

Nhà sản xuất
Park Ji Hyun
Bố trí camera
Single-camera
Thời lượng
90 phút
Công ty sản xuất
Chorokbaem Media
Nhà phân phối
tvN
Trình chiếu
Kênh trình chiếu
tvN
Định dạng hình ảnh
1080i (HDTV)
Định dạng âm thanh
Dolby Digital
Phát sóng
21 tháng 3, 2018 – hiện tại
My Mister
 (
Hangul
: 
나의 아저씨
; 
Romaja
: 
Na-ui ajeossi
) là một bộ phim truyền hình Hàn Quốc được sản xuất vào năm 2018 với sự tham gia của các diễn viên chính 
Lee Sun Kyun
, 
IU
, 
Park Ho San
 và 
Song Sae Byeok
. Bộ phim hiện đang được chiếu trên kênh truyền hình 
tvN
vào lúc 21:30 (
giờ Hàn Quốc
) các ngày thứ tư và thứ năm hàng tuần.
My Mister kể về câu chuyện của ba anh em đang trải qua những áp lực trong cuộc sống của tuổi trung niên và một cô gái trẻ mạnh mẽ, lạnh lùng, người đã phải sống một cuộc đời khó khăn. Họ đến bên nhau và giúp nhau hàn gắn những vết sẹo trong quá khứ.
Người anh thứ hai trong số ba anh em. Anh là kỹ sư tại một công ty kiến trúc và anh luôn muốn sống một cuộc sống "an toàn". Anh là một người giản dị và nhẫn nhịn, nhưng thực ra lại sống hết mình vì những người anh yêu quý.
Một cô gái phải chịu nhiều khó khăn trong cuộc sống. Cô đã nhận nhiệm vụ phải tìm ra những điểm yếu của Park Dong Hoon từ CEO của công ty nơi cô đang làm tạm thời (cũng chính là công ty của Park Dong Hoon). Nhưng sau khi theo dõi cuộc sống của Park Dong Hoon cô dần nhận ra cô đã bị cuốn hút bởi anh và nhờ anh lần đầu tiên cô đã học được cách tin tưởng một người.
Là anh cả trong số ba anh em. Bước vào tuổi trung niên anh bị sa thải khỏi công ty, nên anh bắt đầu kinh doanh nhưng gặp thất bại và cuối cùng bị đuổi ra khỏi nhà. Dù cho anh phải sống nhờ ở nhà mẹ ruột nhưng anh lại là một người lãng mạn và luôn tìm kiếm niềm vui trong cuộc sống.
Là em út trong số ba anh em. Anh từng được xem là một đạo diễn thiên tài bởi một bộ phim cá nhân anh làm khi còn trẻ đã được mời tham dự liên hoan phim Cannes. Tuy nhiên, đã 20 năm trôi qua từ những ngày rực rỡ đó mà anh vẫn chưa có thêm một tác phẩm thành công nào trong sự nghiệp đạo diễn của mình.
Mẹ của ba anh em. Một người mẹ luôn thương yêu lo lắng cho đứa con cả bị đuổi khỏi nhà và đứa con út vẫn chưa kết hôn dù đã bước qua tuổi 40.
Vợ của Park Dong Hoon, cô và anh có một người con trai đang học tại nước ngoài. Cô là một luật sư có văn phòng riêng. Hiện tại cô đang ngoại tình với Do Joon Young, CEO của công ty mà Park Dong Hoon đang làm việc.
Một diễn viên điện ảnh đã từng tham gia phim của Park Ki Hoon và cô có sự yêu thích đặc biệt dành cho anh.
Một kẻ cho vay nặng lãi.
Jung Young Joo trong vai Jo Ae Ryun
Vợ của Park Sang Hoon.
Kim Young Min trong vai Do Joon Young
Là hậu bối của Dong Hoon tại trường đại học và là CEO của công ty mà Park Dong Hoon và Ji An đang làm việc
Ahn Seung Kyun trong vai Song Ki Bum
Là một người bạn của Ji An là một người hikikomori.
Ryu Sun-young trong vai Jung Chae Ryung
Đồng nghiệp của Park Dong Hoon và Ji An.
Drama Review: Korean drama 'My Ajusshi' ('My Mister')
Eliza Ali
courtesy of tvN
When the trailer for the Korean drama series,
My Mister
(also known as
My Ajusshi
) rolled onto my cable TV, and kept rolling, I was intrigued. But initially I had a difficult time understanding the series' plot, as matter-of-factly described by the voice-over on the telly.
"Developing a meaningful relationship with an older, married guy?"
"Sounds very scandalous indeed."
"How could this even be the premise of a series?"
I wondered about the synopsis out loud (fortunately, nobody overheard). Still, I held on, buoyed by the knowledge that this series was the latest project of Kim Won-seok, the acclaimed director of
Signal
, and written by Park Hae-young, the famed writer of
Another Miss Oh
—my two favourite Kdramas).
True to form, as the drama unfolded, I was drawn to the plot—hook, line, and sinker. By the end of the first episode, I knew the motivations of the key characters and the shady side of office politics.
The main characters are Ji-an, the contractual office assistant, and Dong-hoon, the building inspector-cum-manager, both of whom serve a notable architectural firm in Seoul. From the get-go I was entirely amused by how different the heroine was from the protagonist. She exuded an unapologetic, no-nonsense attitude, while he carried this unnerving, goody-two-shoes image. Ironically, it was these personality traits that brought them closer together as they learned to muster the courage to look past one another's pain and heartache.
With a loan shark literally and figuratively breathing down her neck, Ji-an was resolute and desperate to find any means necessary to remove this heavy burden from her life. When the opportunity to become CEO Joon-young's lackey landed, she was more than determined to get the job done swiftly and she focused on getting rid of Dong-hoon from the esteemed company.
Archenemy Joon-young, who was Dong-hoon's 'hoobae' (or junior) in college, was also shamelessly seeing Dong-hoon's wife, Yoon-hee, behind his back.
The plan fortunately backfired when the embittered Ji-an grew fond of genuinely nice guy Dong-hoon. As part of her devious scheme, Ji-an had wiretapped his phone so that she could listen in to his conversations and read his text messages. After spending more time together and eavesdropping religiously on the phone, however, Ji-an found herself strangely rooting for him and even 'pinpointing' the path for him to discover his wife's infidelity.
photo: courtesy of tvN
Without giving much of the remaining plot away, there are many sad scenes in this series, which tug at my heartstrings and resonate on a personal level. I wholeheartedly agree, for instance, that spousal betrayal means pronouncing a death sentence to the innocent party.
On that note, the series delves realistically into the two-timing issue, and how it affects all parties involved. Mirroring real life itself, the pain and grief experienced by Ji-an and Dong-hoon also came in an orderly fashion, thus making it more acute and relatable.
My Mister successfully touches on universal themes of brotherhood, friendship, perseverance, selflessness, accountability, forgiveness, acceptance, and letting go. The stellar supporting cast makes a frank exploration of these themes not just possible, but deep and poignant, adding to the already rich narrative. Much like adhering to strict building codes, these friends and family members resemble pillars which boost each other up in good times and bad.
A strong, believable bond between Dong-hoon and his two brothers, Sang-hoon and Ki-hoon, is another gem to behold. No sibling relationship is ever perfect, but they will always be there for you, no matter what. I cried when they tried to make the formidable Dong-hoon vent his anger or shed some tears. Instead, they bawled on his behalf.
The most powerful sense of kinship, of course, belongs to none other than Ji-an and Dong-hoon. They connected on a deep, emotional level which defied the need for physical contact and assurance (Spoiler: When they did have a 'skinship' moment in the final episode, I turned on my waterworks full mode). They understood what would make and break them, and helped to build each other up based on this knowledge. Bolstered by the faith that they had instilled in one another, they took the road less traveled, which would naturally be conducive in the long run.
My Ajusshi has left an indelible mark on my five-year Korean-drama watching experience. The ensemble of director Kim Won-seok and writer Park Hae-youn is a dream collaboration, not afraid to push the envelope and delivered yet another precious work of art. The phenomenal success of this series rests upon its unique storyline, which does not follow your typical boy-meets-girl trope to grab the viewers' attention. It demonstrates that overtly passionate displays of affection are not the only way to score high ratings.
Sometimes, loving someone unequivocally can transcend physical boundaries and still be love in its own right.
(Written by Eliza Ali. Eliza is a mother of 2 and a multi-tasker able to juggle chores effortlessly in Malaysia. She is passionate about her kids, life, great reads, k-drama, desserts, and coffee. She is a firm believer in the absolute truth.)
My Ajusshi: Episode 1
My Ajusshi, tvN's newest melodrama from the PD of Signal and Misaeng and the writer of Oh Hae-young Again, starts out pretty dark and depressing, but in a good way, if that makes sense. This first episode does a fantastic job of setting up the main characters' lives and the challenges they deal with on a daily basis, as well as the primary conflict that looks as though it will serve to both polarize them, and bring them together. I find the characters fascinating, and the plot, while simple so far, promises some very interesting revelations as we go forward.
 
EPISODE 1 RECAP
In a dreary office, employees go about their work listlessly until a high-pitched shriek rings out. A woman screams bloody murder at a tiny ladybug, and everyone reacts dramatically except for one young woman, who barely glances over before turning back to her work.
One team manager, PARK DONG-HOON (Lee Seon-kyun) gently reaches out to trap the tiny insect. The ladybug flies off and lands again on the arm of the bored young woman, but just as Dong-hoon is about to catch it, she squishes it with a book.
Dong-hoon heads back to his desk, where his coworkers tease him for having a soft heart. He deadpans that he's killed pigs before, explaining that you can kill anything as long as you don't feel bad for it.
They get busted for fooling around at work by their boss, Director Yoon, and we see him depicted as a pog game piece with red stars depicting his status, ha. He tells Dong-hoon that he should be a better manager for the thousand won per minute he's being paid.
The woman who squashed the ladybug, LEE JI-AN (IU), seems to be a low-level employee, watering the plants and sorting the mail. She goes about her work dispassionately, not talking to anyone. At the end of the day, Dong-hoon sees her in the break room shoving handfuls of instant coffee in her bag, but he doesn't say anything.
Another executive, Director Park (a blue pog denoting that he's on the opposite team as Director Yoon), lurks in the security office spying on employees through the CCTV cameras. He spies on Director Yoon's texts, then meets with two other blue pog executives, Director Jung and Executive Director Wang, to discuss their strategy for keeping the red pog faction on their toes before the upcoming internal election.
As we watch their pogs fighting it out on a baduk board, Director Park tells Director Jung that the red pog directors will be coming after him (it's unclear why), suggesting he take a short leave of absence. ED Wang agrees, and he promises the nervous Director Jung that he'll still have his job when he gets back.
After Director Jung leaves, ED Wang grumbles about DO JOON-YOUNG (Kim Young-min), a younger man who is now CEO of the company. Director Park goes to see Young-min (red pog), telling him that Director Jung unexpectedly asked to go abroad for a month and refused to say why. Young-min approves the request.
As he leaves work, Dong-hoon and his coworkers are forced to give up their elevator to Young-min and Director Yoon, who appears to be Young-min's primary lackey. One employee wonders why Young-min is such a jerk to Dong-hoon, who was his sunbae in college.
Hilariously, the elevator doors accidentally open again. They all just stand there awkwardly for a long, uncomfortable moment, as Director Yoon frantically pokes at the elevator buttons.
Dong-hoon stops at an ATM for cash, then meets with his brothers at a men's clothing store. He insists on buying his hyung, SANG-HOON (Park Ho-san) a new suit for his daughter's wedding. Their youngest brother, KI-HOON (Song Sae-byuk), backs him up.
When Ki-hoon steps away to take a call, Dong-hoon quickly gives Sang-hoon some extra cash in case he needs it for wedding expenses. Sang-hoon tries to give it back, but Dong-hoon won't let him, since his hyung is having a hard time after his wife left him. Dong-hoon claims the money is from his wife, who can't make it to the wedding, though Sang-hoon seems suspicious of her excuse of a business trip.
While they wait for Ki-hoon, they discuss Dong-hoon's job as a building inspector. Sang-hoon marvels that some building owners actually want a low rating, as it means they can get permission to renovate.
Joon-young's driver takes him home, where he changes into comfortable clothing and heads back out again. He lets himself into another apartment, where a woman, KANG YOON-HEE (Lee Jia), confronts him for never answering his phone and making her worry. Joon-young explains that everyone at his company is upset that he got promoted over them, so he can't risk their relationship being discovered.
Yoon-hee apologizes, and Joon-young assures her that he misses her all day, too. She asks him to take her on a trip, since she told her husband she was away on business, and everything is forgotten as they begin kissing. Oh no, she's Dong-hoon's wife, isn't she?
The three brothers go out drinking, and Sang-hoon tells Ki-hoon that he should make at least one successful movie before he dies. He suggests a horror movie about a middle-aged guy who gets laid off, spends all his savings trying to start a business, then becomes a bum after his wife leaves him.
The brothers picture the main character (played by Sang-hoon, obviously), sick and alone and plagued by a set of injuries that leave him frozen, staring out a window at sunset. Sang-hoon gets carried away picturing the protagonist's turn to revenge, then his heroic death. Dong-hoon says it'll fail because there's one crucial thing missing from this movie: a woman.
Ji-an works at her evening job, washing dishes at a restaurant. When nobody is looking, she bags up the leftover food on the plates and stashes it away for later.
On the subway ride home, Sang-hoon sees Ji-an standing with her back to him, noticing that she's not wearing socks even in the cold weather. They get off at the same stop, and Dong-hoon trails behind Ji-an for a while. Eventually they take opposite turns, but Dong-hoon keeps looking back towards Ji-an with curiosity.
She heads to a dingy part of town and lets herself into a run-down apartment. She heats up water for her pilfered instant coffee and digs into her salvaged leftovers straight from the bags. She doesn't even flinch when a light comes on, revealing a man (a loan shark?), KWANG-IL (Jang Ki-yong), sitting behind her.
Ji-an tosses him the money she made today, and he sneers that the tiny amount must mean she wants to see him more often, making it sound like a threat. Ji-an tells him that she hates when people intrude on her personal space, but Kwang-il just invites her to tell him more things she hates. She grumbles that she hates when people make her talk while she's eating, and Kwang-il purrs, "Okay, I'll only do those things."
Her phone lights up with a call from her grandmother's nursing home, but she doesn't answer in front of Kwang-il. She goes to the nursing home in the morning, where she overhears a nurse bellowing to her deaf grandmother that she'll be kicked out if she doesn't pay her bill. Ji-an waits until her grandmother is alone, then she goes to see her.
Although Grandma frantically signs to Ji-an to leave, Ji-an instead makes a call to her friend KI-BUM (Ahn Seung-kyun). He ignores her calls and texts to come to the nursing home, too busy playing video games. So Ji-an packs up Grandma's things, and after dark, she wheels Grandma, hospital bed and all, out of the nursing home and into the street.
She stops at a grocery store to grab some drinks and a shopping cart. She bundles Grandma into the shopping cart with a blanket and the warm drinks, and they wait at a bus stop until Ki-bum finally shows up. He's startled to realize that the pile of old blankets is actually a person, and it's cute how he politely bows to the elderly lady.
Ji-an and Ki-bum manage to get Grandma to Ji-an's apartment, where Ji-an instructs Ki-bum to stop by twice a day while she's at work, to look after Grandma. Ji-an explains to Grandma in sign language not to open the door to anyone but Ki-bum (Grandma signs, "I can't even get out of bed!"), then tucks her in for the night. She stays up late, drinking stolen double-strong coffee and staring into space.
The day of Sang-hoon's daughter's wedding arrives, and Dong-hoon and Ki-hoon help out by collecting the monetary wedding gifts. After a while, Dong-hoon notices that something odd is going on — every few guests, Sang-hoon will rub his nose after greeting a guest, then Ki-hoon stuffs their cash-filled envelope into a separate drawer.
He asks Ki-hoon what's going on, and Ki-hoon mutters that they're only doing it for Sang-hoon's guests. But he chuckles that it seems like Sang-hoon is signaling for him to pull the gifts from the guests giving the biggest amounts, and when Dong-hoon tells him to stop, he confesses that Sang-hoon promised him half. Wow, that's so sleazy.
Dong-hoon tries to physically take the envelopes from Ki-hoon, and their tussle catches the eye of Sang-hoon's ex-wife, Ae-ryun. Ki-hoon escapes, and she drags Sang-hoon into the stairwell to rip him a new one for stealing his daughter's wedding money.
Their loud argument echoes throughout the lobby, humiliating the brothers' mother. Ki-hoon tells her that Dong-hoon wasn't involved in their scheme, and she makes him leave before Ae-ryun goes after him next.
Joon-young enjoys a romantic seaside getaway with Yoon-hee, Dong-hoon's wife, who says playfully that when they're old, they should run away together. She knows he wouldn't do it if she asked now, but admits that she wouldn't, either.
After the wedding, the brothers share takeout and Sang-hoon laments that nobody calls him anymore after his business went under. He's upset that only two people from his former workplace came to the wedding after he went to their family events (and gave monetary gifts) for over twenty years.
Ki-hoon finally snaps at him to examine his life instead of blaming others. Amen to that. He blurts out in frustration that those people will all come to their mother's funeral, and unfortunately, Mom comes home and hears him. She tells him to let her know when her funeral is so she's not rude enough to live beyond that day, ha.
She storms out, and Sang-hoon tells Dong-hoon that he can't lose his job until after she dies, so that there will be at least a few people at her funeral. He warns his little brother that the day he gets fired he'll end up like his hyung, sending Dong-hoon and Ki-hoon into giggle fits at the dramatic pronouncement. Ki-hoon says that he's always felt bad for Dong-hoon, who always chooses his morals over his ambition. That sounds ominously prophetic.
Yoon-hee asks Dong-hoon about the wedding after she's back home, but he's grumpy, and he makes it obvious that he doesn't want to talk.
Dong-hoon and his team go to a jobsite to inspect a water tower, but their drone malfunctions from the cold. Dong-hoon climbs the ladder to measure the tower's dangerous defects himself, and at one point he slips and drops his equipment while reaching out to inspect a crack in the cement.
They make it back to the office safely after everyone else has gone home. The office is empty except for Ji-an, who doesn't even acknowledge Dong-hoon when he says it was cruel to kill the ladybug. He asks her what's the worst thing she's killed, and after a long pause, she says softly, "A person."
Director Yoon nervously reminds Joon-young that CEO elections are in two months and that each faction has exactly five people who will vote. He's scared that Director Park will try to get one of their people fired, and that he's the primary target. He suggests they fire the least formidable person from the other side, then hire someone to be on their side, making the vote six to four.
Joon-young says that if they're going to do that, they may as well fire the most powerful person from the opposite faction. Director Yoon makes a call to someone from another company that wants to work with theirs, to ask for their help.
Meanwhile, Dong-hoon's mom decides they should help Sang-hoon open a small business like a snack shop. She wants to use her house as collateral for a loan, but since Dong-hoon technically owns the house, she asks his opinion. He tells her that they won't get a big enough loan to make a difference.
At work later, Dong-hoon learns about a large building that has a lot of potential. But the building hasn't passed inspection in a decade, so the homeowners are upset that they can't renovate. Director Yoon assigns the project to Dong-hoon's team since they have the fewest projects, even though Dong-hoon argues that they're very large projects.
Dong-hoon runs into Ji-an again at a grocery store, and he notices that she's buying adult diapers. She doesn't have enough money, so Dong-hoon buys the fruit she removed from her cart and runs to give them to her, but she's already gone.
Ji-an arrives home to find Kwang-il letting himself into her place, and she growls that she hates when people invade her space. Kwang-il retorts that he warned he'd only do things she hates. Ji-an lunges at him when he starts to go inside, and he backhands her away.
Furious now, Ji-an grabs Kwang-il and hauls him out of her doorway. But he's much bigger than she is and quickly gets the upper hand, and he punches her in the face and stomach. He tells her that she'll never be able to pay him back, so she may as well beg him to kill her now.
Ji-an just laughs, and asks if he likes her. She accuses him of using her debt as an excuse to see her, and says that he's lying about wanting revenge. He laughs, then grabs her and starts punching again.
The next morning at work, everyone is staring at Ji-an, who has a split lip and wears dark sunglasses as she works. A courier arrives later (strangely, never taking off his helmet) and delivers an envelope to Dong-hoon.
Inside is fifty million won in cash (about $46,500 USD), and a note saying, "Please take care of the matter for us." Dong-hoon stuffs the envelope, cash and all, into a folder and doesn't say anything to anyone. He notices that Ji-an appears to be looking right at him, though it's hard to tell with her dark glasses.
Dong-hoon hangs around after everyone else leaves, but Ji-an is still there. She startles him by popping up just as he's about to retrieve the folder, but she just asks him to buy her some food. Dong-hoon is twitchy as they eat, anxiously waiting for Ji-an to finish so he can go, but she suggests they also go for drinks.
At the bar, she shows him the huge shiner that Kwang-il gave her. He assumes it was an abusive boyfriend and tells her to break up with him. Ji-an just asks if he's ever beat up a woman, and she actually seems disappointed when he says he hasn't, since she'd planned on asking him how it felt.
Seeing that she's sockless again, Dong-hoon asks if her feet are cold, but she just stares at him. Noting his anxiety, she asks if Dong-hoon has somewhere to be. Outside, Ki-hoon wanders by and spots his brother drinking with the younger woman and sends Dong-hoon a text asking who she is.
When they leave the bar, Ji-an tells Dong-hoon to go straight home, then sets off on her own. Ki-hoon comes out of hiding along with Sang-hoon to confront him about the mysterious lady in sunglasses. They don't believe he was just drinking with a coworker, and Sang-hoon threatens to tell on him when he barks at them and heads back to the office.
When he gets there, the elevators are undergoing maintenance, so he has to take the stairs. On the way, he passes the security office and notes the video displays from the CCTV cameras all over the building. He catches the eye of a security officer, so he darts away and leaves the building.
Ji-an goes back to the office, where she heads to the basement to speak with the janitor. He asks if she has to do this, and she says that Dong-hoon can't report the envelope missing, since it was a bribe, so it shouldn't matter who ends up with it. Ah, she did see.
The janitor shuts off the power to the entire building, and while it's out, Ji-an runs up to Dong-hoon's desk and grabs the bribe envelope. By the time the janitor turns the power back on, she's returned to the basement. The security officers blame the elevator workers for the power outage, and Ji-an gets away with the theft.
Dong-hoon wakes with a start the following morning, remembering the bribe money that's still (he thinks) in his desk. He checks the drawer when he gets to work, and he ransacks his desk when he finds the envelope gone.
Suddenly, he recalls Ji-an's strange behavior the night before (asking him to buy her dinner, telling him to go straight home), only now it all seems very suspicious. On top of that, Ji-an isn't at work yet, but nobody knows her phone number when Dong-hoon asks.
Up in his office, Director Yoon calls someone and asks if they sent the money, then makes another call to report that the money was sent. A pair of security officers receive a report of someone taking a bribe, but it's not Dong-hoon who's accused — it's Director Park.
His full name happens to be Park Dong-woon, almost identical to Dong-hoon's, and he was supposed to have been the recipient of the fraudulent bribe. But he says honestly that he never got any bribe, and the CCTV camera footage backs him up. The security officers investigate to see who the courier delivered the envelope to, and the trail points them straight to Dong-hoon.
At the same time, Dong-hoon realizes that the cameras posted everywhere probably recorded him taking delivery of the envelope. He goes to the security office, possibly to report the truth, but the sight of the officers milling around excitedly scares him off.
Director Yoon learns that his bribe failed because it was delivered to the wrong person, and he freaks out. He tells Joon-young about the mix-up, so Joon-young decides to go with it. He says they can claim that Dong-hoon was angry that his hoobae was promoted to CEO over him, so he decided to get whatever money he could, then leave the company.
Security officers find Dong-hoon at his desk and escort him away forcefully. He sees Ji-an exiting the elevator, but she doesn't even look at him. Dong-hoon yells her name over and over, growing more frantic as the security officers hold him back.
As he's dragged into the elevator, Ji-an finally turns around, but there's no emotion in her eyes.
 
COMMENTS
I really don't have much idea of what to expect of My Ajusshi, but based on the writer and director, I have pretty high expectations for the show to be thoughtful and to tackle some difficult issues. So far, I like the dreamy, contemplative feel, the wistful background music, and the soft cinematography. It has a similar feel to Misaeng — which I confess I only saw a few episodes of — in the office scenes, which is a good thing. But it's not all serious — I love the cheeky way the show demonstrates how the corporate world works by portraying the managers as pogs, with their maneuverings playing out on a game board. It cracked me up just because it was so accurate. I hope that sort of dry sense of humor continues throughout the show, to temper the more traumatic events.
I was interested in the characters from the moment Ji-an casually squished the bug that Dong-hoon was trying so hard to catch. What a great way to introduce them and their personalities — he's the guy who wants to gently handle situations with tact and compassion, while she's no-nonsense and just does whatever needs to be done, with no room for remorse for those that get hurt in the process. That scene also took away some of my trepidation that this would be an unrelentingly melodramatic show, as the promos seemed to suggest, letting me know that it would also offer a quirky flavor of humor that I like very much.
Personally, I'm a big fan of noona romances, but I haven't seen a lot of shows like this one where the roles are reversed and the man is significantly older than the woman. But I love the casting here — I've been a fan of Lee Seon-kyun's since Coffee Prince, and IU is one of my favorite actresses because she consistently surprises me with how deep she's willing to go for her characters. I think they'll have amazing onscreen chemistry (whether things go into romantic territory or not) once they start working together and helping each other.
Ji-an is already breaking my heart, with the way she lives in crushing poverty because she's paying a loan shark, even forced to eat others' discarded food. I'm very curious to know what she needed money so desperately for, though I suspect it was for Grandma's care. I'm also feeling as if there's more between her and Kwang-il than just her debt, since Ji-an mentioned him wanting revenge (plus they have the same family name, though that could mean nothing). Ji-an seems as though she's sunk about as low as a person can sink in life, so low that she can't even muster up enough emotion to feel depressed over her situation. She gets in Kwang-il's face and talks back to him, showing no fear, though it's hard to tell at this point if it's because she's just that brave, or she just doesn't care if he hurts her. But she also has something she cares about and is willing to fight for — her Grandma — which shows that she hasn't completely given up.
Dong-hoon doesn't have it so bad outwardly, but he's got a mediocre job where he gets little respect, two brothers with money problems and a mother who looks to him to help support them, and a wife that's cheating on him. And now he's gotten tangled up in a corporate turf war, blamed for taking a fake bribe that wasn't even supposed to go to him, and it's going to be nearly impossible to set straight. Right now Dong-hoon and Ji-an are at odds, with Dong-hoon in trouble for a bribe he wasn't even supposed to receive and Ji-an stealing the money just because she can. But hopefully that will change soon, because I like the idea of these two very different people each finding something in the other that they need, and helping heal each other's emotional wounds in the process.
My Ajusshi: Episode 2
Something interesting is beginning to happen between Dong-hoon and Ji-an, though it's hard to say what that is at this early point. They barely know each other, and have only spoken a few words to each other, yet they're each sticking their neck out for the other without really knowing why. No matter what the nature of their relationship is now or may be in the future, they seem to sense a kinship in each other that promises to be very interesting to watch unfold.
 
EPISODE 2 RECAP
The morning after stealing the bribe money, Ji-an goes to her loan shark's office to pay off her debt. He counts the money then calls Kwang-il, the guy who beat up Ji-an for accusing him of liking her, to tell him that the debt is paid. Kwang-il instructs him to accept the money, then report it as stolen and have Ji-an sent to jail. While she's locked up, he plans to increase her interest rate until she's on the hook to him forever.
He says he's on his way and has his guy stall Ji-an. She demands her receipt, and when the shark tells her to stay for coffee first, she tries to grab his receipts from his desk. The shark confesses that Kwang-il doesn't plan to let her go so easily, then wrestles her purse from her and finds the rest of the stolen money. Unfortunately, it's still in the original envelope with Dong-hoon's name on it.
Just moments before Kwang-il returns, Ji-an slips out, managing not to let him see her. She notices a truck piled with crates parking next to the loan shark's fancy car, so she pulls up her hoodie, marches over, and pulls several crates over to smash the windshield. Awesome.
The shark blames the truck driver, but Kwang-il senses that it was Ji-an. He races back upstairs to the office, but she's already gone back in and taken back the money, then called her friend Ki-bum to have him bring her grandmother to his place. Kwang-il is angry, but he also looks a little impressed.
While all that's happening, Dong-hoon is blamed for taking the bribe (which was originally meant for Director Park) and escorted out of the office. Ji-an ignores him when he yells at her on her way in, and she stays calm at her desk as his office is taken apart by security officers. She slips the envelope the bribe came in into a pile of discarded papers and carries them downstairs to the janitor.
Dong-hoon tries to call his wife Yoon-hee, who's an attorney, while he waits to be questioned. But the security officer interrupts his call and confiscates his phone. He shows Dong-hoon the CCTV footage of him accepting the delivery, and Dong-hoon says truthfully that he doesn't know who sent it. The officer obviously doesn't believe him and asks where they money is now.
The janitor seems to know everything about Ji-an's circumstances, and he warns her that Kwang-il won't stop coming after her, and that now he'll also target Dong-hoon. He has her put the envelope in the garbage, then takes it to a security officer, saying that he found it.
Director Park goes over the CCTV footage of Dong-hoon from the day before, including his return to the office late that night. They discuss the blackout, and check the number the courier gave when he signed in, but it's not in service. Director Park wonders out loud if the bribe was solicited.
The envelope is brought to the security office, and strangely, it still has all the money and the original note inside. Director Park guesses from the note that the bribe was unsolicited, and he warns his assistant to keep it a secret that they have it.
He asks to see the email reporting him as having taken the bribe, and a few minutes later, Director Yoon releases Dong-hoon. He's escorted to his office to get his personal things, and Ji-an ignores him again as he tries to get her to talk to him. The security officer makes Dong-hoon hand over his key card, promises to return his phone when they finish the investigation, then leads him out.
Outside, Dong-hoon can't even get his lighter to work so that he can smoke a cigarette — ouch, that's adding insult to injury. He remembers his older brother Sang-hoon telling him that he has to keep his job, or he'll become like him.
He goes to Yoon-hee's office and tells her the whole story. He's confused as to what happened and where the money went, but he's certain that he was targeted for some reason.
He decides he needs to get the money back in order to defend himself, and he tells Yoon-hee that there's someone he suspects who might've taken it. He asks her to hire someone to look into it, but she advises him to wait and not do anything hasty.
After Dong-hoon leaves, Yoon-hee calls Joon-young, CEO of the company and her lover, to ask if he did this. He just says that it wasn't his intention intially, then hangs up when Yoon-hee gets upset.
There's a board meeting to discuss the matter, and Director Park advises patience while they figure out who sent the money. Director Yoon vehemently disagrees, arguing that Dong-hoon is clearly guilty of taking this and probably other bribes (even though he's the one who sent it, intending to frame Director Park).
Director Park reminds him that it was his name, Park Dong-woon, not Park Dong-hoon, on the report of bribery. Director Yoon stammers that the names are easily confused, until Director Park points out that it also said "director" instead of "manager." Oops.
That shuts up Director Yoon, and Director Park says that he'll personally find out who sent the money and ask them who it was meant for. As they leave, Executive Director Wang says that if they play their cards right, they can get both Director Yoon and Joon-young fired.
In the privacy of his office, Joon-young asks Director Yoon if the company that sent the money will stay silent. Director Yoon assures him that they're trustworthy, and he decides to make Dong-hoon resign so that there's no reason to investigate further.
That evening, Dong-hoon waits for Ji-an to leave work to follow her, but two of his team members exit right after her so he has to keep his distance. They stay between Dong-hoon and Ji-an all the way to the subway station, but Dong-hoon eventually maneuvers until he's standing next to her on the train.
He tells her to get off at the next stop and asks if she took the money and where it is, but Ji-an just says she threw it away. When the train stops, Dong-hoon tries to pull Ji-an off the train with him, but she yells, and another passenger who thinks Dong-hoon is a creeper shoves him off the train.
He calls Ki-hoon from a pay phone and tells him he lost some money. Ki-hoon bellows when he hears the amount, and he runs out to meet Dong-hoon, while Mom pushes Sang-hoon out to follow him. Dong-hoon tells his brothers what happened, and that he thinks Ji-an took the money.
Ki-hoon wants to call Ji-an, but Dong-hoon's phone has been confiscated so he can't even call around for her number. Ki-hoon starts yelling at Dong-hoon for losing his job when he just told him not to so he could pay for Mom's funeral, and Dong-hoon yells back that his family is why he was going to keep the money. They shout at each other childishly as Sang-hoon starts to laugh, clearly drunk.
Once they settle down, Sang-hoon says that they'll be fine without that money, but Ki-hoon just turns his anger on him. He snaps that it's not the money they want, but to turn it in and salvage Dong-hoon's job. He shrieks that he's sick of his brothers, so Sang-hoon yells, "Then don't be our brother anymore, you bastard!" It's not funny, but this is so funny.
Dong-hoon's brothers offer to watch the exit to the subway station for Ji-an, though they mostly end up lurking at the top of the stairs, staring at all the women like weirdos. Ki-hoon has a cop friend search for all of the Lee Ji-ans in Seoul to find her address.
At the same time, Dong-hoon goes back to the grocery store where he ran into Ji-an before, but she's not there. She's at her friend Ki-bum's place with her grandmother, and she feeds Grandma the food she took from her dishwashing job before nodding off sitting up.
Dong-hoon meets up with his brothers again and tells them to go home. Ki-hoon thinks they should go to the police (Dong-hoon: "To report stolen bribe money??") and as they're discussing it, Director Yoon screeches up in his car.
He takes Dong-hoon to a private room at a club and pours him drink after drink while claiming outrage at the way Dong-hoon was treated today. Once Dong-hoon is thoroughly drunk, Director Yoon tells him that he should quit, promising to find him an even better job.
Yoon-hee tries to talk Joon-young out of framing her husband, saying that she intends to divorce him. Joon-young says that it would be best if she divorces Dong-hoon after he's fired, but the thought of doing that to Dong-hoon upsets her.
Dong-hoon finally catches up to Ji-an the next day outside the office. He asks where she lives, and at her silence, he threatens to tell the company that he suspects that she took the money from his desk. She just keeps walking until he's blocked from entering the building by security.
He's allowed in after explaining that he's under investigation (he hasn't been fired, just had his key card temporarily confiscated), but Ji-an is already downstairs with the janitor, whose name is Choon-dae. She asks if Choon-dae took the money, since Dong-hoon thinks it's still missing. But he tells her to let things be or she'll end up fired, too.
Director Yoon tells Director Park that he talked to Dong-hoon, who confessed to everything. But he makes the mistake of saying that Dong-hoon probably kept the money, unaware that Director Park has it in his possession. Director Park shows him the envelope, which was found in the garbage with the money intact, and Director Yoon starts to sweat.
Director Park tells him that it was found before the start of the day, which means Dong-hoon threw it away yesterday, the same day he received it. He asks why Director Yoon wants Dong-hoon fired, adding that he's sure Director Yoon isn't working alone.
Director Yoon gets worked up, Director Park asks if this is about more than just the upcoming election. He believes that Joon-young is kissing up to the ailing company chairman in order to obtain his shares, which would make Joon-young the main shareholder. But since there are a lot of people in his way, he's trying to take out his enemies — except, something went wrong with this scheme.
He even correctly assumes that Director Yoon and Joon-young are planning to fire Dong-hoon and let the bungled bribery scheme blow over. He says that he won't let that happen, and he gleefully takes in Director Yoon's pinched expression as he guesses that Joon-young promised him the CEO position once he's chairman.
Director Park growls that no matter how nice a person is, there's one thing he can't stand to see — someone who should be below him, getting ahead of him. He says he'll get rid of anyone who doesn't know their place, and when Director Yoon stammers that he'll tell Joon-young he said that, Director Park whispers, "Please do."
Joon-young runs downstairs to the company coffee shop, where he finds Executive Director Wang buying an elderly man in hospital scrubs a drink. The man is Chairman Jang, who's been ill lately, but who came to see how the company is doing. Executive Director Wang tells him about the bribe and Dong-hoon's involvement, and that Dong-hoon threw the money away.
Chairman Jang asks why they're even considering firing Dong-hoon. Executive Director Wang vows to discover who sent the bribe and make sure it doesn't happen again, and Chairman Jang asks them to pass a message to Dong-hoon (whom he remembers as "that pitiful-looking guy," ha) that he'd like to share a meal with him.
On his way back inside, Joon-young runs into Director Park and asks him to speak privately. Ji-an is in the elevator with them as they go upstairs in tense silence, and Director Park looks puzzled when Joon-young takes a phone call, but another phone starts ringing and nobody answers it. It begins to dawn on them that Joon-young has a second phone, but before Director Park can confirm it, Ji-an casually pickpockets the phone (an old flip phone) and declines the call.
Once in his office, Joon-young asks Director Park about the found money. He says that the chairman wants the situation to blow over without repercussions, and Director Park agrees to spare Dong-hoon and search for the source of the bribe.
Joon-young goes out into the office, where he sees Ji-an looking at his phone. He gets a message from her telling him to order her to buy him a sandwich after his secretaries leave. He leaves the office to call Yoon-hee from a payphone, and he tells her not to contact his personal phone or accept calls from it.
Throughout the day, Dong-hoon keeps a close eye on Ji-an, and eventually he follows her to the copy room to tell her that he's going to tell the truth. He confesses to Director Park that he accepted the money but wasn't the one who kept it, and he's shocked when Director Park shows him the intact envelope.
Director Park gently fusses at Dong-hoon for throwing the money out instead of turning it in, then tells him that Chairman Jang intends to forgive the entire incident. Dong-hoon says that he didn't think they'd believe him, and Director Park tells him that he's sure Director Yoon was behind this. He asks Dong-hoon if he has any guesses as to which company may have helped Director Yoon.
As he goes back to his office, Dong-hoon realizes that it must have been Ji-an who put the money in the trash for someone to find. Security returns the things they confiscated from his desk, including his cell phone, and although his team members are clearly dying of curiosity, Dong-hoon doesn't tell them anything (ha, they keep rolling over in their chairs, and he just rolls them away again).
The first thing Dong-hoon does is to charge his phone, and he gets a call from Ki-hoon right away saying that his cop friend found Ji-an. Ki-hoon yells in frustration when Dong-hoon whispers that the money was found, and after Dong-hoon hangs up on him, he and Sang-hoon bemoan the fact that their brother is so careless. Mom kicks them both out of the house.
News travels fast, and during a break, Dong-hoon's team members ask if he really threw away such a huge sum of money. Inside, Ji-an sees Dong-hoon's phone light up with a call from his wife, and she recognizes the number as the same one that called Joon-young's extra phone. She pulls out the phone and sees that that's the only number that ever calls it.
She watches Dong-hoon carefully after he returns to his desk. He sneaks glances at her too, and at the end of the day, they're the only two people left. Dong-hoon gets ready to leave, and he asks Ji-an to have dinner or a drink with him, but she turns him down.
He leaves as Joon-young enters the office. Ji-an tells Joon-young that she has his phone, but she can't just hand it to him because of the cameras. Joon-young gives her money to buy him a coffee, and she says she'll get herself a sandwich because she hasn't eaten.
She brings back Joon-young's coffee and leaves his phone on the desk with it, then takes a look around his office. He compliments her nimble hands (heh) and asks what other jobs she's had, and she says she does anything that makes money.
She tells him that she meant to ask him why he was so desperate to fire a simple manager, but then she figured it out after seeing Dong-hoon's wife's number on his phone. Joon-young lies that Yoon-hee's just a colleague, but Ji-an asks slyly, "Why are you dating an ajumma?" and Joon-young goes still. She confirms that he's having an affair and begins to leave, but Joon-young stops her.
The brothers meet for dinner and soju, and Sang-hoon confesses that when he was bribed, he took the money before he got fired. Ki-hoon thinks that Ji-an stole the money then threw it away because she likes Dong-hoon and wanted to save him. Dong-hoon decides they're both nuts.
Later, Ki-hoon tells Dong-hoon that Sang-hoon is leaving next week for a job and that he's making a movie soon. He instructs Dong-hoon to keep any bribes over a certain amount, and to stay away from young girls like Ji-an.
As he rides the subway home, Dong-hoon gets a text from Ji-an asking him to buy her a meal. He impulsively gets off the train at the next stop and goes to where Ji-an is waiting for him, and she requests that he buy her something expensive.
They eat together in silence, and in a flashback we see that Ji-an told Joon-young that she's not blackmailing him—she's going to work for him. She offers to make sure that both Director Park and Dong-hoon are fired, promising to do a better job than Director Yoon. In return, she asks for ten million won (just over $9000 USD) for each of them.
As they ride the subway together after dinner, Dong-hoon offers Ji-an a simple, "Thank you."
 
COMMENTS
Thank goodness Ji-an returned the money, because Dong-hoon's situation was looking pretty bleak. All poor Dong-hoon did wrong was to have a name almost identical to one of his bosses, and that he wavered over whether to turn in the money. I don't even blame him for briefly considering keeping it, since the money would have solved a lot of problems for his family, but it was that hesitation that led to everything falling apart. It's due to Ji-an inexplicably returning the money that his job was salvaged, and because of that, I strongly suspect she may be playing the double-agent and only telling Joon-young that she's helping him fire Dong-hoon. Why would she return such a huge sum of money, then ask for less than half that to help fire two people?
Generally office politics bore me to tears, but for some reason I find this situation fascinating. For those following along at home, the CEO of the company is voted on every so often, and some people are upset that a young whippersnapper, Joon-young, was voted in last time. The next vote is coming up, and half of the executives want Joon-young to keep the position, while the other half want him voted out and Executive Director Wang voted in. Right now the votes are split evenly, so in an underhanded move, Director Yoon and Joon-young conspired to get one of the top players on the other side, Director Park, fired for bribery so they could hire someone who would vote their way. It's a relatively simple plan, and it was kind of hilarious how a tiny spelling error threw everything into a tailspin. Or it would have been hilarious, if it hadn't nearly ruined an innocent man's life.
Speaking of which, how awesome is Director Park? He knows he was targeted, but he didn't let it scare him — he just calmly set out to find out what's going on and who exactly is trying to get him fired. He knows when to stay quiet and when to tip his hand, and he's already got Director Yoon scrambling to cover his butt. I don't think Director Park particularly cares about Dong-hoon, and I don't entirely trust him, but if Dong-hoon's job and reputation are saved by Director Park's smart handling of the situation, then Director Park has my vote for CEO.
As for myself, I generally like Dong-hoon, though it's more that there's not much about him to dislike. He's bland and straight-laced, with a bland job and a bland personality, but he's also kind and good-hearted. I can't decide if I like Dong-hoon's brothers, or if I want to see him drop them both off the side of a cliff. Probably both. On the one hand, I like that they're always there for each other, but on the other hand, their brand of brotherly support is antagonistic and sometimes downright mean. Both Sang-hoon and Ki-hoon are pretty useless, choosing to whine about their bad circumstances rather than get out there and do something about it (and I don't count stealing!). But it's obvious that they love each other even when they hate each other, and are willing to do anything for each other.
I think I misjudged Ji-an in my previous recap. I said that she was beaten down and had given up on life, but after this episode, I now see her as incredibly strong. She's so strong that she talks back to the guy who beat her up, steals money from him, and even kidnaps her own grandmother rather than abandon her when she runs out of money for nursing care. Ji-an's silence isn't a sign of weakness or that she's caved under life's pressure — it's her stone wall against the world, her refusal to let anyone make the tiniest crack in her armor. She's willing to choose the most difficult path if it means solving a problem, including taking in her handicapped grandmother, stealing money, or maybe even turning on a man who's been nothing but kind to her. I think she's just in survival mode, where ethics don't enter into the equation when you're starving and desperate. Ji-an may have given up things like her moral compass and her dignity, but she's still alive, and in her situation that's a huge accomplishment. Right now she's doing what she needs to do to get by, but I fully expect Dong-hoon's commitment to doing the right thing to rub off on her and change her for the better. Eventually.
My Ajusshi: Episode 3
Ji-an turns out to be far shrewder than I gave her credit for—she clearly has a plan, and is willing to ruthlessly use whomever she has to use in order to make her plans happen. We still don't know what she's up to, or even why, but somehow that just makes her more compelling rather than less. I just hope that Dong-hoon figures out her game before he gets caught up in it, because this is one young lady who's strong enough to bring everything crashing down around his ears if he isn't careful.
 
EPISODE 3 RECAP
On the train after dinner, Dong-hoon asks Ji-an, "How did you know that I'd received a bribe?" She reminds him that they looked each other right in the eye when it happened, saying that she could tell from his body language.
They get off at the same stop like usual, and Dong-hoon asks Ji-an to keep it a secret that she's the one who threw out the money. She agrees in exchange for him buying her dinner and drinks for a month.
Dong-hoon asks if he can just give her money instead, since people will talk if he's seen having dinner with her. Ji-an scoffs that he must think he's attractive, and she asks for ten million won. His stunned expression answers that question, and she walks off alone.
Dong-hoon's wife, Yoon-hee, talks on the phone to her lover (and CEO of Dong-hoon's company) Joon-young, who tells her that they found the bribe in the trash. She reveals that Dong-hoon told her he lost it, suspecting something strange.
She thinks they should tell Dong-hoon the truth about their affair. Joon-young asks if she has the courage, advising her to sit tight and let him handle things.
Meanwhile, Ji-an follows Dong-hoon home and watches him input the building's security code. She lets herself in, noting which floor the elevator stops on, then checking the mailboxes for his unit number. She finds a letter to Yoon-hee from the bar association, and she pockets the entire handful of mail.
When he gets home, Dong-hoon says he found the bribe when Yoon-hee asks, but he just says that a janitor found it in the garbage and brought it to him. Yoon-hee wants to know why people are saying he threw it out, and he asks her, "Who said I threw it out?" Oops.
Yoon-hee covers by saying that she called Joon-young when she couldn't reach Dong-hoon. But Dong-hoon is on his guard now, and he grumbles that Joon-young is someone who hides his greed with saintly smiles. Yoon-hee snaps at Dong-hoon and stomps off to her office. He apologizes, then tells her not to call Joon-young anymore.
The following morning, Ji-an is already at the office when Dong-hoon boards the train. She slips a pen recorder into the stack of mail for Joon-young, and when she goes to his office, she pops it into his pen cup. But it triggers an alarm, so Ji-an takes the pen back. She calls her friend Ki-bum, who thinks the alarm was possibly a bug detector, and he advises her to assume there's also one in Joon-young's cell phone.
Sang-hoon, Dong-hoon's older brother, composes a text saying how much he envies him for being a manager at a big company, who has somewhere to go and a young female employee who likes him. Dong-hoon replies, "Go back to sleep if you have nothing to do." HA.
The copier acts up, and Ji-an makes a lot of noise pounding in it trying to make it work. Dong-hoon finally jumps up to help, but he finds himself nose-to-nose with Director Park. They step away to talk, and Ji-an watches them go, kicking the copier in frustration as if she'd been trying to get Dong-hoon's attention.
In the men's room, Director Park tells Dong-hoon that the fifty million won (in the form of gift certificates to a department store) was given to him on purpose in order to get him fired. He says that he originally thought the bribe was for himself and had gotten mixed up because of their similar names, but now he's worried they're both targets.
Dong-hoon asks who it could be, and why he's being targeted. Director Park thinks that the only logical answer is Joon-young, and that it's obvious why he wants him gone. He's unsure of Joon-young's motive for getting rid of Dong-hoon, but he says that it's pretty obvious that there's animosity, dating back to when he demoted Dong-hoon to the safety inspection team.
He says that at the time, he thought it was just Joon-young feeling awkward about being his college sunbae's boss, but now he believes there's something more going on. He asks if there's anything between Joon-young and Dong-hoon, but Dong-hoon says there's nothing.
Director Park warns Dong-hoon to stay vigilant, since the other side will probably strike again soon, so they need to discover who sent the bribe and get rid of them first. They scatter when Director Yoon walks in, and Director Yoon reports to Joon-young that they were up to something.
Joon-young thinks they're just digging for information, and he asks Director Yoon which company sent the bribe. When Director Yoon is hesitant to tell him, he warns that it better not be a technical, building, or safety-related company.
Director Yoon insists that he wouldn't take such a dangerous risk, confessing that it was a temp agency who sends them workers for a fee. Coincidentally, or maybe not, Ji-an is one of the workers they sent this year.
He tells Joon-young that the temp agency managers even come and manage their own people. He confesses that the president of the agency is a bit of a thug, but he says he's also very loyal, especially when he's paid to be. And this doesn't strike you as a problem?
Joon-young gets only a minute's notice that Chairman Jang is on his way, and he and the directors follow the chairman as he tours the building. Chairman Jang stops in Dong-hoon's department to invite him to dinner tonight, and Dong-hoon locks eyes with Ji-an for a moment before telling Chairman Jang that he has a prior commitment. Chairman Jang just says they can get together whenever Dong-hoon is free.
As they leave, Joon-young tries to criticize Dong-hoon, but Chairman Jang pays no attention. He decides to go, "Since I got rejected." Okay, he's adorable. The directors realize that he came all this way just to extend a dinner invitation to Dong-hoon.
After work, Ji-an leads Dong-hoon (who follows at a distance) to a restaurant. He pulls down a shade to shield them from the other diners, then watches as Ji-an demolishes enough food for two people in silence. She easily tells him where she lives, but when he asks what her father does, her guard goes up and she asks why he cares.
She guesses he's trying to figure out if she comes from a good family based on her father's income, and he apologizes for being rude. He tells Ji-an that he's never gotten a bribe before and didn't intend to keep it — he was just conflicted. He says that someone planned to fire him over it, and Ji-an guesses that it was Joon-young.
Dong-hoon is amazed when Ji-an accurately sizes up the situation — it couldn't have been Director Park because he seems friendly, and Director Yoon wouldn't do something like that on his own, so it must have been Joon-young. She asks why he'd do such a thing, and Dong-hoon sighs that Joon-young must know he dislikes him.
He doesn't give a reason why, but Ji-an says there's always a reason. Dong-hoon snaps that sometimes people don't want to think about why they dislike a person. Ji-an says that he must really hate seeing Joon-young succeed, and Dong-hoon says that whenever he hates someone, they end up doing well. So she asks him to hate her: "Extremely and without limit. Complete hatred." She offers to hate him, too.
They ride the train home like strangers, but at one stop, too many people get on and they end up standing very close, with Ji-an's face in Dong-hoon's chest. Dong-hoon tenses up, and as the train resumes its journey, he tries to shield Ji-an from being crushed while contorting so that he doesn't touch her.
While he's distracted, Ji-an pilfers his phone and installs a spy program, then slips it back into his pocket. She tests the software as Dong-hoon walks home, confirming with Ki-bum that it works and they can overhear everything he says if his phone is near.
In the morning, Sang-hoon sneaks home after being out all night after a job interview. He confesses to Mom that he was turned down because of credit delinquency, and she fusses that all three of her sons went to college, but two of them still live at home.
A man from the credit agency comes to the door looking for Sang-hoon, and Ki-hoon tells him that Sang-hoon doesn't live here. Sang-hoon tries to pretend he's someone else, but the guy doesn't believe him, and eventually Ki-hoon gives him up by yelling that he's a terrible actor.
Mom is a thousand percent done, and she wearily tells the man from the credit agency to just take Sang-hoon away, ha. He's not taken away, to Ki-hoon's annoyance, and the brothers head outside together.
They watch in horror as a van speeds up to beat a light and goes up on two wheels as it makes a sharp turn through an intersection. It narrowly avoids tipping over, then screeches to a halt, and Sang-hoon and Ki-hoon run over to yell at the driver.
He's a friend of theirs who runs a cleaning company, and apparently he pulls that stunt every day just for the fun of it. Sometimes he actually does tip over, ha. The brothers hang out with him while he works, and he tells them that his wife just suddenly cried and left in the middle of the day, upset by the menial janitorial work they do.
The cleaner notes that Dong-hoon is the only one from their neighborhood with a good company job, and Sang-hoon grumbles that he ignored their texts yesterday. He adds something about Dong-hoon enjoying the long winter nights, and Ki-hoon tells him to knock it off.
Dong-hoon gets to choose a temp worker to keep for his team, and naturally he chooses Ji-an. The temp manager says he was going to stop placing her, and he warns Dong-hoon not to complain about her later.
At the water tower site, Dong-hoon's team is back to using their drone for the inspection. At lunch time, Dong-hoon notices one younger guy's short socks and asks if it's a new winter trend for young people not to wear long socks. Listening in through the app on Dong-hoon's phone, Ji-an realizes that he's thinking about her.
Dong-hoon and his team get back to the office later, and one team member asks Dong-hoon why most bribes are in the form of gift certificates. Dong-hoon explains that it's difficult to find untraceable money, so many people buy department store gift certificates with a company credit card to give away as bribes, and that makes a light bulb go off in his head.
He calls Director Park to meet up and leaves his phone on his desk. Ji-an hurriedly calls Ki-bum and tells him to call Dong-hoon's phone several times. While it's ringing, she chases after Dong-hoon to tell him he has a call, making sure he's got his phone on him so she can listen to his conversation with Director Park.
Dong-hoon takes his realization about using a company card for bribes to Director Park, who thinks it should be easy to track down a company card that charged fifty million won's worth of certificates. He tells Dong-hoon that when they find them, they'll find who hired them. He says they'll celebrate together once they catch the culprits.
Ji-an calls Joon-young to report that Director Park and Dong-hoon are looking into who secured the certificates for the bribe. Joon-young tells Director Yoon, who calls the president of the temp agency to ask if he used a company card to purchase the bribe certificates, screaming down the phone at him when he answers that he did.
Dong-hoon visits the janitor, Choon-dae, in the basement. He confirms that it was Choon-dae who turned in the bribe he found in the trash, and he leaves him a gift certificate as thanks.
At the end of the day, Ji-an rides the elevator with Joon-young, who warns her that she's in danger of losing her payout (for getting Director Park and Dong-hoon fired). She just tells him to keep his burner phone on and keep it on silent.
Loan shark Kwang-il has been looking for Ji-an, so he calls to ask where she's been. She says she's staying in saunas, which tells him that she hasn't been staying in saunas, and she sarcastically calls him smart. He's been to the random house where she has her mail delivered and knows that her grandmother's former living facility is looking for her for overdue payments.
He says he paid off her grandmother's bill, which he'll add to what she already owes him. He threatens that no matter how much she runs, she's still in the palm of his hand, and he orders her to turn herself in to him before he sends his goons after her.
Ki-bum follows Director Park to a club that evening, and after reporting his location to Ji-an, he slips in through the back door posing as a food deliveryman. He finds Director Park in a private room, talking to someone about their purchases of gift certificates, then goes back out to meet Ji-an in the alley.
He removes his jacket to reveal that he's dressed like a club employee, and he goes back in as Ji-an cuts the power. He sneaks into Director Park's private room while everyone is in the hall and spikes his drink with some sort of powder. Ji-an turns the lights back on, and Director Park goes back to his meeting and sips his drugged cocktail.
While all this is happening, Dong-hoon sits at his desk, looking at his pictures of his son (who, I believe, is studying abroad). He leaves to meet Sang-hoon for drinks, who grins at him and says he looks younger lately, assuming he's having an affair with Ji-an.
Dong-hoon tells him to stop talking about someone's precious child that way. Ji-an, who's listening in while working her dishwashing job, is startled to hear them discussing her.
Sang-hoon complains that teasing Dong-hoon is his only fun, then says that he knew Dong-hoon wouldn't get in trouble because he's got a lot of willpower against temptation. Dong-hoon asks morosely if he really thinks it's his willpower keeping him out of trouble.
When Ji-an gets off work, her boss catches her with her bags of leftovers scraped off of other people's plates and fires her. She just leaves without a word.
Sang-hoon's wife, Ae-ryun, finds the brothers at the bar. She presents Sang-hoon with divorce papers and begs him to set her free, screaming at him when he avoids taking the papers and promises to pay back his debt.
Once she's gone, Dong-hoon tells Sang-hoon to just grant Ae-ryun a divorce. Sang-hoon refuses to ever do that, because eventually Mom will die and Ki-hoon will move on, and he'll be left a lonely old bachelor. But until Ae-ryun takes him back, he's thinking of dating someone. His words sound cheerful, but his expression is one of anguish.
As soon as Dong-hoon reaches his building, Ji-an texts him to buy her dinner. He texts back that it's late, but she keeps waiting.
Director Park wakes in a strange hotel room the next morning, with no idea how he got there. He forbids the hotel employees to tamper with the CCTV or anything else, then as he peels out of the parking lot, he gets into a fender bender with another car.
He leaves the scene, late for a meeting. His subordinates tell the prospective investors that he's on his way, but the delay causes them to reconsider giving their business to the company, and they leave.
The office is all atwitter at the news that Director Park was arrested for a hit-and-run. Director Yoon excitedly informs Joon-young, who gets a call from Ji-an telling him to prepare her payment for getting Director Park fired.
Joon-young passes Dong-hoon in the hallway, and Dong-hoon asks him, "Am I next? Why? I don't think I did anything to you. I never make it known that I don't like you." He accurately guesses that Joon-young must have done something to him that he doesn't know about yet, which Joon-young finds unsettling.
Ki-hoon visits his former boss, a director who wants Ki-hoon to be his assistant PD again. Ki-hoon says that he came to talk about his movie idea, but when the director tells him it's a bad idea, he turns down the job offer. He punches the director to completely sever their relationship and remove the temptation to come crawling back for the assistant PD job when he needs money.
He heads home, talking on the phone with his friend from that office about what he'll do now. The cleaner's van comes screeching around the corner on two wheels like he does every day, and today he tips the van over on its side. Only it isn't the cleaner who crawls out — it's his brother Sang-hoon.
He tells Ki-hoon that the cleaner's wife wants to open a restaurant, so they sold him the cleaning business. He asks Ki-hoon to do it with him, and Ki-hoon reluctantly agrees. They work hard cleaning an apartment lobby and change the name to Brothers Cleaning.
Of course Mom, ever the pessimist, complains to Dong-hoon that it's a waste of their educations, but she sighs that at least it's something, and Dong-hoon can stop worrying about them now. He gets another text from Ji-an demanding food, and when he ignores it, she starts calling.
He gets an advance on his credit card of a million won (just under $1000 USD) and gives it to her over dinner, promising the other nine million she asked for over time. She asks if he's afraid people will talk if they eat together, and that she thought he would find it fun.
She asks if he's worried he'll like her, and he changes his mind. He takes back the cash and tells her to confess that she's the one who turned in the bribe money, because he doesn't want to be dragged around by a kid.
He leaves, and Ji-an follows him out. She tries to kiss him, but Dong-hoon shoves her off. She walks away, and we see that she had listened to his conversation with Sang-hoon about having willpower against temptation. He'd said that he didn't know if he got where he is by his willpower, because he's never truly been tempted.
Nearby, Ki-bum sends Ji-an the picture he took of her and Dong-hoon, which makes it look like they were making out in the street.
 
COMMENTS
I have no idea what's happening. Seriously, not a single clue. I don't know what Ji-an's plan is or whether she's on Joon-young's side, Dong-hoon's, or what. I have no idea what her relationship is to Ki-bum, or how they seem to work together so well to accomplish things like tracing someone's phone or drugging a drink. I don't know what Kwang-il wants from Ji-an or why, since it seems to be more about control than the money. And I certainly haven't got a clue what, if anything, Dong-hoon is going to do to save himself. Whatever Ji-an's plan is, she's obviously got everything mapped out already, especially since she tried to bug Joon-young's office as well as Dong-hoon's phone. At least she's covering all of her bases, not trusting anyone but herself to look out for her own interests.
And yet, I don't mean any of this as a complaint, because even though I'm confused as hell, I'm loving every minute of it. I honestly didn't expect to like such a stark, bleak show, but I really do, even though each episode leaves me feeling as though I mostly have a grasp on things, but there's still something eluding my understanding. I think it's because I can sense that I'm supposedto feel this way at this point, because none of this feels like a mistake. It's as though the story has me right where it wants me to be at this point, and that it's completely certain of the story it's trying to tell, and that all I have to do is hang on and watch and everything will be explained in time.
Something I admire about My Ajusshi so far is how it tells a rich, compelling story without feeling the need to make things too detailed or complicated. I mentioned last week that I actually enjoy the office political maneuverings (which usually leave me bored to tears) for exactly this reason, but everything in this show is straightforward, without unnecessarily convoluted situations. The writer knows how to use the characters to draw us in and keep our interest, while the actual events are just backdrop. The focus is on the people, not the circumstances, and I just love that.
I find Yoon-hee, Dong-hoon's wife, a very fascinating character, full of contradictions. She confuses me, but at the same time, I understand her. She's a person who's weak enough to give in and have an affair, but she feels guilty and keeps saying that she wants to come clean and get a divorce, eager to make things right even if it's late. I do think she feels remorse for her behavior, and I also think she bears no ill will towards Dong-hoon, because she consistently argues his side whenever Joon-young talks about him. But she's not so remorseful that she's willing to break things off with Joon-young and be faithful, either. At some point she's going to have to pick a side, and I'm afraid she'll choose with her heart rather than her head.
But the fact that her chosen paramour is her husband's boss makes things much more complicated, as Joon-young well knows. Even if Yoon-hee divorced Dong-hoon, and even if it were never known that their relationship started before that, it will reflect very badly on him the moment it comes out that he's dating an employee's ex-wife. Now things have gotten even more complicated with the bungled bribe attempt and Dong-hoon's supposed ethical choice of throwing the money away, gaining him Chairman Jang's admiration and support. Right now, there's just no good way to handle things that ends up with Yoon-hee and Joon-young still together (not that there should be).
I think that Dong-hoon knows full well that Yoon-hee is unfaithful, though I'm not sure he knows who her lover is. He seems like the kind of guy who wouldn't want to know, although he figured out that Joon-young did something to him that he's unaware of, so it won't be long before he connects the dots. But I think that he's choosing to ignore it for now, especially after that quip he made to Ji-an about not wanting to think about why you don't like a person.
I particularly appreciate how Ji-an and Dong-hoon are kept interacting with one another — she's using the fact that the company thinks Dong-hoon threw out the money to not only get some free meals, but to spend more time with Dong-hoon so she can gather information to fulfill her deal with Joon-young. She's whip-smart, and I admire her ability to size up a situation and figure out the best angle for her benefit — sometimes even multiple angles. I think that Dong-hoon is smart, too, but he's been complacent for so many years that it's taking him some time to wake up. I was glad to see him fight back, and I'm eagerly awaiting Ji-an's next move, now that Dong-hoon is no longer playing along.
My Ajusshi: Episode 4
It's a terrible feeling, the thought that you're alone in the world, that nobody knows what you're going through. But that doesn't mean that it's welcome, when someone manages to see right into you and know exactly what you're feeling. Right now, Dong-hoon and Ji-an feel safe in their isolation from the world, so as they begin to realize that there's somebody who understands them, it feels more like a violation than a comfort.
 
EPISODE 4 RECAP
As Dong-hoon heads to work, he can't stop thinking about Ji-an trying to kiss him last night. When he arrives, he goes straight to Ji-an and informs her that today is her last day. She barely reacts, then turns back to her work.
Director Park is out of jail and back at the office after his hit-and-run, looking shame-faced during an emergency board meeting. The other directors light into him for drinking so much that he missed an important meeting.
When they've yelled themselves out, Joon-young says that he'll personally travel to China to tell the investors that Director Park missed the meeting because of his accident. He reassigns the project and tells Director Park that officially, he's still in the hospital.
In private, Director Park pleads his case to Executive Director Wang, saying that he's never blacked out from drinking, but somehow he woke up at the East Sea without his cell phone. They conclude that Joon-young must have somehow targeted him.
While walking to his office, Joon-young sees Ji-an sending a text, so he checks his burner phone as soon as he can. She asks for her ten million won payment (for getting rid of Director Park) today.
Dong-hoon approaches Director Yoon about firing Ji-an, and Director Yoon is insulted at having his time wasted, particularly by someone in Director Park's pocket. Dong-hoon can't be specific, so he says that Ji-an is badly-behaved, but Director Yoon just laughs that nobody at this company is well-behaved.
Frustrated at being denied, Dong-hoon pulls Ji-an into the conference room to speak privately. He opens all the blinds as the other people look on curiously, then he asks Ji-an if she thought he'd follow her like a dog because she saved him once. He accuses her of having fun with a middle-aged man, but she simply says she hasn't kissed a man in a long time, so she just tried it.
She admits to being curious about how he seem be so bored with life while making a good salary, and why he pretends not to know that his college hoobae is trying to get him fired. She says that he looks like his life is as bad as hers, while she's the most miserable person here.
She continues that she thought she might be less bored if she kissed him, but that it wasn't fun. She asks how he feels, but he just sighs and asks if her parents know she's living this way. He warns that if she acts up again, he'll tell the whole truth and have her fired.
Director Park goes back to the bar to have a look at the CCTV cameras. He sees himself being practically carried out by someone who looks like a designated driver, and when he next checks the CCTV footage at the hotel where he woke up, they see the man going through his pockets.
He calls the designated driver company that he'd arranged for that night, and he's told that he wasn't there when they arrived to take him home. Director Park remembers telling Dong-hoon that they would go to the East Sea to celebrate once they took down whoever was trying to get rid of them. As he's getting back in his car, he finds his phone under the seat and realizes that someone tampered with it.
He reports back to Executive Director Wang about the guy who took him from the bar, and how he hid his face from the cameras. They naturally assume that Joon-young and Director Yoon planned to have him abducted and hired professionals, and worry that they'll even kill if pushed.
Executive Director Wang advises Director Park to take the blame and accept a demotion to Busan, and to look into Joon-young while he's there. He wants to make Joon-young think he's won while digging up dirt about him in secret.
Meanwhile, Joon-young meets with Ji-an outside the office, sure that this isn't her first time doing this kind of elaborate con, and that she didn't work alone. He passes her the money for getting rid of Director Park, warning her not to do anything else without his permission, but she says she's already started work on Dong-hoon.
She tells him that she uploaded the picture of herself kissing Dong-hoon to a site visited by a gossipy employee, and that once the rumors begin, he can fire Dong-hoon. Joon-young worries that Director Park will be suspicious if it happens too soon after his own ousting, but Ji-an just says she needs the money quickly.
Joon-young goes back to the office and emails Ji-an's photo and resume to Yoon-hee, asking her to look into the girl. Yoon-hee asks what happened to Director Park, but Executive Director Wang shows up so he hangs up on her. Executive Director Wang advises Joon-young that they need to get rid of Director Park, but they can't fire him, so they should send him to Busan.
Dong-hoon's mom holds a ceremony to bless Sang-hoon and Ki-hoon's new cleaning business. The friend who sold it to them gives them some last-minute advice, including which chemicals never to mix, and he tells Mom that there's no shame in honest work even if it's a step down from what they did before. He says that Dong-hoon can start a business if he's fired, but Mom snaps that Dong-hoon will work for his company until he's seventy.
Sang-hoon's wife, Ae-ryun, cries as she visits with Mom, who tells her that she felt better while watching the brothers go to work this morning instead of sitting around doing nothing. Ae-ryun asks her not to tell their daughter's new husband about the cleaning business, since he doesn't know she and Sang-hoon are separated, or about Sang-hoon's debt.
She says that she still wants a divorce, but that she's waiting until the kids are ready. Mom asks why she's crying when Sang-hoon is working like she wanted, and Ae-ryun sobs that Sang-hoon will never pay down his debt with a cleaning job.
That night, Dong-hoon calls Director Park, who says that he won't be there to help him anymore. Dong-hoon asks if Joon-young is responsible, but Director Park says that he just got drunk and made a mistake. Thinking about how he told Dong-hoon he wanted to go to the East Sea, then mysteriously ended up there, he tells Dong-hoon that he can't trust him right now, and warns Dong-hoon not to trust anyone, either.
Loan shark Kwang-il lets himself into Ji-an's old apartment, then calls someone to report that she obviously hasn't been there in days. He says that she won't leave the country because of her grandmother, and that she can't get away from him, anyway. He starts to leave but finds Ji-an standing in the doorway.
He growls that he would have killed her if she hadn't shown up today, and she angrily shoves the envelope with the ten million won at him. Kwang-il warns her to have some manners and taunts her about where she got so much money. Ji-an grabs his bag and drops a receipt book at his feet, ordering him to add a line: "I won't break in ever again. If I do, she won't have to repay the rest of her debt."
She says that if he doesn't, she'll kill him. Kwang-il purrs for her to die so he can torment her grandmother instead. Never breaking eye contact, Ji-an calls him a dumb bastard and says that she'd kill her grandmother before she killed herself. She pushes the receipt book at him again and tells him to start writing: "I can't stand you being anywhere near where I breathe. I'm afraid I might end up breathing in your air, and that man's air as a result."
Kwang-il slaps Ji-an across the face with the envelope of money, then tosses it aside and begins beating her.
Yoon-hee did as Joon-young requested and pulled up information on Ji-an, whom she discovers once stabbed a man to death when she was only in middle school. Yoon-hee asks Joon-young who Ji-an is, and he tells her simply that she's an employee.
Kwang-il takes a break from punching Ji-an to spit at her that she's not allowed to die so that he can torment her until she's old. She yells back that she should have left his father alive so that she could harass him like Kwang-il harasses her. She screams that she was too nice by killing him right away, earning a fresh round of pummeling.
It's snowing later when she staggers to her friend Ki-bum's home, bruised and bloody. She pulls her grandmother's bed across the room, ignoring her signed questions about her face, but Grandma asks if it was the same man who hit her. Ji-an reminds her grandmother that she killed that man. She gives Grandma the fruit she bought, then pulls her receipt out of her pocket — which includes the note saying that her debt is forgiven if he breaks in again.
Dong-hoon and his team go out for drinks, mourning Director Park's demotion. They ask Dong-hoon why he tried to have Ji-an fired, but he just says that he feels sorry for her. He says that when people look tense, it gives you a clue about their past, and that he's scared to know what happened to her. Ji-an, who's listening in via her spy app, abruptly cuts off her feed in anger.
On their way out, Dong-hoon points out a building to his team. It was built in the same year he was born, and it follows the curve of the river so it can't be rebuilt. "It will just disappear once it can't hold up any longer," he sighs. "It shouldn't have been built here. Just like me. I also chose the wrong place. I shouldn't have been born on Earth."
The following day, Ji-an's injured hand bothers her, so she stops to put on a bandage. One of the women from the office saw the picture of her kissing Dong-hoon, and even though her face wasn't visible, the woman recognized her shoes.
She loudly mentions how if a woman goes up on her toes to kiss a man, she's the one initiating the kiss, which Ji-an was doing in the picture. Realizing that she's been recognized and about to be accused of seducing Dong-hoon, Ji-an calls Ki-bum and tells him to take down the picture and delete it.
Ki-hoon arrives at today's cleaning job to find that someone vomited all down the stairs. A tenant says that it was a female tenant who lives alone, and that she tried to get her to clean up after herself but she pretended she wasn't home. Apparently this happens often, and the woman always vomits in the same place.
Back at their office, Ki-hoon complains that Sang-hoon didn't help clean up the mess, until Sang-hoon loses his appetite. His chin wobbles and Ki-hoon asks if he's already ready to quit. Sang-hoon says he's just having a hard time, but he leaves to cry alone.
The woman who saw Ji-an's picture corners her and taunts her, saying that if she'd turned her in, she'd have been fired. She tells Ji-an to work harder instead of making moves on the boss, and to try being a bit friendlier. Ji-an just laughs dryly and says that if she gets fired, then so will the other woman, for having an affair with a married colleague.
Ha, it turns out that the woman (who's also married) has been sleeping with a man from another department, actually in the office, and that janitor Choon-dae has seen them. Ji-an orders the woman to keep her mouth shut if she wants to keep her job.
After work, Ji-an goes to a pharmacy to have her injured hand checked out, and the pharmacist recommends that she go to the hospital. She notices that her other hand looks injured too, but Ji-an jerks that hand back. Ki-bum is there, and the pharmacist assumes he's the one who hurt Ji-an and writes her a note asking if she needs help.
Later, Ki-bum asks how long Ji-an will let Kwang-il beat her up, mentioning guiltily that some of her debt is because of him. She just tells him to bring Grandma back to her place tomorrow since Kwang-il won't be coming over anymore. Ji-an asks what he found out on Dong-hoon, and Ki-bum says that his son is overseas and his wife is a lawyer, so they can't mess with them.
The cheating woman calls her lover, frantic that Ji-an knew so much about them. She revisits the website to find the picture of Ji-an kissing Dong-hoon, but it's gone.
When Dong-hoon meets up with his brothers for a drink, it's obvious that Sang-hoon has been crying again. He confesses that while he was cleaning today, he accidentally swept some dust onto the man who built half the buildings in the area, and he threatened to fire him unless he apologized.
Sang-hoon had to kneel in front of him, then when he got back downstairs, he found a lunch box that Mom had left for him. He told himself she couldn't have heard what happened, but when he got home, she just smiled at him, and he knew she'd seen his humiliation.
Ki-hoon storms off to kill the man who belittled his brother, but Dong-hoon grabs him in a back-hug and holds him until he calms down.
In their secret apartment, Yoon-hee tells Joon-young that Dong-hoon should have married someone else. She says he's hardworking and kind, but he's also lonely, which makes her feel lonely because she can never make him happy.
She describes Dong-hoon as a man who feels like he's lost something, though he doesn't know what. She asks Joon-young why he never talks about his ex-wife, but he just says there's not much to say, and gets ready to leave.
Ji-an tells Ki-bum to find something, anything, on Dong-hoon even if he has to make it up. She seems ill at work, sweating and clutching her stomach in pain. She passes out for a moment, falling out of her chair, but nobody goes to help her (they think she just nodded off) and she gets up and goes back to work looking weary.
Mom visits the temple to talk to a monk she knows, telling him that he's better than all three of her sons and joking that she's sending them to the temple in her next life.
Dong-hoon runs into Ji-an drinking a beer at a convenience store, and he notices her injured hand. He grumbles at her to take medicine if she's sick, then goes to smoke his cigarette, but he throws it away unlit.
That night, Ji-an listens to the recording of the brothers' fight, and she hears them mention the name of the man who humiliated Sang-hoon, Young-woo. She even listens to Dong-hoon telling her to take medicine, then later she hears him going to see Young-woo.
He'd taken the man a basket of oranges, saying that he was there about his brothers' cleaning company. He'd told Young-woo that he's had to kneel before too, and been slapped and cussed at, but that his family never learned about it. He'd said that whatever happened, it didn't matter as long as his family never knew.
Dong-hoon had told Young-woo that you can't treat someone like that in front of his family: "If you did, then it wouldn't be strange if I killed you."
As she listens, Ji-an flashes back to six years ago, when a loan shark had been beating her violently, and her grandmother came to her rescue. He'd turned his fury on Grandma, and Ji-an had run to the kitchen, grabbed a knife, and defended her family. A tear runs down Ji-an's face as she remembers killing the man.
She continues listening as Young-woo asks Dong-hoon why he's here. Dong-hoon says calmly, "My mom saw it. So I'm capable of doing anything to you right now."
Young-woo suddenly shows up at Mom's house, looking chastened and carrying the basket of oranges that Dong-hoon gave to him. Ha, they weren't for him — they were for him to give to Sang-hoon. He apologizes for his behavior, bows deeply, and quickly leaves. Sang-hoon finally begins to smile again.
Ji-an hears Young-woo on the recording in the past, refusing to apologize. Dong-hoon had then pulled a mallet out of his bag and begun tearing holes in the walls, pointing out the serious violations in the building's construction. He'd asked if all of Young-woo's buildings were built this way and threatened him with fines, then told him again to take the fruit and apologize. That. Was. Awesome.
Dong-hoon leaves the man's office, and stops in the street to catch his breath. Sang-hoon calls to say that someone named Jung-hee is back from Thailand, and all three brothers hurry to Jung-hee's bar. Jung-hee seems very popular with the neighborhood men, and she's obviously fond of them.
Dong-hoon arrives to find Jung-hee nodding off from jetlag. He wakes her, and she gives him an affectionate slap, then drifts off again. As he gets drunk with his brothers, Dong-hoon recalls Ji-an's words that he looks as bored as she is, as if he's living out a life sentence day by day.
He tells Ki-hoon, as Ji-an listens in, "There's someone who knows me. And I think I know her a little, too." Ki-hoon asks if he's happy, but he says, "I'm sad. I'm sad that she knows who I am."
 
COMMENTS
I'd wondered what was going to bring Dong-hoon and Ji-an together, when their relationship began with Ji-an literally trying to destroy Dong-hoon's life. I don't think it's that she doesn't care what happens to him, but that her situation is so dire that she can't afford to care. She's literally fighting just to stay alive day to day, not to mention taking care of her disabled grandmother, and she's so desperate that she can't bother with things like morals or sympathy. But somehow, although they are in such different circumstances and facing very different challenges, there's something that Dong-hoon and Ji-an recognize in each other. They seem to just get each other — like Ji-an said, she's bored with life, and she saw that same boredom in Dong-hoon. Despite themselves, they can't help but be drawn to the one person who instinctively understands them.
It's interesting, because they really don't seem to like each other very much. In fact, I'm sure that they both wish the other weren't around (other than Ji-an needing the money she can get by getting Dong-hoon fired). But Ji-an's plan to listen in to Dong-hoon's conversations is backfiring on her, hard, because she keeps overhearing him saying things that reveal that he's thinking about her. He's a lot softer when speaking to others about her than he is when speaking directly to her, so it's like she's got a direct line to his emotions. She could use that against him, but it's probably been a very long time since someone thought about her and worried for her, so she can't help but be affected by his concern.
I'm really fascinated by Ji-an, who seems to have a lot of secrets. Her grandmother is her only family, but how did she incur so much debt? Is it her debt, or one she inherited? At least now we know a bit about why Kwang-il hates her so much — his father is the man she killed, apparently because he was abusing her and her grandmother. I find it very interesting that Kwang-il carries so much animosity towards Ji-an, but in the end, he bowed to her demand to add the note to his receipt. I think she may be right that he has feelings for her, probably against his will, but enough that even after beating her up, he still caved and did what she wanted.
As difficult as Ji-an is to like, I can't help but like her despite her cold disregard for anyone but herself and her grandmother, because she could so easily just give up on life. But she fights back tooth and nail, even taunting a guy who's twice her size and has already beaten her multiple times in the past. I don't know if she's pretending to be fearless or if she's just truly not afraid of dying, but she still fights with everything she has when necessary. I think it's that determination to fight that draws Dong-hoon, who seems to have genuinely lost any interest in life.
But the best part of this episode was when Ji-an overheard Dong-hoon defending his brothers, but doing it in a way that seemed, at first, to be gentle and respectful. Her tactic of defending her loved ones is (necessarily) violent, and she heard Dong-hoon handling a situation where she expected him to display his usual meek, apologetic demeanor. But instead, she saw something in him that she didn't know he possessed — vengeance. A different kind of vengeance than Ji-an has ever seen, but one that was effective while still showing mercy to the man who wronged his family. It showed Ji-an that Dong-hoon is a lot more like herself than she believed, but that there's a better way than hurting people, and he began to earn her respect. She won't find it so easy to betray him now.
My Ajusshi: Episode 5
Interesting things are starting to happen now that Dong-hoon and Ji-an are on each other's radars as more than work-related annoyances. Ji-an is seeing Dong-hoon from a new perspective as she continues spying on him, while he's beginning to realize that she's a lot more than just a young woman with an unpleasant personality. Not only are they noticing details about each other, but they're actively making excuses to be around each other, though I doubt they're fully aware of it yet.
 
EPISODE 5 RECAP
Over drinks at Jung-hee's bar, Ki-hoon tells Dong-hoon with drunken sincerity that no matter how poor he is, he always wears expensive underwear in case he dies and someone sees them. He worriedly asks Dong-hoon not to be ashamed of him for being a cleaner.
Ji-an listens in while she washes dishes at a new part-time job. Dong-hoon sighs that he's not ashamed, but Ki-hoon doesn't believe him. He admits that he's the one who's ashamed, since he's still getting an allowance from Dong-hoon at his age.
The men all settle their tabs and get ready to leave, and Dong-hoon hangs back when he realizes that Jung-hee is very drunk. He puts all the cash in a pot under the counter and heads out, accidentally leaving his scarf behind.
Jung-hee runs out to take Dong-hoon his scarf and invite the brothers in for another drink, but they decline. She watches them go, sighing, "I want to go home, too."
Curious, Sang-hoon asks Dong-hoon about the girl who has a crush on him, but Dong-hoon insists for the thousandth time that it's not like that. Ki-hoon begs Dong-hoon to just say that they're dating so Sang-hoon will shut up about it.
Dong-hoon doesn't realize that Ji-an is nearby until she's right in front of him, and he asks where she's been. She mumbles that she was at her part-time job, and he notes that she works hard. He keeps walking, leaving his brothers to stare after Ji-an until he yells at them.
On the train to work the following morning, Dong-hoon texts his monk friend, Gyeom-duk, to ask if living in a mountain temple is peaceful. He admits that he feels like he's dragging a weight around, and Gyeom-duk answers that his body only feels heavy.
Lost in thought, Dong-hoon nearly misses his stop, but Ji-an kicks his foot on her way out of the car and snaps him out of it. They end up in the same elevator, where Dong-hoon mutters, "You kicked me awake like a master kicks his slave awake, right?" Ji-an doesn't respond.
After his trip to China, Joon-young calls Chairman Jang to report that he salvaged the business deal that Director Park's missed meeting almost ruined, though Director Yoon takes all the credit back at the office. He crows that with Director Park gone they have five votes now, against the opposing side's four. They need to hire someone sympathetic to fill Director Park's vacant job, just to ensure that Joon-young is voted CEO again.
In Executive Director Wang's office, his cronies discuss the need to find someone to vote for their side, and the only person who isn't on Director Yoon's side is, coincidentally, Dong-hoon. They want to make him a director, but they need his direct superior's evaluation to secure the promotion. Dong-hoon was recently transferred to Director Yoon's department, which they believe was a strategic move by Joon-young since Director Yoon will never give him a good evaluation.
Director Park calls Executive Director Wang to report that he's looked into the department store gift certificates used as the bribe. He says that the store won't give him any information about the purchaser, but they also said they'll cooperate if a prosecutor investigates the bribe. Unfortunately, that would ruin the company's image.
Dong-hoon's team determines that a building they examined will need reinforcement in case of an earthquake. Director Yoon listens in and sneers that it will cost too much for an earthquake that will probably never happen, especially since the owner is trying to sell the building.
Dong-hoon says that it's his job to make that call, but Director Yoon retorts that he only thinks about work, which is why he's still just a manager. He storms off, and Ji-an quickly glances over at Dong-hoon before going back to her work.
Over at the apartment building where a tenant keeps throwing up in the stairwell, another tenant pounds on her door, demanding that she come out and clean up after herself. The woman's apartment is a disaster, and she takes a long time to drag herself out of bed to answer the door.
Ki-hoon and Sang-hoon are cleaning the stairs again, and they try to get a look at the culprit, but her unkempt hair hides her entire face. Something about her voice seems to be familiar to Ki-hoon as she moans that she's sorry.
The brothers finish cleaning and get back in the van, but Ki-hoon seems disturbed about something. He goes back and knocks on the woman's door, and when she opens it, he leaves his business card and tells her to call him herself the next time she's sick.
The woman chases him down the stairs and asks, "Director… it's you, right?" Ki-hoon looks angry as he stalks back to the van, ignoring the woman as she follows him outside. Sang-hoon asks if he knows her, but he says he doesn't.
While on a break, Dong-hoon overhears some coworkers talking about him, and how they'd have quit when their hoobae was made CEO. They say that the company is pretty much telling Dong-hoon to leave, but that he won't because then he'll have nothing.
After work, he meets up with Director Park, who says that if he'd known things would go this way, he'd have been friendlier with Joon-young. He advises Dong-hoon to latch onto someone with more power, even if they're younger, calling Dong-hoon too righteous.
Dong-hoon says that he doesn't resent Joon-young for being promoted ahead of him, but because "that bastard" wronged him. He tells Director Park that last spring he ran into Joon-young, who was suddenly suspiciously friendly, and Dong-hoon got the feeling that he'd done something to wrong him.
Ji-an listens in as Dong-hoon says that that's when things went sour between them. Director Park is confused that their feud started because Joon-young was nice, and he hands Dong-hoon an envelope and invites him to see exactly what Joon-young has done to him.
Ki-bum calls Ji-an to tell her that her landlady came to her apartment while he was there because she's behind on her rent. The landlady insisted that Ji-an move out immediately.
Joon-young and Yoon-hee are in bed when his secret phone rings, and Yoon-hee asks who else calls him on that phone besides her. His primary phone rings next, and this time he answers. As he gets up to leave, Yoon-hee asks who else he's secretly talking to, and if it's a man or a woman, but Joon-young doesn't respond.
He meets with Ji-an, who plays him the recording of Director Park and Dong-hoon's conversation. They're discussing his call history for the past few months, and Director Park says that maybe Dong-hoon will see something that he couldn't.
Ji-an says that if Dong-hoon finds his wife's cell number in Joon-young's call history, he'll find out about their affair. Joon-young snaps that he's not that careless, and that Yoon-hee always calls his primary phone from a pay phone. He tells Ji-an to do the same.
Ji-an says that this recording is proof that Director Park is plotting against his CEO, but Joon-young says that he can't use illegally obtained evidence. She retorts that plenty of people will get him legal evidence for a price before walking away. She calls Ki-bum and instructs him to email the recording to the internal audit team.
When she gets home, she finds Grandma's bed in the middle of the room again and pulls her away from the window. Grandma signs that she asked Ki-bum to move her under the window so she could look at the moon, but she couldn't see it.
Ji-an goes to the store and shoplifts several items, pushing her cart out of the store at top speed. She passes right by Dong-hoon, who watches her crash into a pedestrian and dump herself and her cart into the street. She throws most of her things back in the cart and runs away, and Dong-hoon grabs the fruit she left behind and calls out to her, but she doesn't turn back.
He follows her for a while, calling her name. He ends up in an unfamiliar neighborhood and stops to rest, looking up at the moon. He gets up to investigate an odd noise, which turns out to be Ji-an trying to ease her stolen shopping cart down a flight of stairs.
She freezes when he asks what she's doing, and she loses control of the cart and slips backwards several steps. Dong-hoon catches her, and he realizes that it's not groceries in her cart, but Grandma, who gives him a great big grin. He helps Ji-an get Grandma down the steps, and once they're safe, she pushes the cart away without a word.
Ji-an pushes Grandma through the dark streets, eventually stopping so that they can look at the moon. Grandma smiles to see the full moon over their heads, and she asks Ji-an who the man was that helped them, and if he's a good person. Ji-an signs back that it's easy for people with money to be good people.
She's surprised to see Dong-hoon waiting at the foot of the stairs when she wheels Grandma back home. He piggybacks Grandma up the steps and into the apartment, and after tucking Grandma back in to bed, Ji-an follows Dong-hoon outside. There's an awkward silence, then Dong-hoon says, "You're a good person," and turns to go.
The next morning, the brothers' friend Jae-chul who owned the cleaning business figures out who the vomiting woman is — she's CHOI YU-RA (Nara), who played the lead in Ki-hoon's first movie, but she was such a bad actress that the movie was never finished and Ki-hoon's career went downhill. Ki-hoon growls that Yu-ra is the only woman he's ever wanted to punch, ha.
Yu-ra is waiting when the brothers load up the van for the day, looking much healthier as she approaches Ki-hoon. She says she's doing well when he asks, but her stiff smile makes it seem like a lie. She gives Ki-hoon some red bean bread and reluctantly leaves, as Ki-hoon tries his hardest not to make eye contact. He admits to Sang-hoon that Yu-ra used to like him.
At the office, Dong-hoon tries to make conversation with Ji-an, asking who takes care of Grandma during the day and which Chinese characters she uses for her name. Without looking at him, she answers that her name means "quick" and "comfortable," and Dong-hoon says it's a good name.
The audit team gets the audio file of Director Park and Dong-hoon discussing the fact that they're trying to take down Joon-young. Unfortunately, it's pretty obvious what they're plotting.
After work, Dong-hoon invites Ji-an to join the staff dinner, whispering quietly that they'll serve meat there. She's just surprised enough to come along, but she just sits uncomfortably, so Dong-hoon sends food down to her end of the table.
The woman that Ji-an caught cheating in the office complains about grilling the meat and throws the tongs at Ji-an, ordering her to do it. Ji-an asks in her deadpan manner what happens if she grills it better, adding, "I know you only act as if you're taking care of people so you'll be liked. So if I take that away from you, you'll have no likable qualities left." Damn, Ji-an throws some pretty awesome shade when she wants to.
Everyone jumps up when Director Yoon and Joon-young arrive, and Director Yoon berates Dong-hoon's team for starting without them (even though everyone did). He orders Dong-hoon to greet Joon-young, and as he does, his team grumbles that they're making a sunbae greet his hoobae first.
When Joon-young proposes a toast, Director Yoon yells at the entire room for raising their glasses higher than the CEO, and even Joon-young has a look on his face like, Dude, too much. He tells Director Yoon that he wants everyone to feel comfortable and finishes his toast.
Another director starts to refill Joon-young's glass, but Director Yoon snaps at Dong-hoon to do it. Wow, he really has a bee in his bonnet for Dong-hoon today. He takes offense again when Dong-hoon pours his own drink, but Joon-young says that Dong-hoon prefers to pour for himself and tells Dong-hoon that he hasn't changed.
While everyone is out, the audit team goes through Dong-hoon's desk looking for the copy of Joon-young's phone records that were discussed on the recording, but they don't find anything.
When Joon-young gets up to leave, one member of Dong-hoon's team asks him drunkenly if he was really Dong-hoon's hoobae in college. He tells Joon-young that he should call Dong-hoon "sunbaenim" outside of work, and Dong-hoon runs over to shut him up.
He ends up in a screaming match with Director Yoon over how disrespectfully the directors treat employees. Director Yoon tries to pounce on the man, but Dong-hoon gets between them, and Director Yoon throws Dong-hoon across the room.
Joon-young leaves without a word, Director Yoon trotting behind him, and Joon-young tells him not to let any of the executives find out what just happened, especially Chairman Jang. Director Yoon runs back inside and instructs everyone not to let the chairman know about this or they'll regret it.
Dong-hoon has pulled his employee out to the alley, where he tells him that his actions harmed him more than helped him. Inside, another team member blames Joon-young for the situation, but he whines that Dong-hoon should kiss up more.
Suddenly Ji-an reaches out and slaps the guy, calls him a disgusting bastard (as though she's outwardly referring to his habit of spitting in a cup), and walks out.
It starts to snow as Dong-hoon walks home, and he stops at a train track even though no train is coming. Drunk and clumsy, he staggers and falls, then he just lies there watching the snow. Ji-an is listening through his phone, and she stops walking when she hears him gasping for breath… then she breaks into a run.
As Dong-hoon lies on the ground, he says to himself that he can't die today because he's not wearing expensive underwear. Pfft. Ji-an arrives in time to see him haul himself to his feet and continue on, so she doesn't approach him.
She calls Joon-young's private phone and they arrange to meet. He asks mockingly if she enjoyed what she witnessed at the staff dinner, and he asks her why the audit team can't find his phone records in Dong-hoon's desk. He tells Ji-an to find them herself.
She ignores him to ask why he's seeing a married woman at such a crucial point in his life. She says this would be over if he broke up with Yoon-hee, but Joon-young sneers that married women are the safest ones to date because they won't expose the affair, so it's safer for him to keep dating Dong-hoon's wife than to break up with her. Wow, there are no words for how sleazy that is.
The following morning, Yoon-hee tells Dong-hoon that Ki-hoon called her for advice on registering his cleaning business. She suggests that Dong-hoon start a business too, since he can't work at the company forever.
Dong-hoon says that starting a business is complicated and expensive, not to mention the risk of it failing. He thinks it's better to work for someone else and make a steady paycheck than to end up in debt from a failed business venture. Yoon-hee counters that he drags himself to work every day like he's going to the slaughterhouse and asks if that's living, making Dong-hoon angry enough to storm out.
The employee who confronted Joon-young fills out an apology letter for what happened while he was drunk, and Dong-hoon also fills one out, taking the blame for not being able to stop his team member. At the end of the work day, Director Yoon makes a snarky comment about the letters and Dong-hoon's temper flares, and he has to be gently urged onto the elevator by his team.
But at the ground floor, instead of getting out, Dong-hoon pushes the button to go back upstairs, seemingly on a mission. He pulls Joon-young's phone records from his hiding spot and checks the calls against the employee contact list, eliminating the known numbers. He starts calling the unknown numbers, claiming to be offering a free gift to get their names and addresses.
While heading out to work, Sang-hoon notices actress Yu-ra sitting in a car nearby, watching them. She gets out and approaches Ki-hoon, and she's got the assistant director from their first movie with her. Ki-hoon makes it clear that he isn't happy to see either of them, and the assistant director slinks back to his car and leaves.
Yu-ra stays, grasping Ki-hoon's hand and chirping happily, "Director… thank you for failing! I feel like I can live freely now. Thank you so much!" She starts to leave, but she trots back to invite Ki-hoon out for a drink. LOL, she's kind of cluelessly adorable.
She follows Ki-hoon and Sang-hoon back to Jung-hee's bar, and Jung-hee narrows her eyes at the young woman as she talks about how Ki-hoon was a rising star when they worked together. She admits that while working with him, she got yelled at so much that she started doing stupid things, but that she's happy now because he ended up a failure.
Yu-ra is thrilled because it means that she was never the problem — it was Ki-hoon. She explains that her career was destroyed and she started drinking after that movie, and the happier she seems, the lower Ki-hoon's head sinks. She sincerely thanks him, saying that he seems lovable now that he's a failure. The crazy part is, I think she genuinely means that.
There's one number that repeatedly pops up on Joon-young's call list, and Dong-hoon figures out that the calls happen nearly every day. But it's an unreachable number.
His team members don't know much about unreachable numbers, but Ji-an wanders near Dong-hoon's desk and murmurs that public pay phones can only make calls, not receive them. With her tip, he's able to track down the location of the payphone by its number.
The audit team watches the CCTV footage and sees where Dong-hoon stashed the call log. They rush up to his office, but Dong-hoon is already leaving the building. He calls Director Park to tell him that he may have found something, and he heads to the pay phone's location to find out who may be making the calls.
As the audit team ransacks Dong-hoon's desk, Dong-hoon cautiously approaches the pay phone. He confirms that it's the right phone number, and looks around. He stares in shock when he sees that it's right outside Yoon-hee's office. And in that moment, Yoon-hee comes down the street and starts heading towards him, as Ji-an lurks nearby, avidly watching the couple's confrontation.
 
COMMENTS
This show, I don't even know what to do with it. It seems so stark and bleak, but there's so much going on in each scene that I feel like I could watch an episode ten times and still not catch all the nuances and tiny meaningful moments. I was particularly struck by the way Ji-an kicked Dong-hoon's foot to keep him from missing his stop — it's the first thing she's done purely for him, with no benefit to herself. Such a small thing that most of us would do without thinking, but coming from Ji-an, it's monumental. She wouldn't have bothered to do even that much for him a few days ago, but then she overheard Dong-hoon defending her to his brothers and coworkers and saying that he feels like she understands him. It's not much for her to keep him from being late to work, and it even pissed Dong-hoon off a little, but a true connection began to form between them in that moment.
It's so interesting to watch Dong-hoon and Ji-an struggle with how to deal with each other, because while I'm used to seeing drama characters deny their feelings for someone, My Ajusshi puts that dynamic into a completely different context. While I think that the actors have amazing chemistry, for me it's not a romantic type of chemistry, but more of a sense that they just somehow get each other despite the fact that they're completely different. They don't even like each other, and in fact there's a lot of animosity and hard feelings between them, yet they're drawn to each other in a way that they don't really understand. They instinctively feel that they share something in common, but they don't yet know what that is. It creates this interesting sense of confused attraction, as if they can't help but be drawn to one another even though they'd rather stay far away.
I love how they're reluctantly beginning to help and stick up for each other, even though you can tell it annoys them both. Ji-an is beginning to grudgingly respect Dong-hoon, and he even told her that she's a good person. I love that he didn't qualify it with anything like "when you're not stealing money" or "to people you love," but just a straight "You're a good person." And Ji-an is realizing that Dong-hoon is kind and thoughtful, the way he waited to help her take her grandmother home, and how he even asked her a few personal, but non-intrusive, questions about herself. But my favorite moment was when Ji-an smacked the team member who suggested that Dong-hoon should suck up to Joon-young, especially since she's still helping with Joon-young's plot to get Dong-hoon fired. The fact that she was offended on Dong-hoon's behalf shows more emotion from Ji-an than we've seen before, other than her angry scenes with Kwang-il.
I still don't quite understand either Ji-an or Dong-hoon, but I'm starting to see what it is that connects them — that feeling that they don't quite belong, that there's not really a place for them in this world. Ji-an disconnected from others when she killed a man and spent three years in jail, and even her closest friend, Ki-bum, often feels like little more than an acquaintance. On the other hand, Dong-hoon appears to live a normal life with family, friends, and a good job, yet he feels like he should never have been born and goes through his days as if he's just dragging himself around like a dead weight. Their reasons for feeling alone and isolated are entirely different, and yet there's something about it that puts them on equal footing. I can't wait to see how they are together, once they begin to spend more time with each other.
My Ajusshi: Episode 6
Dong-hoon and Ji-an's growing not-quite-friendship is so interesting to watch, because unlike conventional relationships, it's not necessarily something that makes either of them happy. Still, they're unable to deny anymore they somehow understand one another, as unwelcome as it may be to have a stranger know your most shameful secrets and deepest fears.
 
EPISODE 6 RECAP
After he investigates the source of the number that frequently calls Joon-young's phone, Dong-hoon's team member calls to alert him that the audit team is ransacking his office, but he says to let them continue. He sits in a cafe, thinking about how he was set up with a fake bribe, and how his wife keeps telling him to quit his job.
He'd discovered that the pay phone is right outside Yoon-hee's office building, and she'd come outside to meet him. They'd gone to lunch, but Dong-hoon hadn't spoken much, and Yoon-hee worried something was up. She'd asked if he'd thought about starting his own business, promising to help him raise the money.
She'd seemed genuinely concerned for him, aware that he's miserable at his job. But now he watches from a window as she calls Joon-young from the pay phone, telling him not to fire Dong-hoon because she thinks he'll quit soon.
After she's gone, Dong-hoon goes out and calls Joon-young's number from the pay phone, and Joon-young answers as if he knows exactly who's calling. It confirms Dong-hoon's worst fears — that his wife is likely having an affair with the man he despises.
Mom has Ki-hoon call Dong-hoon to invite him to dinner, and when he says he can't come, she gets on the phone. She notices that he sounds depressed and tells him to come pick up some soup.
Dong-hoon remembers once finding an unfamiliar parking pass in his car, and he goes to the building it's from, where he sees Yoon-hee using that same parking pass to get into the garage. Soon after, Joon-young also drives into the same garage, and Dong-hoon is too stunned to answer a call from Director Park.
He calls Yoon-hee, who lies that she's working late. At the same time, he uses a borrowed phone to call Joon-young's number, and he can hear Joon-young's phone ring in the background of his conversation with Yoon-hee.
Director Park contacts Executive Director Wang to tell him that he gave Joon-young's call history to Dong-hoon and that may be what the audit team was looking for in his office. Executive Director Wang advises him not to contact Dong-hoon for a while so that they don't suspect that Director Park is involved. But Director Park says that he thinks Dong-hoon found something.
Back at home, Dong-hoon recalls the day that Joon-young was suspiciously friendly, and how he'd felt that Joon-young had wronged him somehow. Now he knows his gut feeling was correct, and that Joon-young is sleeping with his wife. He pretends to be asleep when Yoon-hee comes home and goes straight to the shower.
The next morning, he meets up with his brothers and their friends for some neighborhood soccer, but he walks right by them and goes straight to the men's room. He thinks about Yoon-hee berating him this morning for drinking too much and telling him to go out and experience life a little.
Jae-chul, the guy who sold Ki-hoon and Sang-hoon his cleaning business, yells at the men for drinking so early in the morning and tells them to get up and play some soccer. They all have excuses, but Dong-hoon grabs a team vest and heads to the field.
As he plays, he recalls another time when Yoon-hee was angry with him, saying that she and their son Ji-seok should be his primary familial concern, not anyone else. On a different day, she'd complained over dinner that she felt like his body was with her, but his heart was still at home with his mother and brothers. She'd noted that he should've been born in Joseon times.
Once, when their son Ji-seok was a baby, Dong-hoon had been at his mother's house, where Ki-hoon had been impressed that Yoon-hee recently passed the bar exam on her first try. Mom had snapped that she was sorry to be an unemployed mother, and that being a lawyer just means that people come to you when they cause trouble.
Dong-hoon had thanked his mother for taking care of Ji-seok while he and Yoon-hee pursued their careers. Mom had said that even the most successful woman will be judged by her husband's success, and had urged him to keep getting promotions because Yoon-hee wouldn't settle for him being unsuccessful.
In the middle of the soccer game, Dong-hoon gets frustrated that nobody is passing him the ball and stomps off the field. Sang-hoon tries to call him but Dong-hoon doesn't answer or come back, and Ki-hoon fusses at the younger players for not allowing Dong-hoon to play, getting into a fight with one of the players, who seems resentful of Dong-hoon's fancy job.
As the fight dissolves into an all-out brawl, a teacher uses them as an example for some middle-schoolers as to why they shouldn't risk their potential soccer careers by playing on the same field as ajusshis who are drinking on a Sunday morning. One kid confesses that his father called them here, and as the police arrive, he calls out to his dad, who's helping Sang-hoon and Ki-hoon escape.
Sang-hoon rips his coat on a broken fence while trying to sneak away, and he and Ki-hoon do a slow-motion badass strut down the street, trailing a cloud of feathers behind them, ha.
Listening in through Dong-hoon's phone, Ji-an can hear him breathing hard as she runs to catch a bus. She tracks his location to a bridge overlooking the river, which makes her panic. When she gets close, she jumps off the bus and races to where he's walking. But just as she finds him, so do his brothers, so she turns and walks the other way after letting out a big sigh of relief that he's okay.
Joon-young and Yoon-hee take a little camping trip, though Joon-young admits that he only goes camping because Chairman Jang likes it, and even Chairman Jang mostly just likes it for the campfires. A call comes in on his secret phone, which he says is just spam, and Yoon-hee asks who called the other night when he ran out on her.
He confesses that it's the girl who's helping him get Dong-hoon fired (and interestingly, he refers to him here as "Dong-hoon sunbae"). Yoon-hee asks if it's the same girl he had her look into, the one who committed a murder, and he says it is. She's alarmed, thinking that he may as well have put out a hit on Dong-hoon, but Joon-young says that Dong-hoon will be quitting soon so all he has to do is quietly get rid of Ji-an.
Former actress Yu-ra brings Ki-hoon some snacks, and this time she's not only brought his former assistant director, but someone else he used to work with. She calls him to come out, but when he hears the others mocking his Hollywood dreams that landed him in the cleaning business, he hangs up on her.
He's at a pojangmacha with Dong-hoon and Sang-hoon, and he grumbles that he'll show them in his next life. Dong-hoon asks if he even wants a next life, and Ki-hoon vows that he'll be reborn and be super successful and trample them.
Dong-hoon points out that these are probably the same people he said this to in a past life, making Sang-hoon laugh. Dong-hoon concludes, "Crush the people you meet in this lifetime, in this lifetime. And let's please stop being reborn."
Sang-hoon thinks it would be a shame to stop being reborn, because then they'd be bored. LOL. He chuckles that this life is sorta fun, he just doesn't have money to enjoy it. Ki-hoon quips that Sang-hoon is lacking a lot of other stuff and gets bopped on the head.
A hopeful Yu-ra shows up at Jung-hee's bar looking for Ki-hoon, but Jung-hee says he's probably with his brothers. Jae-chul spots Yu-ra and yelps her name, thrilled to meet a semi-celebrity. He asks if she still drinks a lot (referring to her habit of tossing her cookies in the stairwell), but she says she doesn't drink much now because she feels good even when she's sober.
Jung-hee correctly guesses that it's because Ki-hoon is a failure, and she says that there's a guy she also hopes will fail and come crying to her one day (Dong-hoon, I'm guessing, by the way she always looks at him). Yu-ra holds up a hand for a high-five, which Jae-chul slaps instead of Jung-hee, and all three of them chuckle.
Dong-hoon is approaching his apartment building when he spots Yoon-hee coming home just ahead of him. He runs to catch up, staggering and a little disoriented, and she marvels that he's just now getting home after leaving to play soccer early this morning. On the elevator, Dong-hoon asks why she smells like smoke, and she lies that it's from grilled food.
Kwang-il shows up at Ji-an's apartment, wearing a suit and carrying a grocery bag. Ji-an is listening to Dong-hoon's phone and doesn't hear him pounding on the door, so he picks the lock and lets himself in, scaring Ji-an and Grandma half to death.
Seeming drunk, he greets Grandma nastily and ignores Ji-an's order to get out. Terrified that he's discovered her grandmother, she attacks him, but he easily tosses her to the floor. He sits down and tells Grandma that it's his father's memorial day: "The day your granddaughter killed my father."
He's brought food for the memorial rites, which he offers to Grandma, telling her to live a long time so that Ji-an will suffer for a long time. As he forces the food into Grandma's mouth, Ji-an grabs the bottle he brought and tries to hit him with it, but he's too fast.
He yanks it from her hands, asking if a father and son should share a death anniversary, and he beats Ji-an while Grandma screams. Later, Ji-an sits on her steps outside, looking bloody and defeated, and replays her recording of Dong-hoon saying that she's a good person, over and over again.
At work on Monday, Dong-hoon is questioned by one of the auditors about what he was doing the day he was calling people all night from the company phone. He asks if Dong-hoon was checking the numbers in the CEO's call log, admitting that they got a report that he's been digging into Joon-young, but they can't find any evidence.
He says that regardless of whether they continue investigating, things will look bad if word gets out that a subordinate is investigating his boss. He urges Dong-hoon to tell him if he's found something, but all Dong-hoon says is, "Who in their right mind would tell the internal audit team, that works directly for the CEO, a secret about the CEO?"
Of course, Joon-young learns about Dong-hoon trying to dig up something on him from Director Yoon. He thinks Joon-young should just fire Dong-hoon, but Joon-young tells him firmly to let the auditing team handle it, otherwise they'll end up looking bad.
Director Jung (who's on the same side as Director Park) stops Dong-hoon in the hall to ask why he was called in to be questioned. They're interrupted by Joon-young, who tells Dong-hoon that if he has any complaints, he should bring them to him instead of checking on him behind his back as if he's trying to frame him.
In the copy room, Ji-an pisses off Deputy Kim (the team member she slapped at the company dinner) by kicking open the drawer when he asks for more paper. He kicks the drawer closed, loud enough to make the whole office jump, and orders her to do it again. He's yelling at her for being disrespectful when Dong-hoon returns, and everyone scurries back to their desks.
A couple of employees, including Cheater Girl, complain to Dong-hoon that having Ji-an around is disruptive and bad for morale. He asks his subordinate why people are so upset when Ji-an always opens the drawer that way, and his subordinate asks why Dong-hoon recently told Ji-an to quit, then changed his mind.
Dong-hoon tells him to get to the point, so he tells him how Ji-an slapped Deputy Kim at the dinner, supposedly for spitting in a cup, though he thinks it was for what the deputy was saying about Dong-hoon.
After work, Dong-hoon finds Ji-an at the subway stop and scolds her for hitting someone, saying that only people in dramas do that. He asks what Deputy Kim said to make her slap him, thinking he probably insulted or hit on her. He's shocked when she says, "He insulted you. He said that if he were you, he'd have quit already, and that it's difficult working for a superior who's being abused. He said this situation isn't Do Joon-young's fault, but the fault of pitiful Manager Park."
They ride the train side-by-side, Dong-hoon lost in thought. When he gets off the train, he calls Deputy Kim and tells him that he heard about him getting slapped, and why. Deputy Kim claims he doesn't remember, but Dong-hoon calls out the lie and orders him to apologize ten times right now, because he doesn't want to be angry over this. Deputy Kim bellows about thirteen apologies in the middle of a restaurant, sobbing by the time he's finished.
Dong-hoon finds Ji-an, who's waiting for him nearby, and says angrily that everyone talks about people behind their backs, even him. He asks why she told him and what she expects him to do. He heaves a heavy sigh and says he's sorry, then thanks her for hitting Deputy Kim.
They go to a bar, where Dong-hoon tells Ji-an that if she hears someone talking about another person, not to tell them. He says that they may start avoiding her because it's hard to be around someone who sees you in a vulnerable moment.
But then he says that it's fine so long as nobody knows, because if nobody knows, then it's not a big deal, thinking about Yoon-hee and Joon-young. Ji-an counters that the person might be scared someone will find out, thinking about how she killed the man who was attacking her grandmother.
She says that they'll always wonder who knows, and when they meet someone new, they'll wonder how long until they find out too. She continues, "Sometimes I wish I could have it displayed on a billboard for the world to see, instead of living in such fear for the rest of my life." She imagines seeing herself on a huge screen, killing the man on the nightly news.
Dong-hoon says, "I'll pretend I don't know. No matter what I hear about you, I'll pretend I didn't hear it. So promise me that you'll pretend you didn't hear. I'm scared because I feel like you know everything."
Yu-ra shows up at Sang-hoon and Ki-hoon's store, making them both uncomfortable as they try to eat their lunch while she stares. She says that she used to sleep the days away because she was miserable, but lately she wakes up early, feeling like it's spring in her heart.
Staring at Ki-hoon, Yu-ra says cheerfully that she feels as if she's watching the downfall of a brilliant genius, and Ki-hoon snaps. He asks if she's ever been hit by a man, saying that he'd deserve this if she'd become successful, but that she has no right since she's a terrible actress.
Starting to yell, he says that he failed because of her, screaming in frustration when she smiles at him. He chases her out, then follows to tell her never to come back.
The audit team manager reports to Chairman Jang that Dong-hoon was investigating Joon-young, probably because he suspects Joon-young of sending the fake bribe to take him down. He thinks Dong-hoon found something, but he wouldn't tell him what it is, even when he said he works for Chairman Jang.
Dong-hoon goes to speak to Joon-young, but he's out of the office. He runs into Chairman Jang, who seems eager to spend time with him and ignores Joon-young until he's done talking to Dong-hoon. Joon-young tells the chairman that he's prepared the campsite, reminding Dong-hoon that Yoon-hee came home smelling like a campfire last weekend.
In his office, Director Yoon sneers to Dong-hoon that Chairman Jang likes seeing people move up from the bottom, since he himself came from humble beginnings. He says that when Chairman Jang pats your shoulder, he's ensuring that you'll lay down your life for the company, as we see him doing just that to janitor Choon-dae.
But he also says that he's seen the chairman change his opinion of someone for the slightest reason, telling Dong-hoon not to get too excited over nothing.
On his way home, Dong-hoon calls Yoon-hee to ask if she wants to have dinner together. She's with Joon-young and says she already ate. Joon-young asks her if Dong-hoon is really quitting soon, since he doesn't act like someone who's about to quit his job.
She says to give him time, and Joon-young observes that she sounds like she still loves Dong-hoon, which upsets him. Yoon-hee asks what he'll do if Dong-hoon is unfairly fired and decides to retaliate, and says this is the best strategy for everyone involved.
Yu-ra sits with a whole group of people who used to work with Ki-hoon, listening to them badmouth him. She gets fed up and tells them to stop, complaining that they always talk crap about Ki-hoon whenever they get together. But she reminds them that he was actually successful at one point, while they've never been.
She leaves and goes to Ki-hoon's storefront, sitting on the steps in the rain to wait for him to leave. He knows she's there and deliberately stays inside, but he eventually goes out to tell her to leave.
Instead, she says that she wishes artificial intelligence existed, because an AI being would be the best at everything. She says that if people could no longer act as if they were great at anything, they'd all be free, and humans would only need to love one another.
She continues, "I'm so sick of this world filled with people who act like they're all amazing. I'm not good at anything, and I feel like I want to die." She turns sad eyes up to Ki-hoon and whines that she wants to come here, but he just goes inside without a word. But then he comes right back outside and buys her a coffee from the vending machine.
At home, Yoon-hee makes a crack about how Dong-hoon only stops drinking when he's sick, seeing the medicine on the table beside him. She asks if he saw the information she emailed him about loan rates to start a business, but he barely responds, just sitting there looking miserable and staring off into space.
The next day, he takes a bus to the country and gets off at a remote stop, and starts to walk up the nearby mountain. He walks until he finds the campsite where Joon-young took Yoon-hee, and sees him there now with Chairman Jang. Chairman Jang spots Dong-hoon as he strides over to them.
 
COMMENTS
The first thing I noticed about this episode is how much brighter everything was during most scenes. This show uses light and darkness in some really interesting ways — put simply, the darker the scene is emotionally, the darker the scene is literally. Ji-an's moments with Kwang-il are so dark that we're watching then in near-total darkness, while the neutral office scenes are lit in neutral, washed-out tones. So I found this episode almost startling with how much light and color were suddenly present, now that Dong-hoon and Ji-an are beginning to connect. It's as if just by knowing each other and beginning to care about what happens to each other, their lives are becoming brighter and more colorful. It could come across as a really heavy-handed way to illustrate the change in their lives, but it's filmed so beautifully that it just feels natural and right.
I really love the way humor is used in this show, and how it pops up in unexpected places. Dong-hoon sighing that he can't die because he's not wearing expensive underwear nearly broke me. I was highly amused by Yu-ra's delight that Ki-hoon is a failure, and her tendency to bring around former coworkers just to show them how far he's fallen. Little things like this keep the show from getting too depressing, but they're not distracting and they remain within the tone of the show, often even turning dark themselves as Yu-ra did. It's a very difficult form of humor to pull off, to make your audience laugh and lighten the mood a bit without trivializing the genuinely traumatic and horrific realities of the characters' lives.
I don't know how it happened, but I almost felt bad for Kwang-il in this episode. Almost, but not quite. Obviously, the things he's done to Ji-an are absolutely unforgivable, but when he went to her house to hold his father's memorial I could see how much pain he's in. Even if his father was a horrible person, he was still Kwang-il's father, so I feel bad for his loss even while I think he's disgusting for the way he deals with it. I don't think he'll ever become a sympathetic character — and I hope he doesn't, because he doesn't deserve sympathy — but it's still sad that the past has turned him into such a cruel, violent man.
I'm getting worried for Dong-hoon, because he's starting on a downward spiral that could very well destroy everything stable in his life. His connection with Ji-an isn't necessarily a positive thing for him at this stage, because something about her reckless way of living is making him feel reckless, and he's losing his iron control over his feelings and behavior. On the other hand, he's giving her a reason to crawl out of her dark life and think about something other than her own problems, which is having a subtle but undeniably positive effect on her. It's interesting how they're slowly switching roles, and I'm curious to see how this plays out as they gradually get to know one another.
I wish, I wish I had some insight into what Ji-an is thinking, even though the simple beauty of her character is that she holds everything so close to the vest. She's still trying to maintain her aloof demeanor, and she's supposedly still working to get Dong-hoon fired, but it's also obvious that he's gotten under skin pretty badly. Twice now we've seen her fear for his safety and run to (possibly) help him, only to stop once she sees that he's in no real danger. I hope that we get to see her actually make it to him one of these times, because I'm dying to know what she'll do if she actually gets to him.
My Ajusshi: Episode 7
As Dong-hoon starts to gain some control over his life, Ji-an's carefully made plans are slipping out of her grasp. It's as if they're polar opposites who can only counterbalance each other, unable to be in the same place at the same time. When one prospers, the other declines. I wonder, if they ever find a way to help each other out, whether they can offset the balance so they can both find a better way to live.
 
EPISODE 7 RECAP
After Dong-hoon crashes the camping trip, Chairman Jang talks about a TV show that just shows a bonfire burning all day. He says that the show's ratings are actually very good, and that he'd watch it because his mind and heart go calm when he watches a fire burning.
Dong-hoon is so absorbed in watching the flames of their fire that at first, he doesn't hear Chairman Jang ask him why he's here. When he does, he just says dazedly that he forgot.
He thinks about earlier, when Chairman Jang had wondered out loud if Dong-hoon and Joon-youngvv knew each other well in school. Joon-young clarified that he entered college after Dong-hoon finished his military service, so they attended school together for two years.
Joon-young had said they knew each other because they were both in the Western music club. Grinning, Chairman Jang noted that that's an unusual club, and guessed there must have been a female student that they liked in the club.
Dong-hoon and Joon-young were suddenly very absorbed with cooking dinner. Dong-hoon had gone into the tent for the salt, and behind the box of spices, he'd found a single women's glove. He'd recognized it, and pocketed the glove before leaving the tent.
Meanwhile, Joon-young had made an excuse to go to the car, where he texted Yoon-hee to ask why her husband showed up here. Dong-hoon had come up behind him and growled ominously, "Put it down. If you call her, you're dead."
Now he recalls Yoon-hee coming home the other night smelling like smoke. He imagines her and Joon-young together here, alone, as Joon-young shoots nervous glances at him.
Joon-young follows Dong-hoon away from the campfire to ask if he came to scare him, or to make him look bad in front of the chairman. Dong-hoon throws down the equipment he was carrying, and as she listens in while working her part-time job, Ji-an goes on alert at the sound.
Dong-hoon says that people's faces usually show what kind of people they are, and from the moment he saw Joon-young in college, he seemed like the type who would make others do his dirty work. He says that he hated the way Joon-young clung to him and called him "sunbae," and that he knew he'd eventually do something like this.
He asks if Joon-young planned on firing him, making Yoon-hee divorce him, then marrying her, but he decides that Joon-young is too greedy to marry a woman from an average family. He says that he knows Joon-young and Yoon-hee have been having an affair since last Spring, and he tells Joon-young to answer all of his questions truthfully.
First, he asks if Yoon-hee knew about Joon-young's plan to frame him with a fake bribe and get him fired. Joon-young says that at first, it wasn't his intention to get him fired. Dong-hoon counters he knows Director Park was the original target of the bribe, but that he and Director Park both know that Joon-young used the mix-up to his advantage.
He asks again if Yoon-hee knew Joon-young was trying to get him fired, and Joon-young says that he had no choice since Dong-hoon had already received the money. Dong-hoon asks a third time if Yoon-hee knew, and when Joon-young turns away, he has his answer.
Next he wants to know if Joon-young told Yoon-hee to convince him to quit, once he figured out he couldn't have Dong-hoon fired. Joon-young says that Yoon-hee just wanted him to leave the company without being disgraced.
Back at the campsite, Joon-young tells Chairman Jang to go home because it's late. As he cleans up the campsite, he moves out of sight, and there's a loud crash and Joon-young cries out.
He somehow gives himself a bad head wound, and Dong-hoon ends up driving him to the hospital. On the way, he asks why Joon-young wasn't scared when he knew Dong-hoon was digging through his call history. Joon-young doesn't answer, and Dong-hoon sighs that he must be in shock because everything just blew up in his face.
Joon-young ends up with stitches on his forehead, and while they wait, Dong-hoon tells him to break up with Yoon-hee, but not to tell her that he found out about the affair. He says that the moment Yoon-hee discovers that he knows, Joon-young is done. He warns Joon-young not to tell her everything and ask her to play dumb either, because after living with her for fifteen years, he'll know.
Ji-an is at home by now, listening to their conversation as she does her chores. She sinks to the floor as Dong-hoon tells Joon-young not to mess with him at work. He says that Joon-young can fire him for legitimate reasons if they come up, but that he's dead if Dong-hoon discovers that Joon-young fired him for any other reason.
Dong-hoon arrives home and stashes the ladies' glove he took from the campsite under the seat of his car. At the same time, Ji-an makes her grandmother a hot water bottle and tucks it into bed with the old woman. She's still listening as Yoon-hee asks Dong-hoon where he's been all day, telling him that their son, Ji-seok, needs a video of him performing his special talent for a school assignment.
He ignores her and calls Ji-seok, who also tells him about the assignment. As he talks, he sees the mate to the glove he found, lying on the dresser. When he hangs up, Yoon-hee suggests he learn a simple magic trick for the assignment — anything but soccer.
Dong-hoon meets up with his brothers at Jung-hee's bar and enlists their help. Sang-hoon whines that magic tricks aren't really magic, but Ki-hoon compares illusions to an actor on TV who makes you cry — you know it's not real, but you fall for it anyway.
They can't think of anything he can do, and Jung-hee calls them pathetic for not having any talents. Sang-hoon protests that since they grew up poor, there wasn't money for lessons or hobbies.
Dong-hoon says wryly that they have a talent for drinking, and Ki-hoon jokes that they're so good at that, they could get international scholarships. Sang-hoon sets off on a series of drinking puns, and Ki-hoon begs Dong-hoon and Jung-hee not to laugh or he'll never stop.
Outside, Dong-hoon teases Ki-hoon when Yu-ra, the actress who ruined his career, keeps trying to call him. Jung-hee closes up and orders the brothers to walk her home, and the fact that she even has a home is news to them (she's been sleeping in the bar).
Ki-hoon reminds Jung-hee that she swore she wouldn't leave Thailand until she found a good man, and she wails, "There were only monks everywhere!" LOL. Sang-hoon guffaws that she always runs into monks, and she and Dong-hoon both give Sang-hoon a weird look. Interesting.
Sang-hoon and Ki-hoon head to their mom's, and after walking a ways with Dong-hoon, Jung-hee turns down a different street. Dong-hoon asks where she lives, but she just calls back that it's a secret and refuses his offer to walk her home.
When she arrives home, she calls out that she's been waiting for a customer who never shows up, so she got bored and drank. She says she doesn't feel like washing up, but that she'll do it anyway because she's a clean woman, her voice sounding shaky and vulnerable. She turns on the light, and we see that she's all alone.
The following morning at work, Joon-young texts Ji-an to leave Dong-hoon alone for now. Yoon-hee calls him from the phone booth on his primary phone, but he doesn't answer, knowing how easily Dong-hoon figured out their system.
In the copy room, Deputy Kim nervously asks Ji-an for help when his machine gets stuck. She silently fixes the paper jam, and once she leaves, Deputy Kim asks Dong-hoon why they can't fire her and hire someone nicer. Dong-hoon says dryly that she's more respectful to her superiors than he is, ha.
He continues that there's someone friendly who doesn't do any work, but that there's someone else who may be bitchy but takes care of someone, asking which one is truly nice. He tells Deputy Kim that Ji-an supports her grandmother, and when Deputy Kim asks how he knows, he says simply that they live in the same neighborhood.
Joon-young confirms with Director Yoon that the bribe mix-up won't happen again, and Director Yoon tells him not to worry. Joon-young asks angrily if he's not supposed to worry about continuing to be loved by a business that caused trouble, or if he's not supposed to worry about how this situation has caused Dong-hoon to be noticed by Chairman Jang. He tells Director Yoon to make sure he doesn't need to worry about him causing trouble again without permission.
As they all wait for the elevator after work, Joon-young tells Director Yoon that he can't have dinner tonight because he has plans. Dong-hoon goes stiff, recalling that he'd invited Yoon-hee to visit Sang-hoon's new business with him after work, but she'd said she has plans.
At the subway station, Dong-hoon catches Ji-an staring at him, but she doesn't look away. On the train, Dong-hoon asks Ji-an if her parents are alive, curious about her grandmother living with her. Ji-an says they passed away, and that her grandmother was kicked out of the nursing home for failure to pay.
Dong-hoon points out that a granddaughter doesn't count as immediate family, so Grandma could live in a nursing home for free since she's disabled. She doesn't qualify because Ji-an has an income, so he advises her to register a different address for herself, then Grandma will qualify. Ji-an just stares at him, looking amazed at this information.
When they arrive at their stop, Ji-an asks Dong-hoon to buy her food, actually looking a bit sheepish. Instead of refusing like usual, Dong-hoon says he'll even buy her alcohol and leads her to a restaurant.
Ji-an watches Dong-hoon warily as he says he's treating her because she deserves it. Soon she's tucking into the food with her usual desperate gusto, and when she's finished, she reminds him that he was worried people would learn about their eating together.
She asks if he's okay with it now, because if anyone asks he can just say he buys her food because she's pitiful. She tells him not to assume that nobody has ever helped her, because there have been many people who bought her food. But she says that after the fourth time, they all run away, judging her for living a life that won't improve.
She mutters that they must have thought themselves good people, and Dong-hoon says, "They were." He thinks four times is still a lot when many people didn't even help her once. But he also says that he he's not buying her food because he pities her, but to thank her.
With a sigh, Dong-hoon tells Ji-an that it was Joon-young who sent the bribe and tried to have him fired. He says that he would have been fired if she hadn't thrown the money away, so he's treating her to a meal. She asks why Joon-young did it, and Dong-hoon says that at their company, you don't get fired for doing something wrong… you get fired for rubbing someone the wrong way. Ji-an asks what Dong-hoon will do now, and he says that he already told Joon-young to back off.
She says that if it were her, she'd go to Joon-young's boss and get him fired. Dong-hoon asks if she'd feel good about screwing over a bad guy, and she fires back that he's staying at a company where someone tried to frame and fire him. Touche.
But Dong-hoon just says that there's probably a reason he's suffering this particular hell, and that he can go once he's been sufficiently punished. Ji-an says softly, "Punishment is for people who did something wrong." She offers to kill Joon-young for Dong-hoon, and he just pours her another shot.
After their meal, Dong-hoon buys another dinner for Ji-an's Grandma. He tells Ji-an that he saved her once, too, thinking about his request that she be hired on permanently, though he doesn't explain. Ji-an goes home to Grandma, who thanks her for the delicious food, and Ji-an actually smiles.
In the morning, Mom tells Sang-hoon and Ki-hoon that Ae-ryun, Sang-hoon's estranged wife, brought her kimchi for her birthday. She fusses that women Ae-ryun's age need money more than ever, telling Sang-hoon to make more of an effort to reconcile.
She adds that she likes Ae-ryun more than she likes Yoon-hee. When Ki-hoon points out that all the money Mom gets from Dong-hoon is really from his lawyer wife, she spits that she hates anyone who's more successful than her sons.
Yu-ra shows up unannounced at the cleaning office, and she seems genuinely impressed with the brothers' collection of cleaning rags. I can't decide if she's just that innocent, or just that dim. They leave for the day, Ki-hoon ignoring the lunch she brought for him. She says she'll see them tonight at Jung-hee's bar, and Ki-hoon stops to order her to call Jung-hee "unni" instead of by her name.
Mom is at Jung-hee's bar helping clean up when Jung-hee realizes that Mom is crying. Mom says that she worries about Dong-hoon, who never upsets her or asks her for anything. Jung-hee says that it's because she likes Dong-hoon so much.
Mom tries to return the money Jung-hee sent her while she was in Thailand, but Jung-hee insists she keep it as payment for keeping up the bar while she was gone. She says that Mom treats her like a daughter, so she should accept the money as if it came from her daughter.
Joon-young visits a job site with Chairman Jang, who asks Joon-young out of nowhere if Dong-hoon has something on him that Chairman Jang should know about. Joon-young tells him that Dong-hoon found his wife's phone number while digging through his call records and jumped to conclusions.
He says that he still keeps in touch with Yoon-hee, who was in the Western Music club with him in college. he claims that during the bribe debacle, she called him often to find out what was going on. He says that Yoon-hee never told Dong-hoon because she knows he hates Joon-young.
Chairman Jang asks why, so Joon-young blames it on being promoted over Dong-hoon. He claims he's been understanding, but that he's getting tired of Dong-hoon's attitude.
Director Park calls Dong-hoon to meet with him, although he tells Dong-hoon that he's been instructed not to talk to him. He asks who made calls to Joon-young from the pay phone, but Dong-hoon fibs that he never found out. Director Park doesn't seem to believe him, but he asks for the call records back.
He gets angry when Dong-hoon says he destroyed them and demands that Dong-hoon give him the number from the phone booth. Dong-hoon says he's not sure he remembers it, but he obediently enters the number into Director Park's phone. As soon as he's home, Dong-hoon really does destroy Joon-young's phone records, ripping them to shreds and taking them to the dumpster.
In their apartment, Yoon-hee dances to one of Joon-young's favorite songs then asks him to play it one more time. He does, but then he leaves, saying that he needs to go to the campgrounds for Chairman Jang.
Instead, he meets with Ji-an, who plays him her recording of Dong-hoon's conversation with Director Park. She turns up the sound so that Joon-young can hear Dong-hoon calling to request that the pay phone be removed.
She says that he's going to get away with it, and asks if this is the end of his plans. He orders her to keep recording Dong-hoon's conversations, and when she balks, he gives her a fat envelope of cash and says that he'll pay her that much every week. He asks if she heard his fight with Dong-hoon, and she sneers that it was more like listening to him get pummeled.
At Jung-hee's bar that evening, all the guys are impressed when Yu-ra shows up and admits her feelings for Ki-hoon. She says she loves him because he's a failure, and Ki-hoon looks like he wishes the floor would open up and swallow him.
He tells Yu-ra that every man in this room is a failure, so she must be super happy. He warns her to be careful and yells at her for calling them failures to their faces, but she insists that she genuinely respects them all.
She explains that human beings live in fear of failing, and that at first she really was happy to learn that Ki-hoon is a failure. But she was even happier to see that he's fine, because it made her think that she can still be happy despite her own failure. She says that she likes Ki-hoon because his failure eased her mind, and aAll the guys sigh and raise their glasses to her, thinking her an angel.
Ji-an finishes up her part-time job shift to find Kwang-il and his loan shark friend waiting for her. She gives Kwang-il the cash she got from Joon-young, and he wonders where she's getting so much money lately.
She snaps that she found a guy who's richer and more powerful than him. He doesn't believe her, purring menacingly that he's curious to know what's really going on with her.
Yu-ra is too drunk to walk home, and Ki-hoon grumps that if he piggybacks her home, she'll ask him in and they'll sleep together. He asks if she wants to marry him as if it's the worst idea ever, but she just laughs at him for making such huge mental leaps.
Ji-an goes to apply for elderly care for her grandmother. She asks if it's free, and she seems a bit stunned to learn that it is.
Director Yoon pulls Dong-hoon into his office to ask why he showed up uninvited to Chairman Jang's campsite, assuming he did it to kiss up. Everyone can hear him scream at Dong-hoon for going over his head, and he tells Dong-hoon that he'll never allow him to be promoted to the empty director's seat.
When he finally gets free, Dong-hoon goes to the roof to look at the view. He calls Yoon-hee, who says again that she can't go see his brothers' new business. She asks if he thinks his subordinates would follow him if he quit, telling him not to be disappointed if nobody does.
He runs into Joon-young on the elevator and asks why he's still seeing Yoon-hee. Joon-young says that he has to break up with her at the right time, telling Dong-hoon not to worry because he doesn't feel anything for her anymore.
Dong-hoon sees red and yanks Joon-young into the elevator by the collar, dragging him up to the roof. Joon-young screams to just expose him, asking if Dong-hoon is having fun with the knowledge that he turned out to be a bad person as he predicted.
As Ji-an listens from downstairs, he says that when he met Dong-hoon, he thought of him as a guy who acts like he's a good person and thinks that life is unfair. He accuses Dong-hoon of giving up on himself while criticizing those who were ambitious.
He snarls that if Dong-hoon had just played nice, he would have felt bad and ended things. But now he refuses to break up with Yoon-hee and invites Dong-hoon to tell everyone.
Dong-hoon just says, "Okay, let's do that. Let's see this through until the end! Let's see how far I can go. I'm also curious to see just what I will do when I'm completely ruined, and what kind of person I'll become. Let's do it."
Downstairs, Ji-an hears this and rushes from her desk.
Joon-young storms down to his office, ignoring another call from Yoon-hee. He texts her that he's going to the campgrounds and not to wait for him.
Ji-an marches all the way to Yoon-hee's office building, and she throws herself in front of Yoon-hee's car to stop her from leaving. Nearby, Kwang-il witnesses Ji-an get hit and crumple to the pavement, and when Yoon-hee jumps out to check on her, she instantly recognizes Ji-an from the resume Joon-young was looking at.
Ji-an staggers to her feet and pulls out her phone to play the recording of her first conversation with Joon-young, when she'd asked him why he was dating a middle-aged woman. When it's finished, she says she was curious to see what an adulteress looks like, and tells Yoon-hee to get herself together before her life is ruined.
Yoon-hee hears Joon-young saying on the recording that married women are perfect to date because they won't tell, and she speeds to the campgrounds. She finds it abandoned and starts to sob.
Kwang-il follows Ji-an as she walks home, listening to Dong-hoon as he sits at a restaurant and orders a beer. She stops in her tracks when he asks the waiter if the pretty girl who's always underdressed for the cold has been by, realizing that he's waiting for her.
She starts walking again, then she runs, reaching the restaurant just as Dong-hoon is about to leave. Out of breath, she sits and tells him to have one more drink. After a while, Ji-an remembers the temp agency manager saying that Dong-hoon hired her. She asks Dong-hoon why, and he says it's because she seems mentally strong.
He'd seen on her resume that she listed running as her special talent, and he asks her best time at 100 meters. She mumbles that she doesn't remember, so he asks why she put it on her resume. Ji-an says, "When I'm running, I disappear. But I feel like that's the real me."
Dong-hoon holds out his beer, and after a moment, Ji-an clinks his glass with hers. He toasts, "Let's be happy," and they watch each other as they drink. It turns into an impromptu competition, and they both giggle when Dong-hoon comes up for air first.
Outside on the street, Kwang-il watches them laughing together.
COMMENTS
I'm so glad that Dong-hoon is finally speaking up and confronting Joon-young about his affair with Yoon-hee. Dong-hoon really is a nice man, truly a good person, but being a good person doesn't mean that things don't bother you. Bottling up his negative emotions just leads to the depression and feelings of futility that Dong-hoon has been experiencing lately, and probably for a very long time. But now he's learning from Ji-an that you can be someone who stands up for themselves, who speaks out against those who are taking advantage of him, and still be a good person.
I really thought that Dong-hoon would keep his knowledge of Joon-young's affair with his wife to himself for a while, but I like that he went to Joon-young about it right away. It changes everything, because now Joon-young can't continue with his plans to get rid of Dong-hoon without potentially bringing a world of hurt down on himself. It also affects Ji-an's plans to get paid to help Joon-young get rid of Dong-hoon, which is why I think she was initially upset listening to their conversation at the campsite. She needs that payout to get Kwang-il off her back, and now it's anyone's guess whether she'll keep feeding information to Joon-young to earn the money to pay off her debt. Dong-hoon's confronting Joon-young may have been good for him, but it carries unexpected consequences for the young woman he's getting to know, and I really have no idea what will happen when Dong-hoon learns that Ji-an has been recording him for Joon-young's benefit.
On a lighter note, I was initially annoyed by Yu-ra and her unrelentingly cheerful harping on Ki-hoon's failure. But after her explanation that his failure made her like him because it made her feel better about herself, I think she's a lot more insightful than she initially appeared. Many people say that you fall in love with the person who makes you feel like the best version of yourself, and if that's true, then it makes total sense that Yu-ra would fall for the man who made her realize that she can still be happy even if she isn't traditionally successful. Hopefully she'll teach him the same thing, so he can stop being miserable that his life didn't turn out like he wanted and start to enjoy the live he has now.
I thought that Ji-an's change towards Dong-hoon after their heart-to-heart talk was interesting. She's the one who said she wishes her secret could be broadcast so that everyone would know and she could stop being scared they'd find out, yet now that she and Dong-hoon know a bit more about each other, she's prickly with him for being nicer to her. Yet at the same time, she's volunteering information about herself and opening up to him, even though it's backfired on her whenever she's tried it with other people. I'm so impressed with her resilience and her willingness to keep trying to make a connection with someone, even though on the outside she still seems resistant.
And it's so beautiful to see Ji-an opening up to Dong-hoon, even though it's all internal at this point. You can see it in her body language, and the way she looks at him and speaks to him. She no longer has that defiant glint in her eye, and when she asks that he buy her dinner, instead of sounding like an order, it's a request, and she even seems a bit ashamed to be asking. I think that he's earning her respect as she secretly listens in on his life, something I bet that Ji-an hasn't given to anyone in quite a long time. I'm curious to see which side she'll choose, once she's forced to make a choice between Joon-young's money or Dong-hoon's friendship.
My Ajusshi: Episode 8
Every time I think things couldn't get worse for Dong-hoon, they do, and I never see it coming. He's starting to follow his instincts and stand up for himself more, but he's got a long way to go before he's capable of going toe-to-toe with his enemies. Hopefully some of Ji-an's moxy will rub off on him in time, otherwise I'm worried that he'll be devoured by the sharks.
 
EPISODE 8 RECAP
Kwang-il follows Ji-an as she runs to catch Dong-hoon before he leaves the restaurant. He watches as they talk, sharing a drink and even smiling at each other.
The wind kicks up, so Dong-hoon checks some devices he's installed that monitor the stability of the creaky old building. He tells the restaurant owner that readings are the table so the problem must be inside, promising to keep an eye on it.
Ji-an is surprised that Dong-hoon does free inspections for his neighbors. She worries that everyone will ask for free inspections if they learn he works for a construction company, so he corrects her that it's a structural engineering company — one designs buildings, and the other determines how they should be built and what materials to use.
He explains that every building is like a struggle between internal and external forces, and his job is to make sure the buildings can withstand all the forces working on them. He says it's a lot like life, where you can withstand anything so long as you have strong enough internal forces.
Ji-an asks what he thinks life's internal forces are, remembering that he said she has "strong internal forces." He tells her about his friend who was really smart, whom everyone thought would be really successful.
But as soon as the guy graduated college, he became a monk even though his parents were very sick. As he left, he said that everyone struggles to have things, but he wanted to try being a person who has nothing.
Dong-hoon says that even if you do get what you want, the things that made you feel safe can fall apart. With a sigh, he concludes that he subconsciously agrees with his friend, so when he saw a resume that said simply "running," he thought it was better than the others who were full of useless information.
As they continue walking, Ji-an sighs that she hates winter. Dong-hoon says it'll be spring soon, but she mutters, "I hate spring, too." She says she hates all the seasons, because they just repeat endlessly. Dong-hoon notes that she's young to be that cynical, but she says that she doubts she's only been born once.
She continues, "Let's say I've been born sixty times, and was reincarnated five hundred times. Then I'd be around three thousand years old, maybe." Dong-hoon says it's actually thirty thousand, and Ji-an sighs heavily.
Dong-hoon drops off Ji-an at the stairs to her building and continues on. She stops and calls out to him, "Fighting." Dong-hoon turns back to stare at her, surprised, then he slowly keeps walking. He doesn't realize that Kwang-il follows him all the way home.
At home, Dong-hoon finds Yoon-hee crying in her home office. She says it's because of a trial, so he asks if she lost, but she says determinedly, "I'll win."
Out at a job site, Executive Director Wang asks Director Park what Dong-hoon said when they talked. Director Park complains that he thinks Dong-hoon found something, but he won't tell him. Executive Director Wang says that Dong-hoon hates conflict and wouldn't use a person's weakness against him, so he doesn't think he's changed sides.
He decides they should be nurturing Dong-hoon while Chairman Jang is still alive, since after he dies his relatives will contest his will. He says that Chairman Jang knows this, so he'll try to handle everything while he's still alive.
Director Jung takes Dong-hoon to lunch and explains that the company needs ten directors for the CEO election, but with Director Park gone, there are only nine. He says that Director Park's situation was Joon-young's doing, and that he plans to put one of his men in the empty seat to skew the votes his way.
He tells Dong-hoon that he wants to make him a director and vote out Joon-young, and that Dong-hoon was next in line to become a director anyway, which is why Joon-young had him demoted to the safety inspection team.
Dong-hoon counters that he won't be of any help if he's promoted because he doesn't know anything about managing a business and he's no good at politics. He says that his work is fulfilling because he gets to teach others and use his skills, so his place is out in the field.
Director Jung asks if Dong-hoon plans to stay a manager forever. Dong-hoon points out that his superior was kicked out of that position and he doesn't want it, but when Director Jung says that declining will mean seeing Joon-young as CEO for two more years, he hesitates.
Director Jung reports to Executive Director Wang and Director Park that Dong-hoon definitely isn't on Joon-young's side, and that he's not interested in being made director. They decide to push him anyway, since they need a flawless person like him on their side.
At the office, Director Yoon is feeling smug that all three of the director candidates are on Joon-young's side, but he freaks out when Dong-hoon's name is added to the list without his permission. He confronts Executive Director Wang, who argues that he has every right to bypass Director Yoon and recommend Dong-hoon himself.
Director Yoon goes to Joon-young and vows to destroy Dong-hoon so that he'll never be chosen. Later, Joon-young checks his phone messages and is surprised that Yoon-hee hasn't tried to contact him today.
As for Yoon-hee, she's shocked that the phone booth she uses to call Joon-young has been removed. She ignores several calls from Joon-young on her drive home, knowing that he's at their hideout and has found all of her things gone.
She texts him that she went to the campsite yesterday, and he apologizes,knowing that he's been caught lying to her about where he was. He wants to get together and talk, but she replies that she's trying to think of a way that she can feel she's won.
He keeps trying to call her, but she heads to Mom's house for her birthday dinner instead. Dong-hoon notices her ignoring a call and turning off her phone.
Yoon-hee tries to pitch in, but Mom and Ae-ryun won't let her. Ki-hoon tattles that Mom likes Ae-ryun more, and Yoon-hee says she already knows. Sang-hoon pipes up that Mom likes Dong-hoon best, so it all evens out, ha.
They all video chat with Dong-hoon and Yoon-hee's son, Ji-seok, and Dong-hoon promises to send him a video of his special talent tomorrow. Ji-seok tells Sang-hoon not to give up on finding a good woman, and when they all gesture that Ae-ryun is listening, he gasps, "Oh my god!" He's adorable.
After dinner, they bring out the cake. Ae-ryun says that if she ever takes Sang-hoon back, she'll go live with him in the mountains because she can't stand the brothers always hanging out like a pack. She asks if Mom likes it, and Mom reveals that they fought constantly as kids and only started getting along after they were old enough to drink.
Ae-ryun asks Yoon-hee why she's not joining in the husband-bashing. Yoon-hee says that Dong-hoon wouldn't listen anyway, so she's given up. Ae-ryun informs Dong-hoon that the only decent middle-aged guys are the ones who prioritize their wives. Mom agrees, adding that she just wants to see her sons with good partners before she dies.
Sang-hoon tells Mom to make a wish before she blows out her candles, and she takes a long time wishing. As everyone cleans up later, Dong-hoon spots Yoon-hee by herself, furiously texting someone.
Sang-hoon gives Ae-ryun some money, and she grumbles that if he'd given it to her sooner, she'd have complained about him less. He and Ki-hoon both give Mom some money for living expenses, promising to do it every month from now on. Dong-hoon also deposited money in her account, and even Jung-hee sent along an envelope of cash.
When asked, Mom says that Jung-hee didn't get her own place, but Sang-hoon says that she leaves the bar every night. Mom guesses that she walks around the block then goes back to the bar, making Sang-hoon sad for her.
Yoon-hee is pretty upset by the time she and Dong-hoon arrive home, and she says that she needs to go back to the office. He says she can do it tomorrow, but she practically bites his head off telling him to get out of the car.
She goes to the hideout, where Joon-young is still waiting. He tells her that someone found out about their phone booth trick, and that they should end things. Yoon-hee says she never could picture them actually getting married.
She says that she's thought about whether she should just let the breakup happen, but that she's decided to cause him some pain first. She calls Joon-young pitiful ever since college, the way he acted carefree so people wouldn't discover he has nothing, but that they all knew.
She continues that she was happy for him when he married the right person and things went well for him. He was still anxious, but when he was with her, he seemed less anxious so she thought she meant something to her.
As she talks, Joon-young fights back tears. He tells her that he loved her, but the situation has gone bad. He points out that he wouldn't risk losing everything for woman he didn't like, and Yoon-hee asks what he almost lost.
She says with horror that she was going to get a divorce because of a jerk like him, and he asks if she could have betrayed her family of ten years. He says he knew she wouldn't, and that it's best for them to break up and go back to their lives. Yoon-hee asks in a tiny voice if he ever had real feelings for her, and he says this is hard for him, too.
Starting to cry, Yoon-hee says that she's humiliated by the thought that she liked someone like him. She runs out, leaving Joon-young looking stricken, and when she gets home she sinks to the floor sobbing, wondering how to carry on through her humiliation.
Ki-hoon helps Dong-hoon record his special talent — making elaborate cocktails, lol. Their friends at the bar wonder how this will go over with Yoon-hee, not to mention Ji-seok.
Later, Dong-hoon tells Jung-hee that a girl told him she's thirty thousand years old. Ji-an listens to him talk about her reincarnation theory, and he says that he knows why she keeps getting reincarnated — because this isn't her home, but she keeps mistakenly thinking it is.
Jung-hee calls him an idiot for not knowing how to stop being reborn and go home. She says it will happen when there's no hate left in your heart and you can love without reservation. She singsongs that she'll find her home among the stars, and Ki-hoon walks past them muttering, "I'm not going to live in the stars. It's no fun there." ~snort~
When Jung-hee closes the bar, Sang-hoon says they should have a housewarming party at her new place. She just waves them goodbye and circles around the block, ending up right back at the bar. She sighs that she has so much love to give, but nobody wants it.
After Ji-an gets home that night, Kwang-il lurks outside her door, but for once he doesn't let himself in. Inside, Ji-an hears a strange sound through Dong-hoon's phone as we see him doubled over in the middle of the street. He gasps for air, then gives himself a weak, "Fighting…"
Yu-ra goes for a screen test, but she's horribly bland and emotionless. In private, the PD tells Yu-ra that he really wants her for this project, and he asks if today is… but he stops when he sees that she's crying. Afterward, she goes to the cleaning shop looking for Ki-hoon, but there's nobody there.
Kwang-il discusses Ji-an and Dong-hoon with his loan shark buddy, assuming that Dong-hoon is the man she's getting all the recent money from. The friend asks if they looked like they're dating, and Kwang-il says it's not like that.
He can't stop thinking about them together, so he finds Ji-an's friend Ki-bum in a PC cafe and gives him a beating when he refuses to say anything. Ki-bum calls Ji-an the next day to tell her that Kwang-il asked him about Dong-hoon. He tells her to quit the job at Dong-hoon's company now that Kwang-il knows about it.
At the bar that evening, Yu-ra drinks heavily, then announces to the room in general that her mother was someone's third wife. Okay then. She tells Jung-hee that she doted on her stepmother, who passed away when she was in middle school. She says she's never cared what people think of her, and that she was naturally happy until ten years ago.
The guys grow uncomfortable and murmur that they should leave, but Yu-ra plunks herself down at their table and orders Ki-hoon to put her back the way she was, since he's the one who made her this way. She says that whenever she goes to an audition, she gets scared that she'll be yelled and and feels like she wants to die, but that she really wants to act again.
She starts sobbing, pleading with Ki-hoon to fix her. He just takes another shot, unsure what to do.
While on his way home, someone bumps into Dong-hoon and nearly makes him drop the food he's taking to Yoon-hee, who stayed home sick. Ji-an hears it happen and recognizes Kwang-il's voice.
Dong-hoon doesn't realize until the next morning that his wallet is gone. Kwang-il stole it when he bumped into him, and he spends a long time looking at the contents. He calls Ji-an at work, slamming the phone down when she's not there.
Then she scares ten years off Kwang-il's life by popping up right under his nose at his office, ha. She says she came to him before he could show up at her workplace, pointing out that she's paying him regularly, so she wants to know why he's following her around.
Regaining his composure, Kwang-il says that he was curious how she's making so much money. He asks if Dong-hoon is the guy she mentioned, and since Dong-hoon doesn't seem rich, he assumes they're working together to embezzle money from the company.
He leans right into Ji-an's face and asks if Dong-hoon knows she's a murderer. She locks eyes with him and asks, "Do you know I'm a murderer?" Shudder. Kwang-il backs up, actually looking scared as she says that he can't kill her, but that she can kill him.
She does the math for him, saying that she works two jobs to pay him back so she won't have to kill him, but if she loses her job because of him, then she won't have a choice. A police siren wails, and Ji-an says that she reported seeing him steal a wallet, but that if he gives it to her now, she'll take it and leave. Damn, she is such a badass.
Kwang-il laughs and holds out Dong-hoon's wallet, saying that he knows who he is now, then tosses it out the window. Ji-an warns him not to go near Dong-hoon or he really will die, and something in Kwang-il's expression changes. He asks if she likes Dong-hoon, and as she leaves, she tosses back a casual, "Yeah." Kwang-il lets her go, too stunned to say anything.
Ji-an leaves the wallet at a cafe then heads to work. She goes to her desk without saying anything, so Dong-hoon asks if her grandmother is unwell. She mumbles that she just overslept, and he gives up on getting a truthful answer.
In the middle of a job, Ki-hoon suddenly drives off in the van. He goes to Yu-ra's apartment and pounds on her door until she answers, then rapid-fires at her: "I'll straighten you out. I'll straighten you out really well. What do I need to do? What do I need to do to straighten you out?"
Yu-ra tries to close the door on him, saying that it's fine. Ki-hoon apologizes and says he'll be nice to her until she's well again, and turns to leave. She stops him, begging, "Just once, can't you hug me once before you go?" He goes back and gives her an awkward hug, then runs away.
The company executives fight over whether they should promote Dong-hoon to the director position, with Director Jung arguing that not only does he have seniority over the other candidates, but the skills to back it up. Director Yoon points out that he's been questioned by the audit team twice in the last month, but Director Jung reminds everyone that he didn't take that bribe, and in fact was framed by people who felt threatened by him.
He pointedly glares at Director Yoon when he says that "those people" are the same ones that got Dong-hoon demoted to safety inspection. Director Yoon loses his temper and insists that he put Dong-hoon on the safety team because he's so talented.
That backfires on him hard when Director Jung says that even Director Yoon acknowledges that Dong-hoon has talent. He says that even if they exclude Dong-hoon's best and worst employee reviews, he still ranks first among the candidates.
Later, Director Yoon tells Joon-young that he plans to have one of their candidates leave the company to avoid a split vote. Joon-young leaves the office and texts Ji-an to follow him.
Director Park calls Dong-hoon to tell him that he has to attack as soon as Joon-young discovers he's a director candidate. He says that the only way justice will be served is if Joon-young is destroyed by Dong-hoon personally.
When they meet, Joon-young asks Ji-an why she didn't use the photo of her kissing Dong-hoon against him, and she says that someone caught on that it was a setup. He asks how things are with Dong-hoon now, but she refuses to answer. Joon-young says that lots of girls liked Dong-hoon (in college), asking if Ji-an wants to date him.
He suggests that Ji-an spin her friendship with Dong-hoon as an unwelcome relationship forced on her by her superior. He tells her that all she has to do is date Dong-hoon, and he'll continue to pay her to keep tabs on him. He gives her ten million won in advance, and she asks if he expects her to be physically intimate with Dong-hoon, too.
Joon-young tells her not to go that far or Dong-hoon will panic. All he wants her to do is keep "accidentally" running into Dong-hoon so it looks as if they're dating. She asks tentatively if eating and drinking with her means Dong-hoon likes her, and Joon-young says it does.
She looks shaken, and she says that people also do that when they want something from the other person. He insists that for Dong-hoon, it means he likes them. He tells her to just do that much and he'll do the rest.
Ji-an is thoughtful as she heads to the subway station. As she's waiting for her train, she turns to see Dong-hoon standing nearby. She stares at him, thinking about Joon-young's instructions to date him, but he doesn't notice her.
 
COMMENTS
Ugh, Joon-young is such a weasel. He's so determined to destroy Dong-hoon, not just because he's a professional threat, but over a woman. I appreciate that for once, the antagonist doesn't have convoluted reasons for disliking the hero, just hating him because he hates him, but he's just so disgustingly unrepentant about it. And now, not only is he offering to pay her enough money to get her out of debt, but he's asking her to do the one thing she really wants to do — spend time with Dong-hoon. It would be hard for a young woman to resist a kind, attractive man under most circumstances, but Dong-hoon's friendship means so much to Ji-an that she probably doesn't know what she feels. It will be interesting to see if she's willing to let go of him in order to keep his life from being destroyed, or if she'll give in to her own feelings.
This show is brilliant at making small moments between Ji-an and Dong-hoon so monumentally important, when to anyone else, it wouldn't even register as unusual. I could think of a thousand examples, but the one that really got to me was when Ji-an called out "fighting" to Dong-hoon. For one thing, she probably hasn't been able to lift her head up from her own problems to think about encouraging someone else in years, so to offer him her support that way was a huge step towards making a connection with someone else. She's purposely kept her world very tiny, just her grandmother and her friend (and unwillingly, Kwang-il), not only because maintaining relationships takes energy she just doesn't have, but because caring about someone else opens her up to being hurt.
And as for Dong-hoon, he probably hasn't had anyone genuinely encourage him for even longer, at least not without their own agenda. Yoon-hee encourages him to quit and start his own business, but she's doing it because she wants him out of the company so she can divorce him to be with her lover. His mother encourages him to be successful in his career, but it comes from a place of her own personal pride, wanting at least one of her sons to succeed so she doesn't feel like a failure as a mother. Even his brothers mainly encourage Dong-hoon because when Mom dies, someone will have to pay for her funeral and help support them the way Mom does. Ji-an's "fighting!" is probably the first time anyone has given him support just because he needs it, and not because they want something from him. He didn't say anything in that moment, but you could tell how incredibly moved he was, especially knowing what that one small word likely cost Ji-an.
I really loved Jung-hee's theory about why Ji-an keeps being reincarnated instead of going to her soul's home. It makes sense that the hate in Ji-an's heart is cosmically holding her back, because it's certainly holding her stuck in one place here on Earth. You have to let go of negativity to move forward in anything, so until Ji-an learns to do that, she'll just keep being reincarnated to live crappy lives. But Dong-hoon has also said that he feels like he shouldn't have been norm, and maybe that's his own soul telling him that he should be moving on, but isn't because he's holding onto hate. He's a good person, but I believe that he's bottling up a lot of negative emotions instead of dealing with them.
This is getting pretty existential, but I have my own theory about Dong-hoon and Ji-an and what it means to be a good person. I believe that you can be a person who does bad things but still has a good soul, and that you can also be a person who does good things but has a dark soul. I think that Ji-an is the former, and Dong-hoon the latter. Ji-an lies and steals, and has even killed to ensure her survival and the survival of those she loves. But she does them for the right reasons, which is what makes her a good person. And Dong-hoon is the type of man who does the right things, but often for the wrong reasons. I'm not saying he's really a bad person deep down, because clearly he's not, only that his feeling of being misplaced may stem from the conflict between the things he does (like give in to keep the peace), and the things he really wants to do (like threaten a jerk with a hammer). Being around Ji-an and learning that being "good" isn't just about how you act, could free Dong-hoon from whatever is tying him down.
My Mister (My Ahjussi) K-Drama Episode 9 | Korean Drama Reviews
"Life is hard for everyone.  That is why there is a nice reward at the end of it."

–  Adam Quinn
The above quote fits this series perfectly.  I get to realize that my life is much better than these people who are striving hard to live this Pityful and difficult life.  If I get to experience those things I don't know what I might have done.  IU's acting is marvelous and Lee Sun Kyun too did his part well in this drama.  This drama made me think many things about and life.
 

IU and Lee Sun Kyun on the train in the subway.
My Ahjussi Episode 9 Review:
Lee Sun Kyun and IU met at the subway waiting for the train to come.  They both standing on the train and the IU thinks about Lee Sun Kyun who is friendly and kind to her all these time and also think about what Do Joon Young (Kim Young-min) said about Lee Sun Kyun only eat and drink with the person he likes.  As the destination has reached Lee Sun Kyun get off the train while IU failed to get off the train as she is busy thinking about her relationship with Lee Sun Kyun.
 

IU who got off the train and running to find Lee Sun Kyun.
Lee Sun Kyun went to the nearby Mart to buy things his mother want to buy.  By that time, IU got off in the next station and took the train back to her destination and she rushes to see where Lee Sun Kyun has gone.  Lee Sun Kyun saw IU who is on the other side of the highway.  They walked home together when IU said that he should become director and fire 
Do Joon Young (Kim Young-min).  
Lee Sun Kyun asked why she hates 
Do Joon Young (Kim Young-min)
 so much and she replied that because 
Do Joon Young (Kim Young-min)
 hates Lee Sun Kyun.
Lee Sun Kyun and his brothers having a party.
After they parted away from each other Lee Sun Kyun went to the shop where he was invited by his brothers.  There they talked about how pitiful their life and shared their pain.  When the elder brother said that he wants Lee Sun Kyun to stick to the company no matter what, Lee Sun Kyun revealed that he is one of the candidates for Director position.  Out of joy brothers called every one of their mates to Jung Ae shop and had a party.
Lee Sun Kyun brother imagined him to be in a funeral and everyone came to the funeral.
The next day Lee Sun Kyun got a call from the loan shark who beats IU for killing his father.  He said that "IU stole the Bribe money and tried to pay off her debts and then she realized that the loan shark might report about it to police as a illegal money.  That's why she returned the money to Lee Sun Kyun".  After hearing that he decided to stay away from her for now.  When she asked him to eat with her Lee Sun Kyun refused and said "next time".
Lee Sun Kyun got a call from the loan shark.
IU find it strange and went to her house and listened to the recording of Lee Sun Kyun handphone.  Where she listened to the unfamiliar call and Lee Sun Kyun reaction to it, she realized that Loan shark Might have called him.  Then to confirm that she called the loan shark and asked did he called Lee Sun Kyun and what he said to him.  Loan shark said that he told him about the money she tried to use to pay off her debts.
Lee Sun Kyun wife.
Then next day Lee Sun Kyun wife called IU and asked her to leave the company and she will help IU to escape from 
Do Joon Young (Kim Young-min)
.  Lee Sun Kyun wife is still hoping to reconcile with 
Do Joon Young (Kim Young-min)
 so IU said that Lee Sun Kyun knows about her affairs with 
Do Joon Young (Kim Young-min)
.
IU with cleaning Ahjussi.
After the office was over Lee Sun Kyun went to the cleaning person who returned the money to the disciplinary office.  Where he saw IU picture with the cleaning person.  He said about the IU past.
"IU was abandoned by her mother and she had to live with her grandmother with a lot of debt she had to pay at the very young age.  She was beaten by a loan shark to whom she had to pay a large amount of debt and she stabbed him while trying to protect her grandmother.  Now she is getting beaten by the Loan Shark Son".
After listening to this Lee Sun Kyun got mad and asked the address of the Loan shark son and departed.  Then the cleaning person informed IU about Lee Sun Kyun visit and he asked about the loan shark address.  IU listened to the Lee Sun Kyun's handphone which is hacked by her.  Lee Sun Kyun went to meet the Loan Shark and started fighting with the loan shark and asked why is he disturbing IU.
He replied that she killed his father so he is beating her up.  Lee Sun Kyun replied that even if it was him he might have killed the loan shark and started fighting one another.  IU listened to this started to cry since his reply to this made her feel less burdened.
My Mister (My Ahjussi) K-Drama Episode 10 Recaps and Reviews| Korean Drama Reviews
It was really refreshing after Lee Sun Kyun hit the loan shark and fought with him.  Now that Lee Sun Kyun showed whose side he is in, IU Perplexed how to respond to this.  She lived her life completely taking care of her own and also her grandmother who is deaf and dumb.  She also started to open her up and express what she wished to say.

My Ahjussi Episode 10 Recap:
After a long fight with the loan shark Lee Sun Kyun who had no energy to get up asked the loan shark again How much debt IU owns to the loan shark.  The loan shark left without telling anything to him.  Then Lee Sun Kyun left home by taking a taxi.  His neighborhood friend and one of the soju partner saw him taking the taxi and followed him until he got out of the taxi.  He asked what happened and called Lee Sun Kyun brothers about the incident.  They brought the whole gang and inquired about the fight.  Lee Sun Kyun who don't want to tell the reason told that he fought with some unknown person while bumping into each other.


After that, he went home and his wife asked what happened.  He just replied that he got hurt while playing football.  She started to feel guilty and started crying.  She recalled all the moments of Lee Sun Kyun's reaction to his her even when he knows about her affairs.  Since she finds her guilty for what she has done she went to her room and started to cry.


The next day IU waited for Lee Sun Kyun in the route he uses to reach home while listening to his conversation with his brother.  When he arrives she gave him a  pair of shoes as a token of appreciation for helping her grandmother to get into the government scheme which takes care of old people who is deaf and dumb.

Lee Sun Kyun helped IU to move her grandmother to the center where they take care of old peoples.  He bought some energy drinks and such to see IU's grandmother.  That's when IU's grandmother thanked him for staying by IU and helping her.
Then while leaving home he asked her to call him or any of his neighbor for help if the loan shark beat her.  He said that don't get beaten by the loan shark and just live a normal life like other people.  He advised her to mingle with others and live a normal life and so she replied that do people talk to me after they know about the murder she had committed.
In the meanwhile, Lee Sun Kyun wife met 
Do Joon Young (Kim Young-min)
 and asked about the Lee Sun Kyun wound that did he did it.  
Do Joon Young (Kim Young-min)
 told everything that happened between him and Lee Sun Kyun and he wants to break up quietly.  She started to feel sorry for Lee Sun Kyun and cried for what she has done to him.  Then in order to repay for what she has done to Lee Sun Kyun, she visited the Lee Sun Kyun's brothers office and had a friendly talk with them.
In the office, Lee Sun Kyun was invited to the office for dinner with Director park people and so he went there.  There he said that he definitely wanted to become the director.  They asked the reason for the sudden change and he said that his family member and neighbors are happy for him and so he does not wants to disappoint them.  They asked if firing 
Do Joon Young (Kim Young-min)
 is his main reason he replied that he never cared about 
Do Joon Young (Kim Young-min)
 and he does not want to think about him.  This whole conversation was listened by IU and 
Do Joon Young (Kim Young-min)
 over the phone.  After listening to this he got furious and wanted her to become close to him.
Do Joon Young (Kim Young-min)
 hired someone to find out about the fight Lee Sun Kyun had with the loan shark and found that he fought in order to help IU.  
Do Joon Young (Kim Young-min)
 met IU and showed the pictures of Lee Sun Kyun carrying IU's grandmother and asked what happened.  She somehow convinced that she is on 
Do Joon Young (Kim Young-min)
 side and she is trying her best to get rid of Lee Sun Kyun.  IU makes the hacker boy take the photo of her with 
Do Joon Young (Kim Young-min)
 in order to warn 
Do Joon Young (Kim Young-min)
 that others side too hired someone to tail 
Do Joon Young (Kim Young-min)
.
In the evening Lee Sun Kyun went home and saw his wife car parked outside and he couldn't help to enter his house because of nervousness what she might be doing.  While he left the place and walked in the streets he saw IU and asked why she is ignoring him.  She saw someone is following Lee Sun Kyun with a camera and so she had to show that she did her best but Lee Sun Kyun turned her down.  So she went to him and asked to hit her or else she will think that he likes her and spread rumors around the neighborhood.  Since he had no choice he hit her and regretted after that.
My Ahjussi Episode 10 Reviews:
As you can see they both lives a cruel life still they move on and survive.  This drama gives me an encouragement that I am much better than them and I have a great chance to live a happy life.  Watching this drama make you feel a lot of emotions and sufferings.  Knowing them will tell you that you are doing great and keep going.
It is really a great drama for those who are in pain and want to get over with.  This drama will heal those who are hurting in sorrow and gives a message of keep going even after fallen many times.
You cry sometimes, feel angry sometimes, feel a kind of satisfaction for the character like IU and Lee Sun Kyun, sometimes feel pity for them.  All those mixed emotions make this drama a wonderful one.
There are many people live a cruel like much cruel that this yet you will realize the life and its cruel reality after watching this drama.
My Mister (My Ahjussi) K-Drama Episode 11 Recaps and Reviews| Korean Drama Reviews
I have never written a reflection about a Korean drama series. My Mister (Ahjussi) will be the first because it depicted a painful process, that of a progression from being trapped and lifeless to being a free and breathing human being.
The series has completed its run and I was impressed. It was not a K-drama with the typical motifs: poor girl marries rich man; a lost child (now grown up) meets his or her mother; a hit-and-run accident; two characters initially at odds with each other later falls in love; the rich are arrogant, powerful, and evil while the poor and the common person is kind, resourceful and hardworking.
This drama is a breed apart; it has none of the abovementioned elements. It has qualities about it that viewers will find they can strongly identify with: the brokenness and fragility of the characters and their relationships; the hollowness and sourness of life; the burdens of living up to everybody's expectations. This is very real and akin to our spiritual journey.
My Mister tells the story of three middle-aged brothers, who are enduring the weight of their lives, and a strong, cold woman, who has been living a hard life of her own, as they come together in healing each other's past scars.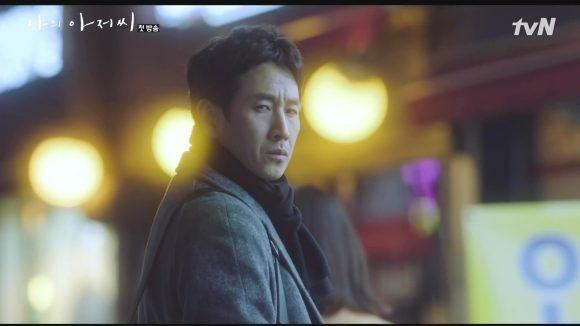 The hero: Park Dong Hoon
Lee Sun-kyun (actor) is Park Dong-hoon, the second oldest of the three brothers. He works as an engineer at an architectural firm and always has a safety-first approach to life. He is quiet and stoic, but also goes all in for the people he loves.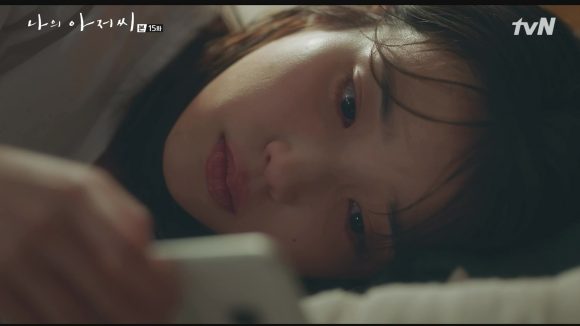 Lee Ji An
IU (singer-actor) plays Lee Ji-an, a woman who endures many hardships in life. She is paid for finding out Park Dong-hoon's weaknesses and getting him fired, at the command of the CEO of the company she is temporarily working for, but soon ends up falling for Park's integrity and kindness, and finally learning to trust someone (the synopsis here is adapted from Wikipedia).
The screenwriter, director and actors worked together to produce a beautiful, meaningful and multi-layered piece about the human journey. I recommend you watch the whole drama online.
The drama begins dark and continues dark and heavy. Many of the early scenes were in dim lighting, in streets and homes and bar. Then as the drama progresses, and as the main characters struggle towards finding their true selves, it got brighter and more cheery in the final two episodes.
The brokenness and misery is portrayed raw from the beginning. The three brothers, loyal but each one rotting in his misery: one a failed and divorced businessman who over-drinks; another a former film director plagued with guilt and a fear of failure; and the hero, bullied at work, disdained by his wife, with repressed frustrations and anger. His brothers moan, drink, wail, squabble, and lounge around but the hero numbly holds back his feelings.
The run-down poorly-lit streets and houses, dated bar and middle-aged friends of the neighbourhood, whose careers and fortunes had plummeted, give the drama a depressive sinking feel. The only flicker of hope is the serene acceptance of their present lot in life and their shared empathy.
However, it cannot be compared with the suffering and hardship and crushing poverty of the heroine, Lee Ji An. Bereaved of her parents while a child she grew up with her deaf grandmother, both living in fear of bullying and violent moneylenders (first the father, and then after the father was killed by the heroine in a case of manslaughter, the son) who pitilessly beat both of them up. They rent a small bare place and work relentlessly to pay back the loan, furtively eating leftover food while working in restaurants. Her heart has grown hard and cold. She cannot trust outsiders and thinks nobody understands her. She feel trapped in a bottomless hole of guilt, and feels totally numb to violence and bullying, and has no hope of ever getting out. She cannot get past societal condemnation even though she was acquitted in court. But she is a survivor, resourceful and quick-witted.
Ji Ann's journey towards freedom began when she became a temp in the hero's department. She was paid and tasked by the CEO, who was having an affair with the hero's wife, to discover the hero's weaknesses so that the CEO could fire him. She wiretapped the hero's phone and overhears everything he says at work, on his phone, at home, when he is with his brothers and friends. The more she got to know him, the more her respect and admiration and empathy for him grew. Knowing, interacting with him, and trusting him led to her freedom.
SHE EXPERIENCED THE KINDNESS OF THE HERO. He helped her bedridden grandmother up steep hill to their home and bought food for he grandmother. He helped her grandmother enter a nursing home.
He tried to solve her debt problem and even fought against the moneylender. When her grandmother died, he arranged her funeral and his brother got the community to attend and pay respect. With so much kindness and goodness, the heroine's defences were breached. She became appreciative and grateful and loyal to him. He even forgave her of her wrongdoing in wiretapping him.
HE WAS A PERSON OF INTEGRITY & TRUSTWORTHY. He was fair and protected her at the workplace. He invited her to join the permanent staff for dinner. He rejected her advances and almost sacked her for that. He treated her with respect. He never talked behind her back.
HE VIEWED HER POSITIVELY, AND THAT HELPED HER TO SEE HERSELF POSITIVELY. He said to her, You are good, after he saw how she worked so hard to care for her grandmother. He spoke up for her to the moneylender, in front of other directors, and when he was with his friends and colleagues. Thus she was able to shed aside her years of shame and condemnation. He asked her to confess her wrong to be forgiven, which she did and it brought her freedom from condemnation and self-hatred.
SHE IDENTIFIED WITH HIM IN HIS PAIN AND SUFFERING. She saw how was bullied and humiliated at work, cheated by the CEO and his wife, and the silent pain and agony of being betrayed. Their common pain and misery fused them invisibly. She felt he alone would understand and sympathize with her own personal suffering and pain too. She could only trust a man who has also suffered much.
HE INTRODUCED HER TO HIS COMMUNITY OF FRIENDS AND THERE SHE FOUND ACCEPTANCE AND LOVE AND FELLOW-SUFFERERS.
All these gave her the courage to hope, to leave the painful past behind, and to reach out for a new, free, more human Ji An. At the last episode, she was shown with a new job, smiling and conversing with friends, well dressed with nice shoes, and the permanent job tag around her neck. She had moved. From being trapped to being free. From living in isolation and fear, to having a sense of belonging and hope. From one with cold dead eyes to being fully alive.
Isn't this a picture of a person dead in sins being made alive in Christ?
What of the hero Park Dong Hoon? He was a wounded healer. Trapped and bullied at work and suffering silently in a dead shell of a marriage, the hero was miserable and sought to forget his problems in the company of his beer drinking brothers and weekend football. All his pain and anger had been repressed as he tried to live up to everyone else's expectations of him. He had not attended to his own needs and pain.
Unknown to him, his movement to being alive and free from the expectations and constraints of society would be facilitated by an unlikely character: the temp he hired, the heroine.
SHE BROUGHT OUT HIS BEST & TRUE SELF. He had to boldly act with fairness and kindness on different occasions in the face of being misunderstood as being in love with her. He went against cultural expectations of workplace culture and community and family. The many steps of courage strengthened his muscles to leave the safety of the big corporation and strike out on his own.
HE FOUND DEEP SOLIDARITY WITH HER LIFE EXPERIENCES. He found that he could identify so closely with the heroine's feelings of crushing burden and misery of life, feeling trapped and without power and hope. This was a great comfort and encouragement to him. If she could go on, so can he.
HER TRUST, GRATITUDE, & LOYALTY TO HIM WAS LIKE MEDICINE FOR HIS WOUNDED HEART. Meeting someone who understood him deeply(unlike his own wife), who was fiercely loyal to him(unlike his own wife), and who would sacrifice herself for him (unlike his own wife) was like medicine to a wounded soul. She knew when he felt depressed, defeated and discouraged and she encouraged him(unlike his own wife). She even rescued his marriage and helped him get promoted(unlike his own wife).
HE OWNED HIS FEELINGS & EXPRESSED THEM. He was numb to his feelings and could not name his submerged rage, shame, hatred and wounds of humiliation. But when he named them and expressed them and was later able to let everyone know he was a cuckold, he was set free from trying to keep secret his shame and to save face, and able to be his true self. What could be a worse shame for a man than being viewed as a cuckold? Freed from shackles imposed by a culture of shame, guilt and duty.
In the last two episodes, we see more smiles from the hero and heroine – rare sight in earlier episodes. We noice that the hero has moved. From being a flat, play-it-safe and bullied engineer, Park Dong Hoon became someone who dared to leave the chaebol and strike it out on his own, make lots of money, be freed from office politics, and enjoyed his work and new found happiness. When the heroine and hero bumped into each other we see both hero and heroine smile broadly, proudly and happily.
THIS WOULD BE THE FIRST TIME IN THE WHOLE DRAMA THAT EITHER OF THEM SMILED SO HAPPILY!
Fully human and fully alive – at last! The journey to be fully human is a difficult struggle, but very much worth the pain one goes through.
Here are some enchanting songs from the drama that grow on you the more you listen and read the lyrics: